The word bandana is thought to come from the Hindi word bāṅdhnū, meaning "to tie," and the garment itself has a history that can be traced back to South Asia and the Middle East in the late 17th century. Fast forward to today and this square piece of colored cloth has found itself tied to various subcultures.
In the fashion world, the bandana can be co-opted for nearly anything. In 2017, at the onset of the fashion week season and under the hashtag #TiedTogether, The Business of Fashion encouraged designers, journalists, and influencers to wear a white bandana as  "a sign to the world that you believe in the common bonds of humankind — regardless of race, sexuality, gender, or religion."
Tommy Hilfiger responded by sending every model wearing its Americana-themed Spring 2017 ready-to-wear collection down the runway with a white bandana tied around their wrist, and Raf Simons even issued a white bandana as the show invitation for his debut Fall 2017 collection as chief creative officer of Calvin Klein.
In music, hip-hop style icon A$AP Rocky's trusty yellow bandana (most recently seen at Tyler, the Creator's Camp Flog Gnaw Carnival) pops up so often it even has its own Twitter account.
It might only be a small piece of cloth, but the bandana has always been stylish and at times has carried an added frisson of rebellion. Here, we highlight some of the ways the bandana has been used, both as a style accessory and as a cultural signifier, from Japanese workwear to sexuality and gang affiliation.
Cowboy style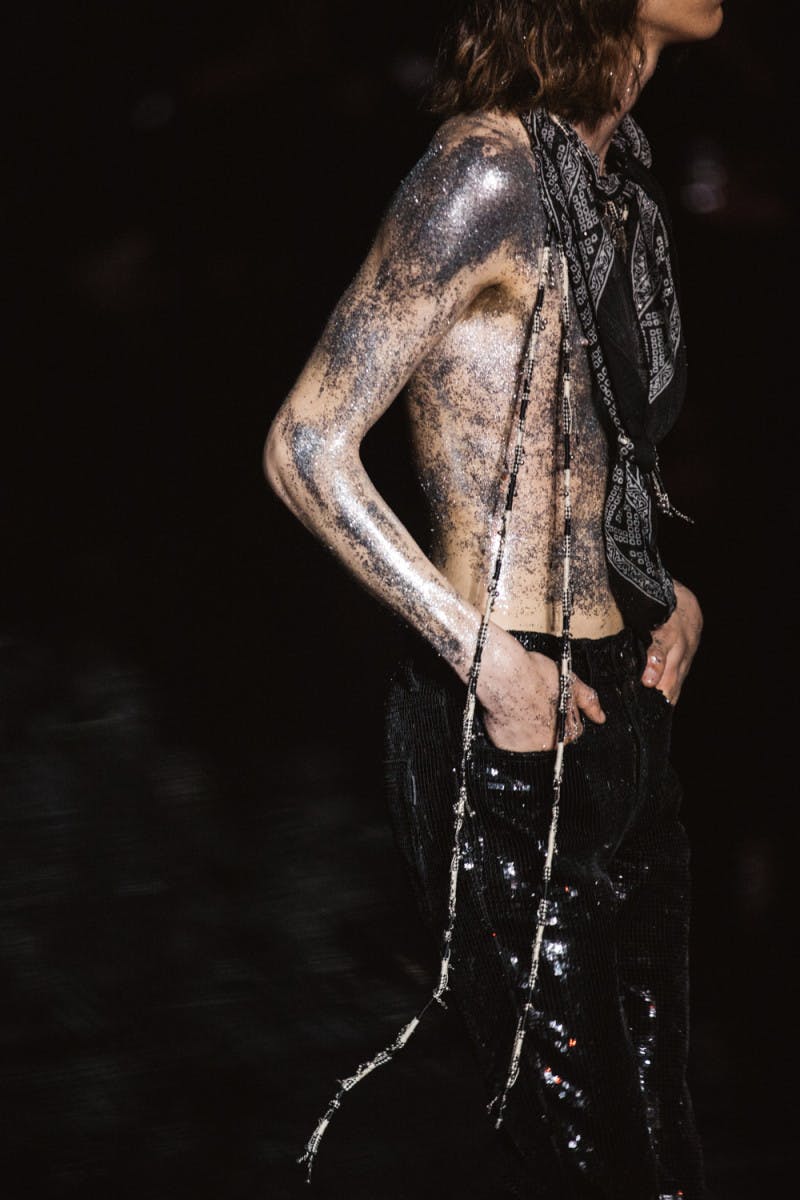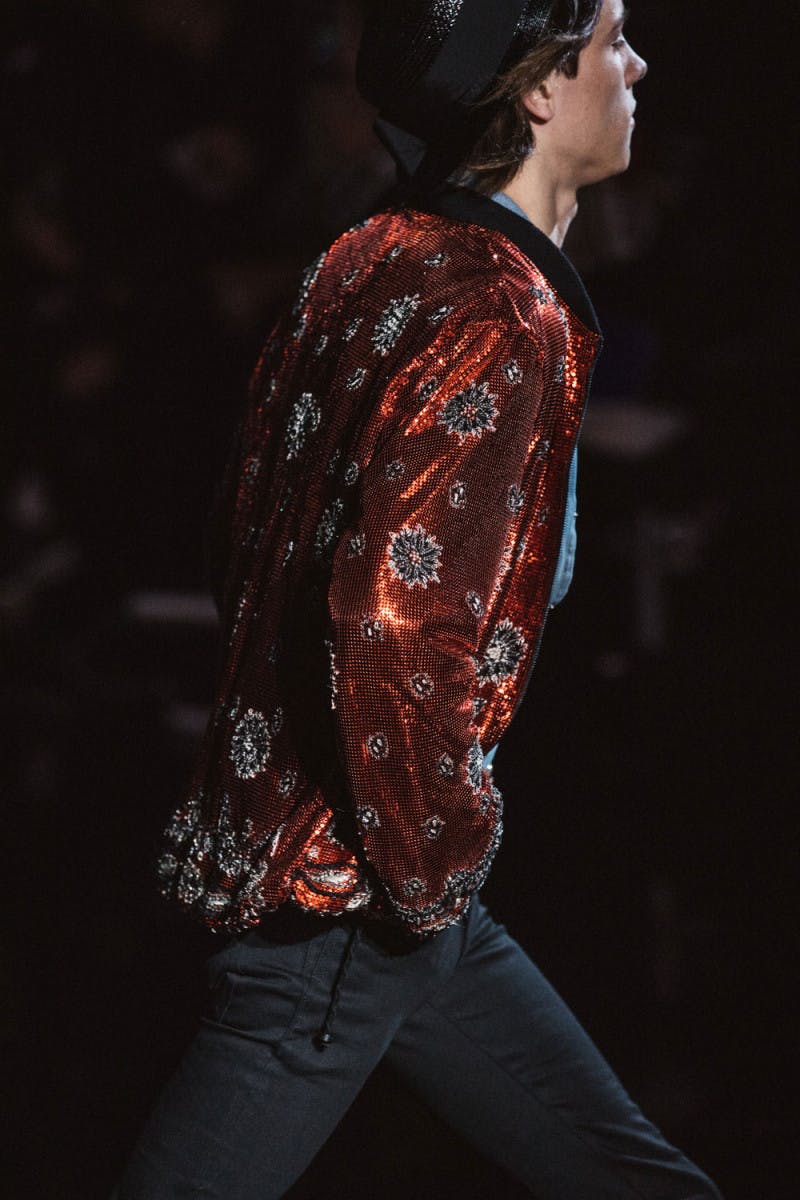 Cowboy style has found its way into the public imagination in a number of ways this year. Outside of fashion, for example, video game sequel Red Dead Redemption 2 brought cowboy culture and aesthetics back into popular culture for a whole new generation.
Within fashion, meanwhile, Anthony Vaccarello's SS19 Saint Laurent collection updated bandanas by pairing the brand's signature narrow silhouettes with long, colorful, even glittery kerchiefs tied around the neck. A sparkling mesh varsity jacket from the same collection was also inspired by a paisley/bandana motif — "yee-haw," but make it fashion.
In the actual Wild West, bandanas were more practical, offering protection from the sun, keeping dirt out, and, as documented here, looking stylish AF.
The handkerchief code
In times of more widespread sexual oppression, bandanas were used by gay men to surreptitiously communicate their sexual preferences to others, a secret language with a whole rainbow of color codifying different sexual fetishes.
The origins of the handkerchief code, or "flagging," are uncertain. There are suggestions it started in San Francisco, but the first time the code appeared in writing seems to have been in early '70s New York, when a journalist from Manhattan's Village Voice quipped that instead of wearing keys on the left or right side of the belt loop (to indicate a preferred sexual position), gay men were better off signaling their various sexual inclinations by wearing different colored handkerchiefs.
In Larry Townsend's 1983 sequel to his seminal queer text The Leatherman's Handbook, the author broke down the system by color. So, for example, black was for S&M, dark blue was for anal sex, light blue was for oral sex, and so on.
These days, in the age of dating apps and greater sexual liberation, the hanky code is somewhat redundant, but it remains an important part of the bandana's colorful history, with handkerchiefs still sometimes being worn as a tribute at Pride festivals.
Gang colors
Miles away from crypto-sexual suggestions, bandanas have also been used to denote gang affiliation. In Los Angeles, rival street gangs the Bloods and Crips used red and blue respectively to show their allegiance. This led to bandanas becoming associated with crime and violence, possibly reinforced by the fact that various violent groups around the world have used them to cover their faces in public.
Japanese fashion
The paisley-print bandana is a repeating trend in Japanese fashion, in particular among designers who lean into the classic codes of Americana and US workwear. Take visvim, for example, whose recent collaboration with MR PORTER features a bandana paisley print across the midriff of a denim shirt.
Hideaki Shikama, designer of Japanese label Children of the Discordance, employs bandanas extensively in his collections. "I doubt there are other collectors or designers like myself, as I select and check over 10,000 vintage bandanas for one season," he tells Highsnobiety. A shirt from Children of the Discordance's SS19 collection is handcrafted using a whopping 24 authentic vintage bandanas (see above). As Shikama explains, "The bandana print has been a big part of my life since I was around 11 years old, when my parents were playing the US Billboard charts at home. I have known the bandana print and its surrounding culture through skating and music like US hardcore and West Coast hip-hop. "For me, the bandana print doesn't necessarily mean 'America,' but it symbolizes hip-hop and skating culture. I think this translates into our collection, and our bandana shirts give it a rather crazy feel, which I think old heads dig. The bandana prints in Japanese fashion have been heavily influenced by US vintage culture, but many Japanese see the bandana as a symbol of gangster culture, too." You can shop some of our favorite paisley print and bandana styles below.
In other style news, Grand Collection is taking skatewear back to simple, high-quality essentials.