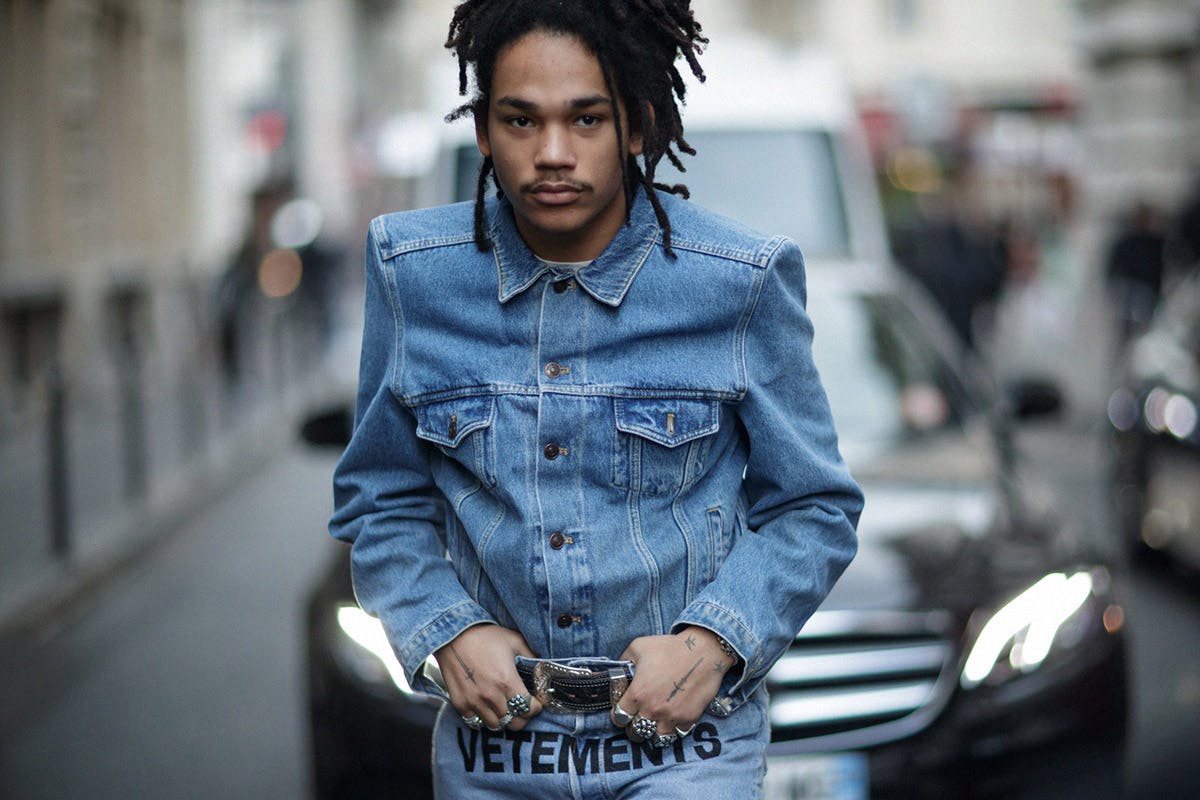 The TL;DR here is yes, probably. But why? How did this quintessentially American style of masculinity become a style reference for designers and brands as disparate as Raf Simons, Supreme, YSL, Balenciaga, Needles, and visvim? And how did a man herding cattle in the wild become a symbol of cool in the first place?
The cowboy as we know it actually came from the traditions of vaquero working riders in northern Mexico. But in the case of the Old West cowboy, how he became quite so cool starts with an ad for cigarettes.
Up until the '50s, Marlboro had struggled to sell its cigarettes to men. Its filtered cigarettes (the standard type with the brown tip) were marketed at women, with the slogan "Mild as May" used to describe their smooth flavor. It was effective in encouraging women to light up, but the gendered advertising deterred men from choosing Marlboro as their smoke of choice.
Enter the Marlboro Man, an advertising icon that existed for almost 50 years. Inspired by Western movie icons such as John Wayne and Gary Cooper, the character — rugged, hard-working, attractive to women, and fiercely independent — would lasso cattle, tip his hat, and do what cowboys generally do, all with a pack of Marlboro Reds in his breast pocket. The fact that real cowboys tended not to smoke ready-made cigarettes was irrelevant, the links between cowboys, cigarettes, and being cool had been made, and people — specifically men — bought into it.
One year after the cowboy campaign's 1954 rollout, Marlboro went from holding less than 1 percent of the US market to sales of $5 billion, a 3,241 percent jump. Today, Marlboro is the best-selling cigarette brand worldwide, commanding 43.3 percent of the US market in 2017 — bigger than the next 10 brands combined.
Marlboro even went on to release its own branded lifestyle apparel as the Marlboro Man's reign continued well into the late '90s. The idea of cigarettes and cowboys being cool, as established by Marlboro, bled into the cultural consciousness indefinitely. A lot has changed in advertising since the '50s, and cigarettes aren't so cool anymore, but the image of the skilled and independent outsider remains a relatable aspiration in the fashion zeitgeist, as it always has been.
There are many cowboy signifiers, among them denim shirts, wide-cut denim jeans, big belt buckles, cow-skin fabrics, cowboy hats, cowboy boots, chaps, chambray shirts, bandanas, leathers, plaid shirts, and cropped jackets.
When Raf Simons showed his first Calvin Klein collection in February 2017, the Belgian designer turned his lens from modern youth culture to Americana. Cowboy and Western styles were front and center at his FW17 show, including double denim, wide-cut jeans, fringed jackets, and silver-tipped cowboy boots.
Anthony Vaccarello described his SS19 show (his first men's collection at Saint Laurent) as being for "an urban macadam cowboy." The bandana neckties, embellished short-sleeve shirts, and statement belts combined with the Manhattan skyline and wet-look marble catwalk marked the elevation of cowboy style into the luxury sector, and it's not just Vaccarello who's leaning into the bronco vibe. Vaccarello's Saint Laurent predecessor, Hedi Slimane, has just celebrated his 50th birthday at legendary Paris nightclub Le Palace, with his signature black and white photography showing various muses and ashen-looking revelers dressed in cowboy-inspired styles.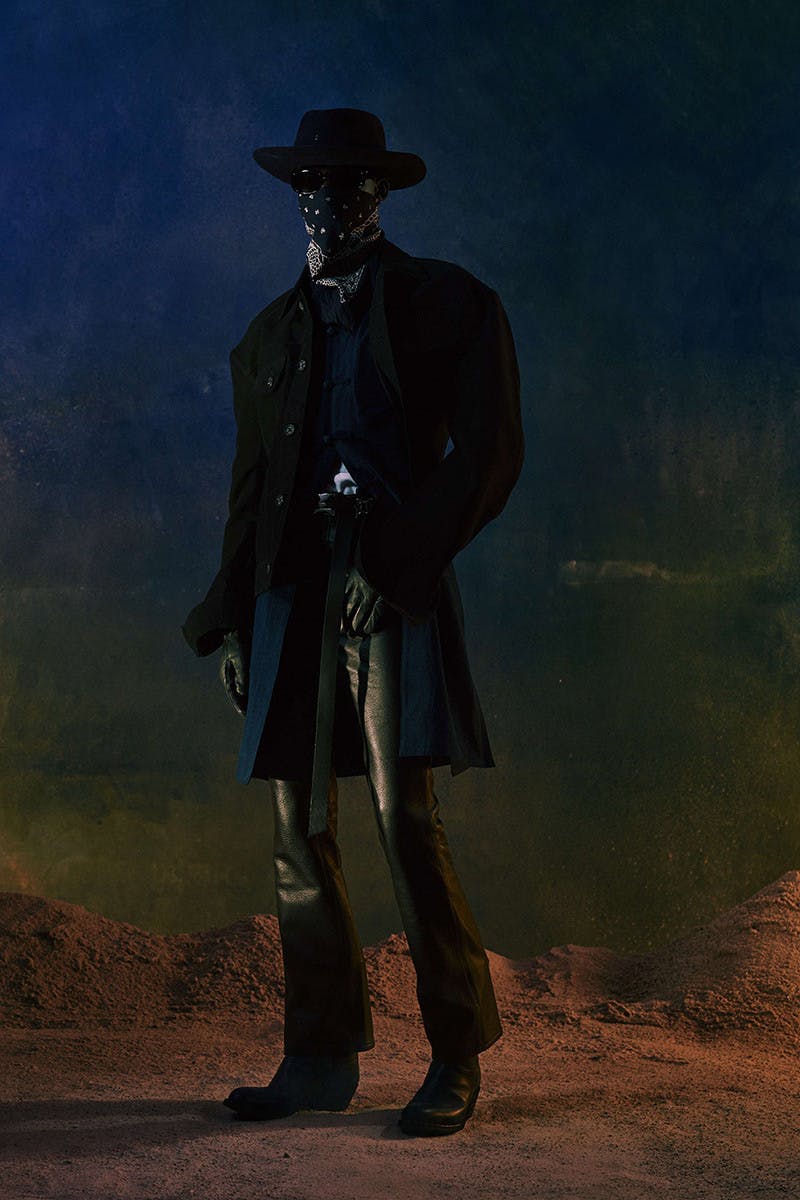 KOZABURO, an up-and-coming label we've featured in our Under the Radar series, created a dystopian Japanese cowboy style for FW18 inspired by a road trip through El Paso, Texas — the cowboy boot capital of the world.
Outside of high fashion, Supreme's SS17 collection featured Western-style print on work jackets, as well as studded denim jackets and plaid flannel shirts. The visuals of rapper Travis Scott pay homage to his hometown of Houston, Texas with cacti and rodeo imagery. The artist's collaboration with maharishi even included a "Year of the Cowboy" tour jacket, featuring embroidery of Scott riding a horse cowboy-style, lasso in hand.
Luka Sabbat's style is recognized as among the most on-trend in the world right now, with his go-tos of double denim, boots, big buckles (and a bit of swagger), he arguably evokes a modern take on the cowboy aesthetic and attitude. Elsewhere, this picture of Quavo surely requires no further explanation:
What cowboy culture boils down to, spurs and chaps aside, is the idea of taming the untamed, of facing the frontier. It's the same feeling that encouraged people to start smoking all those damn Marlboro cigarettes in the '50s. Everybody wants to feel like an individual, and, despite it seeming like a contradiction, people also want to feel like they're part of something bigger too. Everything the Marlboro Man symbolized (apart from the ensuing lung disease) is deeply connected to the root of what makes menswear so attractive: the desire for a sense of belonging, a self-governed degree of masculinity, and, at its core, an unyielding sense of purpose and function.
Herding cattle and performing physical labor on a ranch (another symbol of unfettered self-reliance) is a kind of nostalgic daydream in 2018. The majority of us sit at desks every day, tapping away for hours to make a living, and that's part of the reason workwear has become so popular of late. People want to feel physically useful, so a jumpsuit, carpenter pants, or a worker jacket can alleviate any lingering feelings of neutered drone-like uselessness, plugged into the Matrix, never breaking a sweat.
If the Wild West was the frontier of centuries past, 2018's Wild West is the digital space — and the emergence of modern cowboy style speaks to menswear's attempts to wrestle back a real identity in an increasingly inauthentic world.