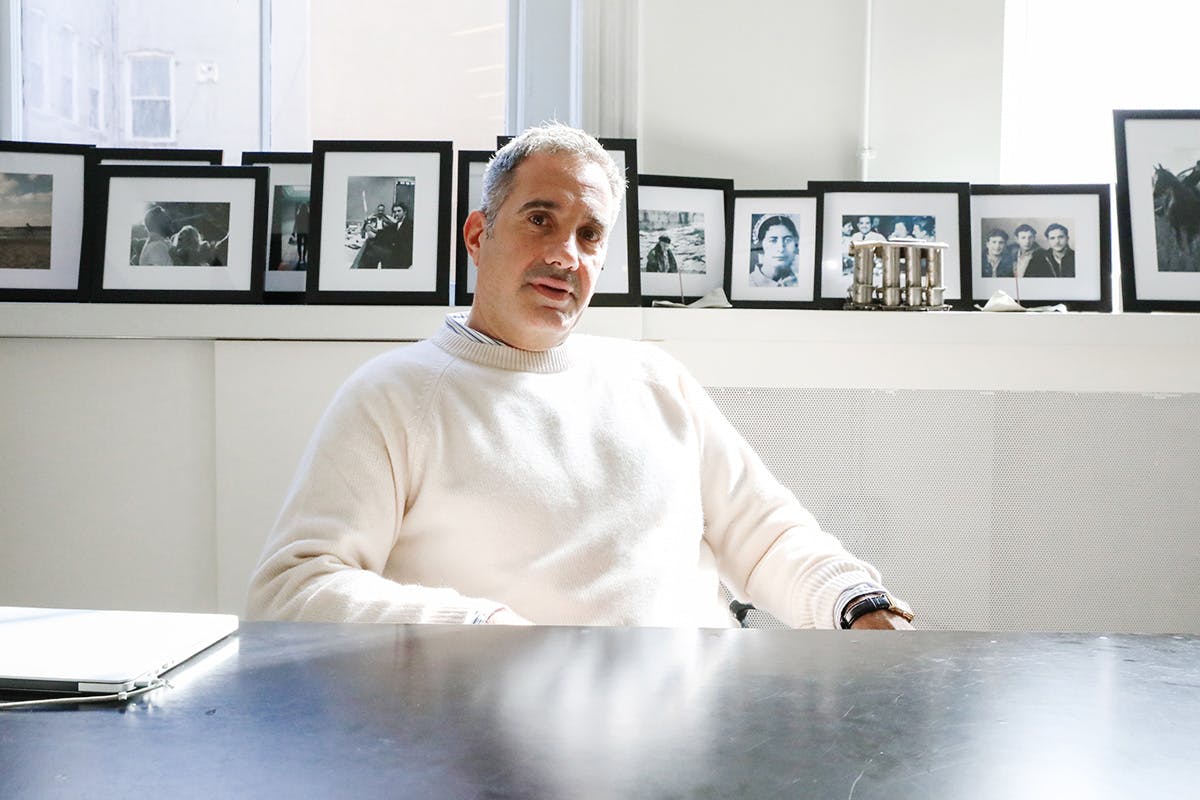 It started with a text message. Back in August, Sam Ben-Avraham got a text from Eitan Braham, one of his employees asking if he was interested in buying ailing New York retailer Barneys, which filed for Chapter 11 bankruptcy earlier this year. At the time he was vacationing in Israel, so he slept on it. But when he woke up, it felt absolutely right.
"Walking into Barneys for the first time was my inspiration for the rest of my life," says Ben-Avraham in his SoHo office. He still remembers that first visit 26 years ago. "It was the one on 17th Street. It was the old building. You walked into the penthouse, there was that super high ceiling, the skylight, and you were just like: 'Wow.'"
Since making his intentions known earlier this month, Ben-Avraham has found himself embroiled in a bidding war with Authentic Brands Group and Hudson's Bay Company (the Canadian owner of Saks Fifth Avenue).
If ABG's $271.4 million deal goes their way, the plan would be to close all of Barneys' remaining stores, then license out the name to Saks. It sounds like a corporate raid straight out of Oliver Stone's Wall Street (an era where Barneys was at its peak) and would leave many of Barneys' employees out in the cold.
So this past weekend, Ben-Avraham called together a group of friends, employees, and just about anyone he could in a final push to #SaveBarneys, launching a social media campaign to raise awareness around the retailer's current plight. If ABG is the Gordon Gekko of this story, his camp wants to be Bud Fox.
The @savebarneys Instagram pulls together some of the New York institution's most memorable ads throughout the years, as well as a video from "marketing SWAT team" Farrynheight that outlines the current situation while highlighting Barneys' history as a cultural protagonist for the city. In just one weekend, a petition started to curry favor towards Ben-Avraham's mission garnered over 10,000 signatures.
"It's like one of those places that you would buy something that you wouldn't find anywhere. 20 years ago, Barneys used to carry stuff that nobody else carried," says Ben-Avraham. "It was maybe two stores at the time that pushed the envelope. It was Barneys and Charivari. Two stores that used to take chances."
And granted, avant-garde boutique Charivari is long gone, but New York's retail scene has also evolved. Rei Kawakubo's Dover Street Market remains a highly relevant destination shop, and Ronnie Fieg's KITH has grown from a cordoned-off section of Ben-Avraham's old ATRIUM chains into a small empire in its own right, replete with a towering SoHo flagship.
What these stores offer is a distinct point-of-view, something Ben-Avraham says Barneys had in its heyday, but in the past decade has been watered down and made too corporate, much to the detriment of the brand. Part of his plan is to rediscover the retailer's joie de vivre. After all, he's seen the success of building a strong brand with KITH, whose stores carry brands and kicks beyond Ronnie Fieg's imprint.
"Nobody wants to take a chance in corporate America," he laments. "In a time where everybody is bitching about how 'retail is dead, nobody's shopping,' and how can't really bring people to the stores, Ronnie has that ability to be so authentic to who he is and tell a story in such a beautiful way. I got so inspired by being with Ronnie for all those years. It lit a fire up under my ass."
Ben-Avraham's tenacity may be enough to pull off the deal. Business of Fashion reports that he's raised $100 million in equity and another $200 million in debt from multiple investors, including his brother, real estate developer Uzi Ben-Avraham; billionaire Ron Burkle (who currently invests in Barneys); and fellow fashion industry veterans Andrew Rosen, co-founder of Theory; and Khajak Keledjian, founder of Intermix.
For Ben-Avraham, his fight to save Barneys is bigger than him wanting to win. He genuinely wants to protect what he feels is a "beautiful, legendary institution." Given who his competition is, the situation feels incredibly dire for him, but also the Barneys employees he also wants to save.
He has until October 22 to put in his new bid, after which the auction for Barneys will be decided on October 24. Already, he's received an outpouring of support from the community whose sentiments seem to align with keeping Barneys as we know it in business. And the petition to save it continues to gain steam. Perhaps Barneys, like any resilient New Yorker, won't be going down that easy.
"This cannot happen to New York City with a brand like this falling into the wrong hands," he says. "The biggest point in me raising awareness around this was for people to wake up and fight like good New Yorkers."