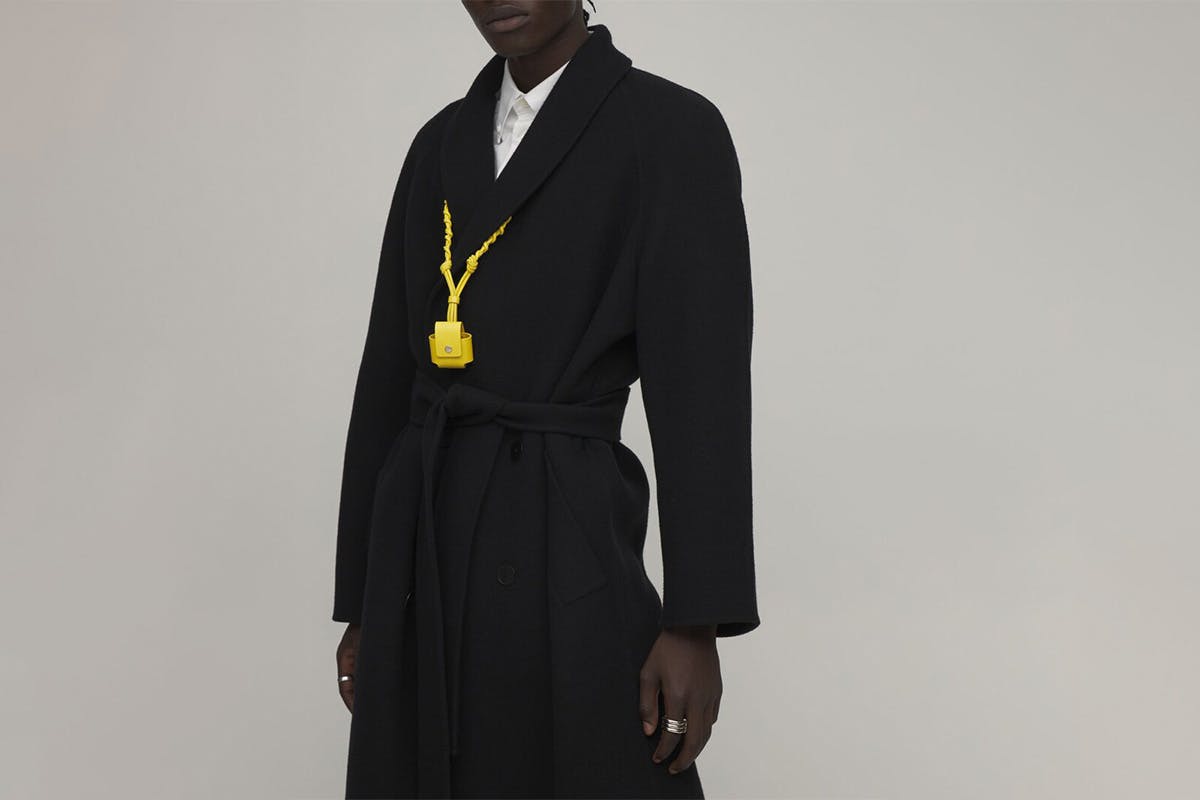 With AirPods making up an estimated 60 percent of the entire global wireless headphones market and Apple's Wearables category alone bigger than over half of the companies in the Fortune 500, it's safe to assume that you probably own a pair. In fact, it's highly likely that you're wearing a pair right now. Unless, that is, you left them on the counter of your local coffee shop, bar, [insert literally any public space here].
It happens all too much. According to studies, around 17 percent of AirPods owners have lost one or both of their precious earphones before. While we've had more than enough time to get acquainted with the world of wireless tech, for some reason it's still not a habit to put our AirPods back in their case when we're done or, for that matter, put the case back in our pocket.
Sure, there are ways to relocate your lost AirPods digitally, but why not solve the problem at its source? Let's try to not lose our AirPods in the first place by putting them inside a luxury AirPods case. From Bottega Veneta to Jil Sander, the scourge of lost AirPods has touched us all, so accept some high-end help and look good while doing it with the best AirPods cases of the season.
Shop our favorite AirPods cases to wear in 2021 below.
Bottega Veneta Intrecciato Rubber Case
Bottega Veneta's signature Intrecciato weave is given a budget-friendly rubber update for this AirPods case. Finished in eye-catching Bottega green, this is how to flex sensibly.
Jil Sander Tangle Case
A high-quality leather pouch with press-stud fastening is held around a 'tangle' neck loop to secure your AirPods safely to you at all times.
Moschino Teddy Case
'THIS IS NOT A MOSCHINO TOY' reads the teddy bear's T-shirt. Correct, this is a cute Moschino AirPods case.
Versace Medusa AirPods Case
Set in punchy Klein Blue, the iconic Versace Medusa head logo is the perfect, unmissable home for your earphones.
BOYY Romeo Tech Nano Case
Leather AirPods cases are a nice way to situate a useful accessory in a stylish fit. This iteration from BOYY is good enough to wear purely as a style feature.
Bottega Veneta Intrecciato Case

(Available at 2 Merchants)
(Available at 2 Merchants)
While the rubber version offers the Intrecciato weave on a budget, this leather version is the real deal. You certainly won't be forgetting this beauty.
Givenchy Black Box AirPods Case
This Givenchy number is good enough to be a handbag if it were ten times bigger.
Thom Browne Pebbled Case
Thom Browne cuts no corners, even on this tiny case. High-quality pebbled leather gives this accessory a beautiful finish.
Balenciaga Cash Case
For those among us who are particularly forgetful, this neon yellow version from Balenciaga is essential.
Fendi FF Vertigo AirPods Case
Fendi's waving FF Vertigo monogram details the pale orange leather of this detachable case. A word of warning: detaching your case is the first step to losing it.
Want to keep browsing? Head to the Highsnobiety Shop for more products that we love. Highsnobiety has affiliate marketing partnerships, which means we may receive a commission from your purchase.