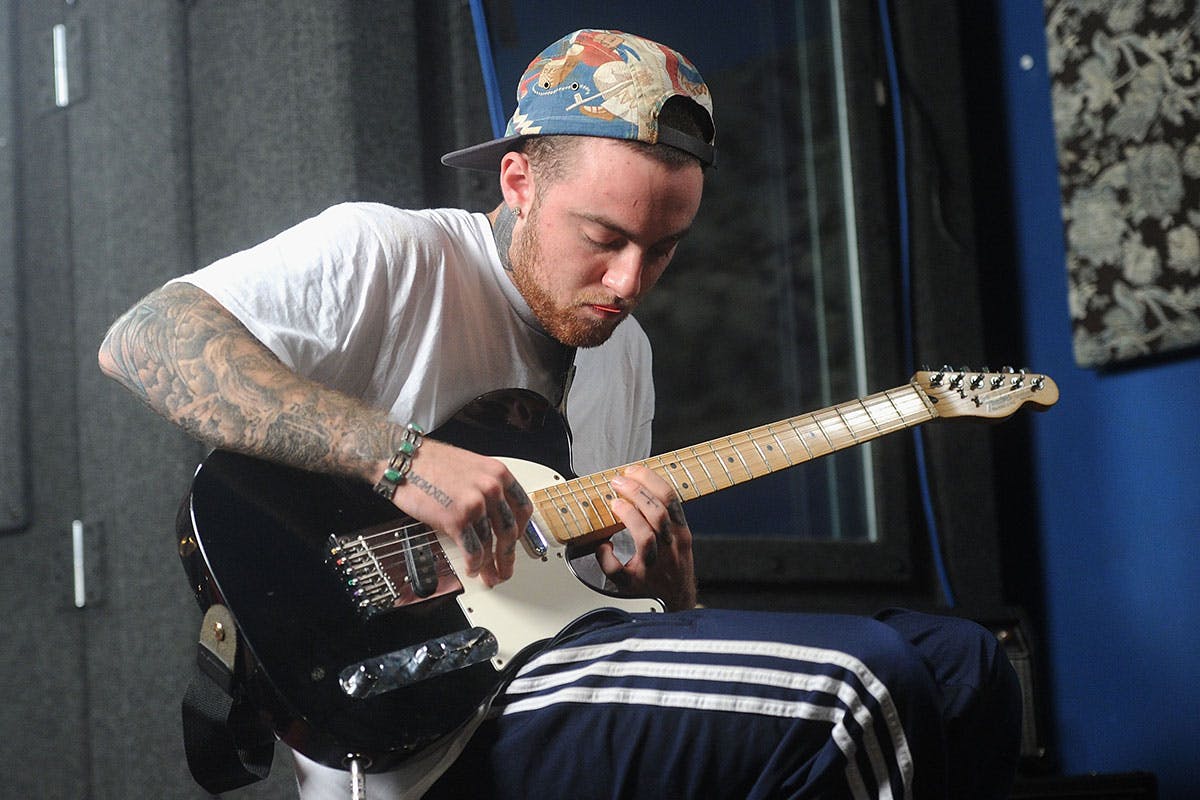 This article was originally published on September 12, 2018, almost one week after Mac Miller's death. On the third anniversary of his passing, we're taking time to reflect on his genius and impact via the tribute post you'll find below.
There are rap fans across the world right now who are mourning the loss of a man who meant so much to them. For many – especially those of us in our mid-twenties – our formative hip-hop experiences were shaped by Mac Miller: the rambunctious, effusive, and inadvertently charming rapper who died last Friday at the age of 26.
He was the kind of talent who separated himself from the expectations of the traditional hip-hop narrative by gunning for glory and remaining humble when he got there. When Miller died, he was still progressing; making the kind of music he'd always dreamed of making.
His final record Swimming, released just last month, gave us a deft insight into the life of a man reckoning with his mental state, troubled past few years and diminishing love life. With all of the attention focused on that right now, it becomes so easy to forget the life that came before it.
Born and raised in Pittsburgh, Pennsylvania, Mac Miller (real name Malcolm James McCormick) had been preparing for his moment in the spotlight ever since he entered high school. The spawn of two creative parents – a photographer mother and architect father – he'd wander bleary-eyed into classes every morning having spent the night writing raps in his basement until daybreak.
His desire to make it as a hip-hop artist, a career path he'd established by the age of 15, was stronger than his love for school work. He might not have been a straight-A student, but his principal and classmates still remember the way he'd walk the hallways having 'mastered a handshake'; a sociable kid with his heart in the right place.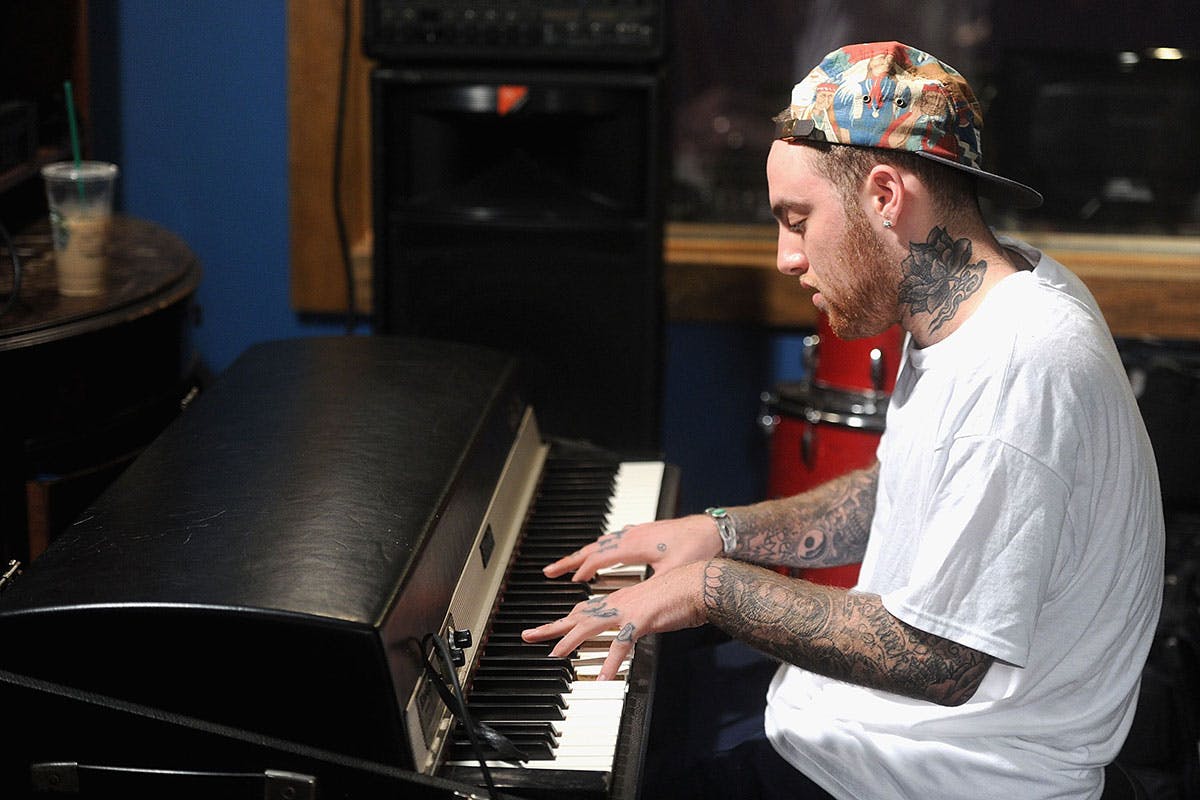 It was in that high school setting that Mac first toyed with putting his voice on record. A keen instrumentalist (he taught himself how to play guitar, bass and piano as a kid) and former singer, he left his traditional musical roots behind and released his debut mixtape, 2007's But My Mackin' Ain't Easy under his original moniker, EZ Mac. In that same period of his life, he formed the rap collective The III Spoken with his close friend Beedie. But after three successful mixtapes that caught the eye of Rostrum Records Benjy Grinsberg, his fourth mixtape K.I.D.S., a Larry Clark-inspired project about his experiences as a suburban Pittsburgh high schooler, propelled Mac to fame. He was barely eighteen, but it became the record-breaking project (it's been downloaded on mixtape platform DatPiff over a million times) that solidified his status as the fresh-faced one to watch. Best Day Ever, its widely embraced follow-up that soundtrack so many of our teen years, replicated that success.
Everybody's eyes were on him at that point, and his breakout moment meant the music world was, perhaps rightfully so, fairly discerning when it came to this zany, weed-smoking white kid dominating the charts. His debut LP Blue Slide Park hurtled to number one in the Billboard Hot 100, but was met with middling to downright awful reviews. Pitchfork, the respected music publication famed for its scrutiny, gave the record just 1.0 out of 10. "His art," critic Jordan Sargent wrote, "is 144,487 times less remarkable than his first week sales numbers would have you believe ."
It's in an artist's favour to ignore the petty criticisms and keep on riding the wave that's led them to success, but Mac – always a perfectionist, and fairly susceptible to hot takes on his work – took reviews like those to heart. Since then, he'd worked to better himself at every possible opportunity, to the point that his sales figures and critical response started to align a little more. Over the course of six records, from Blue Slide Park's impressive follow-up, Watching Movies With the Sound Off (that led him to link-up with Flying Lotus and Pharrell for the first time) to this summer's now bittersweet Swimming, Mac proved himself to be the kind of man who wanted to focus on his craft – one who simply wasn't interested in the bullshit.
He sauntered through the hip-hop sphere with a carefree sense of candour, and no desire to create an external image that didn't correlate with the life he'd lived. He might have attracted flack, naturally, as a white man in a predominantly black creative space, but his yearning to do good by educating the sea of frat bros that often flocked to his music was something that separated him from today's politically ignorant white rap stars.
In a series of now-deleted tweets from December 2015, Miller voiced his thoughts on the #BlackLivesMatter movement, by asking white people who listened to rap what they'd done to support it. "... white people, reverse racism isn't real," he tweeted alongside it, a rare moment that could've alienated plenty of his middle-class, potentially right-wing white fans. "Racism describes a system built to keep a race or ethnicity away from success and evolution. The whole 'everybody is the same' [argument] is weak."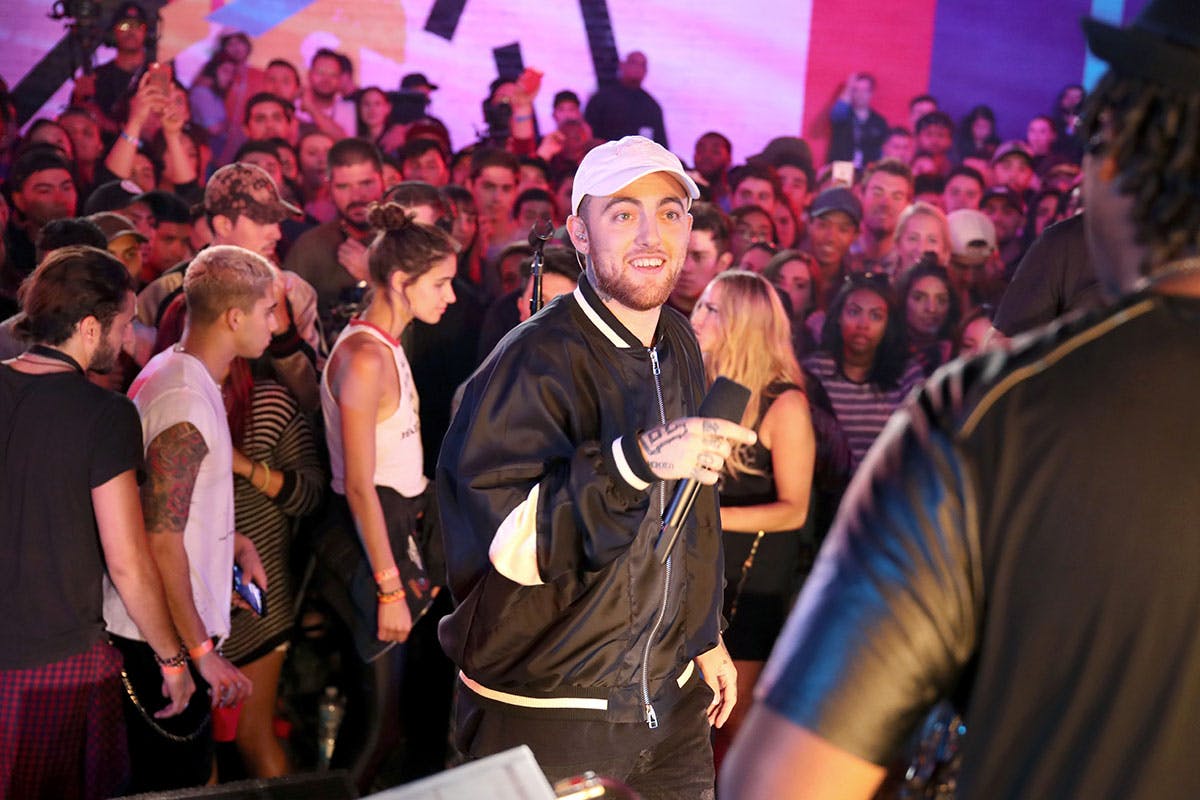 He also, like so few of his peers (we're looking at you, Yeezy), knew how to read the mood of the room. Having penned "Donald Trump" in 2011, his ode to self-made success that made plenty of references to the now widely disliked president, he backtracked on its lyrical inspiration and called him out for being "an egomaniacal, attention-thirsty, psychopathic, power-hungry, delusional waste of skin and bones" five years later. Sure, he knew the importance of respect, but wasn't one to fawn over anybody without good reason to, and was more than willing to denounce those who needed to be brought down a peg.
His ability to respect a space for black art while simultaneously having the ability to dominate it too is a quality that stood him in good stead when it came to forging relationships in his field. Miller had collaborated with Kendrick, Snoop Dogg, Earl Sweatshirt, French Montana, Chief Keef and Meek Mill over the course of his career – nobody seemed to have a bad word to say about him. Miraculously, beef with peers was something he never seemed to encounter. Instead, Mac was the kind of artist who wanted nothing but the best for himself and those around him.
When an artist we love leaves us, we tend to look back on their lives as if it only existed in a singular, suspended moment: the one in which we realised they had died. It could be easy to forget the effervescent, important, nostalgia-inducing bodies of work that Mac Miller created still exist, but it's our duty to do so. It's a Mac fan's obligation to remember this guy not solely for his struggles, but for the good he did; for the miraculous impact he had on the people who wanted to leave American suburbia behind and do something bigger. To them, Mac Miller's life – while fractured – was a template, but it was one in which the positive moments always outweighed the bad.
If you or anyone you know are struggling with addiction, please reach out to the National Council on Alcoholism and Drug Dependence (NCADD) or Substance Abuse and Mental Health Services Administration (SAMHSA) for assistance, even if you just need to talk.
Next, revisit 8 iconic Mac Miller songs that changed our lives.