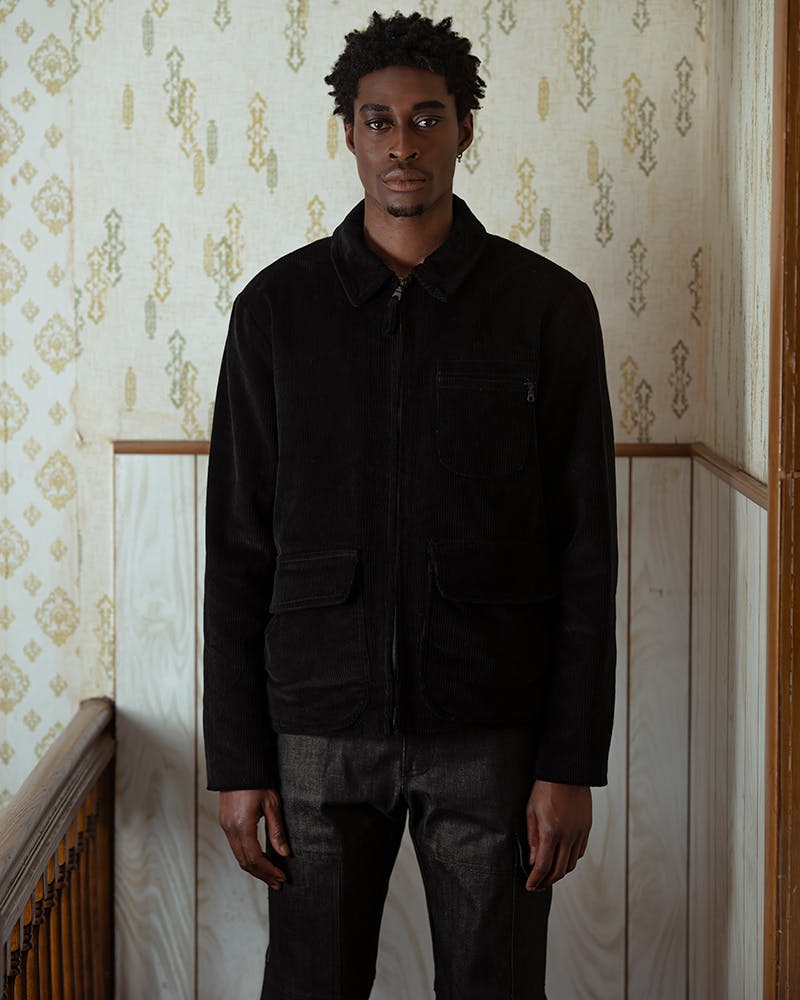 With the amount of outerwear choices on the rails, we're here to simplify things. We're doing away with talking different fits, purposes, attachments, and the like, for a selection based on color. The right black jacket overrides all other categories, in our opinion. Not only does this sophisticated essential go with pretty much any outfit, it actually emphasizes the pieces around it through sheer simplicity.
From bomber jackets to insulated puffer jackets, we're exploring and celebrating all sides of the black jacket of which there are many. While not all of these will alone be the perfect jacket for fall and winter, all of them will upgrade your outerwear thanks to their versatility. Scroll through our favorite black jackets below.
Shop our favorite black jackets below.
Stone Island Real Down Jacket "Charcoal Grey"
Stone Island's most popular pieces are usually colorful and in-your-face, due to the Italian brand's knack for experimenting with dyeing methods. But Stoney also has a lot of nice, subtle pieces, such as this charcoal gray down jacket.
Lourdes Backless Jacket
Maybe don't wear Lourdes' backless jacket in the dead of winter, unless you've got something warm on underneath. If you only need a light covering and want to play with colors and textures, this is definitely the best jacket to do it with.
Jacquemus La Doudoune Flocon
In classic Jacquemus style, this jacket is all-black and sans big logos, making it the perfect subtle flex. We're big fans of the cropped cut in particular, as it allows you to play with silhouettes and different layering options.
Calvin Klein x Heron Pereston 20
Calvin Klein is a basics staple, while Heron Preston is one of the most popular and in-demand designers of the current time. When you put those two things together, it's no surprise you're going to get one of the best black jackets on the market.
Arnar Mar Jonsson Ventile Cross Pocket Jacket
If you haven't heard of Arnar Mar Jonsson before, you better get acquainted. The brand's products are best described as high-end outdoors gear that you don't necessarily want to wear on a hike. But you could, and you wouldn't look out of place.
ACRONYM J90-DS Jacket
When it comes to the best black jackets money can buy, ACRONYM has reached a grail-worthy status over the years. If you want something functional that truly is going to last you 10+ years, look no further.
Acne Studios Doubleface Coat
Where ACRONYM is extra functional and packed with hidden details, zippers, and pockets, Acne Studios likes to keep things characteristically simple. That doesn't mean the brand's black jackets aren't worth the price tag, though. Looking this good carries a price, too.
The North Face Retro Mountain Light Jacket
This jacket isn't going to keep you as warm as TNF's black puffer jackets, but it's going to keep you dry and can be layered over some warm fleece or wool sweaters.
Winnie New York Corduroy Hunting Jacket
Winnie New York is one of Highsnobiety's favorite new brands, and this corduroy hunting jacket is exactly the type of black winter jacket we'd be buying ourselves if we were on the lookout.
Acne Studios Shearling Aviator Jacket
If the above Acne Studios jacket wasn't to your liking, maybe this jacket will be more your style. The shearling will keep you incredibly warm.
Our designated Selects section features products that we love and want to share with you.