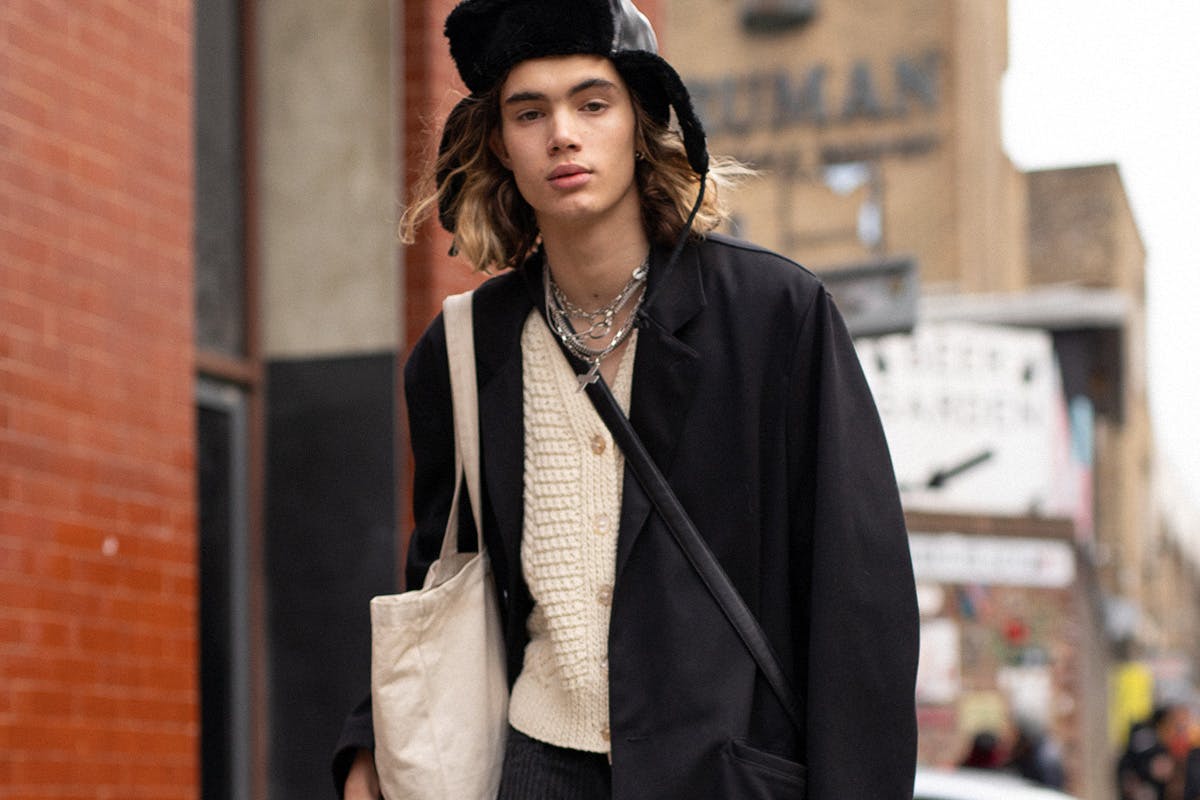 Highsnobiety's How-To series is a toolkit for your future wardrobe, equipped with sets of tips and related products to help you style some of the industry's most seminal silhouettes.
As an irrefutable fashion staple, the humble cardigan has transcended an almost infinite number of style strata. Spanning everything from the laidback fashioning of stay-at-home celebrities, to the runways of the industry's elite, the design is nothing short of influential. With new designs flooding the market on what now feels like a weekly basis, finding the right products to wear with your new cardigan can prove challenging.
While many may see it as an antiquated design, its applications as a transitional staple should not be overlooked. Resonating with countless subcultures, and growing to become a fundamental piece for figureheads such as Kurt Cobain — and the grunge movement he has since become synonymous with — the cardigan offers a blank canvas for stylistic expression. Much like the bomber jacket, its tried-and-true design is unobtrusive enough to be adopted by just about anyone.
Shop a list of the best products to style with any cardigan below.
The Pub Classic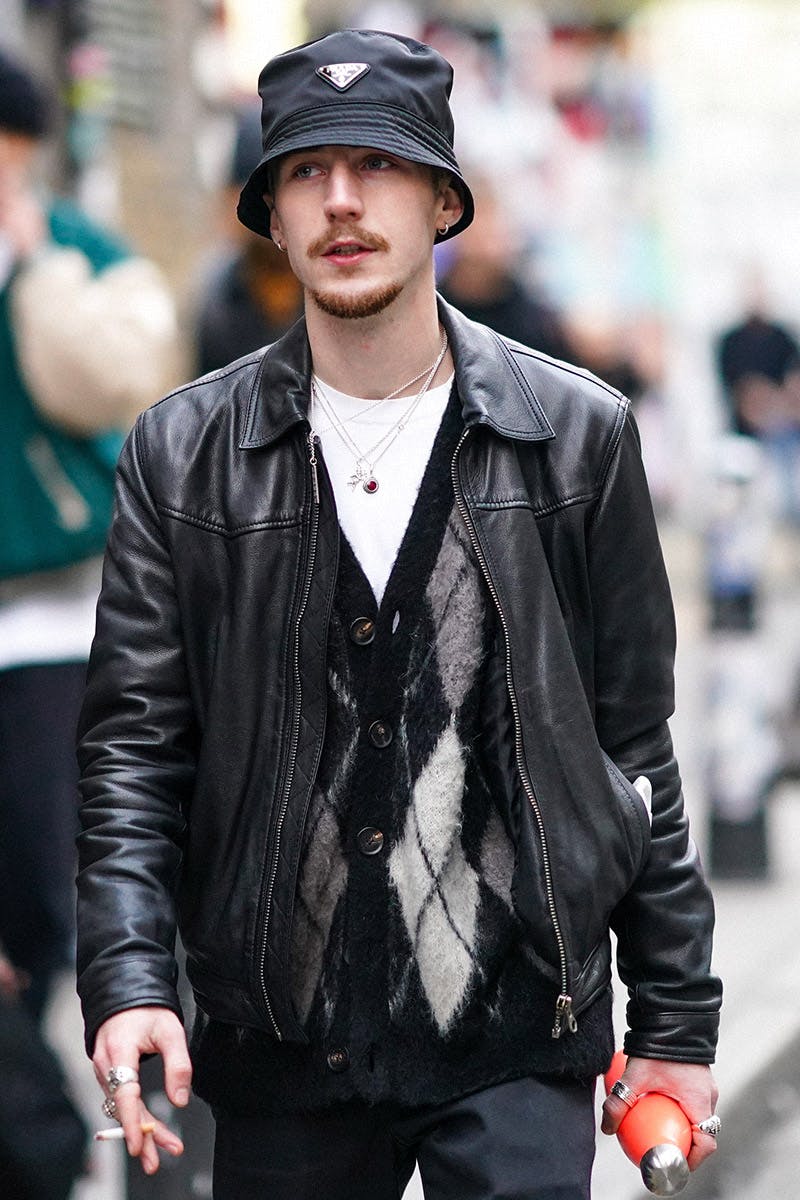 Argyle patterning and the cardigan are a match made in heaven; like bread and butter, socks and sandals, or a pint of lager and a packet of crisps. This iteration from Pringle of Scotland pairs well with the sheen fabric of Prada's Technical Bucket Hat, proving just how tactile the age-old design can be when framed in combination with newer materials. The re-usable water bottle is a nice touch, too!
Military Chic
This look speaks to the cardigan's more formal beginnings. Seen here layered on top of a white button-down shirt, the ensemble has something quintessentially militaristic about it. Parade square formality aside, the Mohair Leopard Cardigan from Pleasures adds a playful edge to the outfit, balancing well with the utilitarian appeal of Carhartt WIP's signature Cargo Pants.
Added Texture
Cable knit cardigans definitely have more regal connotations... if you'd even call it that. Associated with the likes of the aristocracy and cricketers, the silhouette's adoption into wider fashion circles has seen it subvert its otherwise "posh" undertones. What we see from the outfit above is the design's ability to add a much-needed hit of texture to an otherwise flat, monochromatic outfit. Valentino's Oversized Video Game Cardigan matches perfectly with a pair of Norse Projects corduroy pants, and the genteel aggression of Jil Sander's Chunky Chelsea boots.


(Available at 2 Merchants)
(Available at 2 Merchants)
Flashes of Color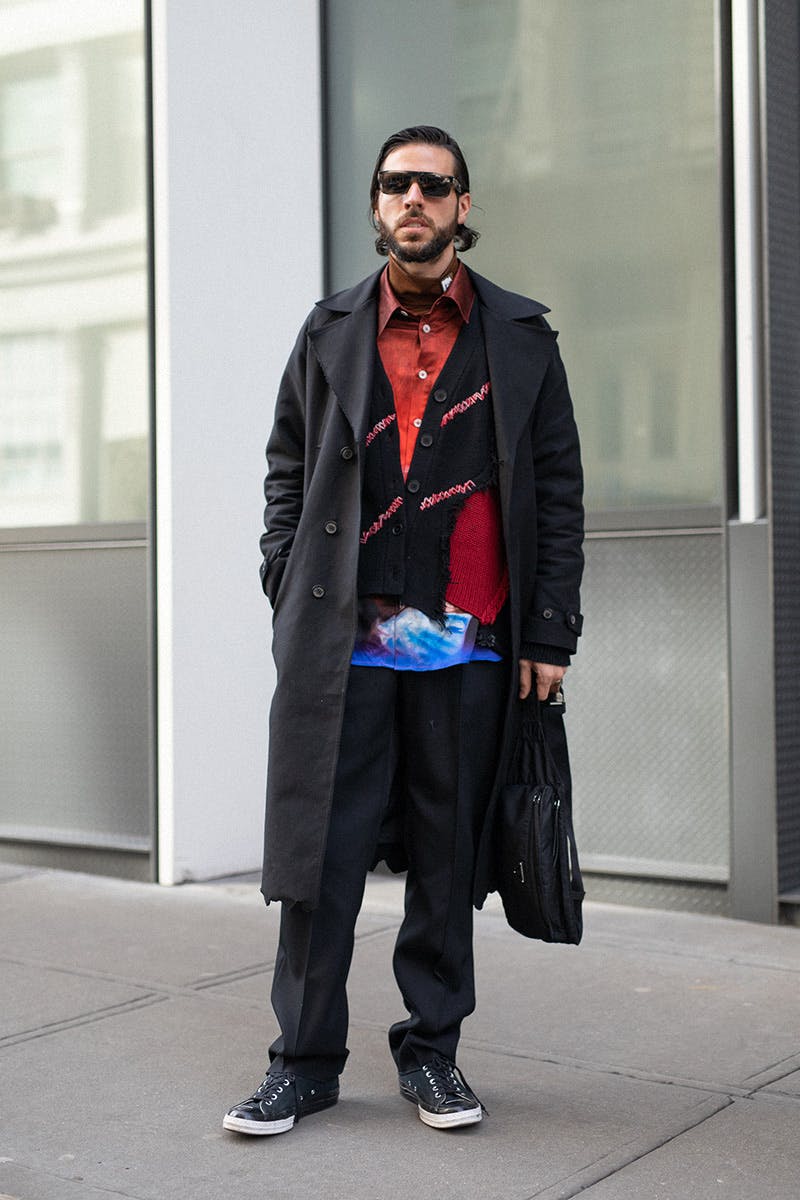 Similar to the likes of jeans, and leather jackets, cardigans only get better with age. There is something very appealing about the frayed edging and slapdash repair work of well-worn layers, transforming them into something truly unique. Moreover, what the outfit above shows us is that the combination of wool (destroyed or not) and rayon is a strong style play for summer. To begin replicating this look, reach for the Knit Logo Cardigan from COMME des GARÇONS SHIRT, and pair with AMBUSH's Rayon Bowling Shirt, or the Elasticated Waist Trousers from Stefano Pilati's Random Identities.
Seasonless Design
Another great example of how the formal cues of a cable knit cardigan have come to be undone in contemporary society. Juxtaposed here against an effortless car coat in a lightweight material, together with a wash of heavyset silver jewelry, the silhouette shakes free from rigidity, adopting a more relaxed feel. The seasonless color palette of designs like Our Legacy's Rainbow Thread Cardigan promise to go with just about anything, and last many seasons to come.

(Available at 6 Merchants)
(Available at 6 Merchants)
Featured outfits
The Pub Classic
Pringle of Scotland Argyle Mohair Cardigan
Prada Technical Fabric Hat
S'Well Water Bottle
Military Chic
Pleasures Mohair Leopard Cardigan
Carhartt WIP Cargo Pants
Virgil Abloh x Nike Air Jordan 1 "UNC"
Added Texture
Valentino Cardigan With Video Game Embroidery
Norse Projects Evald Light Trousers
Jil Sander Chunky Chelsea Boots
Flashes of Color
COMME des GARÇONS SHIRT Knit Logo Cardigan
AMBUSH Rayon Bowling Shirt
Random Identities Elasticized Waist Trousers
Seasonless Design
Our Legacy Rainbow Thread Cardigan
Flagstuff Bomber Cap
PUEBCO Canvas Tote Bag
Our designated Selects section features products that we love and want to share with you. Highsnobiety has affiliate marketing partnerships, which means we may receive a commission from your purchase.