Staying active during the cold and dark winter months is hard for anyone, but particularly so if running is your preferred activity. When the temperatures dip, you're faced with a tough choice. Do you retreat indoors to the dreaded treadmill? Or do you rough house it and brave the cold in inappropriate gear?
For some, bitter conditions equal dealing with crowded gyms and subpar treadmills in order to avoid frostbite and slippery conditions. For many others, though, waiting in line for gym equipment, or simply paying for a membership, is not a viable option.
While there's a certain element of crazy needed to run outside in freezing temperatures, the most important factors are preparation and gearing up.
Keep your head, hands, and feet warm
Extremities, such as your fingers and toes, are the first thing to freeze as the body tries to consolidate as much warmth as possible around more important organs. To combat that, make sure you're wearing gloves, warm socks (avoid ankle socks at all costs), and even some sort of hat or balaclava if the weather calls for it.
Wear a base layer
Never underestimate the power of a solid base layer. Uniqlo and other running-centric brands have a selection of second skins that will keep just the right amount of body warmth in, instead of letting it escape (which is what a lot of summertime performance gear is designed to do). Base layers can mean everything from heat-tech underwear and undershirts to spandex tops and bottoms. If it's really cold, consider wearing 3/4 or even full-length spandex leggings.
Warm but not too warm
As important as base layers are in the winter, you don't want to end up wearing too much either, as your body will be generating heat on its own. That means leaving the puffer jackets at home and sticking to lightweight garments designed for cold weather running that won't get in your way.
Traction is key

Zoom Pegasus Turbo Shield
(Available at 5 Merchants)
(Available at 5 Merchants)
Keeping an eye on the weather is always important when running outside, even more so in the winter when it can be wet, slippery, cold, or all three at the same time. That's why it's good to always have a pair of running shoes that have appropriate traction. Trail-running shoes from brands such as HOKA ONE ONE, Salomon, or Nike are usually good options. You don't want to end up like this.
Safety first
Chances are that it will be darker while you're running in the winter than during summer so stocking up on reflective gear is incredibly important in order for you to stay safe on your run. Reflective apparel and sneakers help runners be more visible in the dark and avoid traffic accidents.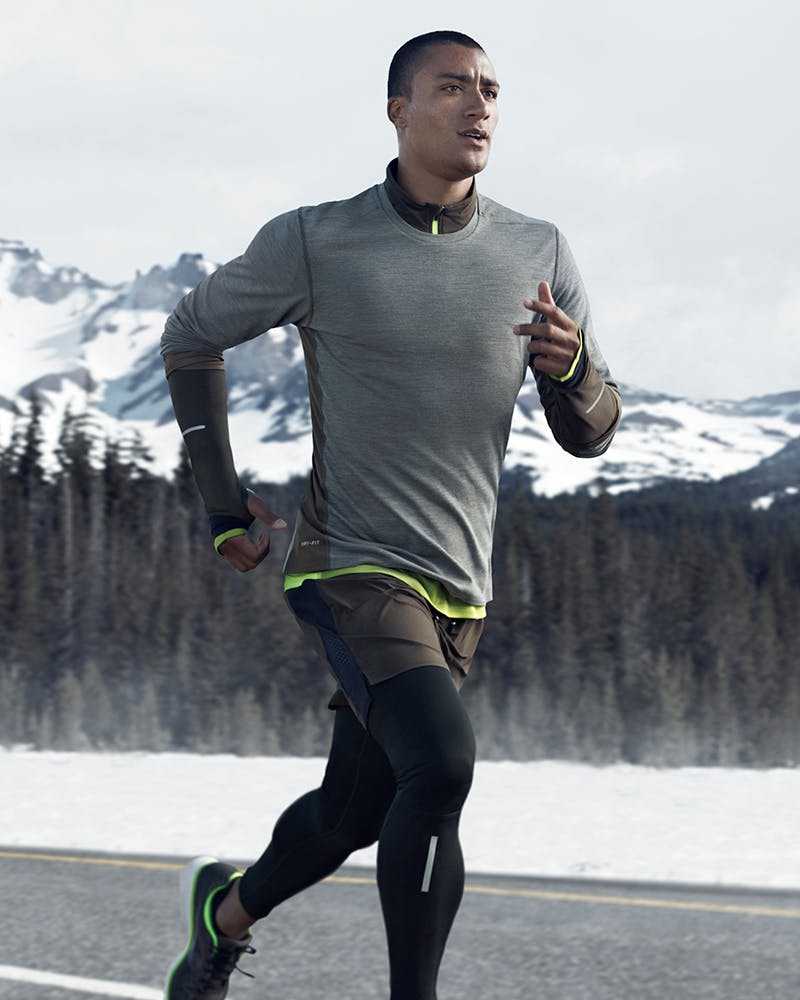 Get your gear in order
Some runners like to travel light, others like to pack a few essential accessories such as a water pack, belt, or phone holder. Make sure everything is in place properly as you don't like fiddling with your accessories in the summer, so why would you want to in the dead of winter?
Always fresh, never frozen
Once you have all your gear set up, it's time to focus on the run itself. As it's cold outside, make sure you've done a proper warm-up indoors before heading out into the cold. If you can, plan to finish your run at home or outside of wherever you need to get to. Once done running, your body temperature will begin to sink very rapidly and you want to avoid being in the cold for too long afterwards.
Finally, keep in mind that your body (especially your heart) works harder in the cold, which means you might not want to push for your personal best during the winter. Keep the runs manageable in terms of distance and pace.
Our designated Selects section features products that we love and want to share with you. Highsnobiety has affiliate marketing partnerships, which means we may receive a commission from your purchase.