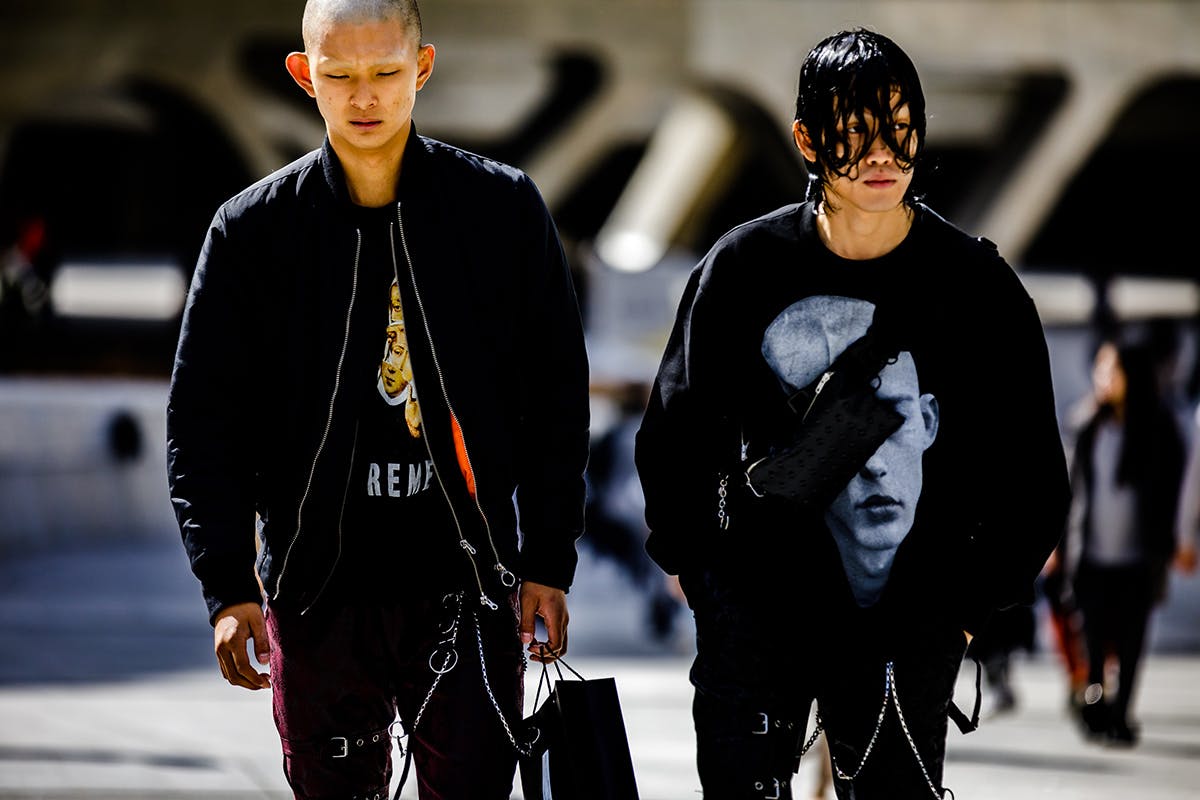 Goth's entry-point into fashion is up for debate. Its origin could be pinned to Los Angeles' 1970s Deathrock scene, or to gloomy Britain of the early '80s (soundtracked by The Cure). What's certain is that this Atlantic-crossing subculture is still rearing its dark head in pop culture today. It's certainly come a long way since "The Dope Show" glory days of Marilyn Manson.
Just like us mortals, the sartorial world is prone to mood swings. There's only so much pastel apparel one can take, after all.
The recent runway displays of several fashion houses seemed to have led straight from Hades' underworld: Consider the vampire hunter fits from Yohji Yamamoto and Prada's FW19 show that took gothic references right back to the early 19th century, showing love for Mary Shelley and one of the original goth boys, Frankenstein.
With Halloween here, it's a fitting time to deliver a reminder that this is a look that endures far beyond All Hallows' Eve. From the Dark Lord Rick Owens to the black-obsessed Yamamoto, fashion's love affair with the macabre shows no sign of dying.
Leather
Leather is the goth's go-to — a satanic staple, if you will. Serving as a basis to any dark look, current head-to-toe highlights include this woven coat by COMME des GARÇONS SHIRT. Experimental punk and goth elements have been present in collections by the Japanese brand since day one, with Rei Kawakubo making no secret of her appetite for black.
For a full leather blackout, pair the CDG piece with Rick Owens' famous aircut trousers, executed with a leather twist.
Blood Red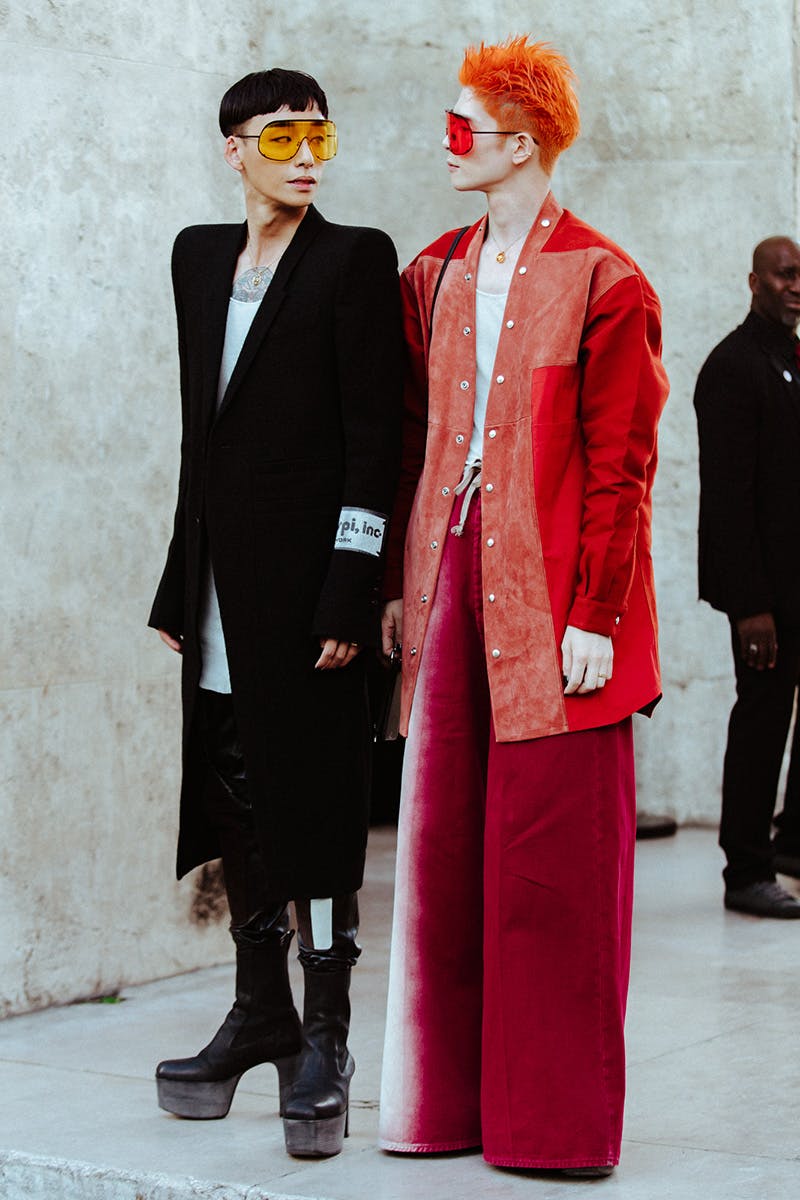 Every pitch-black soul needs some contrast. When we're talking goth there's only one color to offset the monochrome, and that's blood red. With the weather now as cold as your heart, invest in this Marni beanie. Its sprayed fabric trail makes it look like the wearer has gone out with a bang, Tarantino style.
The crimson theme takes a literal turn with Rick Owens (again). This shirt from Rick sports a spill mark that looks like a heavy haemorrhage or a major ketchup stain, depending on how you see things.
The Supernatural
A true goth boy isn't only concerned with looks — it's a way of life, a belief system. And that often means believing in the supernatural, whether you actually believe or not. Yohji's at it again with this haunting Medusa ring, a piece of jewelry impossible to avoid fixing eyes on, despite knowing the grave consequences.
The shirt from Endless Joy, which is considerably more color-heavy than what's typically considered goth, features original artwork referencing a Balinese legend. This hellish overshirt by British label SCRT dropped recently, possessed by demonic graphics by Francisco Marques.

(Available at 2 Merchants)
(Available at 2 Merchants)
Big Boots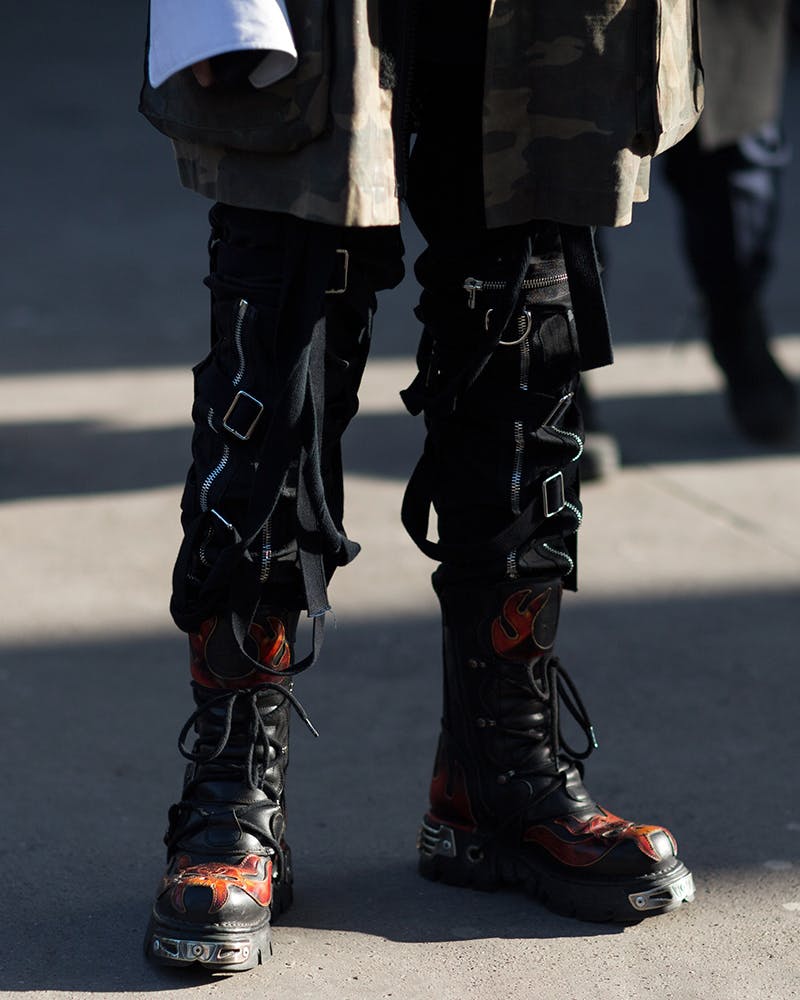 Thought we'd forgotten footwear? No chance. The big boot to a goth boy is what khaki shorts are to suburbia dads — essential. Dr. Martens is always an obvious choice when looking for a real set of stompers, and the British brand's harness boots pack chunky metal hardware with added studded detailing.
You'll find more big boot options below, including hefty kicks from Alexander Mcqueen and Balenciaga. Now that you're laced and leathered up, tread heavy-heartedly through Halloween — and beyond.

(Available at 3 Merchants)
(Available at 3 Merchants)
Our designated Selects section features products that we love and want to share with you. Highsnobiety has affiliate marketing partnerships, which means we may receive a commission from your purchase.