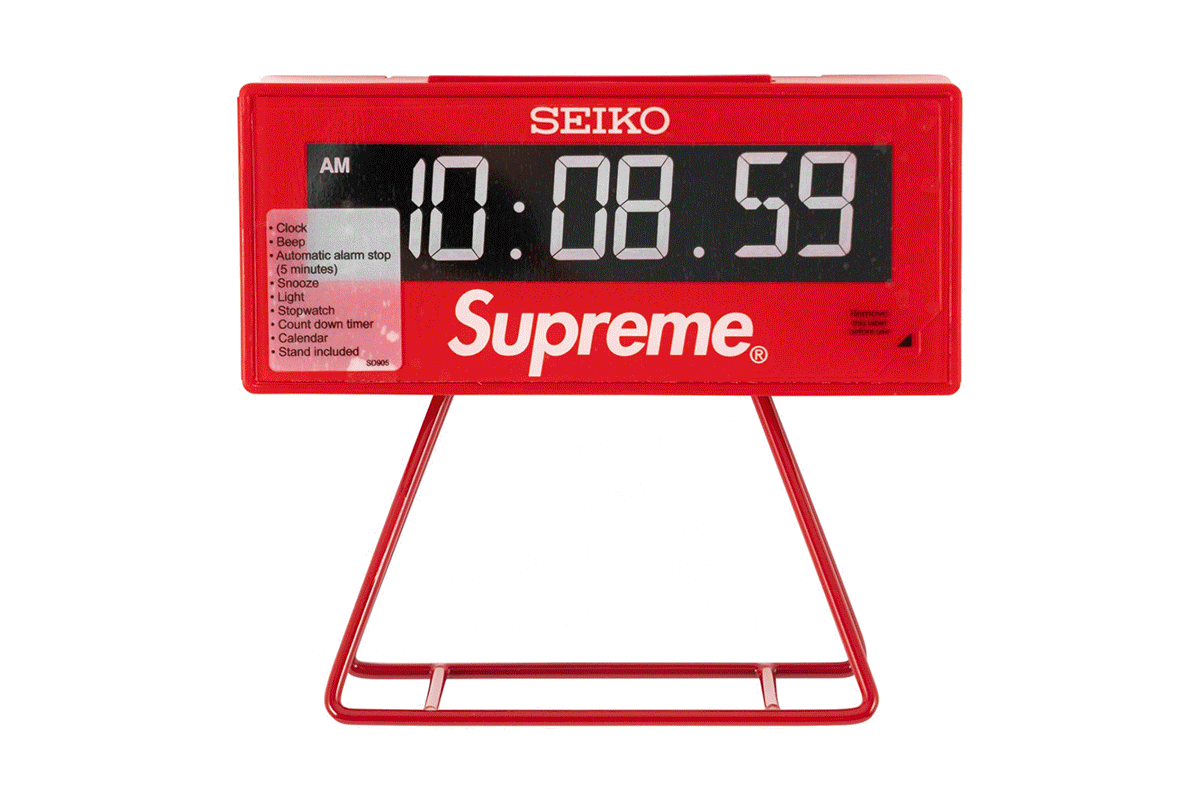 It's hard not to watch what Supreme is doing. Whether you're in the market to cop or just an innocent bystander, every Thursday seems to bring a new selection of eye-catching goods. From bold outerwear to confusing collaborations, each drop is worth a quick browse, but what really piques our interest is the prospect of new Supreme accessories.
Accessories are arguably where Supreme shines brightest. The brand has the ability to really run with any creative ideas when it comes to accessories, and we mean anything. Spring/Summer 2021 has been no departure from the usual madness of Supreme accessories, including some unmissable leather bits in collaboration with biking icon Vanson and even a fridge with Smeg.
To honor one of the wildest selections in the world of style, we've hit the net to round up our favorite Supreme accessories of the season. Buckle up.
Shop the best Supreme accessories of the season below.
Rimowa Topas 45L Suitcase
RIMOWA's top-of-the-range suitcases have been the subject of several stylish collaborations and Supreme is the latest to imprint their inimitable logo to the durable shell.
Supreme Leatherman PS4 Multitool
At some point it'll come in useful and until then you can keep it on your shelf.
Vanson Spider Web Bag
Vanson leather is developed to keep people safe when they come skidding off motorbikes, so it's definitely what you want protecting your valuables.
Supreme Six Panel Cap
This washed-out, retro six-panel cap is the easygoing finishing touch we were looking for this summer.
Lezyne Pocket Pump
Pull this Lezyne Pocket Pump out midway through your cycle ride for a quiet flex.
Yashica MF-1 Camera
If this one ever makes it out of its Supreme-branded plastic case, it'll capture some good memories. "Say Supreeeeeeme!"
Supreme Zip Tote
Fairly quiet by Supreme accessories standards, this beige tote features a ripstop construction and zip closure.
Seiko Marathon Clock
Clocks are, by and large, extremely boring. Not this one.
Supreme Peace Pin
Pins are an easy way to bring real personality to your looks. This silver Peace Pin is small but bold.
Supreme Vampire Boy Key Chain
the idea is that you pay more attention to where you put your keys when you've spent over $100 on a key chain, right?
Want to keep browsing? Head to the Highsnobiety Shop for more products that we love. Highsnobiety has affiliate marketing partnerships, which means we may receive a commission from your purchase.