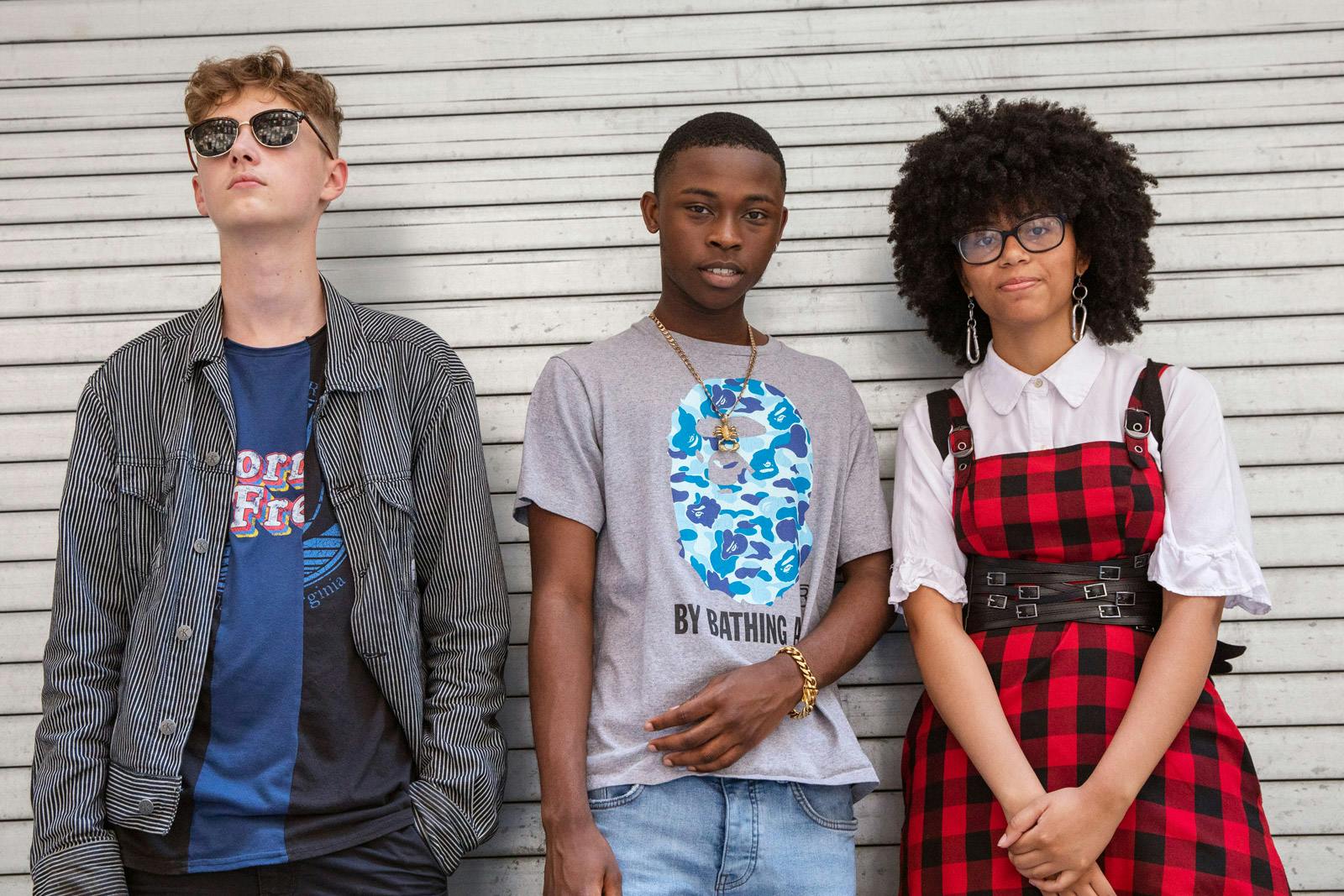 Highsnobiety / Bryan Luna
This piece appears as part of our initiative on Identity & Representation, a six-month-long project highlighting different facets of identity and how they shape the practices, conventions, and conversations happening in the Highsnobiety world. Head here for the full series.
As they continue to grow into their own as a generation, Gen Z moves further and further towards the forefront of the cultural conversation. They are especially of interest to companies who want to sell to them, and even more so for marketers who, posing as insiders who "get it," aim to concoct a generational narrative on their behalf. Questions they ask tend to be along the lines of, "How do we address Gen Z in order to sell them leggings and hoodies? What do these kids want?"
I also want to know what these kids want; not for any nefariously capitalist reasons, but because I'm interested in youth culture. Instead of reading yet another slapdash pundit article on Gen Z comprised of manipulated surveys and a healthy dose of thin air, I decided to simply talk to them. In the Highsnobiety bent, I wanted to know what they like wearing and why, and where they get their stylistic cues from. I designated my daughter to recruit some friends from her Brooklyn high school, and we ended up in a café in Ditmas Park to hash it all out.
Unsurprisingly, I did not find out much I didn't already know — kids (kinda) love Supreme, they love Off-White™, rappers are style gods, YouTube is the beginning and the end of the internet, Instagram is where it's at (what's Facebook?), and they love memes. Lots of memes.
What was more noteworthy is that, even in my tiny sample, they were a vibrant crosscut: intelligent, witty in their chattiness and contemplative in their silence, sharp when they were right and endearing when they were wrong, because at least it showed their curiosity and enthusiasm. I didn't necessarily ask my daughter to "round up her most diverse friends to make sure we get a good sample" – the only requirement I set was to find peers who were interested in style – but this being Brooklyn of course, inclusivity was inevitably sorted by itself.
Our protagonists — Ted Berman, Nathaniel Gouraige, and Alexis Morgan (she doesn't have Instagram) — are all aged 15 - 16. Here are some excerpts from our conversation.
On personal style
Ted: I got into fashion in 8th grade, starting out with what's cool. I felt like I was the irrelevant kid in my class, so I started wearing Supreme to fit in. Then I realized it was stupid, so I now I just wear whatever I like. I mix low-end with high-end; I have stuff from Rick Owens and a Saint Laurent piece and mix it with Urban Outfitters and Zara.
Nathaniel: I have an older brother who influenced me a lot. Around freshman year I started developing my own style, wearing brands that I liked like G-Star, and streetwear because my brother wears a lot of high-end stuff. I like clothes with a baggy fit.
Ted: [to Nathaniel] That's like an early 2010 outfit you are wearing.
Nathaniel: The baggy clothes were more like 2000s era, Soulja Boy wearing oversized tees and all that, and then everyone started wearing all these clothes that fit them, the tight stuff.
Ted: I love brands, but I hate the culture around them. When Supreme wasn't nearly as popular as it is now, and Off-White™ too, it was better, because if you wore it people genuinely appreciated the design. I own a pair of Yeezy 500s and I was walking to school in them the other day and these two guys were like: "We like your Yeezys." It really pissed me off, because you wouldn't like them if they were from Walmart. You'd think they're really ugly, but because of the brand name attached to it you like it.
I don't like that word: "ugly." I feel like making fun of someone's clothes because you think it's ugly is the worst thing you can do. If they're just wearing something that's available to them, like Gap, that's okay,  and if someone is wearing something avant-garde — like Rick Owens or Raf Simons — and you call it ugly because you don't understand what the design perspective is, it's sort of naive.
Nathaniel: Sometimes I'll admit to hypebeasting. Certain brands, you see BAPE and Supreme and it looks different. Then there are timeless brands, too, like Louis [Vuitton], Gucci, Thrasher.
Ted: I love Thrasher!
Nathaniel: Yeah, like that. You don't get looks like you're a hypebeast for wearing brands like that. You could wear them from way back when to now, and you'd look fly.
Alex: They are certain people who wear certain things, usually they have the same personality, and they look it. I'm not really friends with people like that, but I don't think it's because of the brands they wear, it's just who they are.
Ted: I have plenty of friends who wear hype stuff, and I don't really care about that; I just think it's really indicative of their personality and their state of mind as a whole — they're insecure and they want to be looked at as cool.
On authenticity
Alex: I see girls wearing Metallica and Iron Maiden and Marilyn Manson T-shirts and I just know they don't listen to those bands. I'll ask them and they don't even know who they are. I mean, at least you can look it up, right?
Ted: I disagree — you can wear what you want, but there is a degree to this; you're being fake because you don't know what the symbol on your shirt means. If you wearing that Dark Side of the Moon tee because you like that prism design, that's fine, but I think you should also respect what it means. Related to that, a lot of my designs use existing art, but you wouldn't play it off as that art as yours. You have to credit the original artist, not just literally, but in terms of the image you are portraying.
Nathaniel: I agree to a certain extent. I'm a victim here, I admit to wearing Metallica and Iron Maiden tees, and I don't listen to that. I looked up their music and it's not something I'd listen to. It's about the artwork.
On hip-hop's influence on style
Nathaniel: I live around Flatbush, where you hear hip-hop all the time. And we've got it down to a science when it comes to what rappers are dressed in, their turns, what they say. We really try our best to emulate them.
Ted: Definitely hip-hop is the biggest influence on both streetwear and high fashion. You see artists like 21 Savage walking the runway, and I just hate that, because what does he know about fashion? He just wears it. He walked Philipp Plein's runway, that just pissed me off.
I think people need to allow for not just other music genres, but other art forms to allow their way into the fashion world, like actual art in museums. A lot of what's going on in the art world has been lost on fashion. Now it's just music, especially in streetwear.
Nathaniel: I disagree with that. I think when 21 Savage was our age he probably wasn't into Philipp Plein - I'm not into it...
Ted: I barely know who that is.
Nathaniel: ...and now he's probably learning about different brands. So him walking on the runway, he probably learned a lot.
Ted: He calls himself "the Saint-Laurent don" - he doesn't even know how to pronounce it, he doesn't know the history. He just wears it because it's high-end, because it's drip.
Alex: Yeah, I'd say hip-hop is the biggest influence, especially on what the boys wear. I don't necessarily think it's bad, every music genre comes with its own style, and you wear what fits your personality.
On the best-dressed artists of today
Ted: Young Thug is this generation's Kurt Cobain. He's very androgynous.
Nathaniel: For a while I thought Kanye's influence was kind of delayed, because he was talking about BAPE since like 2008. I feel like people right now are at the same pace as celebrities, and it's starting to look more uniform. People who like hip-hop look like hip-hop artists now.
Ted: In the '60s, you had someone like Sid Vicious completely revolutionizing what people were wearing. In the '40s and '50s, people didn't really wear casual clothing, and he completely changed that. He was wearing all-leather, he made the swastika into a fashion symbol. He wasn't a Nazi, he wore it just to get a rise out of people. You can't wear that now, because everyone will call you a racist. There is no controversial symbol you could wear today.
Nathaniel: I literally thought this morning that Young Thug is the Prince of our generation. People dress into a bunch of brands, and it's like, they look terrible. It's like, not okay. They have no fashion sense, but they have all the brands. It's annoying.
Ted: Yeah, it's the worst thing, people just jumbling a bunch of brands together. Style in its purest form is objective, it's connotation that evokes emotions in other people. If that's you, that's style. Everyone says: "Wear whatever the fuck you want." Yeah, but also know yourself.