Travel might be on hold, but we can still dream. In partnership with Havaianas, we're virtually touching down with friends in cities around the world to vicariously wander their neighborhoods and spotlight the places they've been leaning on during this unparalleled year.
Ellie Tan aka ell4d is a content creator and illustrator whose drawings send messages of positivity and self-love. When lockdown came into force last spring, she was living in New York studying fashion media at LIM. With all the chaos and uncertainty, she decided to pack up and head home, at least temporarily, to Singapore.
Upon returning, she's discovered a newfound love for the city she once couldn't wait to leave. "I love Singapore the most because of my support system – my family is here – but also because I know this place like the back in my hand. It's so safe – I can go cycling at night or grocery shopping at 3:00 a.m. And it's quiet. I remember coming back from New York, the first thing I realized was, at 12:00 a.m., I don't hear sirens. I don't hear people shouting, I don't hear anything. I didn't realize how much I missed that."
At first, she moved in with her family, which is common. "It is expensive here, but it's also a cultural thing, we take so much pride in having three generations under one roof," she explains, but now she's moved into an HDB – residences managed by the state's Housing Development Board where close to eight in 10 residents live – in Buangkok, a residential neighborhood that's most famous for being home to Kampong Lorong Buangkok, the last surviving kampong (a traditional village) in the country.
Located off the tourist track, Buangkok is a fairly new neighborhood that's still being developed and doesn't feel as crowded as other parts of the island. It's a good representation of a typical Singaporean neighborhood – there's plenty of communal like playparks and outdoor gyms, which people flock to at 6 p.m. after work, and several parks in the vicinity. Tan and her roommate, photographer Lenne Chai, took us on a trip around some of these neighborhood spots that became lifelines this past year.
The Basketball Court
"During the lockdown, I started rollerskating. Me and my roommate at the time would find places to go and skate, and the best places are at parking lots and at basketball courts. So we go in when no one is around to skate, sometimes kids will come in and skate too."
The Kopitiam
It's impossible to talk about Singapore without mentioning the food, as Anthony Bourdain once wrote: "What you do in Singapore is eat." There are Hawker centers – open food courts with a number of family-run street food stalls – that serve up a range of cuisines spanning Chinese, Indian, Malay, and more. Then there are Kopitiams, the Singaporean equivalent to coffee shops (kopi means coffee), which serve breakfast and coffee in the morning, and drinks and simple dinners late into the night.
"I remember when I came back, I had my first Bak Chor Mee, it's basically minced meat noodles. It's iconic to Singapore, like Singapore convenience food, and I could not find it anywhere in New York of all places. When I came back, it was like 1:00, 2:00 a.m. I was hungry and oh my gosh. Supper culture is such a big thing here. If at 2:00 a.m. you're craving soup noodle then you go and you get it. That's one thing I really missed when I was in New York. You can also have a really good meal for three or four bucks at the Kopitiam in my building. I love a traditional breakfast – that's like toast, eggs and a milk tea."
The Grocery Store
"One of the biggest things that I really missed when I was in New York is just how accessible the food was in Singapore. We're talking like 24 hours, and supermarkets, they're open 24 hours too. At the peak of the pandemic during the lockdown, I was very cautious about interacting with anybody. So I would go and grocery shop at 4:00 a.m., and I'd have the whole place to myself."
The Neighborhood Playground
"Parents and grandparents come down with their kids or grandchildren. Sometimes when the kids are away, I like to go in too just because it's still fun and I still enjoy it, having a go on a swing or something. It's nostalgic. Every neighborhood's playground is very different, but also very similar. Every kid in Singapore who lived in a flat grew up with those. I remember playing on slides a lot when I was five years old and stuff like that."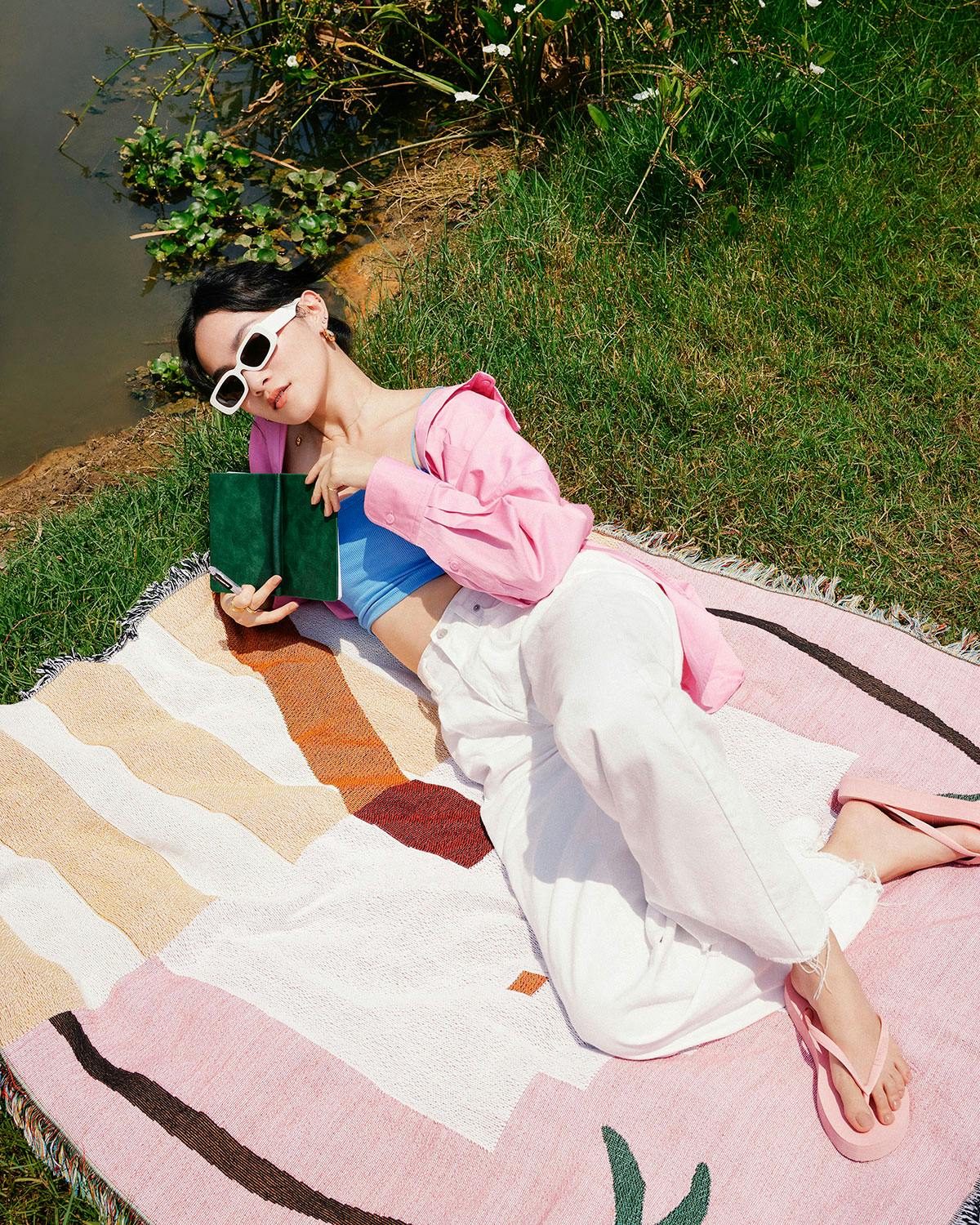 Riverside Park
"In Singapore, it's really hard to find places where you have a lot of greenery. We're an island but we don't have a beach around – the beach we do have is manmade. Sometimes you're caught in this concrete jungle and you just can't get out. So that is the closest I can get to nature. I really, really enjoy it. I come here on my bike, turn off my phone and just be."
Shop Havaianas summer collection here.