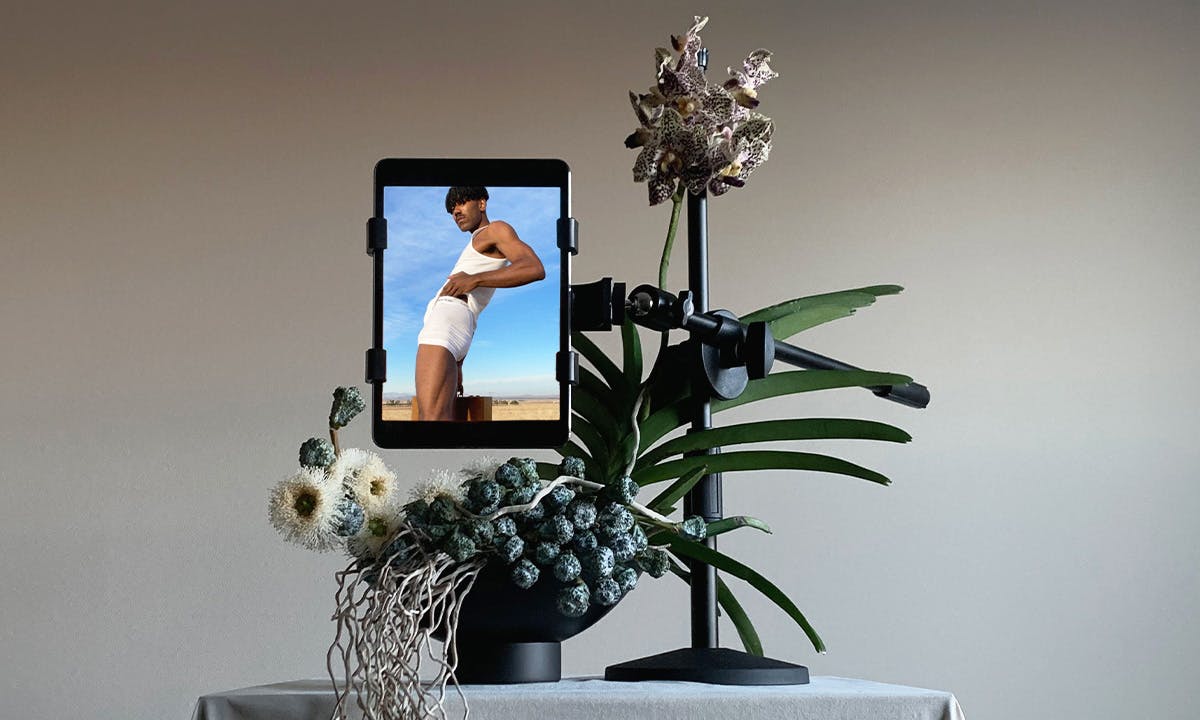 Undoubtedly one of the most well-known social media moments to have graced the fashion world over the past few years has been Calvin Klein's #mycalvins. Not only did the visual campaign supersede its global reach, the trending hashtag took Instagram by storm, with currently over 884,000 posts tagging #mycalvins. Intending to promote the brand's durable and comfortable underwear collection, #mycalvins has since expanded into denim too, but in reality, it's much more than just a successful campaign.
#mycalvins grew organically thanks to the hundreds of thousands of individuals who became part of the huge global campaign. Creatives used the hashtag to not only show off their Calvins but also to showcase their own work and use the campaign as a stepping stone to enter a new realm. Since its debut in 2014, #mycalvins has had a host of renowned celebrities wear the trusty jeans and underwear, from Justin Bieber and Kendall Jenner, to Shawn Mendes and A$AP Rocky. But the real crux of it, which has carried this campaign to the height it's at now, is that Calvin Klein garments are in fact for everyone. The hashtag #mycalvins is unequivocally for all, inviting cultural creators to express their individuality.
It's important to talk about moments like #mycalvins as about inclusivity and personal expression. From talent collaborations to fans customizing their favorite Calvin Klein pieces, this is what makes it more than just a campaign, it's a way of celebrating individuality and community. The ground-breaking moment has featured bodies of all shapes and sizes, celebrating each individual's uninhibited freedom and strength when it comes to challenging the status quo and stigmas surrounding body image. Stemming off of #mycalvins, we've also seen #proudinmycalvins all over the internet - a shining example of its approach to Pride, working closely with the LGBTQIA+ community to help express their moments of Pride.
To celebrate #mycalvins, we spotlighted a few artistic creatives to express what the campaign meant to them and represent this in whichever format they desired. We caught up with them to find out more about their experience with it and how they found the process overall.
Tyler Mazaheri 
Hailing from Los Angeles, visual artist and model Tyler Mazaheri has always been curious about the fashion world. While investing time in his photo and design skills, hoping this would be his entry into fashion publications, Mazaheri ended up finding himself in front of the camera more and more. "I get the best of both worlds now! #mycalvins, to me, is all about embracing your own sensuality and finding empowerment in your own skin. When I think of Calvin Klein, I think of the sort of charisma that is individualistic and grounded in your own self-confidence, and #mycalvins is all about finding that for yourself," comments Mazaheri. For his creative take on the #mycalvins project, Mazaheri kept his video as stripped back as possible. "As I mentioned, I think the Calvin Klein brand is all about self-assurance and feeling comfortable as you are. The whole story of this video was just me getting dressed; it's as simple as that."
Hailey Heaton 
Still life and portrait photographer Hailey Heaton from New York loves focusing on the details of things. "#mycalvins to me symbolizes openness and a comforting approach to underwear that makes everyone feel good in their own bodies. I'm all about body positivity, especially when it comes to advertising underwear, so I wanted to share parts of the body that are under-represented or normally retouched on the mass market. The response my photo received on social media from other women was so grounding. Feeling seen by just sharing a photo of stretch marks made me really happy."
Hirotoshi x Chella Man
Hirotoshi Iwasaki and Chella Man, two talented creators, collaborated on another take for the #mycalvins campaign. Born in Japan and currently based in Tokyo, Iwasaki is a video artist whose main medium is experimental animation. Man, on the other hand, is a Chinese-Jewish artist, author, and director who identifies as deaf and genderqueer. Man was also the first deaf, and trans-masculine model signed to IMG Models.
When it came to the #mycalvins campaign, Iwasaki says, "this was my expression of diversity," whilst Man commented, "it reminds me that I define the clothes I choose to wear, not the other way around."
For this collaboration, Man attended a dance class online, practicing liberating movements and freeing his body with hundreds of others partaking as well. "I felt a level of closeness that would not have otherwise been reached as it was possible to catch a glimpse into each other's spaces. Altogether, but alone. It's undeniable that we've lost many things this year, but it's good to take a moment to focus on what we have gained - intimate, online, interactions such as these." Iwasaki then created a video animation made up of drawings that were inspired by Man's activity, thoughts, and dynamic moving forms. "I tried to create a sense of unity that would stir people's imagination."
Sarah Lugor
First-generation American, Sarah Lugor, was born to South Sudanese parents but never fully felt like she fit in. "I was always searching for a crowd to be a part of because I was a major outcast. I felt like I was never fully accepted and was playing a role for everyone else - this is why I started my Tiktok." Lugor explains how she found 'her people' on social medial platforms, which helped her to fully feel like she could express her authentic self. This idea of authenticity and individuality closely links to why Lugor loves #mycalvins. " It really means just doing whatever your heart desires no matter how wild - pursuing your dreams and keeping your sense of self while doing it. After all, it's #MYcalvins, not anyone else's."
"I made this video while I was in the deep depths of quarantine. My mom had COVID and lost her job, and she had me quarantine elsewhere so I could keep taking care of family matters. I ended up in the middle of nowhere with my friend on a farm. I thought it would be cute to utilize the space that we had and make a little aesthetic video so I could send it to my mom. She thought it was cute! It made me forget the circumstances of the world around us at that moment."
Miguel Yatco x Jerrod La Rue
Another collaboration came from Miguel Yatco and Jerrod La Rue. Yatco, born and raised in the Philippines, lives in New York, working in graphic design and creative direction. La Rue, on the other hand, is from California and is a botanist and interior landscapist as well as an artist working mainly with film photography. Yatco recently developed a passion for flowers and was keen to explore this medium in his craft, which perfectly overlapped with La Rue's background botany - a match made in floral heaven.
"#mycalvins, to me, is all about perspective -  what makes us unique through the presence that we put out into the world. It's what allows us to be us," says Yatco. La Rue commented on the campaign, saying, "#mycalvins means being a kid again and not wanting to put any clothes on! The idea came from a photo I took in my Calvins a few years back with me in a flower field. As a kid, I loved being naked and going into the flower fields. I went to my favorite hometown spot that's usually covered in wildflowers and took self-portrait photos there. The suitcase is my new favorite accessory."
Yatco succinctly describes the process saying, "the piece we created is very timely as we had to navigate through the pandemic and connect through video calls, producing this work remotely. Jerrod is also a super talented photographer whose work encapsulates nostalgia through self-portraiture and landscapes. Immediately, I was drawn to his presence and how he translated that into his work, which had left me wanting to create a floral arrangement based on that. Eventually, the piece became a synergy of two perspectives brought together by the circumstances we were in. We had to figure out how to combine the two in a tactile way, and it was through the very objects we were using to communicate. A juxtaposition of the digital & the natural."
#mycalvins is an inclusive way for all to join in to explore limitless self-expression and set a precedent for others. You can see why people have latched onto it so quickly, from the self-confidence it evokes to the wider community it has brought together.