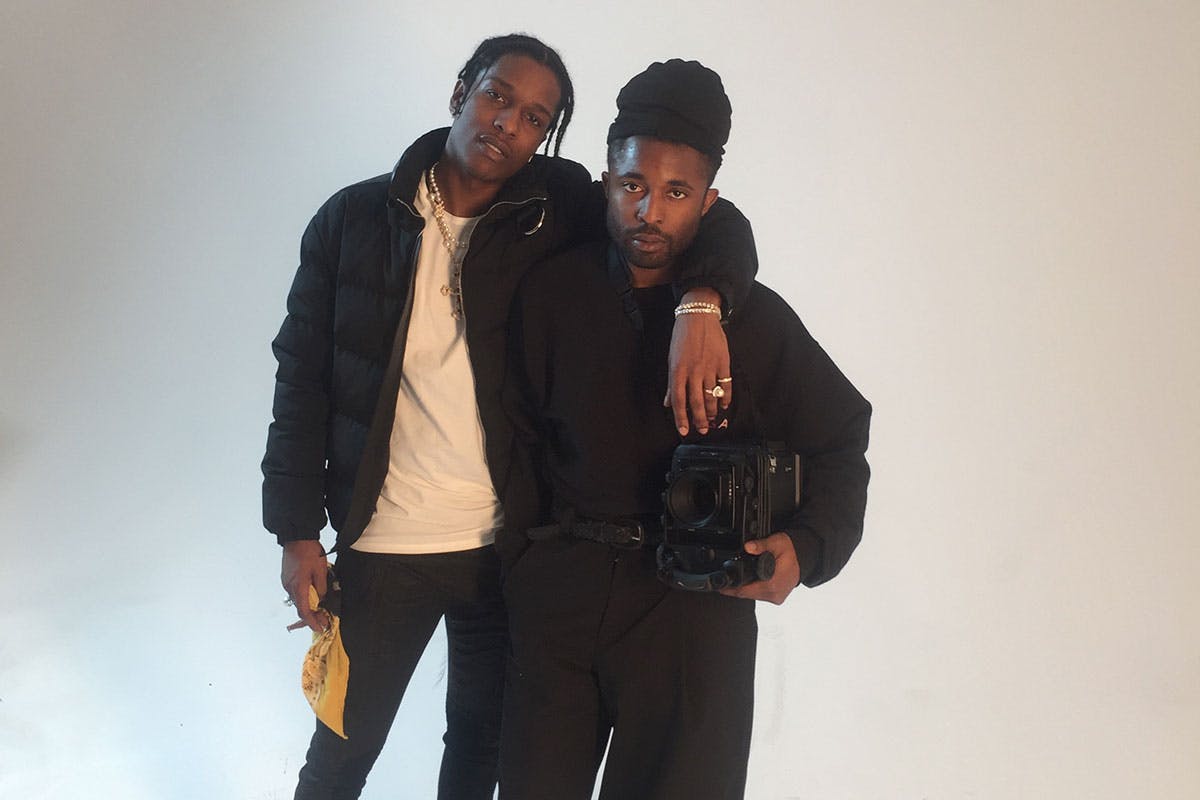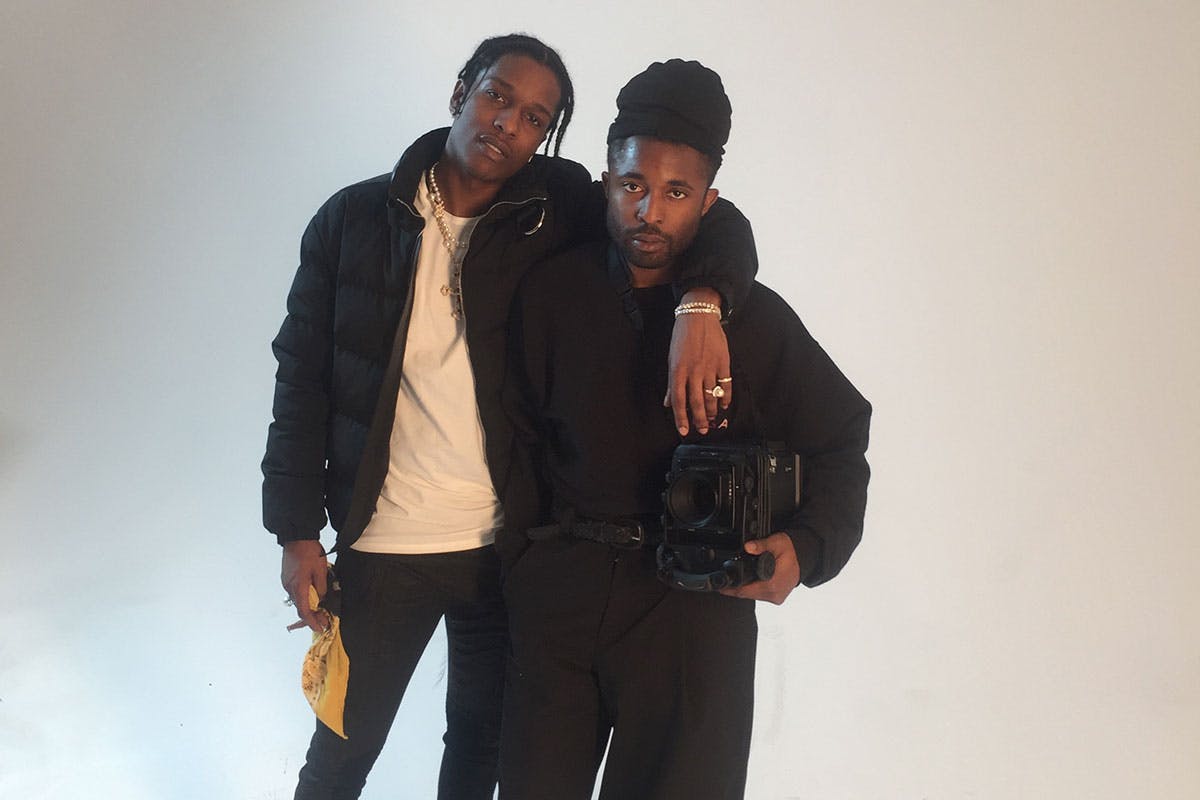 Much like the album it heralds, the artwork for A$AP Rocky's third full-length TESTING does not lend itself to easy interpretation. Surrounding a bold typeface logo are a host of amorphous figures, wreathed in shadow. Some of them might be familiar faces, possibly Rocky himself or some of the record's collaborators like Playboi Carti, but no visage is visible enough to assign a match. They are omnipotent and slightly sinister, as if the Ringwraiths from The Lord of the Rings trilogy moonlit as a rap cypher.
The man responsible for this striking cover (along with rest of the promotional materials including the single art for "A$AP Forever") is photographer Cary Fagan, a Texas-based artist whose work is filled with such rich flourishes of light and shadow. He has also built quite a resume of collaborators, gaining Rocky's attention through his work with Jazz Cartier, in addition to working with Solange on her 2017 performance piece 'Scales'.
We caught up with Cary amidst his work on such projects as a 'yearbook' of black creatives and an upcoming exhibition in Russia to discuss TESTING, his working relationship with Rocky, and the surreality of seeing his work toasted by the rap game's best and brightest.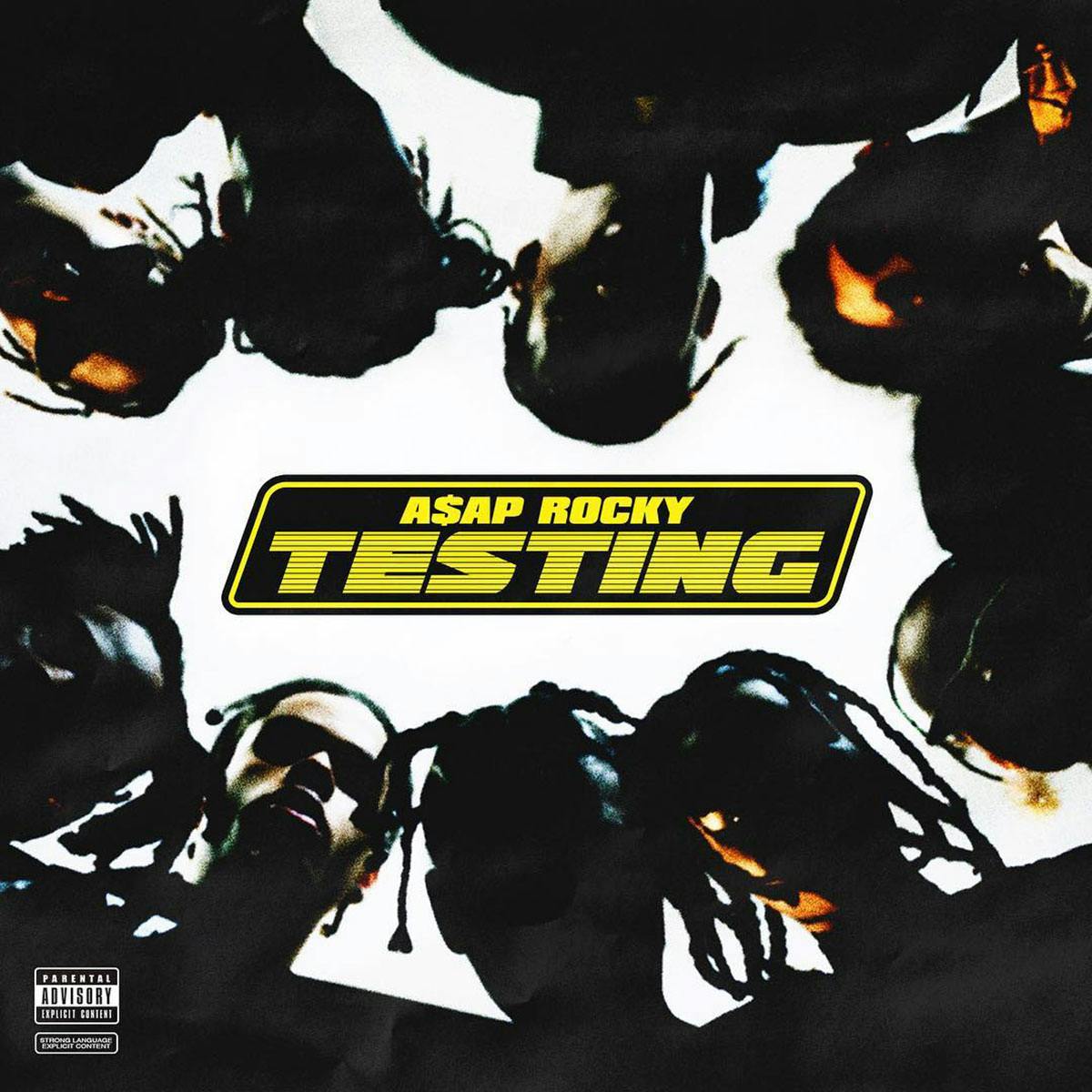 How long have you been a photographer? How did you get into it?
I've been doing photography for over a decade. It started with my dad, he's a photographer. When I got into it he was shooting junior league sports where we lived at the time. Every weekend I would shadow him and watch him take images of football players and he would sell these prints to the families. So the process of taking photos was really interesting to me. Then that led me to sneak off with his camera, and there was this little forest behind our house that I would go to with it. That's when I practiced shooting with nature. Nature is the birth of my interest in photography - it's the element that really sticks with my style. And by nature I mean the candid nature of things; the natural movement, the flow of things, and the ability to capture that moment.
Tell me a bit about how this collaboration with A$AP Rocky came about.
I did a few projects in New York last year, and one of the projects I did was with his stylist Matthew Henson. We did a shoot for Jazz Cartier for Red Bull - he was releasing a project that I was shooting for. I believe that word of mouth simply got to Rocky and it just started out naturally that way.
Were you familiar with his work beforehand? Was this a situation where you were fan-boying when he reached out to you?
To be honest, no. But I was really honored with the opportunity. A long time ago I was doing photography, but at some point in my career, I said that I want to be able to meet with rappers and work with them in a different style - my style, the more natural film style. I said that about maybe four or five years ago, and I never would have thought that it would have happened. I mean, it was a really, really good experience. Really memorable.
How would you describe the working relationship you two had?
Very, very natural. We're both artists. It's just all about communication and the vibe, so they say.
Indeed. What was it about your aesthetic that you think caught his eye?
I think the direction to "Do it your way." And I quote that, "Do it your way." I have yet to define what that means, but personally I simply... I enjoy lighting and colors and the unusual subtleties of film photography. My love of dark portraiture, I think that kind of strikes a viewer. They always ask a lot of questions about my dark portraits. Did you know there's no film stock made for melanin skin tones? So the process and the ability to accomplish something like a dark portrait in daylight, it's very, very appealing to people.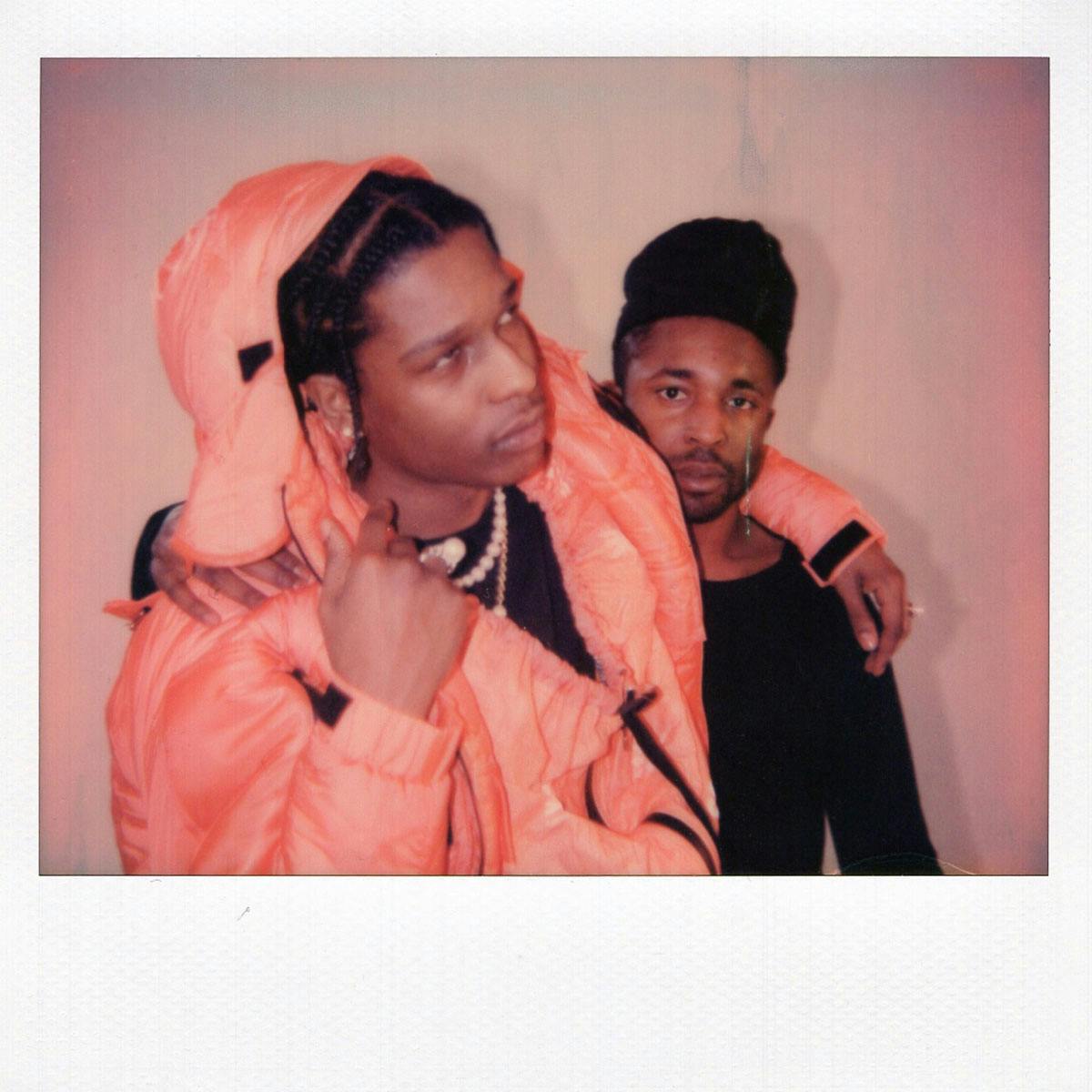 Was there anything you found particularly challenging in this project? Or alternatively, what was one of the least challenging aspects of this project?
Really just trusting myself. There's so many concepts that he and I came up with. The day of the shoot my intuition and gut feeling had this exact concept, the cover in mind. My team and I, we spent almost all day working that concept. We didn't mess up the concept, but we didn't get the right shot three or four times. That last time, in my head, I wanted to stop. But at the same time I kept thinking, "This is what I see, I want it to happen." That last shot would do it. It's really satisfying to see that. You worked so hard for something, and to see it in front of you, it's really satisfying. I'm still taking it in.
Yeah, because this is one of the biggest albums of the year. Everyone is seeing this image.
I haven't... It's hit me, but I haven't fully celebrated. I celebrated, I got to have apple pie and ice cream, but I haven't... It hasn't 'hit me' hit me. I'm having my crying moments. I'm telling my mom. It's to the point where I'm like, "Mom, I don't know what's happening yet, but I'll tell you when I find out." It's still... It's hard to describe.
Well, congratulations, again, from me at least.
Thank you, thank you. That's really nice, just hearing the congratulations and the support from everyone. It feels like Saturday every day, it feels like a holiday every day. Just getting the nice messages from people. Because that's what matters, that's what keeps me going. I'm sure that's what keeps all arts going as well. Very motivating.
So going back to the cover - to a casual viewer's eye, I think it's actually a little challenging to discern what exactly it's depicting. Take me through some of the ideas you guys were throwing around when conceptualizing it.
I will give you my personal idea of what I think the cover tells the viewer, and I'll give you two different thoughts and ideas: a few weeks back, Rocky did a live performance called 'Lab Rat'. That was kind of the unveiling before the cover of the album. Rewind that back to a few weeks before that happened - I thought to myself, 'everyone looking at the ground, it looks like they're looking at a test subject. They're looking at someone who is wanting to try something new, or is wanting to express themselves, and the world is waiting.' It's really on them to do it their way, and for the world to reciprocate. So I feel like it's the world looking in a test subject, or a 'Lab Rat', so to speak.
Then here you go, here you are, the installation comes out. That kind of... I had no idea about the installation. So I was like, "Wow, that kind of ties together with that thought." It's funny, too, because, I think... I'm on Twitter sometimes, and I've seen a few people compare the cover to an N.W.A album cover.
Yes, the 'Straight Outta Compton' cover.
Yeah, Straight Outta Compton. I had no idea that that was the cover after I shot it. I thought, 'Whoa, that's really crazy.' It was cool to see that people were comparing it to that. Obviously, that's not something I saw before I shot the cover, but it's really a weird coincidence. You know what I mean?
Totally. Now you said you shot on film, but how much digital alteration happened afterward?
I mean other than them putting the logo on there and some design touches by Moonbase, there's really not much. Like everything else they've used for promotions, it's been raw, most of it is raw.
I'm just wrapping my head around this. To clarify, those are actually all different people that you were standing below when you took that photo?
Yes.
Wow. That is incredible... the lighting is just stunning.
That's one thing that was really ... The lighting was very, very important for that shoot. It's exactly what the team and I wanted, that's what we wanted. I'm really happy... I'm a little teary right now, to be honest. It feels like a dream, but it's not. Every day I remind myself that I shot the cover.
I can't help but draw parallels to your work with Solange on her performance piece / installation 'Scales' - musicians making large-scale performance works are just falling into your lap. What was that project like? Did it inform your work with Rocky at all?
I do see a parallel in regards to the admiration of the dark portraits and kind of the 'do it your way' aspect, but otherwise there wasn't much of one. Because, again, I was in an environment where I got to work with Solange, but I also go to do things the way I saw them. That challenge and that opportunity was very nice for me because I got to feel myself in a new environment, but also deliver quality. Seeing Solange in her creative process, is very, very strong. Very... How do I describe it? It's like she's perfect. Very hard working, but very imperfect as well. She makes mistakes. But seeing the whole process of the whole, it's very... it's beautiful. I was honored to capture that.
We discussed the draw of your lighting style, but do you think there's something else as to why so many musicians are flocking to you? For instance, maybe there's something behind the goal you had years ago to craft a bridge between naturalism and rappers?
I think a lot of it has to do with my style of work, but maybe my personality as well. Or the way I go about things in my process. I'm very open. I like to communicate, I don't go into every project just doing the actual shoot. I love talking back and forth, the creative process attracts the artists or whoever that wants to work with me. There's no gimmick, there's no... I'm very honest and I'm very open in my work. I make mistakes. I like feedback. It's all just very natural.
For more of our interviews, read our chat with dancer and breakout star of N.E.R.D.'s "Lemon" video Mette Towley right here.
Head here for our review of A$AP Rocky's 'TESTING'.