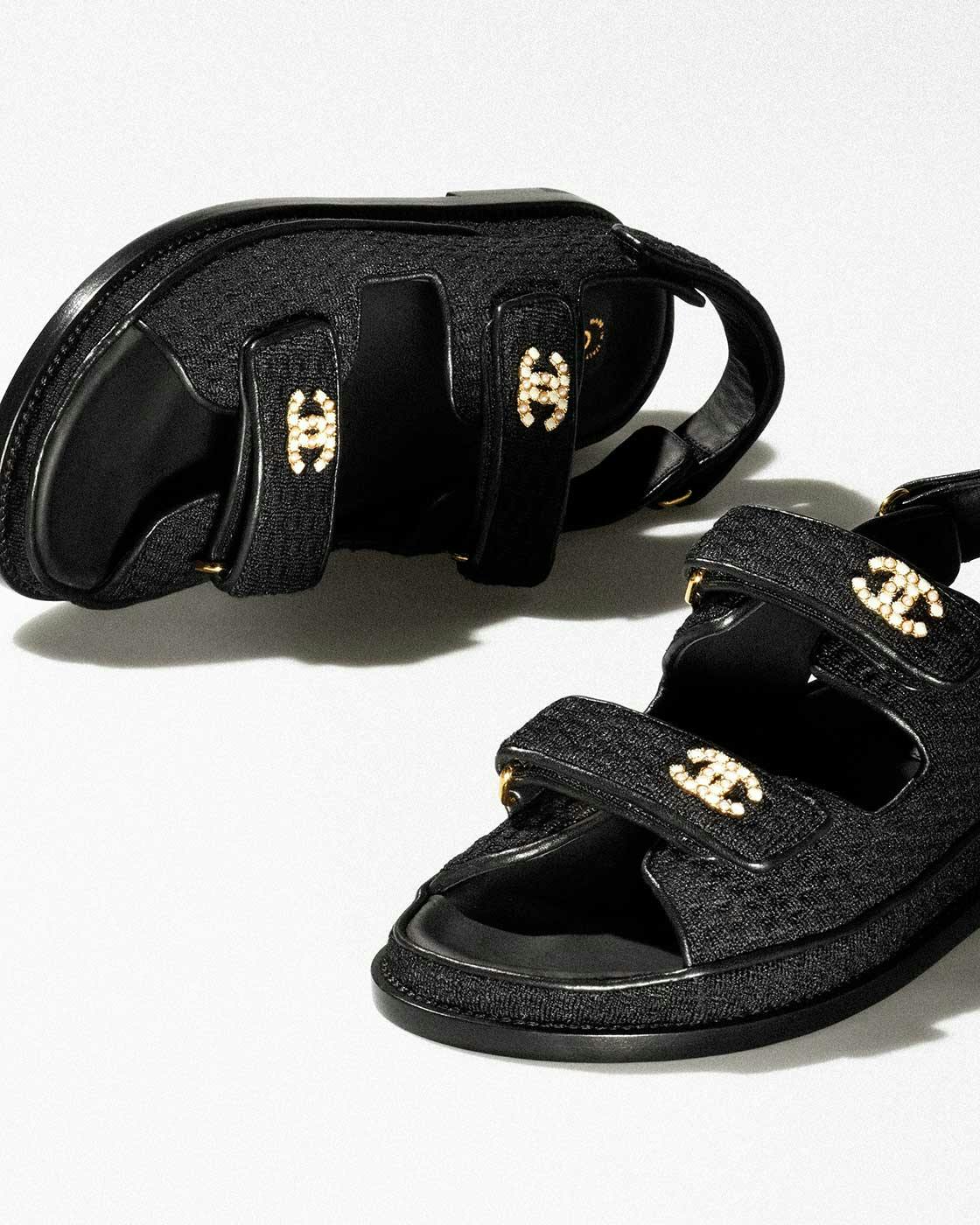 Not all footwear trends make a lot of noise. TikTok may lust over Versace's chunky heels, for instance, but it was a quieter sect of well-heeled clientele who made Chanel's sandals trend so hard that they became "a thing."
This isn't entirely new, either. Chanel's "dad sandals," which the luxury house humbly calls "sandals," have been the stuff of Instagram mood board dreams for at least a year or two by now.
The three-strapped shoe is exactly what it sounds like: a trio of forefoot and ankle closures, a leather footbed, and the essential interlocking "CC" logo repeated twice for maximum visual impact.
Seemingly most popular in tonal black leather — at least, according to a cursory skim of secondhand sites — Chanel's dad sandals don't come cheap. Expect to pay at least $1,500 for a pair, perhaps more depending on fabrication.
Regardless of price, though, these things are hot, hot, HOT and people want a pair badly enough that they've turned to dupes, which is kinda crazy considering that Birkenstock's Milano sandal, the tripe-strapped sandal that started it all, can be had for a mere $100.
Then again, we all know how much luxury labels love to take, uh, inspiration from Birkenstock's stable of classic shoes.
But now, luxury labels are lining up to borrow the opulent styling of Chanel's dad sandal, devising their own spin on the semi-chunky, three-strapped shoe.
To be clear, I'm not accusing any company of ripping of Chanel nor am I giving Coco's eponymous company credit for originating the three-strapped sandal. This is an age-old concept — strappy sandals with a heel! Who'd have thunk! — that's found new appreciation in the modern day.
But Chanel has played a major role in luxurifying the shape, elevating to opulent new heights that've obviously made the shape much more palatable to deep-pocketed shoppers.
Though the above styles are all cheaper than the Chanel footwear — each of these still-luxurious sandals retails between $420 and $1,100 — none of them are what I'd consider a "bargain," especially given that those Birkenstocks not only exist but are incredibly easy to find.
Sure, the humble Birks aren't a flex comparable to Chanel shoes but who cares? There's more to life than showing off some logos — like enjoying comfortable shoes that'll break in over time (and not your wallet).
This is not paid propaganda, mind you (my door is open, Birkenstock!), just an admission from a die-hard fan. The Chanel shoes and many other luxury sandals are fun, sure, but you can't beat the original in my book.