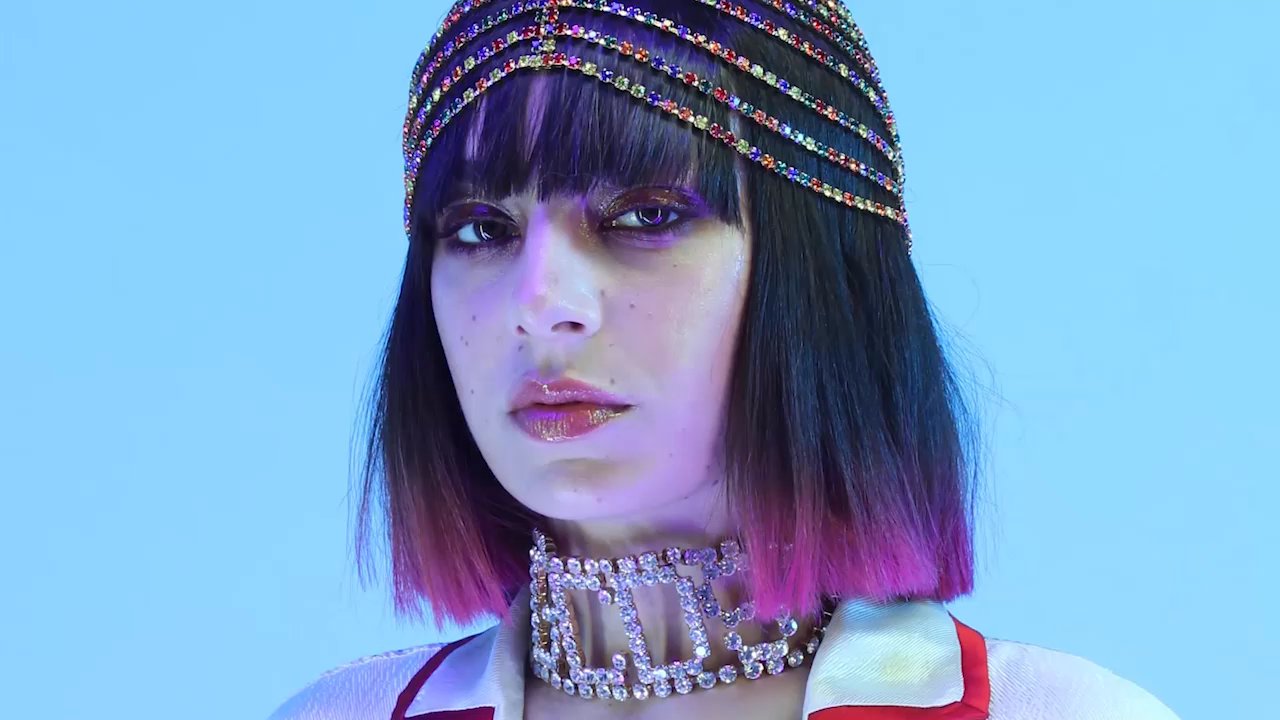 This story is from Issue 19 of Highsnobiety Magazine. You can buy the new issue here.
In what may be the best piece of proof that the world in 2019 is in fact a simulation, our political and cultural landscape has suddenly become inundated with figures who seem too metaphorical to be real: the presidents, CEOs, and activists emblematic of a poetic justice profound enough to suggest they are not flesh and blood but the creation of an interdimensional script doctor. Supposing the realm of pop music is powered by such algorithms in disguise, few of the industry's personalities seem as destined for broader narrative significance or as illustrative of concepts far bigger than themselves as Charli XCX. She'll be the first to tell you that she is the sound of the future, but as her career approaches a zenith that has been years in the making, she's settling into a role that feels more and more like the defining pop diva of the millennial generation — one whose work embodies the medium's cutting edge and whose career can easily be painted as analogous to the millennial experience itself.
Of course, Charli would decidedly scoff at such a diagnostic reading of herself or her music. We're discussing the impending release of her blockbuster third studio album Charli, and she is quick to rebuff any of my attempts at an analysis running deeper than her intention to make great pop music, clean and simple. I am curious, for instance, after five years of pointedly avoiding the album format with a slew of mixtapes and EPs (and quietly redefining the typical pop star release model in the process, including the launch of her own label Vroom Vroom Recordings), what it has been like to return to the model with such renewed focus.
"I don't know why it felt right," she says, a hint of mischief creeping into her tone. "I love to annoy people, and I think I've always been trolling. Like, 'I don't believe in that album,' or 'I believe in mixtapes.' Honestly, I actually don't really care. Everyone's going to listen to the music, however they want to listen to it."
Charli cares a great deal about the music, but her ennui with the process of actually putting it out into the world is more than understandable. The journey of her career thus far has been one filled with subverted expectations, unconventional steps, and — at its worst — thwarted dreams, the sort that would utterly break a less driven artist. Even her initial rise to stardom deemphasized her role in it.
"I Love It," a propulsive floor-stomper she co-wrote with Swedish producer Patrik Berger, was a top 10 hit on the Billboard Hot 100 upon its release in 2012, going on to top the charts in numerous countries (including her native UK) and appearing on multiple best-of lists at year's end. But Charli achieved these milestones as a featured artist, ultimately giving the track away to DJ duo Icona Pop. The song's overwhelming success was in stark contrast to Charli's debut studio album True Romance, released the following year to lukewarm reception in spite of positive critical appraisal. "I knew that I wasn't going to sing it," she told the BBC that year of "I Love It" when addressing the dichotomy of commercial success between the song and her record — she had no regrets.
The cycle repeated itself in 2014 with Charli's respective sophomore projects. "Fancy," a song she wrote with rapper Iggy Azalea, arrived in February, and by December it had become one of the best-selling singles in Billboard chart history. Meanwhile, Charli's second album Sucker, a veer into more pop-punk territory, was received respectfully if not passionately, producing singles with more staying power than her debut effort (the song "Boom Clap" became a juggernaut among teens and tweens thanks to its placement on the soundtrack of the film The Fault in Our Stars) even as it was reviewed with less enthusiasm.
It was at this stage that the path of Charli XCX began to diverge from the seemingly preordained, set-in-stone industry model, starting first and foremost with a radical reinvention of her sound. Vroom Vroom, a four-song EP released in 2016, was not so much a sonic evolution as it was a transmission from an alternate reality, as if Charli had opened up a wormhole in space-time and began to plunder inspiration from the chrome-plated, mechanized porn of our future android overlords. The vintage-aping beats of her previous projects were cashed in for something altogether darker and jarring; her delectable pop hooks were now married to gelatinous, electric caterwauls of sound, a deliberately avant-garde structure made all the more pronounced by the otherwise inviting melodies and familiar lyrical sensibilities.
The project was divisive, to say the least, garnering Charli her worst reviews to date, but it proved to be an invaluable turning point. Vroom Vroom's sonic palette set the table for everything that has come in its wake, an aesthetic direction that we can largely attribute to the production work of SOPHIE, the elusive mastermind of "hyperkinetic" beat work behind some of the decade's most distinctive electronic music and now staking her own claim as a pop star of the future. More importantly, SOPHIE's affiliation with the London collective PC Music brought Charli into orbit with its label head A.G. Cook, a collaborator who Charli refers to as her "musical soulmate" and someone whom she has remained professionally inseparable from ever since, currently serving as her creative director.
While the initial circumstances in which they met are blurry, Charli is certain they would have been in the same room together numerous times before discovering their musical kindredship. "We understand each other's minds when it comes to how we like to work," she says. "He likes to work fast, and I like to work fast. We like pushing things, but we're also not just doing it for the sake of it." She fondly recalls a day where she texted Cook that they should try to make an album together in a single day. He accepted, leading to a manic 18-hour studio session that wrapped up at 6 AM. "That's one of the reasons I love him. There's no one else in the world I could do that with," she says.
True to the spirit of his label, Cook brings far more materials to work with than the average producer, helming the creation of his neo-pop through every stage of production. "What I admire about him is that he sees the music in a truly three-dimensional way," says Charli. "There's the production, the vocals, the top line, sure. But he thinks in terms of how the song will fit into the overall campaign, or where it fits on the sound of the album." This attention to detail often manifests in unexpected ways; a 2017 televised performance on Jimmy Kimmel Live! found Cook splayed limp on the ground on a raised platform of white fur, playing dead while Charli gyrated a new single around him — rare is the producer/pop star duo who can add "performance art" to their list of accomplishments.
That single, however, has yet to be released, nor is it likely that it ever will be. In 2017, Charli's creative output was flourishing, and she had a glut of music ready to be unveiled to the world, but it was here that the problems began. As fans eagerly awaited her upcoming third album, she revealed to Rolling Stone her intention to drop a mixtape first to tide them over, citing that she "just got bored and made a load of songs, so I decided to put them out." The music industry being what it is, this proved to be no easy feat. Set to arrive in February of that year, the end of the month drew near and label politics were preventing the project from appearing. Charli went on to infamously tweet: "You have no idea how fucking hard it is to just release a free fucking mixtape in 2017."
Number 1 Angel was eventually released in March, but the worst was yet to come. Little by little, the majority of what was slated to be album number three leaked online, most of it in rough studio-demo form. Various explanations and apologies were issued, ultimately leading the planned project to be shelved, indefinitely. "Oh God... yeah, it was horrible," says Charli, emotion quickly coloring her voice. "It was so out of my hands because I felt like my personal property had been stolen, and taken. And I felt taken advantage of, and I felt like I was completely out of control. I didn't even have a choice. I didn't make the choice. The choice was made for me by the people who hacked me. It's really upsetting and scary and I didn't feel safe. And it's just... I felt so sorry for all the collaborators I had worked with, to have them blowing up my phone and have to tell them that way. I can't really go into it."
Highsnobiety / Kenneth Capello, Highsnobiety / Kenneth Capello
If a silver lining is to be found in such a devastating loss of agency, it may be that the ensuing months found Charli reclaiming her artistic output at a level she had previously yet to touch. She stepped into the director's chair to helm the music video for her standalone single "Boys," a celebrity-laden clip repurposing the notion of the male gaze, which became a viral smash. She released another mixtape at the tail end of 2017, Pop 2, which crystallized the creative emphasis on collaboration which characterized Number 1 Angel and was met with rave reviews. And within the year she was embarking on her largest tour yet opening for Taylor Swift, an experience that both expanded her fanbase and reminded newcomers and casual fans alike that, after just a few years in the business, Charli could deliver a setlist comprised of nonstop hits, most of which you probably know the words to.
In other words, Charli XCX had become a proper pop star, no longer a talented artist working her way up to becoming one. But with the fame, fans, and fortune comes the heartache and loneliness; in a 2018 profile with The Guardian, she was quoted as saying she was "quite alone at the moment, more so than I've ever felt in my life, and that will affect the next lot of music quite a lot."
Album number three is finally upon us, and it has been aptly christened Charli. It is, by a long shot, the most personal and ambitious work of her career. "I write spontaneously and I write what's on my mind, and I write what I feel," she says of the album's gestation. "And at this point in time, I felt like I didn't want to be Charli XCX the performer, or the artist. I just wanted to be Charli, the human, that's the name that my friends call me, my parents call me, my collaborators call me. And that's the person ... That's who I am, and that's what I wanted to put into this album. And it just felt right. It felt like therapy."
Highsnobiety / Kenneth Capello
The minutiae of album-release politics are far from being part of the conversation in regards to the upcoming record, but Charli does not discount the lingering trauma of her last attempt at an album. "I have a huge connection to my fan base, and they totally get me and care. And they want an album, so I want to give it to them," she says. "I feel like I know myself better than ever before, and so I feel confident. And that's the reason it's my most personal record, too. I want to open up. I wasn't consciously doing it, it just felt right. I'm in a safe space with my fans."
From her very first gigs as a teenager chaperoned by her parents at warehouse raves, Charli has presented herself as the ultimate party girl, and it is this attitude as a grande dame of the good times that comes the closest to a through line in her work. In an industry synonymous with stiflingly curated public personas, her unabashed, unfiltered personality rich with dramatic zest is infectiously joyous, if not downright transgressive. While that person is certainly all over the 15 tracks that make up Charli (the meta-bop "1999," a duet with Aussie pop-prodigy Troye Sivan, is about as danceably carefree as pop gets), she is right to suggest that we have never quite seen, or heard, this sort of emotional candor from her before, or at least not to this extent.
"I've just realized it's okay to not feel good all the time," she says. "And that's what the album, in some ways, is about. It's okay to be human. It doesn't matter. You don't have to be strong all the time. It doesn't make you a better person. It just makes you human if you're vulnerable."
Highsnobiety / Kenneth Capello, Highsnobiety / Kenneth Capello
Nowhere is this vulnerability showcased with such pride and profundity as it is on "Gone," a collaboration with French alt-pop sensation Christine and the Queens that is the towering highlight of Charli. Born from a particularly unfruitful studio session in Sweden ("We thought it was the end of our career. We literally sat in a studio for five days listening to beats on loop, just staring blankly at each other. We couldn't come up with anything," says Charli dryly), "Gone" is a propulsive anthem about the sensation of completely breaking down after total abandonment and finding a transcendent, joyous release from that pain. It's a pop music trope that feels familiar, and it has certainly been tried out enough times, yet Charli's take on it courses with the sort of inspiration that enables the enterprise to sound like a revelation. After all, it's not often one comes across a catchy hook boasting the words: "I feel so unstable / Fucking hate these people / How they're making me feel lately."
"The song is really about feeling isolated whilst in the midst of a room full of people," Charli says. "I definitely do suffer with social anxiety, which I feel like people don't really expect from me because I do love partying, but partying is sometimes escapism for me. I can get into a room and I just want the walls to swallow me up. I feel very insecure; I doubt myself. I feel like I am not worthy to be there. And this song is about those feelings. Everybody has that feeling of not fitting in and not belonging, but the reason I love this song so much is [because] even though the lyrics are about that, it feels freeing; the production is so euphoric. And it feels like I can rip the chains off."
Part of the song's immediately bracing appeal is indeed the production, a maturing of the intentionally off-putting tones of some of Cook's previous material for Charli into volcanic beats that are charged to add heft, not dischord. When Cook sent Charli the beat for "Gone," she immediately recalls that it was the "best thing [he's] ever, ever done," before proceeding to blast it 10 times in a row through her headphones while her housemates slept. The song exemplifies just how much each of them has progressed in their partnership, the sort of artistic relationship one can spend a lifetime without ever finding.
Charli is very much worth the wait, and the hardships its creator endured to make it happen. Building off the lessons learned from her pair of mixtapes, Charli has once again put collaboration at the center of the project's work ethos. For her, choosing a fellow musician to work with comes down to a matter of how much fun she has partying with them, so one can imagine the sort of shenanigans she got up to with the likes of Sky Ferreira (lending her inimitable coo to the power-pop of "Cross You Out"), Tommy Cash (Estonia's finest cackling his way through "Click"), or the head-spinning combination of CupcakKe, Big Freedia, Brooke Candy, and Brazilian drag popstar Pabllo Vittar on "Shake It," which might be the most nightmarishly futuristic posse cut of the decade. The album functions as the very best Charli XCX music should — fodder for a party starter that only begins to show its inner dimensions after a plethora of playthroughs.
And while she may continue to titter at allegories about her place in the cultural constellation, few stories of pop divas in recent memory feel so inseparable from the world that bred them as hers does. Like so many people, Charli XCX has fought bitterly and sacrificed much to learn the importance of measuring success on her own terms, flying in the face of the broad cultural narratives we've been taught to establish a more personal basis for happiness and self-worth, celebrating moments of joy and misery, and basking in the glow of her own vulnerability.