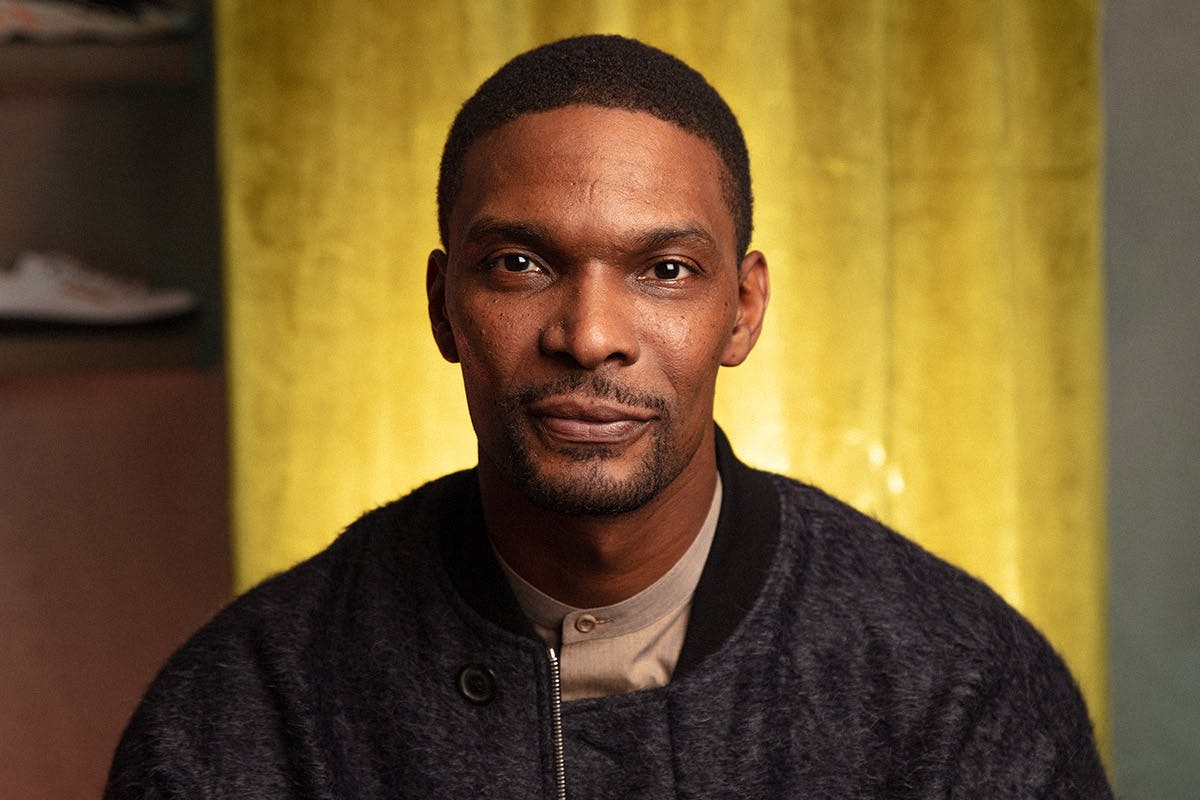 Chris Bosh is the man of style and substance. After a successful basketball career, Chris has built a YouTube channel, C. Bosh TV, through his love for film and makes moves towards his music production aspirations.
Chris' athletic career really began in high school when he led his team to be the number one ranking in the country, backed with a perfect season at the USA Today National Championship. The former professional basketball player's heyday spans an impressive decade from his time as a rookie with the Toronto Raptors — which led him to be selected for the NBA All-Rookie First Team — to his deal with the Miami Heat as he teamed up with the likes of LeBron James and Dwyane Wade. During this time, Chris also competed in the 2008 Olympic Games and contributed to Team USA's gold medal win.
The Dropcast hosts Jian DeLeon and Noah Thomas caught up with Chris in the studio to cook up a twist on the usual. To start, the cast weaves in the quick hits with a special inaugural segment and Chris' very own version of Cop or Drop: Bosh or Washed (2:29).
The below interview is a written version of 'The Dropcast' Episode 84. It has been edited and condensed for clarity.
Jian DeLeon: So we're going to go through some of the products and things that came out quite recently and you're going to tell us if it's "Boshed or Washed." Obviously if it's Boshed, it's not so far removed from "posh." First, we got Rhude and Vans coming together for a fire collab. Shouts to Filipino designers.
Chris Bosh: You know what, yeah, I'm going to Bosh that one man. I've been a Vans fan. I used to rock Vans back in the mid 2000s actually. And the fact that's like a fresh take on the same thing. So the fact that he was able to even see, it's so simple that it's masterful. Like the whole Vans logo and the whole shoe. That's so cool.
Noah Thomas: Shout out to Rhuigi man, because he's killing it. And he's also, dude, the ball players love Rhude man.
CB: Do they now?
NT: Dude yeah. They're always wearing Rhude, so he definitely knows what he's doing.
JD: All right, moving on. Chris, when you first came in the studio, you talked about how we were all excited that it's fall, so we can really start dressing. And it's fleece season of course. But one of our writers argued that it's not about fleeces, it's about half-zip sweaters. Are half-zips Boshed or Washed?
CB: Oh, let me see. Let me see. It's washed man, to me. I'm not saying... It's just my style, that's just my style because I'm going to feel like a professor in the fall. You know, I already got kids. That's like, leather couches and bound books right there. You know what I mean? It's too much.
NT: All right, but check this out: What if you don't take the professor route, maybe you do no top under it.
JD: All right, here's a controversial take: Half-zip sweaters are the mids of knitwear. Does it want to be a full-zip or a pullover? It can't decide. But let's go back to a little basketball talk. Chris, your alma mater —and defending world champs — the Toronto Raptors. Drake got his own championship ring. This being the Dropcast, we're just going to literally talk about the ice that he gifted himself.
CB: You know what? Before we even get into this, I might make a championship ring for myself every year. I like that. You know what I mean? Because shoot, he's doing it. Let me just make a championship ring.
JD: Drake's says: "The Boy." Yours can say: "The Bosh."
CB: Whoa. Whoa, bro.
JD: The estimated value of his is $150,000.
CB: Oh man, that's it, Drake? Come on brother. He didn't do it bro.
JD: All right, moving on. Before we go to the question of the week and talk a bit about what you got going on in your life. You were just on The Players' Tribune, you nominated Anthony Davis for MVP. This being The Dropcast, we want to know who's the MVB, who's going to win most valuable brand of 2019?
CB: Man, you know what I'm really feeling is this clothing brand out of Montreal named Twenty. It's more casual sweats, but I see that that wave is really coming back and I've liked the things that they've been doing.
NT: Getting on the wave early.
CB: I like them because I put on some stuff and it fit, and it's got kind of a vintage look to it as well.
NT: Shout out to Twenty. They make clothes that fit Chris Bosh, which is a big deal.
JD: Let's also talk about your music career. You've been getting into production, working with Rico Love. People don't know that you've got that Gucci Mane song on the 2017 album too.
CB: Yeah, super plug that was off his Mr. Davis album. Rico. I started getting into music a few years ago and took a seriousness to it. I respect greatly what those guys do, and I started applying what I applied in basketball to that and it's just pretty much my happy place at the same time. So I just listened to my heart and said, all right, I'm going forward and I'm just going to do this and really not ask any questions.
NT: Have you made a beat sampling basketball sounds yet?
CB: Jadakiss did it. Many people have done it. But with the abilities of software, you can take those same sounds and kind of make them something else. So the best part about it is somebody can take the same sound and it's an infinite number of ways you can twist it and mangle it and rearrange it and make it something totally different you've never heard before.
JD: Right, I'm thinking about A$AP Ferg's "Plain Jane" which actually sampled...I think it was the A train coming down into the station and made that the beat. It was hard.
CB: I mean, that's the best part about music. You can just get creative. Somebody from New York that takes that train will hear that and be like: Why do I like that? That is so dope. Sound design is a huge, huge part of the creative process.
For this episode's Question of the Week (QOTW), Dropcast listeners were asked "What are the best NBA fits of all time?" (25:27).
JD: Very, very lofty question. Chris, let's start with you. Are there any NBA fits that just stand out to you?
CB: Oh boy, there's so many. I think Jalen Rose's red pinstriped suit. That's pretty much, very much a staple. I think Allen Iverson...
NT: Everything.
CB: Pretty much yeah. Yeah, anything he wore. I can't remember if it was the playoffs or the finals in particular, but he came in, I want to say in a Donovan McNabb jersey, Philly Jersey. And it was just so Philly. He had the bracelets, the bandana with the chain, it was just such an iconic moment. But yeah, you're right — anything he put on was just amazing. I'm sure between Russell Westbrook and Dwyane Wade, one of them have worn something like: "Okay, what the hell is that?" So pick one.
NT: In the most respectful way.
CB: In the most respectful way of course, but you know respectfully like, bro, what the hell is that?
Everything leads up to "What'd You Cop" as Chris reveals plans to cash out on a studio investment (37:03).
CB: I haven't got gifted anything for a little bit. I haven't bought anything in a while. I mean, I bought this Margiela jacket last fall. That was pretty cool.
JD: Let's flip it then. We'll say the new flex is giving. So what's the most fire stuff that you've given away this week?
CB: Oh, you know, plenty of stuff. Money, lessons.
NT: Lessons?
CB: Lessons, you know.
JD: If you're giving away money, Noah and I are always ready to receive.
NT: Is there anything you want, is there anything that you have your eye on? You're like, man, I want that.
CB: I don't want for much, man. Everything is all good. I just buy computer software and stuff like that. Yeah, I nerd out on music gear.
JD: So you'd cop a studio?
CB: Yeah, I would cop a studio.
NT: That sounds an investment.
CB: Facts, it's an investment in myself.
JD: And then you gotta get the championship ring and put the studio name on it.
CB: Hoo, man. We gotta collaborate more often, bro.
Our next QOTW will be up Monday on Highsnobiety's Instagram. Leave us a voicemail on The Dropcast hotline at 833-HIGHSNOB (833-444-4766) for a chance to be featured in a future episode.
Relevant links:
Everything You Need to Know About Joaquin Phoenix's Awesome 'Joker' Suit
RHUDE & Vans' Retro-Inspired Bold NI Collab Pays Homage to Its California Heritage
Missoni Brings Its Textile Expertise to the adidas PulseBoost HD
Forget Fleece Season, Half-Zip Sweaters Are Where It's At
UNDERCOVER Makes Bold Statements on New Dr. Martens 1461 Collab
Drake Outdoes Raptors With His Own $150,000 Custom Championship Ring
The First-Ever MCM BY BATHING APE Collection Is Dropping at Highsnobiety