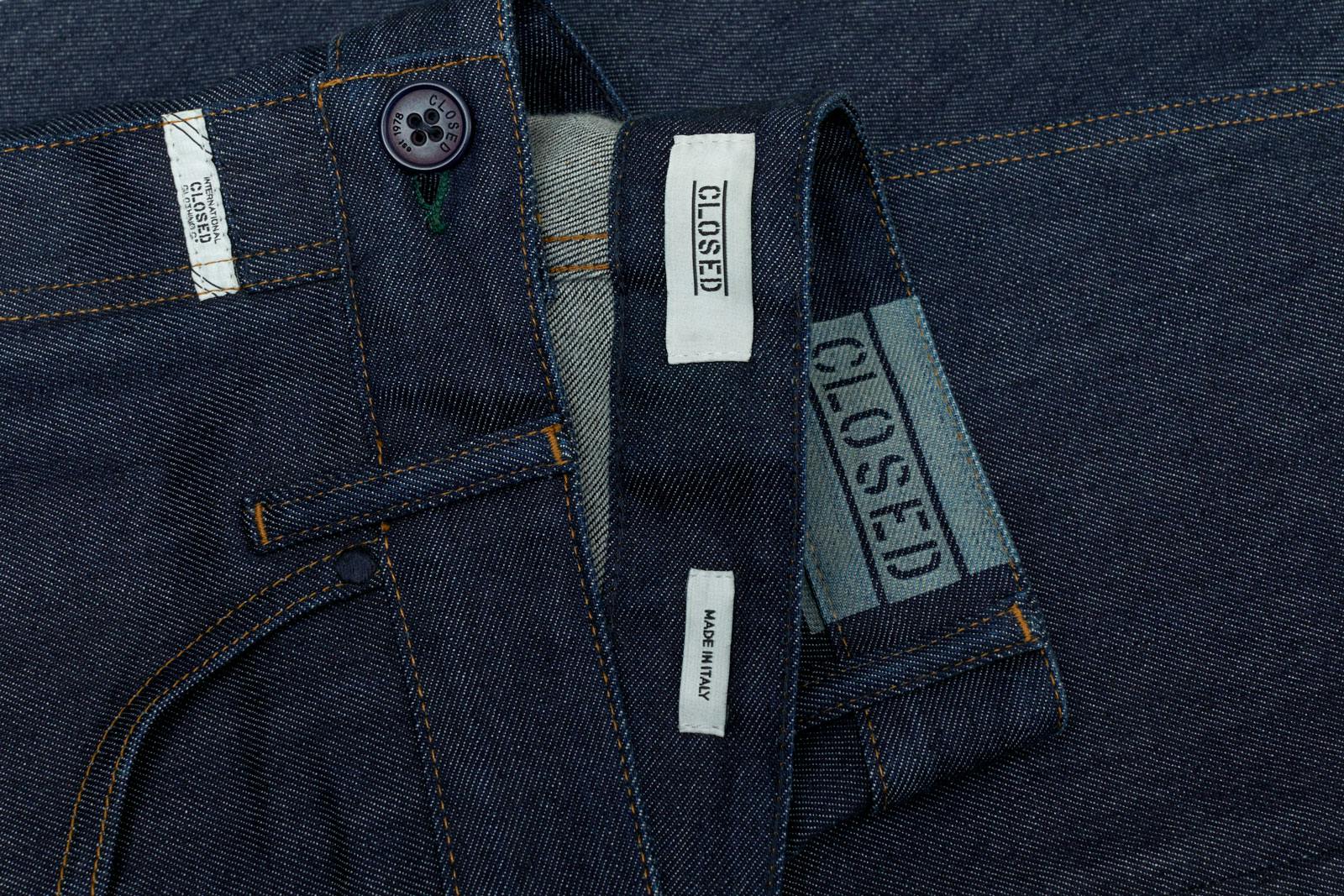 Closed continues to pave the way when it comes to denim innovation with a collection of degradable stretch denim jeans and jackets – the first of its kind. The campaign images show models fully dressed except for their jeans, highlighting the garment's ability to degrade.
The collection comprises two styles of jeans and a jacket for men, and the same for women, made of an innovative type of stretch denim woven from organic cotton and Coreva™, a biodegradable stretch yarn. Stretch denim is normally made by weaving elastane or other petrochemical fibers in with the cotton (that's what gives it the "stretch") which makes it hard to recycle and takes centuries to decompose – if it decomposes at all. Coreva™, however, is made from natural rubber from rubber trees and decomposes after six months on the compost, leaving no harmful chemical residue.
Often "eco" products fall short when it comes to the details, but Closed has considered all of the jeans' components. Metal zips, buttons, and studs are replaced by corozo buttons and sewn on with wood-pulp based TENCEL™ thread, which is also used for all seams. Where most jeans would feature a leather patch, Closed's logo is lasered. The labels are made of Vinatur™, a degradable fabric; and the care label of organic cotton. Finally, the garments are dyed with natural indigo from a European manufacturer using two processes called Kitotex and Indigo Juice, which use 75 percent less water and 65 percent fewer chemicals than traditional dying methods.
When it comes to "environmentally friendly" collections, there's often a lot to unpack so we gave Closed's denim developer Uwe Kippschnieder a call to find out more.
What is Coreva™?
Coreva™ is the first biodegradable stretch yarn made using plant-based elastomers from rubber trees. Our main denim supplier Candiani got in touch with us in summer 2019 about it and they were super excited. They'd been working on this fiber for almost five years as it was tricky to get it right so that it could be spun with regular cotton yarns, as you would do with polyester or any other elastane. I'd already been thinking about this circularity idea of fashion, and about the fact that there are so many garments thrown away on the landfills or burned. When they came up with this fiber it was in line with my thoughts.
How did ensure that the entire product was fully degradable?
For us, it was very clear from the beginning that if we use this denim made of this special stretch yarn, we should also create the rest of the garment to be degradable. The denim itself is biodegradable and even compostable – our denim weaving mill Candiani had the stretch denim with Coreva ™️ tested by the independent institute Innovhub in Milan for biodegradability in a laboratory. The other ingredients we use are degradable. That means that they will completely degrade in a landfill or a compost not within six months, but within a very decent time period of one to two years, and they will not release any harmful chemicals. With conventional stretch denim, in each yarn there are polyester fibers, which will degrade in let's say more than 100 years, and might release some toxic chemicals. The same applies to the other components of regular jeans.
What's the process to make them biodegrade? 
The process of degrading starts when you put the garment into a composting environment, or even a regular landfill. The rubber-based elastane doesn't just degrade but it biodegrades, which — I didn't know before — is when it just takes a maximum of six months to degrade completely on the landfill or in a compost, leaving no harmful residue. This doesn't affect the lifespan of the garment when you wear it as a customer.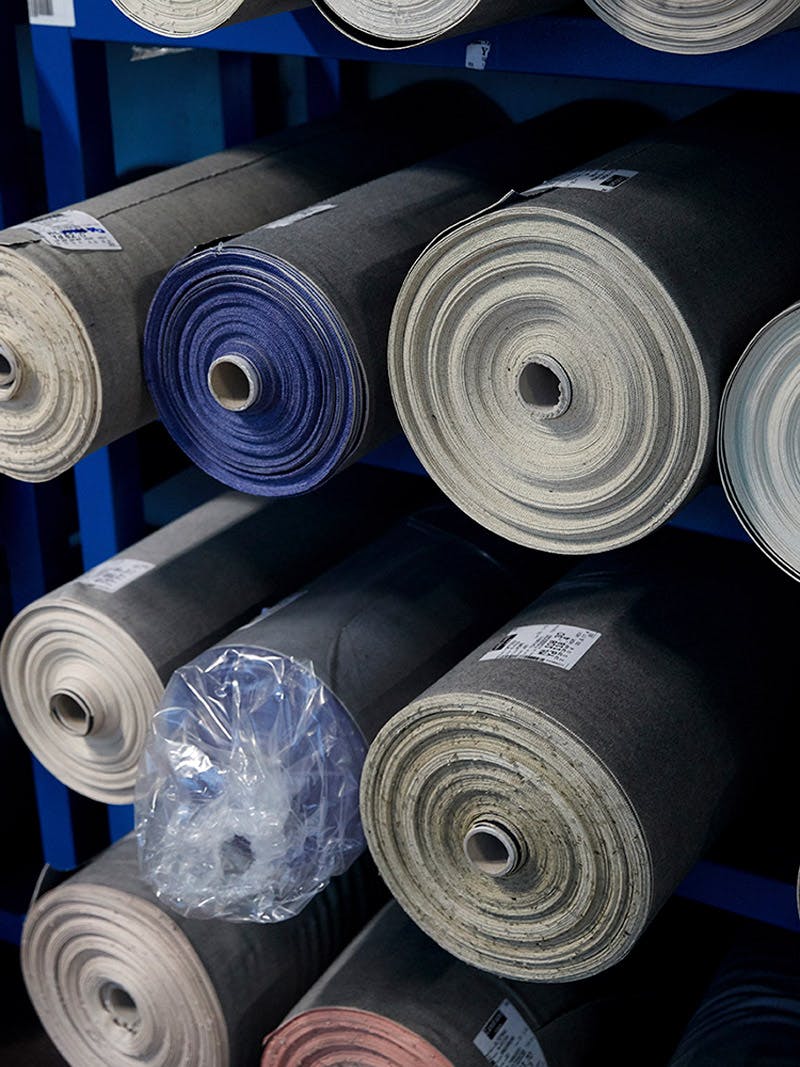 What about the pigments used to dye the denim and the other components?
We use pigments in two ways. The buttons are dyed with natural indigo, which is plant-based. The Latin name is Indigofera Tinctoria. Back in the days, till around 1890, all denim was dyed with plant-based indigo, sourced mainly from India. This was where you got these typical indigo color pigments from. Then from 1890 to 1900, Bayer was able to get the same molecules by a chemical process. Then, slowly to mid last century, it changed from the natural indigo to the chemical indigo, and today there is very little denim in the market that use natural indigo, mainly some super heavy salvage qualities from Japan. So 99 percent of the indigo which is on the market is chemical-based indigo.
To dye these patterns, we didn't want to use this, so we used natural indigo. Then, for the print inside the pocket bag, we use a mineral-based pigment. Neither release toxins nor harmful chemicals while degrading.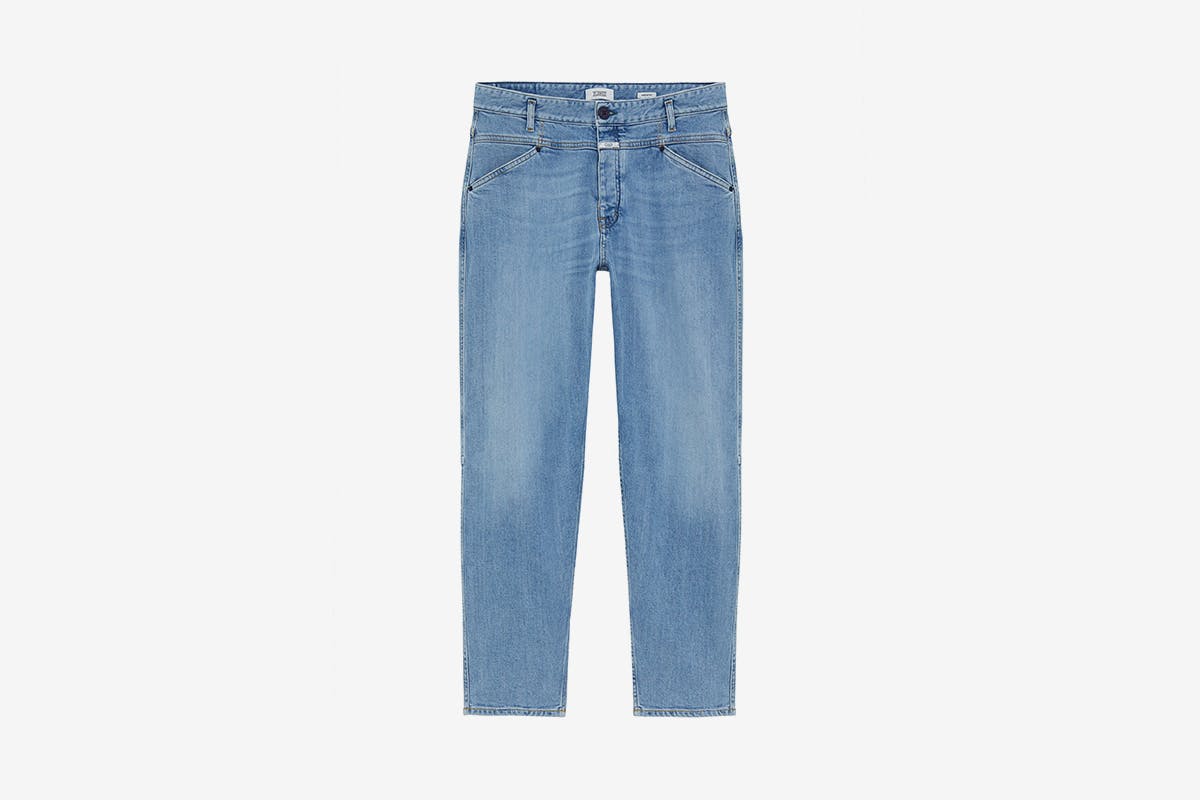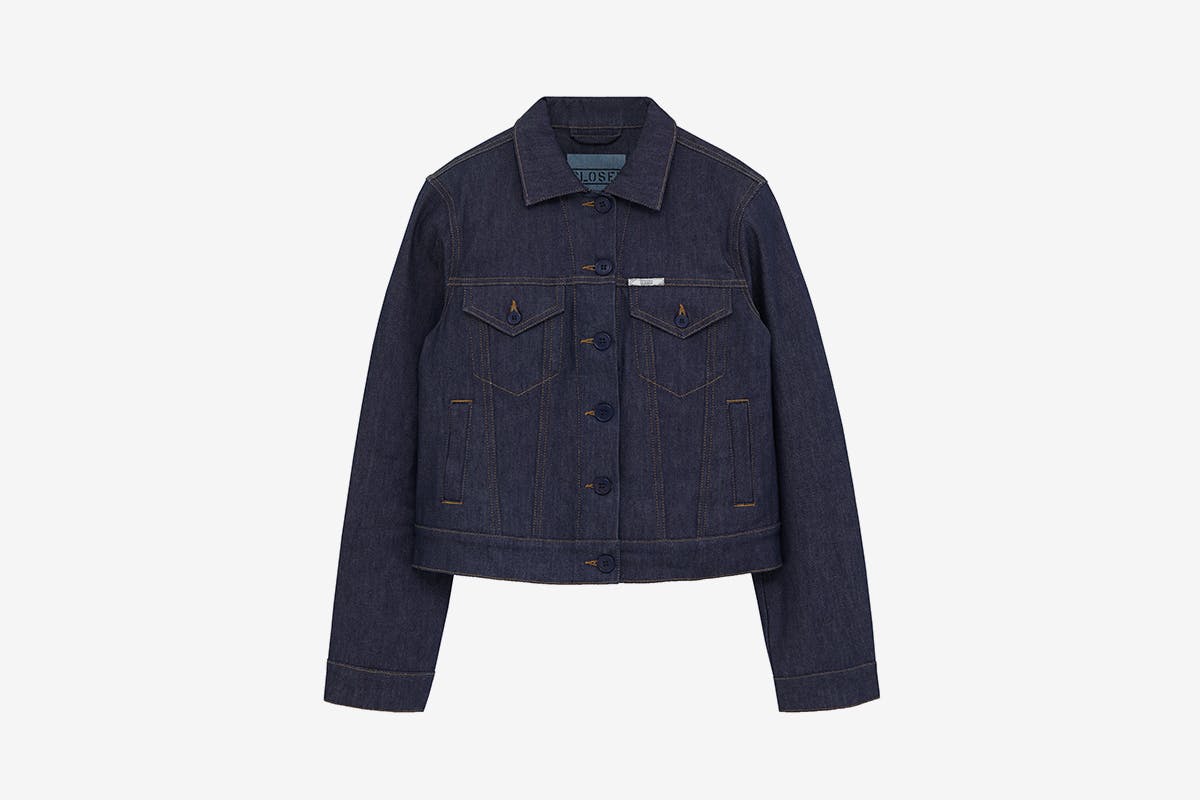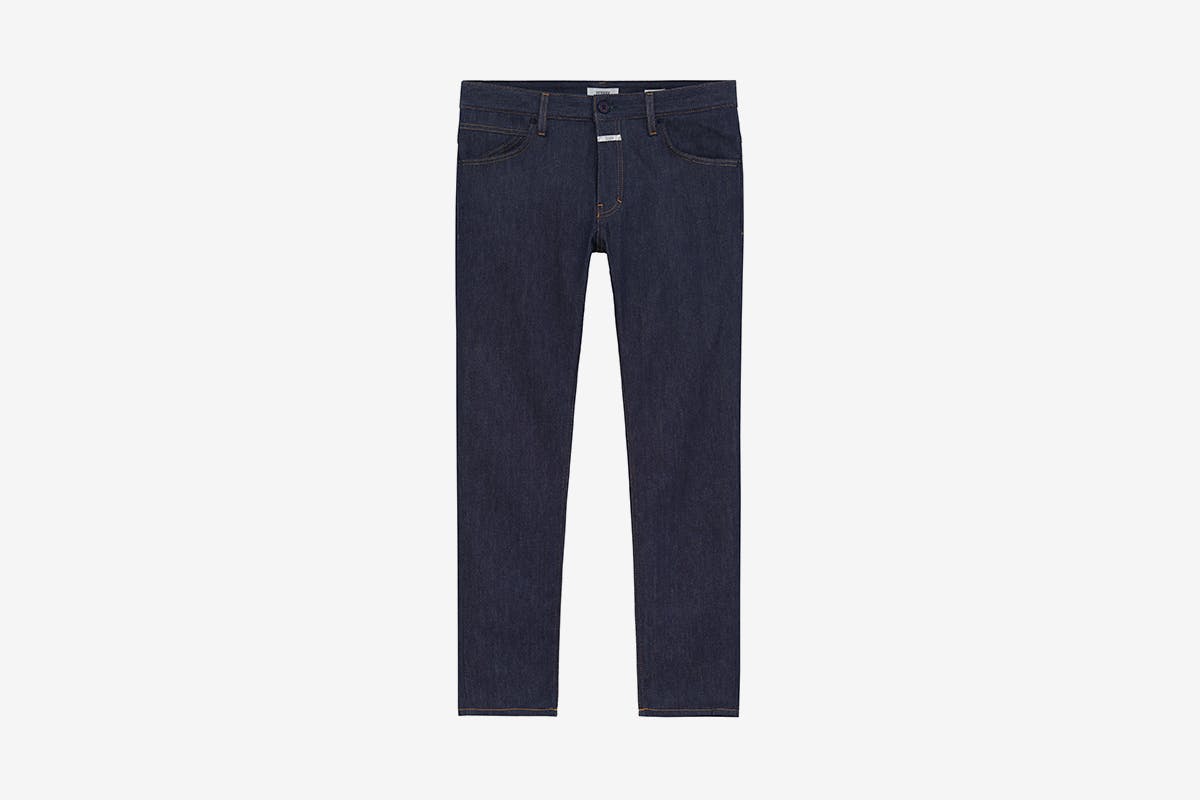 Was the manufacturing process any different for this collection than for the rest of Closed's denim?
In a way. It's all made in Italy with our regular denim suppliers, but it took us a while to find the ingredients that would fulfill our performance needs and also be degradable. A good example was the stitching thread. Usually, you would use polyester and our first trial with a cotton thread didn't stand the wash at all — the seams just burst. We had to find a different solution and after some trials, we found a thread from Italy made of Tencel™. Tencel™ is a cellulose-based fiber so it will also degrade without releasing toxins.
The same with the labels. We laser our logo on the back instead of using a leather patch, but we thought it would be quite cool to find a solution for the care labels that were degradable. We got in touch with a new label supplier based in Sweden who has a new, patented cellulose-based fiber called Vinatur®.
Is there a plan to start integrating some of these materials into the rest of the collection?
Yeah, we are discussing it at the moment. We had to alter the wash a little bit for this collection so we are still in the research and development phase to find a solution that we can apply to our regular wash treatments. I'm quite sure that we will find a solution but, meanwhile, we have another new denim from Candiani that's made with a petro-based elastane, which is not compostable but it is able to degrade in less than a year. There's a lot of movement in this area for the stretch yarns and denim in general, with Coreva for sure being the forefront.
Manufacturing denim is extremely heavy on water and a lot of pollutants are released during the dyeing process. Are you working towards trying to reduce that?
Yes, heavily. This was the starting point for our, let's say, "eco-denim" line, A Better Blue, which has been in shops for three years. In these three years, the development was massive. We started with just six pairs of jeans, and today nearly 60 percent of all our denim belongs to the A Better Blue line.
For us, this was really the umbrella for all the sustainable efforts we do in terms of denim, and we really created our own benchmark, which each denim needs to fulfill to become part of this A Better Blue line. For example, the impact for the washes needs to be very little, very low. So we use only modern techniques like Ozone, we use new technologies for biological enzymes, we use laser treatments, all that is coming into the strings of A Better Blue and the same for the fabric. [In this collection] there's a lot of organic fabrics, recycled materials, and we also use the most modern dyeing techniques. So the achievement in this section and A Better Blue line is huge, and it's becoming bigger and bigger from season to season.
What's the difference in impact between a regular pair of jeans and A Better Blue jeans?
We have three different generations in A Better Blue. We started with having a look at the dyeing process and on the wash treatments — that was the starting point. We washed a regular denim jean in a conventional way, and we're able to calculate with our partner laundries the amount of water, energy, the chemicals they use, and even the work impact. And we did exactly the same wash with the new techniques using laser Ozone and so on, and we were able to get a direct comparison. We did the same for the new dyeing technique Candiani introduced called Kitotex — Kitotex is a natural polymer coming from shrimp shells, which reduces PVA in the dyeing process.
Taking these two aspects into consideration, we reduced chemical use by 65 percent, water by 50 percent, and energy by 30 percent — and this was just with the dye and the wash. The second and the third generations for A Better Blue take into consideration the fabric content. Is it recycled? Is it organic cotton etc.? There it is very difficult for us to tell you the exact savings of the collection, but the savings I just told you, are the minimum savings for each garment in our Better Blue line.
I know that it's really difficult because it touches so many aspects of making jeans and so many ways of becoming more "environmentally" friendly. It's a complicated topic, and we are trying to really go into depth and give our customers the chance to get all the information. We are not trying to just name something to say that we are now doing something better, we want to be very transparent. In the next couple of weeks, we are introducing a completely new section of A Better Blue on our homepage where we explain in depth all the techniques from the fabric content through the dyeing and the wash. I hope it will be really helpful, especially for the customers.
The collection includes two styles of jeans for women – Gill und X-Lent – and two for men – X-Lent and Drop – as well as a denim jacket, with prices starting at €250.