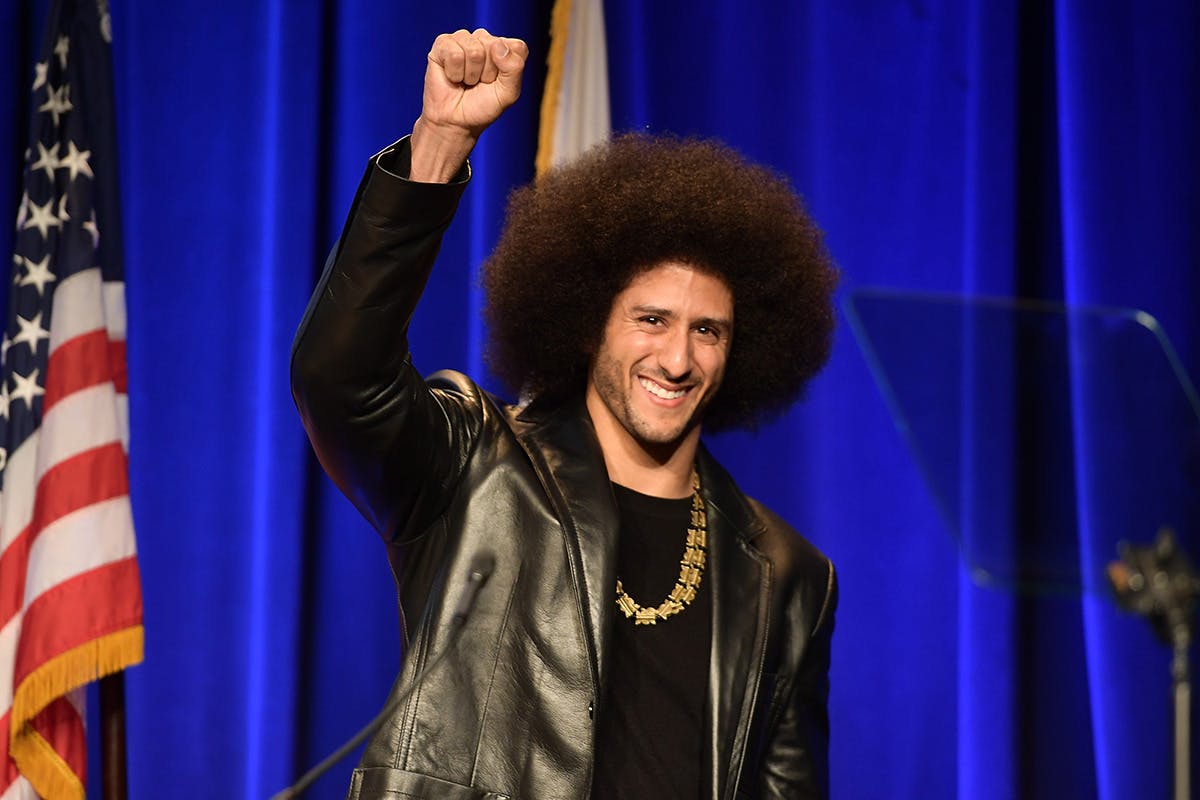 Colin Kaepernick, former San Francisco 49ers quarterback and the first NFL player to take a knee during the national anthem in protest at racial injustice, is one of the faces of Nike's "Just Do It" campaign, which celebrates the 30th anniversary of the iconic motto.
Kaepernick quickly became the face of a protest movement that spread rapidly and was met with widespread condemnation from figures such as President Donald Trump. His political stance ultimately appears to have cost him his NFL career.
The quarterback played in the NFL for six years from 2011. He started sitting during the anthem and then kneeling before games in the 2016 season, with others such as fellow 49er Eric Reid joining in. Kaepernick became a free agent at the end of that season, and since then, no team has signed him. Last year, Kaepernick filed a grievance against the NFL, accusing the team owners of colluding not to sign him.
On Monday, Kaepernick tweeted the Nike campaign picture of himself with the slogan, "Believe in something. Even if it means sacrificing everything." Beneath the text is the Nike Swoosh and "Just do it" motto.
According to the Guardian, Kaepernick has been signed to Nike since 2011, but the brand has not featured him in campaigns since his departure from the NFL.
Speaking to ESPN, Nike executive Gino Fisanotti said, "We believe Colin is one of the most inspirational athletes of this generation, who has leveraged the power of sport to help move the world forward. We wanted to energize its meaning and introduce 'Just Do It' to a new generation of athletes."
Several other athletes will be featured in the 30th-anniversary "Just Do It" campaign, including Serena Williams, LeBron James, Lacey Baker, Shaquem Griffin, and Odell Beckham Jr.
Williams was given a similarly branded image (in reference to her catsuit uniform being banned from future French Opens) and ad ahead of the US Open. She praised Kaepernick and Reid at the weekend, saying, "I think every athlete, every human, and definitely every African-American should be completely grateful and honored how Colin and Eric are doing so much more for the greater good."
Kaepernick has received several accolades for his role in the "take a knee" protests, including Amnesty International's Ambassador of Conscience Award this year and being named GQ's "Citizen of the Year" in 2017.
As well as being singled out by Trump, the player has also received harsh criticism from some NFL fans, Republican politicians, and right-wing media. Trump has said on numerous occasions that players who kneel during the anthem were disrespecting the flag and military and should be fired by NFL owners.
News of Nike's campaign broke just as the NFL season is preparing to kick off and has predictably split opinion.
What do you think of the new campaign? Let us know in the comments.
In other news, Kanye West's oversized backpack has sparked a hunt for its designers. Find out more here.