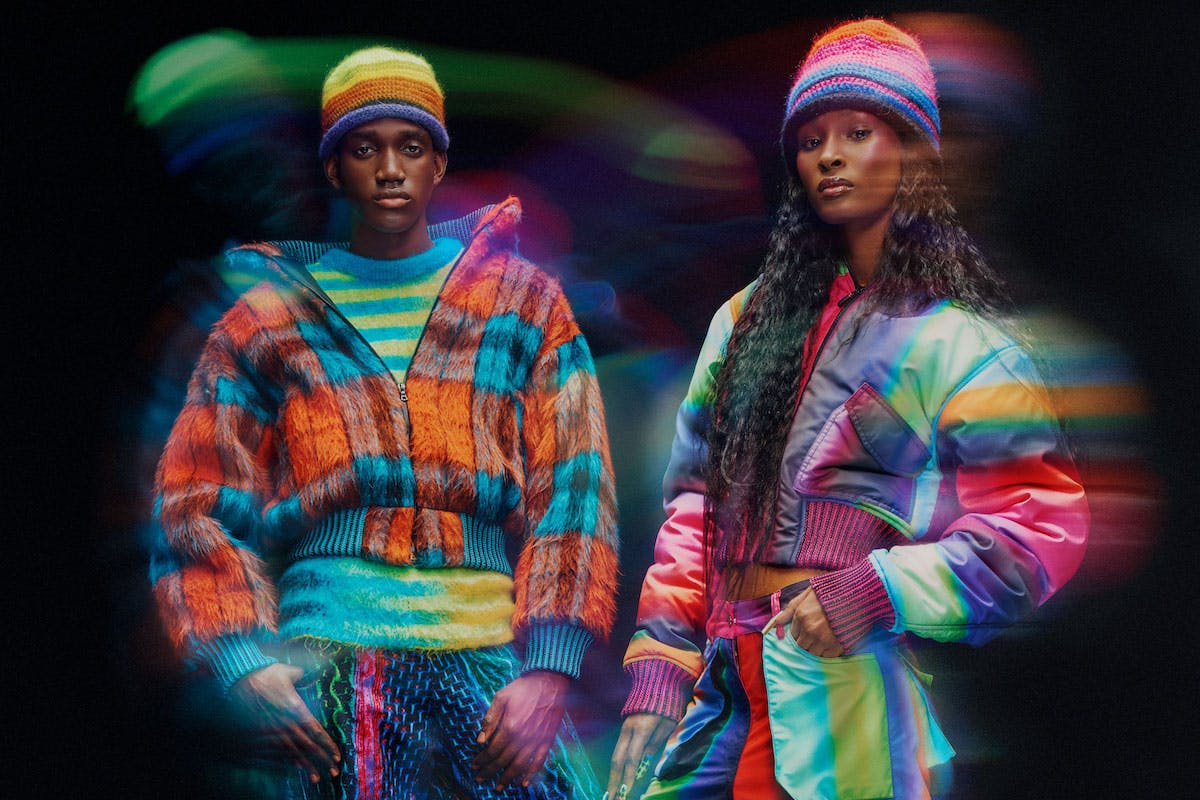 Fans of minimalism please look away now, things are about to get very bold, colorful, and borderline psychedelic here. That's because we're going to talk about bold hues and even bolder prints — not the classic tartan or floral patterns that dominate your grandparent's wardrobes.
The start of spring has got us in the mood to ditch the dark colors and lighten up our wardrobes.
This instantly had us looking in a few directions: there's Bonsai's spray-paint-effect dyes in luminous shades of green, London-based AGR and its kaleidoscopic world of knitwear, and the old hand that's mastered prints: Dries Van Noten.
Plus, it's not just garish graphic shirts for summer holidays that we've selected (although there is a fair share of them) but also knitwear and outerwear that will brighten up a cloudy day. All battling it out to see who has the most dramatic and distinctive look, shop our favorite big and bold designs down below.
Keep scrolling to see a list of our favorite colorful clothes.
AGR Scrunch Shorts
Having first launched by making clothes to wear at Notting Hill Carnival, being colorful is in AGR's DNA.
Bonsai Spray Dyed Longsleeve Polo
If this crazy spray-dyed shirt isn't enough color for you, you'll be happy to learn the Bonsai offers the same print on a T-shirt and a pair of shorts.
The Elder Statesman Zig Crew
Nobody does knitwear like The Elder Statesman. The Californian label not only handmakes its pieces with the finest fabrics but also dyes them with eye-catching prints like the ones above.
Stüssy x Dries van Noten Airbrush Shrooms Shorts
A collaboration that nobody saw coming, Stüssy x Dries van Noten is one for the history books. Much of the collection looks like something from a psychedelic trip, such as these "Shrooms Shorts".
Highsnobiety Heavy Fleece Pants
One thing that our in-house label prides itself on is creating high-quality wardrobe staples at affordable prices. That's what our heavy fleece pants provide, and if you cop them in this 'mustard' variation they also provide a heavy hit of color to your legwear rotation.
KENZO Wavy Stripe Cardigan
When looking for bold and colorful prints, going back to the 80s is a great way to find inspiration and that's what KENZO did when creating this zig-zag pattern.
Y/Project Gradient Balaclava
Far from being your typical all-black balaclava, this knitted version from Y/Project gives the cold-weather accessory a bold color scheme typical of Y-Project.
Dries Van Noten Cassidye Patch Shirt
When one loud print just isn't enough, it's good to have this Dries shirt available to reach for.
AGR Wellness Tank Top
Normally a tank top is kept at least partially hidden under a shirt or top, but this one is calling out to be worn alone as a statement piece.
Acne Studios Wool Zipper Jacket
Arriving in a highlighter-esque lime green color, this jacket is pretty difficult to miss. Especially when it's being worn by Justin Bieber as he's being followed around by paparazzi.
Bonsai Oversized Knit Gilet
Crafted with a loose-knit so you can see what's being worn beneath it and a multicolor wavy print, this is most definitely not your grandad's old sweater vest.
KENZO Patchwork Jumper
This retro-looking patchwork jumper not only combines different colors and prints but also different textures and knitting styles all shown in one design.
Want to keep browsing? Download the Highsnobiety app for all the hottest products and brands from the Highsnobiety Shop.