Highsnobiety / Julien Tell
Craig Green has long been carrying London menswear on his shoulders. Together with Martine Rose, Kiko Kostadinov, Charles Jeffrey, and A-Cold-Wall*, Green has attracted press and buyers from around the world, at a time when the city was in desperate need of new energy. This season, Green (together with Kostadinov), made their Paris Fashion Week debuts. Looking outwards for prosperity. On the final day of men's week, Green showed a stellar collection, proving he could live outside of the English city he so long had outgrown. A second, bigger, collaboration with adidas included reinterpreted Superstars and Mundials. The standout, however, being the impeccable, colored showpieces in the final part of the show. Green has found a new home, for now.
Backstage we caught up with the designer to talk about the inspiration of the show and why showing in Paris makes all the difference.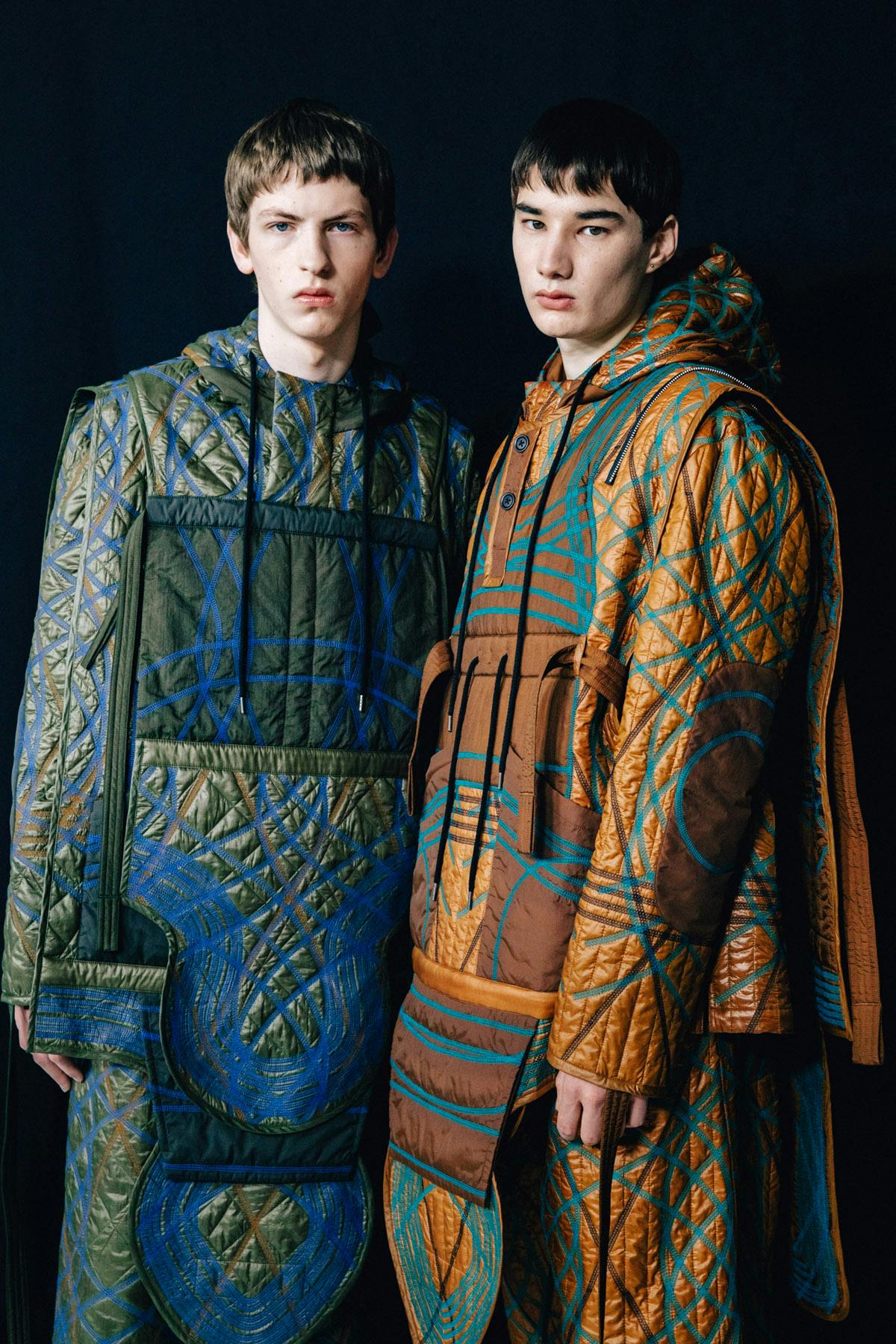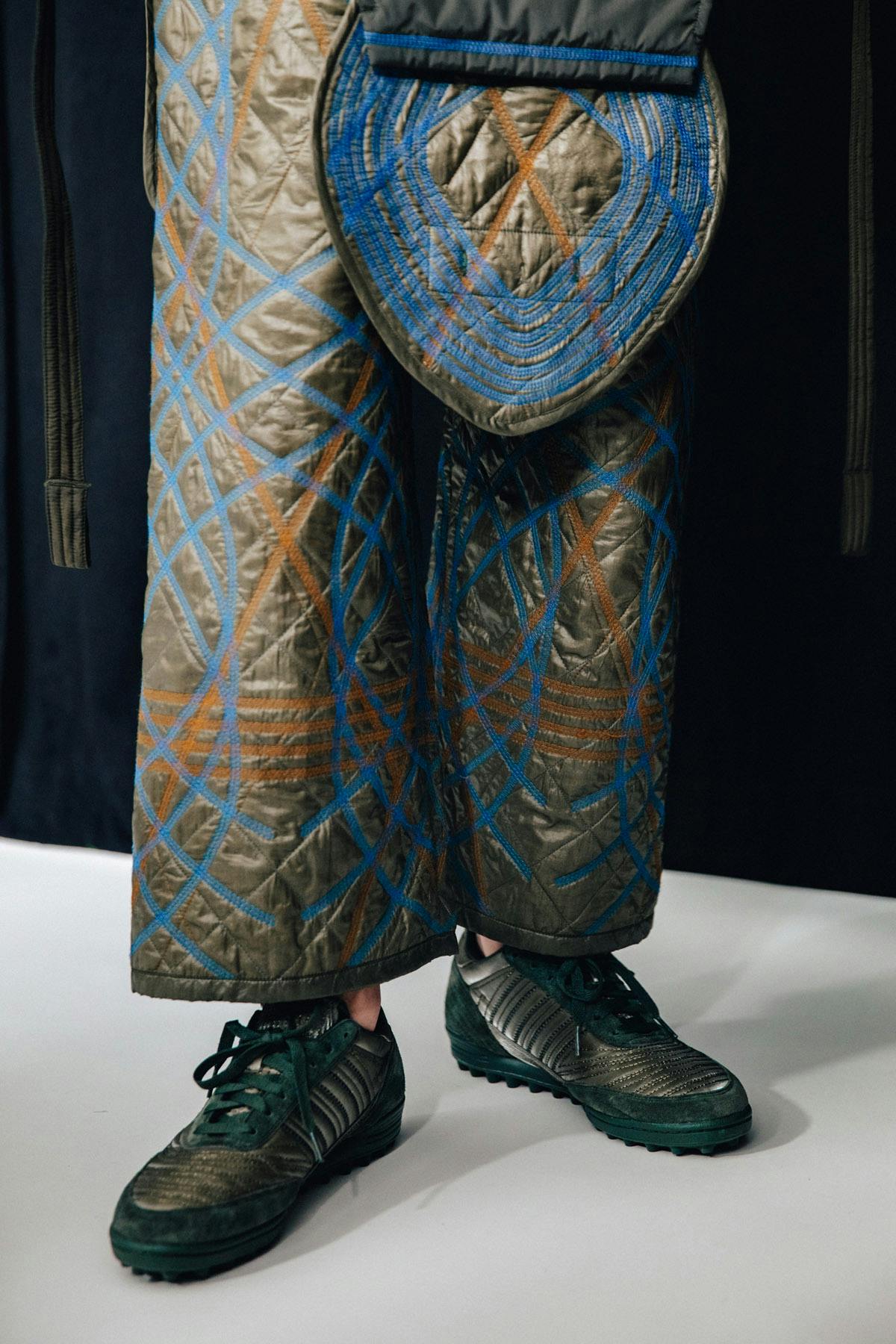 On Starting the Collection
Originally the concept of the collection started with the idea of intimacy, the relationship we have with people but also with ourselves and how we relate to garments. It all sounds very conceptual but it was more about the idea of changing, separation, and transforming into something else. It started with this idea of packaging a person. I thought it was weird when people talk about other people as a package like "the full package". So the cashmere dresses were about this idea of wearing cashmere but inside they had a "wet the bed" style lining so it was as if they were being protected from you as much as you were being restricted from feeling them. It goes back to human relationships and love. Different types of intimacy.
On Windows
Windows are really weird. You have them to feel like you're outside. But they're also used for someone to feel like they're inside your house. It's a weird kind of opening like voyeurism. So the ending of the show was like blinds. I like that they look like somebody looking out the window and their reflection being seen at the same time.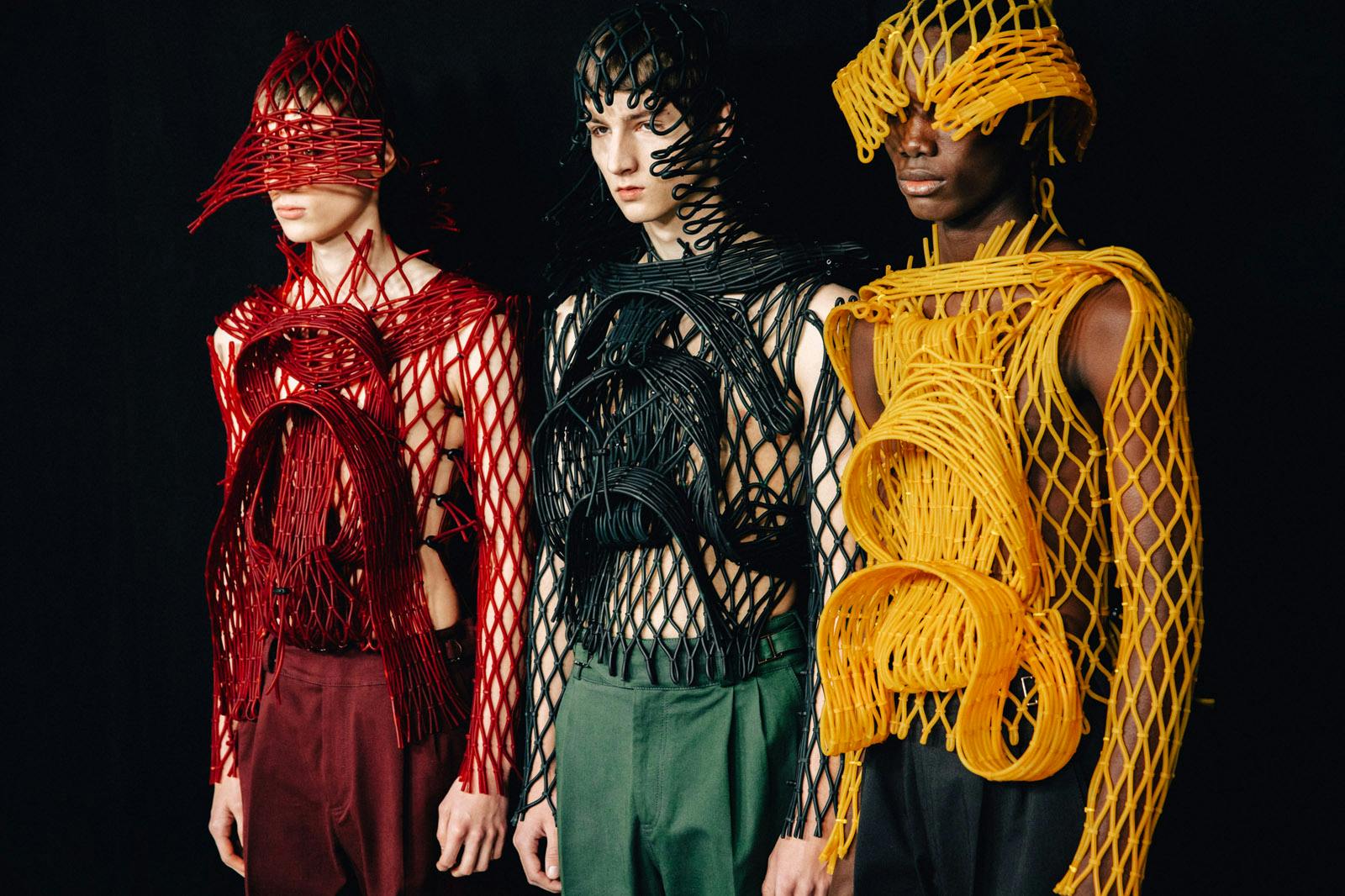 Highsnobiety / Julien Tell
On Using Unconventional Materials
The raw cut out flowers [on the garments] were flat cut outs of flowers which were almost gestures, another form of packaging. The rubber looks we hand-dyed all of those and constructed all of the rubbers ourselves. The material is what they use to stop the bleeding when people cut their arm. It's also used for slingshots. So we dyed them and cut the elastic bands and wove it into something that looked like fruit packaging to package the guys. Then the first section was leather and tyvek. I guess people think of tyvek as an inexpensive, disposable material but the two materials look so much alike and it was almost like something looking like the other thing but not aloud to touch it. Like touching someone with gloves on, you're not really feeling it. A feeling of detachment like people falling in love but not living in the same country or never even met.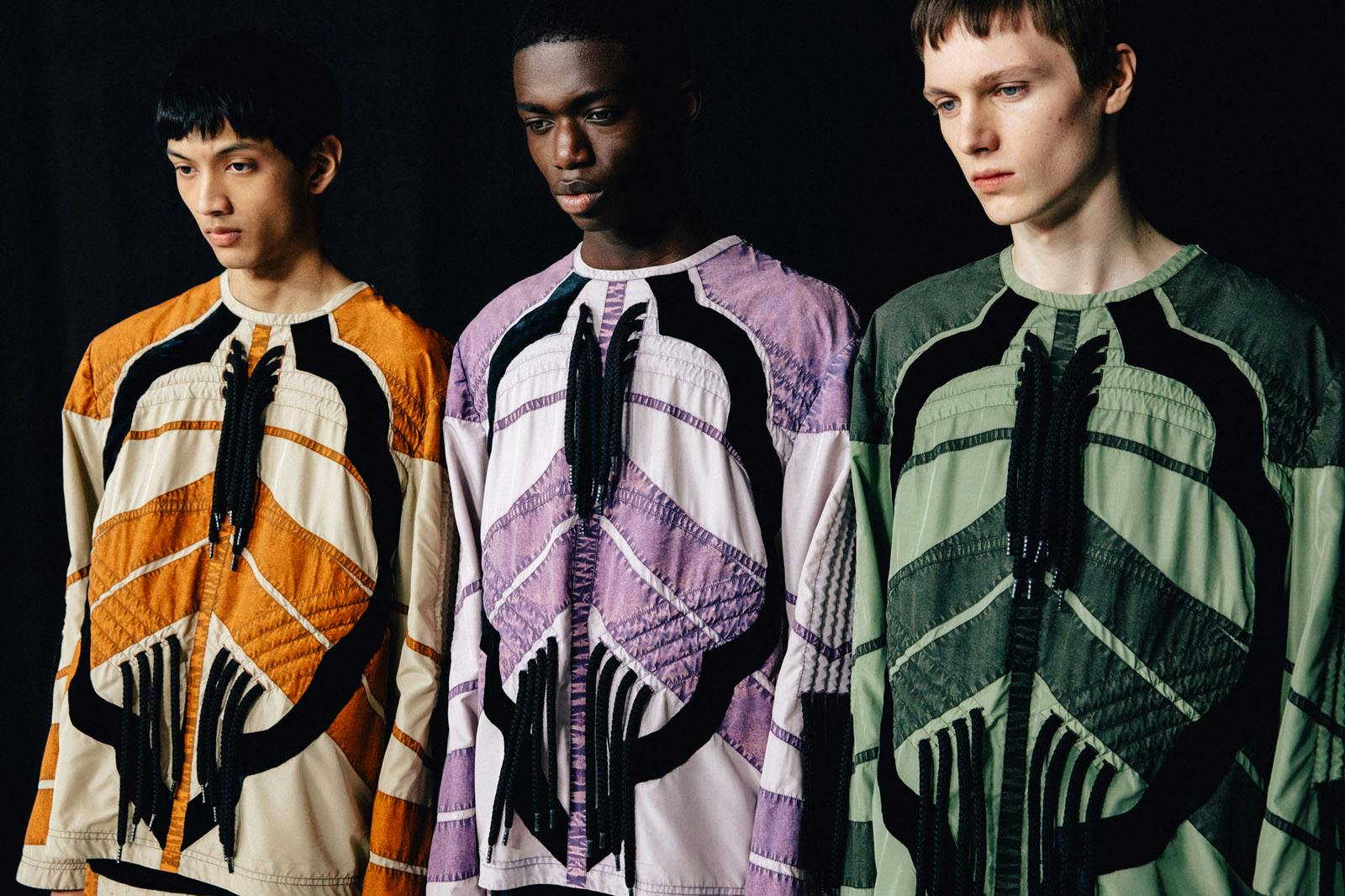 On Showing in Paris
It's a different way of working because we have the showroom opening tomorrow. Usually, when we show in London we have two weeks to put together the sales collection. Then I guess we wanted to make it feel like a positive, new energy about it. It's the end of a triptych [of shows]. This was the futuristic one while the first season had the plastic men which reflected fragility, then last season was all about skin with the laser-cut men and this season it was around the rubber, mesh men.
On the Show's Deeper Meaning
The technique that ran through the whole thing was in the beginning the idea being around multiple garments reflecting that you're given an outfit at birth and you unfold and adapt it but you're still carrying everything that you've lived since then with you. You can't escape your past. You are what you've been. You wear the imprints of the past on you. Then it's also about barriers, as it's strange as you grow older you put up barriers that stop you from connecting.