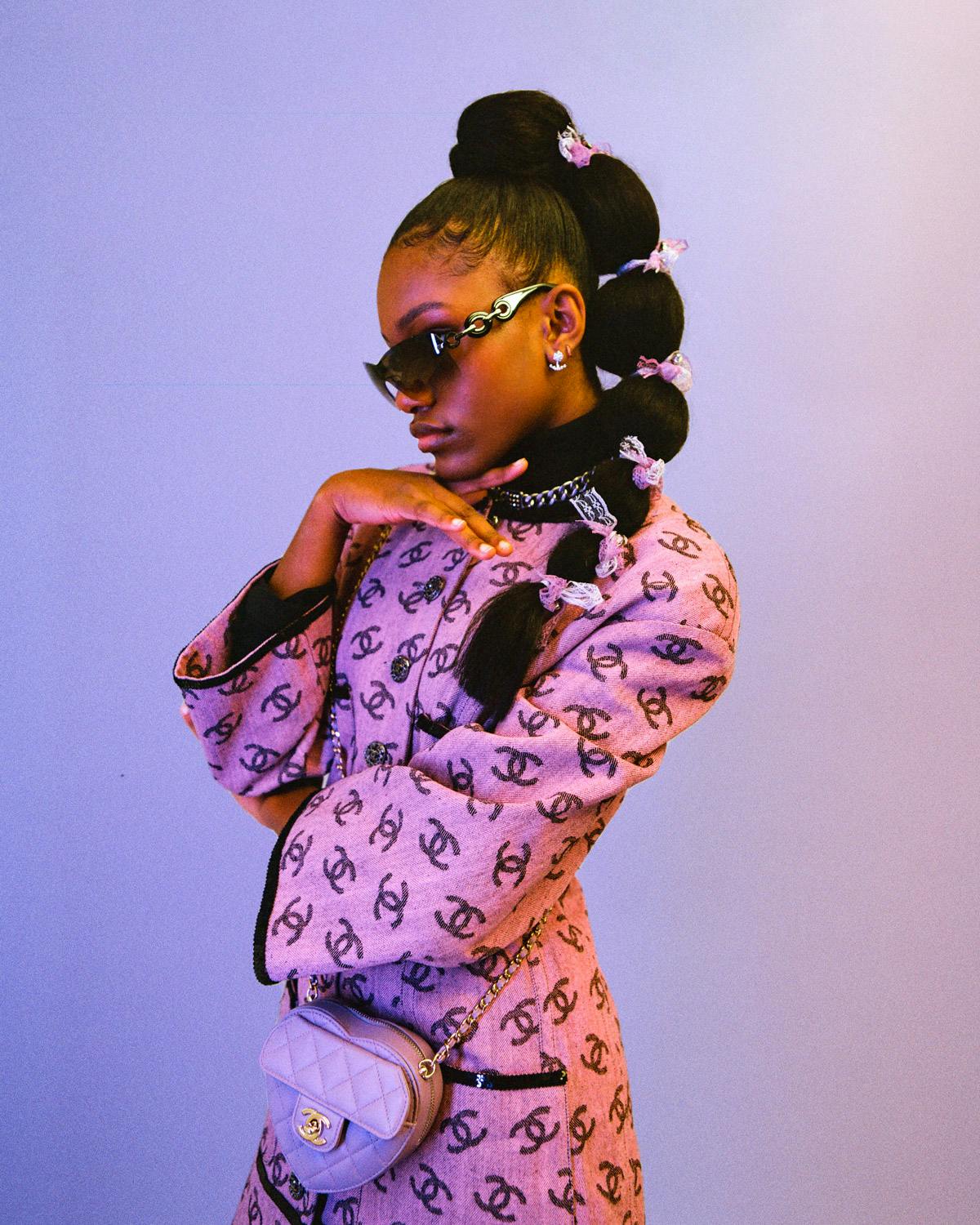 The film 'King Richard' rode its way to Oscar glory this week, and though its sole win went to Best Actor Will Smith, we have been obsessing over the performance of 15-year-old Demi Singleton as a young Serena Williams. In this FRONTPAGE interview, we speak to the teenage talent about her incredible debut performance and what's on the horizon.
Demi Singleton doesn't have a 78-page-plan for success and stardom. At least, not one she's sharing. Unlike the very real plan at the heart of the film King Richard that Richard Williams made to chart the path to tennis glory for his daughters, Serena and Venus, Singleton's path has been fueled by one simple desire: she just wants to entertain. At only 15-years-old – and with her first role as Serena in the Oscar-winning film — she's doing a pretty good job of it.
Though King Richard spends much of its runtime on Will Smith as the titular Williams patriarch guiding Venus, played by Saniyya Sidney, to stardom, it's Singleton's portrayal of Serena and the genuine sisterly bond she builds with Sidney that helps elevate the film. Deftly pivoting away from what could have been just another sports biopic, the movie is guided by the beating heart of the entire Williams family, and it shows. Each interaction, whether it be a fight or celebration, feels genuine, and it's this dynamic that has helped King Richard rack up critical acclaim and numerous accolades, including its win for Smith as Best Actor at Sunday's tumultuous Oscars ceremony.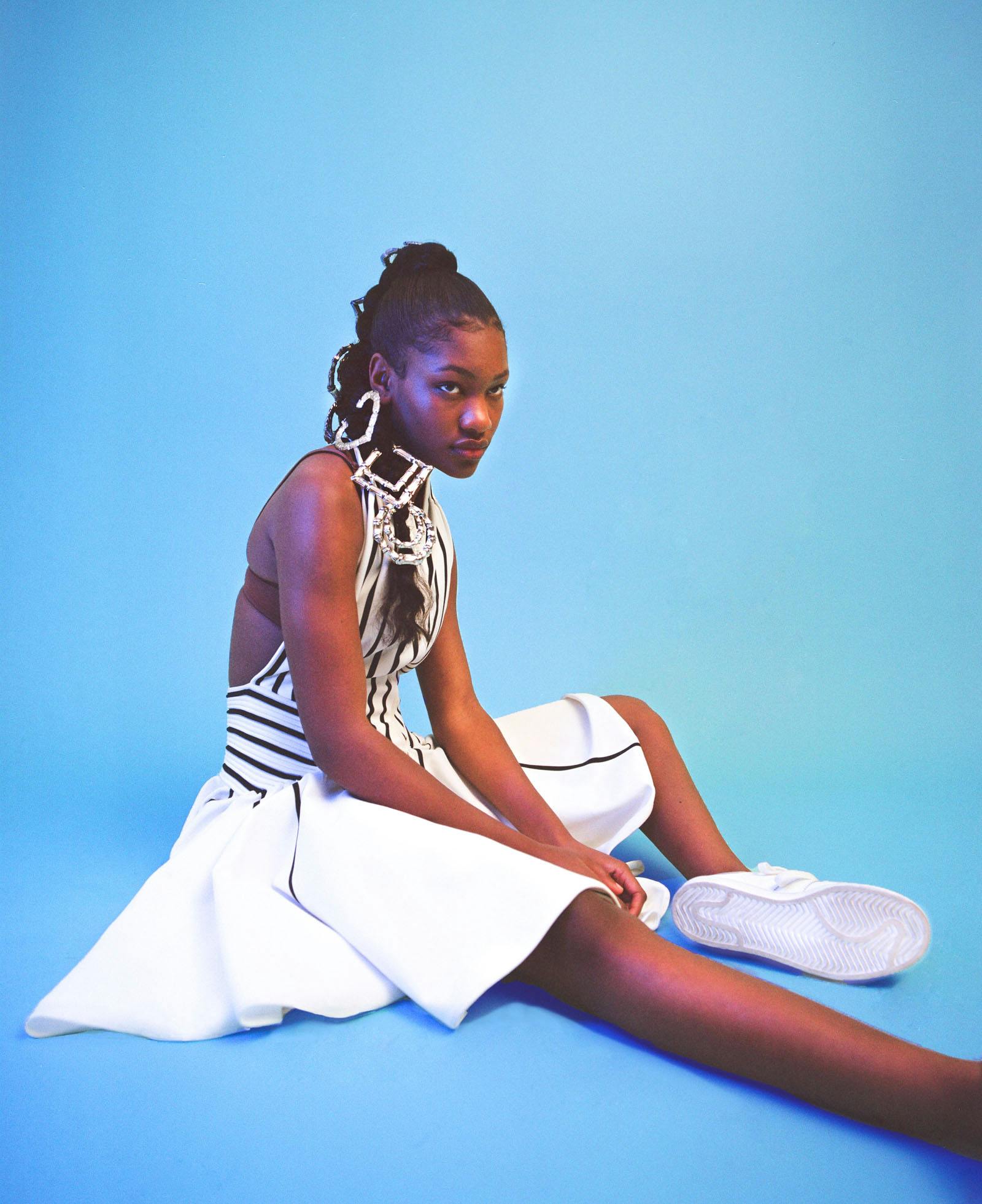 Notably, this wasn't Singleton's first time stepping into the cleats of the woman now known as the greatest tennis player of all time. Before landing her role in King Richard, she briefly played a young Serena Williams in a 2019 Super Bowl commercial for Bumble. Despite being a bit part in an ad, the brush with playing the star helped Singleton get into that same headspace a year later as she went into auditions for the film. It would be easy to chalk it up to coincidence that the actor has now played Serena twice, but spend any amount of time with Singleton and it's clear that "hardworking", "focused", and "supremely talented" are descriptors just as easily applied to Singleton as they are to Williams.
Singleton and her family have all relocated to Los Angeles for her budding film career, but it was her experience growing up in New York City that helped shape the actor. Moving from New Orleans when she was three-years-old, it didn't take long for Singleton to start a career in the arts. She began classical ballet lessons within months of moving and, at age four, began learning to play the cello using the Suzuki Method at the Brooklyn Conservatory of Music. By seven, she had started professional singing lessons and joined the New York Children's Choir. Whatever whim or interest struck Singleton as a child, it was safe to assume she'd soon dive into it: "All I'd ever wanted to do was entertain and perform, no matter how I did it," she recalls. "That was something I'd always been very passionate about."
While her early years were spent trying out a bit of everything, it was at the age of eight that her path curved towards acting – all thanks to Matilda on Broadway. Singleton was no stranger to the theater scene at that age – her mom regularly took her to see the newest Broadway play, and even now, years later, she proudly boasts about the stack of playbills in her closet. Back then, it was Matilda, Roald Dahl's story of a young schoolgirl whose love for books (and, of course, her telekinesis) freed her from oppression that fascinated Singleton, especially the cast of children. "Seeing all those young kids doing what they loved, and having so much fun singing and dancing on stage," she recalls. "Watching that happen was a very beautiful thing for me. That's when I realized that acting was what I wanted to do."
As she left the theater, Singleton asked her mom if she could start taking acting lessons. Within two years, she had found an agent and landed her first role in 2017, performing in the kids' ensemble in the Broadway adaptation of School of Rock. Balancing days at school with nights performing in the cast, Singleton got the first taste of life as a working actor. As she casually notes on her busy schedule during this period: "Broadway is kind of a lot." With no time to continue pursuing dance, choir, and music, her focus sharpened, and acting became her world.
After nearly a year performing in School of Rock, she landed her second role, this time joining the cast of The Lion King as Young Nala in March 2018. Singleton speaks with a level of professionalism of this period that went far beyond her young age: "I really wanted everyone to come to the show and enjoy it, so I would try not to have any off days knowing that it was a brand new audience," she explains. "However they saw it that night, that's how they would remember the show. I wanted people to think of the show and remember it as a good thing."
It was this persistence and dedication that would soon catapult Singleton from Broadway to the screen as she landed a role in the Epix series Godfather of Harlem. Led by Forest Whitaker as the 1960s gangster Bumpy Johnson, Singleton has spent two seasons in the role of Bumpy's daughter Margaret. A year after joining that cast and acting under the guidance of Whitaker, Singleton found her way to the courts with King Richard and acted under the guidance of yet another screen legend with Will Smith.
With gigs on Broadway, TV, and film under her belt by the age of 15, it's clear that there's something special about Singleton. But she'll be the first to admit that she owes her success to her parents. "They've always been there," she affirms. "My mom has been my number one supporter since the very beginning."
Coming from a supportive and close-knit home has also helped her settle into roles on-screen – especially in King Richard. Without a believable family dynamic, the entire film would have fallen flat, but thanks to the bravura performances of the cast, that outcome was avoided. It also helps that before filming began, Singleton and Sidney sat down with Serena and Venus to get to know the sisters without the swirling cloud of stardom that usually envelops them. "[We talked about] what it was like doing school and how it was at practice. The boys that they dated. Very intimate things," she recalls. "I was really appreciative of that, because it's not every day that you get to talk to the greatest tennis players of all time and learn about who they dated in high school. I felt really honored that they trusted me that much with that information."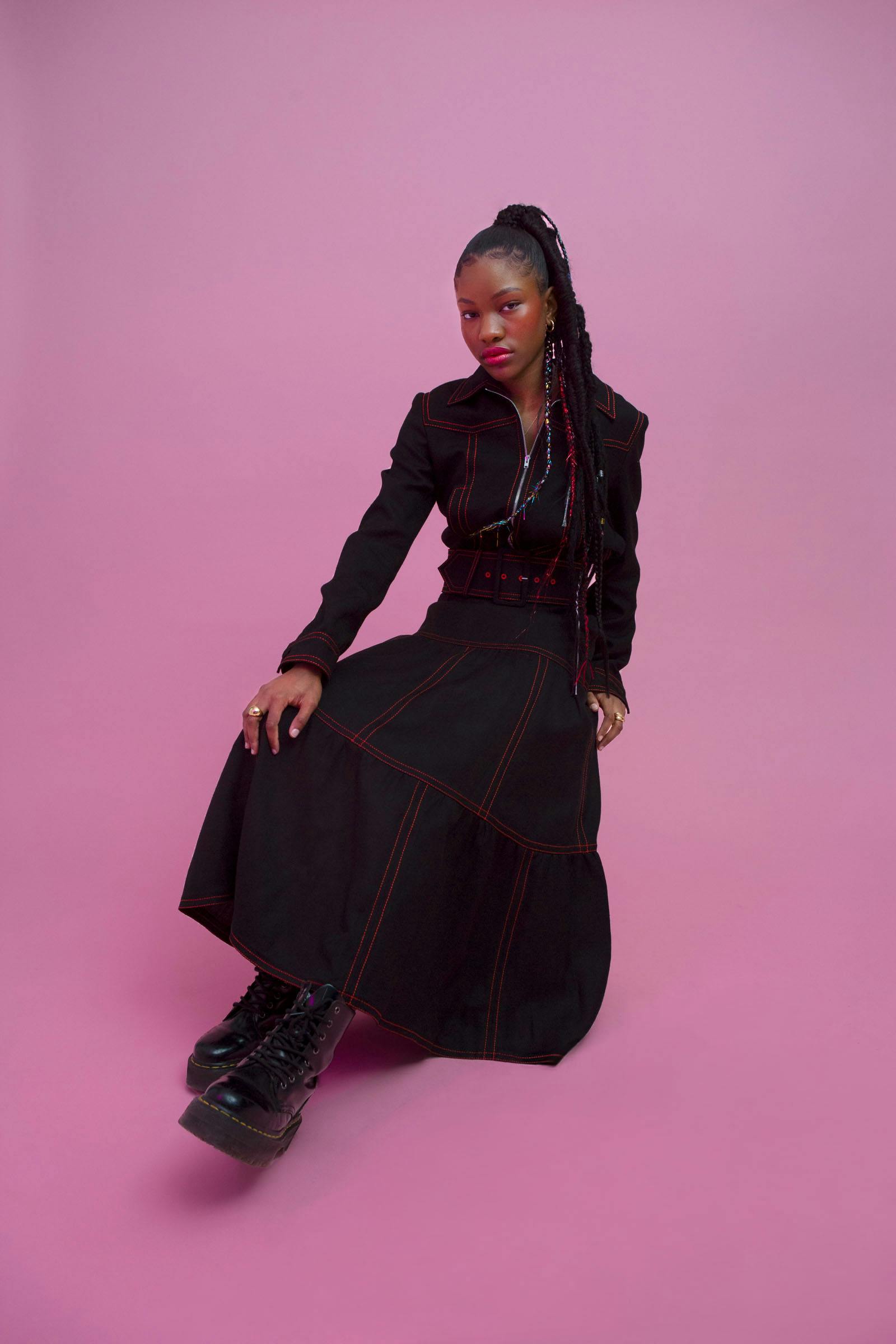 Though the pandemic stopped the sisters from visiting set more than that one time, it was all Singleton and Sidney needed to effectively embody them on screen. Now, with filming wrapped and the film released, Singleton continues to be close with the Williams sisters, as well as Serena's daughter, Olympia. There's even a clip of Singleton and Sidney playing a game of Slide with the three-year-old that's been immortalized on Olympia's Instagram. Singleton also became close with the other sisters, Lyndrea and Isha, who worked on the film in wardrobe and as a producer, respectively. Beyond forging a bond with the Williams family, Singleton is also quick to praise Will Smith – or, as she calls him, "Mr. Will" — for his nurturing influence and career advice. The biggest piece of advice she received from Smith was "to make sure that for all my future roles, all my future jobs, to make sure that the character lines up with who I am and my morals and my beliefs."
On the set of King Richard, the actors forged a tight bond that felt truly familial, allowing for some genuinely moving moments that weren't part of the script. In one scene near the start of the film, Smith pushes a shopping cart full of tennis balls around as Singleton and Sidney ride along. Taken out of context, it looks like a normal father and his daughters enjoying a day at the courts. The moment even made it onto promotional posters – and it was completely unscripted. It's small details like that which Singleton remembers fondly from her time filming the movie.
But it wasn't all fun. To accurately portray Williams, Singleton had to engage in rigorous training. Though she considered herself an athletic person (having played on gymnastics, volleyball, and basketball teams), the training shook her confidence, albeit briefly: "There were many times where I was like, 'Am I meant to be doing this? Is this for me?' Because tennis is really hard and I have such a high standard for myself. I expect myself to get it perfect on the first try and so when I don't, I automatically start doubting myself." It was only after she remembered the years of toil that Serena went through to get to the level she's at now that Singleton began to relax. "I shouldn't expect to play like the best tennis player of all time in just a couple of months," she explains. "I just had to tell myself, 'Be patient. You got this. It's very difficult so just take your time and do the best that you can.'" Singleton eventually soared past the doubts and put in a performance that made her tennis skills look far more advanced than the few months of training she did – something she is still particularly proud of. "I'm an actress, so what I'm best at is making it look really intense. That's my job."
It was a job well done, and an especially impressive first film role, but with King Richard released and awards season finished, Singleton has taken on a very different role: being a (relatively) normal teen girl. Just as Richard Williams fought to give Serena and Venus time for an adolescence free from the hectic tennis world, Singleton says that her parents have also been "very big on me being able to hang out with my friends and enjoy my teenage years." The impact of this balance is immediately clear; as talk turns to what she's up to outside of acting, Singleton's professional demeanor slips away.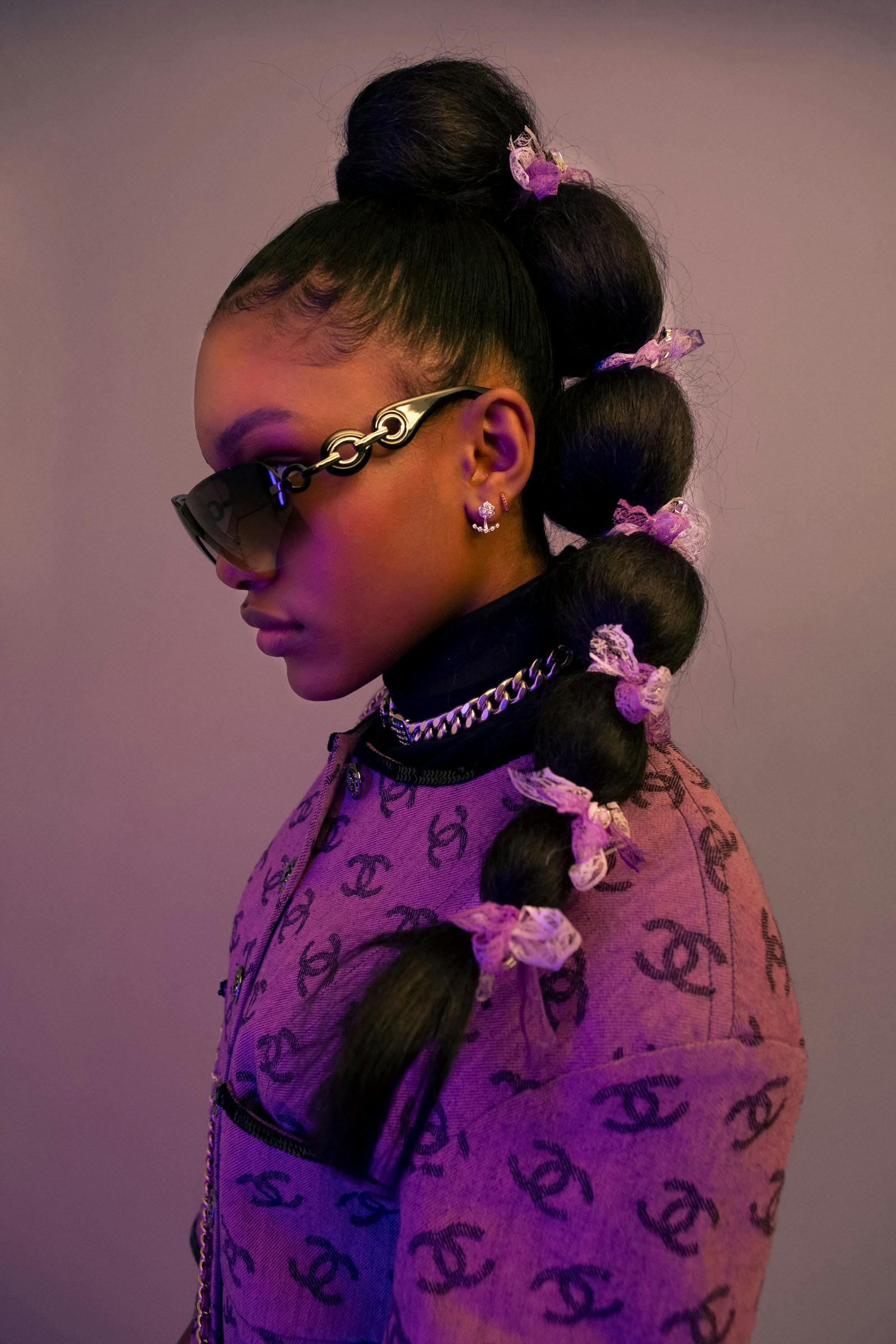 Singleton is a passionate devotee of fashion who loves to shop and put together outfits. Lately, thanks to a tip from her friend, she's discovered and logged hours scrolling through Vogue Runway, which she excitedly explains is her "new TikTok." When asked what brands she counts as particular favorites, she casually lists off Celine, Miu Miu, and Prada, before getting to her favorite: Chanel, especially '90s Chanel. "The vintage stuff," she says in a moment that instantly ages me. "That was the good stuff. It's good now, but the '90's Chanel, even the models, the way that they walked, it was just so sassy."
Her focus on fashion isn't just part of "normal teenage girl stuff;" it's part of a contingency plan if the whole acting thing doesn't work out. "I always said that if I weren't an actress or in the entertainment industry, I would probably be a stylist living in Paris or I would design clothes in Paris." Coming from anyone else, this fallback could easily sound like wishful thinking, but Singleton's laser focus makes it believable — and a fashion career isn't her only aspiration. She's currently working on music that's "​​kind of R&B-ish, kind of pop-ish, but a little bit of everything." And when reminiscing on her experience on set with a predominantly Black cast and crew on King Richard, she casually explains she wants to one day be a producer and a director.
There's no limit to what she dreams of doing and, given her trajectory thus far, it's easy to see why her passion may lead her to all of these endpoints. Even her dream of one day playing a superhero in a film doesn't seem far-fetched. Though that may be because the encroach of Marvel seems destined to turn every film in existence into a superhero movie, Singleton would love to step into the role of Natasha Romanoff, aka the Black Widow. "She's so cool and she's just that girl." Also a dream role? Beyoncé, though that's no secret: her press tour for King Richard has been punctuated with stories of excitably learning that her idol had made "Be Alive," the rousing song which plays during the film's credits.
For the moment, the lofty goals are just that. Goals. But in a world where being a Black girl with a dream can be met with fierce resistance, it's enough. Women like Serena Williams have shown that anything is possible, and it's this lesson more than any other that has stayed with Singleton long after she left the court. "The world hasn't always been the kindest to Black people. We haven't always gotten the opportunity to do what we love so I'm hoping that people see me and realize that it's okay to do what you love," she explains. "You shouldn't let other things stop you. You shouldn't let what people have to say about you stop you, especially if you love doing what you do so much. With hard work and determination there's really nothing that you can't do."