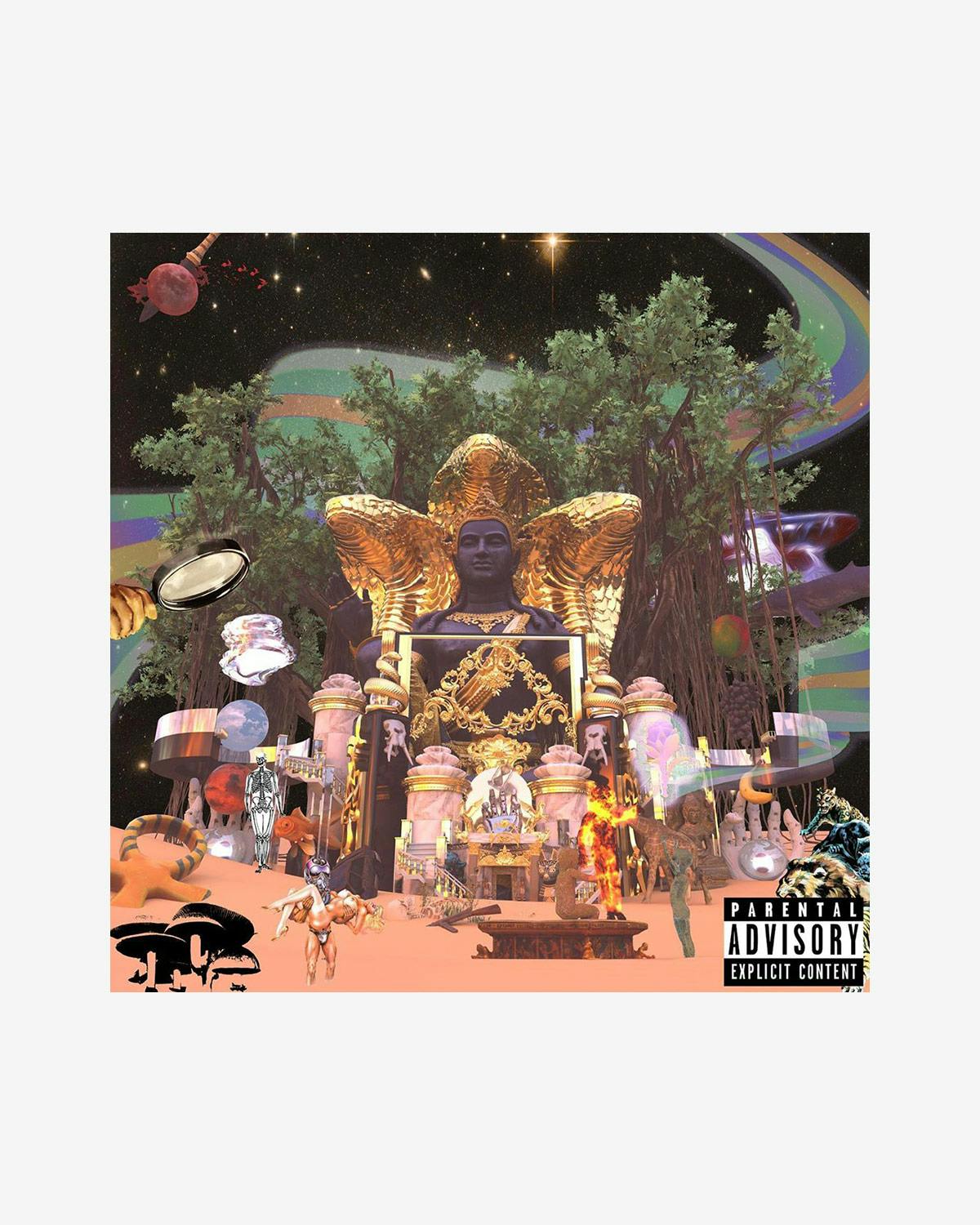 Technically, Divine Council still exists. However, the four-headed hydra of Richmond rappers Lord Linco, Cyrax, and $ilkmoney, alongside Chicago producer ICYTWAT — who combined SoundCloud aesthetics with technical focus and emerged in the mid-'10s as one of the country's most inventive rap collectives — is dead. Today, $ilk and Cyrax carry the Divine Council torch, albeit without ICYTWAT and Linco (who left the group in acrimony in 2017), and without the support of a major label.
So why does the story of Divine Council matter now? It offers a case study in the genuinely organic power of SoundCloud, and what can happen when a major label-backed rap Voltron scatters, and its members go independent. These four artists are still only 22 and 23. For some of them, Divine Council may have just been the beginning.
Divine Council origins (2013-2014)
Divine Council was originally the brainchild of Lord Linco, who invited Cyrax to join his group after they met at a birthday party at Dave & Buster's. $ilkmoney befriended Cyrax after he watched him "beat some bitch-ass nigga up 'cause he was talking shit." One day, after he rapped over one of Linco's tracks while selling him weed, Linco invited him to join.
"At the time, in 2014, we was just trying to perfect the craft," $ilk told XXL. "We were in my crib every day, smoking weed, watching Bernie Mac and The Parkers on mute, eating pizza and shit. That's our creative process. We didn't let any outsiders in [the house] to watch or anything. Only us."
In 2014, a 16-year-old producer in Chicago changed his name from KassperDahmer to ICYTWAT and started sending the Council beats. In November, $ilkmoney called and asked him to formally join. "I was in class, I remember the tweet went out, I was like, oh shit," TWAT told HotNewHipHop. "This is crazy."
Peak Divine Council (2015)
In 2015, Divine Council made huge strides towards achieving their self-proclaimed destiny to become the "new Jodeci," as they simultaneously cultivated a major SoundCloud following and refined their "audio pastel" aesthetic, so-called because it was meant to evoke colors. "We all have blue auras, all our hearts are blue," $ilk, apparently a synesthetic, told NoJumper.
Though Lord Linco, with his fabulously deep voice, was the most prolific member of Divine Council in the early days (with four mixtapes released between October 2013 and Nov 2015), ICYTWAT was probably the one most responsible for defining the group's sound. In truth, "audio pastel" proved to be a fitting descriptor for his vaporwave-tinged style, which seemed to take inspiration from things like the Playstation 2 loading music, plus blended frosty sleigh bell hi-hats, bright neon synths playing parallel jazz harmonies, and pillowy reverb. $ilkmoney fully emerged as a tour de force on the breakout track "P. Sherman (PS42WW$)," which showcased the kind of buttery baritone that had seldom been heard since Biggie Smalls. Other key Council tracks from this period included "DBSB," Cyrax's "Fetti" forerunner "I Like," and the Shlohmo-produced "The Fine Household."
Divine Council at Epic Records (2016-2017)
Divine Council experienced the greatest of omens one night in late 2015, during their performance at a CMJ showcase at the New York venue SOB's. Not only was André 3000 in the building, he wanted to meet them. "And the nigga just sits down next to us, just eating tomato shit, talking about how he big fans of us," $ilkmoney told Noisey.
Things got better in early 2016; the Council met Erykah Badu at SXSW and signed a deal with Epic Records. In August, they released their debut Council World, an airtight six-song EP organized around "Decemba (Remix)," a duet between $ilkmoney and André 3000; they narrated a modern legend, about an outlaw clad in purple pants whose last act on earth (before police shoot him dead) is impregnating his lover. "When 'Decemba' was originally just me, it was a winter blue," $ilk told HotNewHipHop. "But once André got on it, I took on the color of green, and I gave him pink, because that's how I feel how we both looked."
In spring of 2017, Divine Council released a mixtape/SoundCloud compilation titled DBSB. It was the second and last project that they would release as a group through Epic, or possibly at all.
Divine Council breaks up (mid-2017)
Sometime in 2017, Lord Linco and ICYTWAT left Divine Council. The exact reasons for the split are still shrouded in mystery, and none of the four members responded to Highsnobiety's interview requests for this article. "Not everyone deserves access to you," Linco tweeted cryptically that summer. "Protect your fucking spirit." He formally changed his artist name to his alter ego Loveybone, and in an Instagram Live session, he suggested that the group may have been dealing with creative, professional, and personal differences from the beginning. "I fell in love with someone I probably shouldn't have fell in love with," he explained. "Me and the guys fell out. A whole bunch of bullshit happened. This shit was going on for like a year or two. Whatever. But I'm rocking by myself. Shout out my nigga ICYTWAT, though."
$ilk and Cyrax remained close friends and collaborators. "Me and Cyrax sitting by the fire on Red Dead," $ilk tweeted in late 2018, "finnah go hogtie some niggas and throw them off mountains."
Four solo artists (2017-2020)
ICYTWAT: Deep in the snippet game, with both a devoted cult online following and legitimate connections to A$AP Mob, ICYTWAT is well-positioned to build his TWAT empire. His popular 2015 remix of Playboi Carti's "Talk" foreshadowed his current affiliation with AWGE; Rocky brought him out at Rolling Loud LA 2019 and Yams Day 2020. With several recent releases akin to his 2018 instrumental EP GOOD PUSSY, ICYTWAT has maintained a high level of output, and he currently appears to be most focused on his THOTTWAT, his partnership with the rapper Thoto.
Lord Linco: After leaving Divine Council, Linco rebranded himself as Loveybone. Unfortunately, he has been in and out of jail since 2017, and he was arrested on murder charges last month. Last year, he released his album After I Self Destruct.
Cyrax: Cyrax is releasing Stay Active 2, the sequel to his 2018 EP Stay Active, on February 26.
$ilkmoney: $ilk has put out two projects with Fiona Apple-esque titles, including last December's GTFOMDTNERFAYMFTBOILT. His 2018 release I Hate My Life and I Really Wish People Would Stop Telling Me Not To featured five production credits and two features from Tyler, the Creator, but failed to generate much buzz. $ilk is re-building his solo career from scratch at a time when the SoundCloud is no longer a reliable proving ground, hype machine, or money maker for independent artists. His path forward isn't entirely clear.