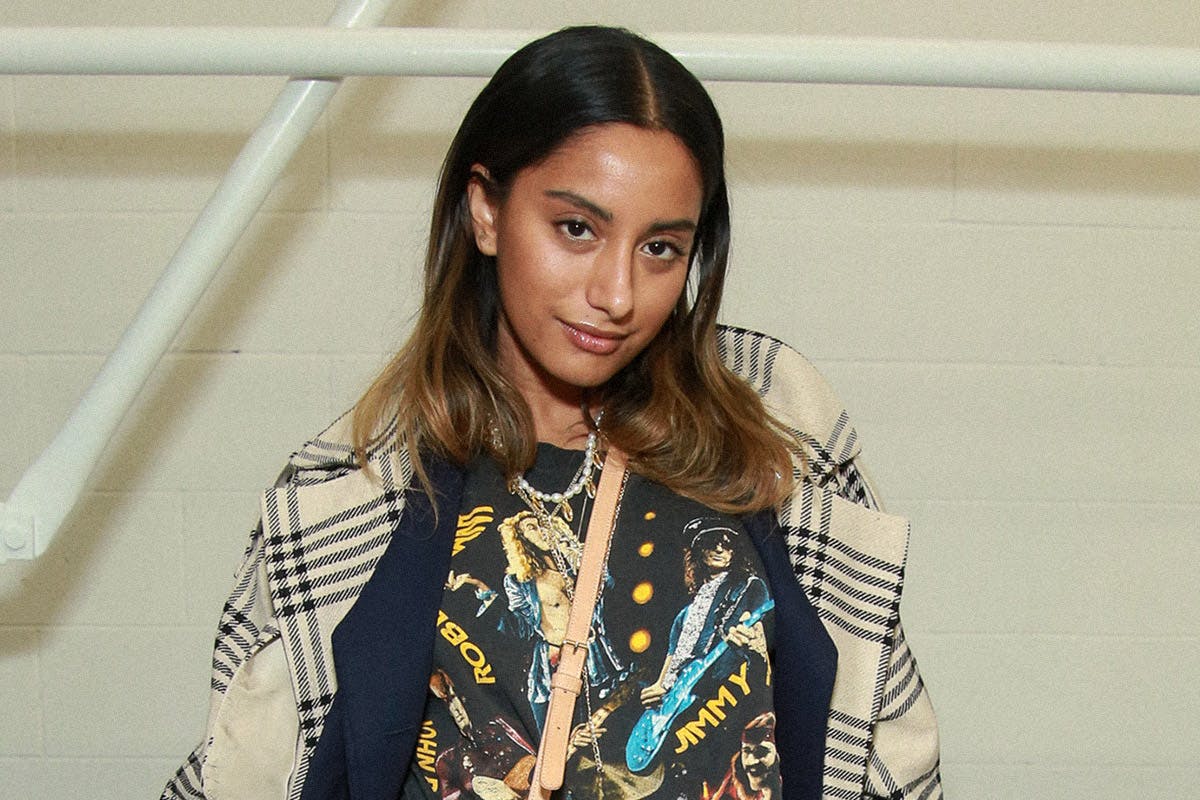 After her move to New York City and integration into the city's creative sphere, Amrit Sidhu has made a name for herself as an in demand DJ and creative consultant. The Australian-born DJ has taken her musically trained talent to sets for big names like Dior, Fendi, Jorja Smith, and Tommy Genesis. Amrit came through to the studio stowed in Noah's suitcase from Paris Fashion Week, ready to discuss the quick hits along with PFW's top shows and parties.
This week's highlights start on a low note with the closing of Opening Ceremony's stores following their acquisition by New Guards Group (2:43). The cast reminisce on the retailer's legacy and their loss of sample sales and discounts while Amrit recalls her first big move in the city as being booked by the brand.
The below interview is a written version of 'The Dropcast' Episode 95. It has been edited and condensed for clarity.
Jian: will miss Opening Ceremony. Because every time I went in there, you would know somebody.
Noah: He's just sad about his discounts. I'm honestly sad about my discount.
Amrit: I'm sad about the sample sale we're going to lose.
Noah: That was the only sample sale that mattered.
Amrit: That friends and family day before, that was special.
Jian: The only Hender Schemes I ever bought, I bought from that sample sale. It was crazy, but remember Street Etiquette? Travis Gumbs used to work there. Like New York fashion Tumblr—half of them worked at that store.
Amrit: I remember getting booked to play by them and being like. "I've made it in New York." That was still the barometer of downtown cool.
Amrit's only building more momentum as she continues to work with Nike. She got her hands on the Comme des Garcons Homme Plus x Nike Air Max 95s without having a clue about their price (5:46).
Jian: Speaking of energy, Amrit's on the Nike Energy Flow team now. Congrats on that.
Noah: Blow up! We know you are, because you didn't know how much the COMME des GARÇONS Homme Plus x Nike Air Max 95s cost.
Amrit: Listen, boys. Don't do that to me.
Noah: But they are great. I love them, but I don't want to buy them.
Jian: Yeah, they're $350. It ain't for the faint of heart. But thankfully I just got rid of a bunch of stuff on Grailed.
Although traces of a new CDG Nike shoe were absent from PFW, plenty of fire pieces were spotted on the runway (7:33). Noah caught on to trends such as tailoring, neck pieces ranging from thin silks to thick scarves, and winter shorts. The new sacai Nikes are making noise without a doubt, stirring up mixed reviews with people falling strong on either end. Amrit adored every Jacquemus bag and shoe, and was thoroughly impressed by the entire show.
Jacquemus isn't the only one turning 30; Nike has announced the new Air Max 2090 in celebration of the Air Max 90's 30th year (12:11). Jian stands alone on the shoe, which Noah and Amrit plead the fifth on, and considers setting a New Year resolution of only wearing GR's. You heard it first here.
Jian: Wow. So you hate it? You hate the 2090.
Noah: A hundred. Yes. Look, you're Nike affiliated, but you're not Nike family yet, are you?
Jian: No. They don't pay me to wear their shoes.
Noah: Are you buying these at the store, and you're going to put them on your feet and get a fit off? No.
Jian: No, but that's just because I have 300 plus shoes.
Noah: Okay. And if you have five pairs of shoes and a pocket full of money, would you go to the store and buy these and put them on your feet?
Jian: You know what? It depends on the colorway.
Noah:  You're a liar!
Jian: These grew on me though, because there's also the Air Max Flair that not a lot of heads remember. It was the Air Max shoe that had the uptempo knit upper and that was a sleeper.
Noah: It's just too future for me. I don't like things that look too future.
Jian: That's what I love though. You know what? I should make a new year's resolution of only wearing GRs. That should be my new shit. Just GRs all the time.
Noah: To be honest with you, if you did that, you'd be a martyr in this industry.
Jian: If Nike would pay me to wear GRs, I would only just wear GRS. Nike, if you're listening, I'll be your general release spokesman.
Fashion Week FW20 is almost over, and the world has been witness to an impressive lineup of shoe related news during the past few weeks including the release of Dior Jordan Lows, GmbH ASICS, Wales Bonner x adidas, and Raf Simons' announcement for making in-house shoes (17:23).
In other news, Offset announced that "Culture III" will be Migos' last album, but that's up for interpretation. The rapper also dropped his new clothing line Laundered Works Corp. at PFW with creative director and designer Chaz A. Jordan (25:31). The quick hits end on fashion, with news about Jean-Paul Gualtier's retirement and Demna Gvasalia's decision to bring Balenciaga back to haute couture (26:10).
The Question of the Week (QOTW) asked listeners "Who had the best PFW collection?" and Noah handed it to Bode and Lanvin while Amrit listed Jacquemus, Undercover, and Casablanca (26:42). This episode introduced a special segment of "PFW Lightning Round" where Amrit and Noah answered with their top shows, parties, and things that "hit different" as quickly as possible (30:53).
Before jumping into "What'd You Cop," Noah announces the new Kiko Kostadinov mules that debuted during PFW as the "Mule of the Week" (36:11). Amrit was gifted a pair of black CDG Homme Plus Nike Air Max 95s and copped pieces from Prada and Bottega Veneta (36:55).
Be on the lookout for the next QOTW which will be posted on Highsnobiety's Instagram, and leave a voicemail on The Dropcast hotline at 833-HIGHSNOB (833-444-4766) for a chance to be featured in a future episode.
Relevant Links
Opening Ceremony Is Closing All Its Stores in 2020
The COMME des GARÇONS Homme Plus x Nike Air Max 95 Drops Tomorrow
The Best Pieces We Saw at Paris Fashion Week
Nike Brings the Air Max 90 Into the Future With the Air Max 2090
BAPE's Take on Dr. Martens' 1460 Comes With a BAPE STA Logo
The Best FW20 Footwear Unveiled at Fashion Week
Offset Reveals 'Culture III' Is the "Last Chapter" for Migos
Demna Gvasalia Confirms Balenciaga Is Returning to Haute Couture