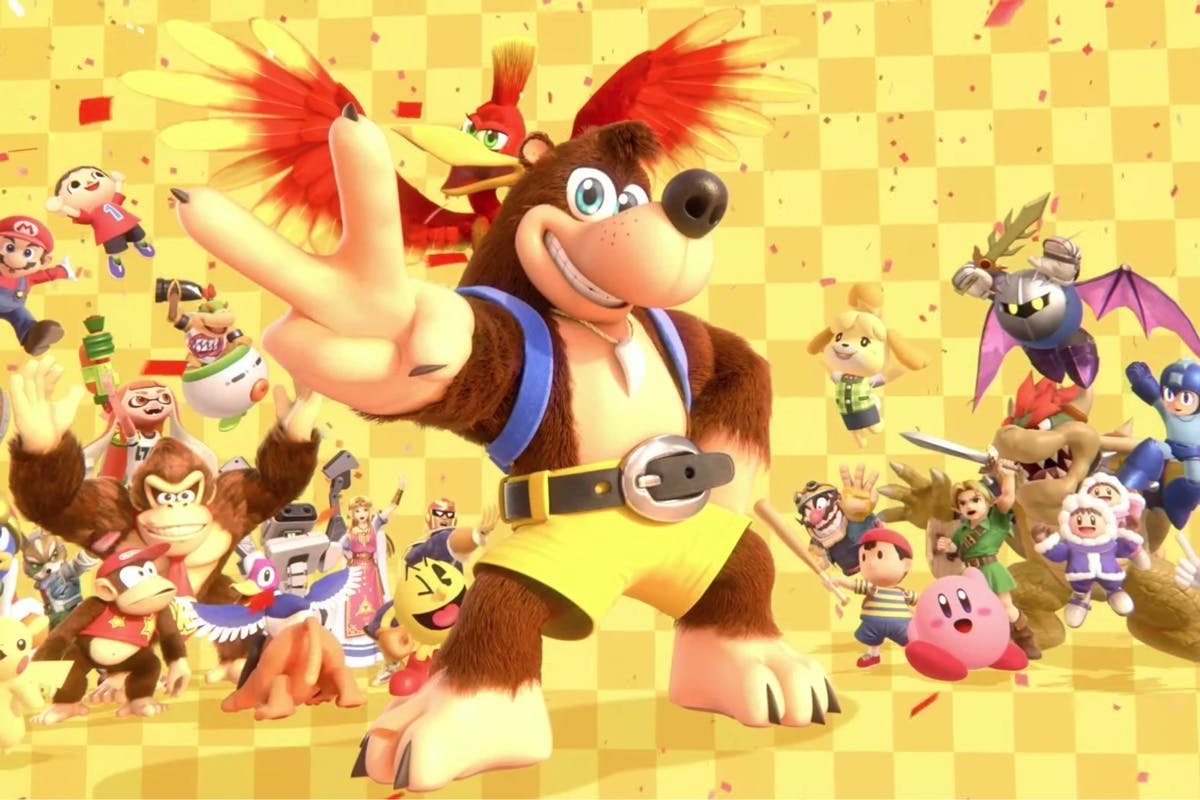 E3 2019 saved one of the best conferences for last. Nintendo delivered rapid-fire must-see announcements for Pokémon Sword and Shield, Animal Crossing, Luigi's Mansion 3, Witcher 3: Complete Edition, and tons more.
If that doesn't get you hyped to be a Switch owner, Super Smash Bros. Ultimate is getting a few surprise character reveals, cult classic Dark Crystals is being turned into a video game, and Legend of Zelda: Breath of the Wild is getting a sequel.
Unfortunately, still no information on the rumored next-generation Switch consoles, which will presumably feature an XL version and a more affordable option compared to the original. Despite the omission of the new consoles, Nintendo delivers enough announcements and surprises to keep fans excited and occupied for the next year and then some.
Check out all the biggest announcements from Nintendo's  E3 2019 Direct below.
Banjo-Kazooie and 'Dragon Quest XI' Confirmed for 'Super Smash Bros. Ultimate'
Super Smash Bros. Ultimate dropped two big reveals during Nintendo Direct. A hero from Dragon Quest and the classic Banjo-Kazooie will be making their way into the game as DLC characters. DQ's hero, who can shift into multiple forms, is coming this summer, while Banjo will drop this fall.
New Spooky 'Luigi's Mansion 3' Gameplay Revealed
It's on no hype level as Super Mario Odyssey, but Luigi's Mansion 3 look great! From it's blend of comedy and horror, Luigi is set to go on his most exciting and fun adventure yet. During the Direct, a new trailer shows the fully co-op and multiplayer modes. Luigi's Mansion 3 is due out later this year.
'Legend of Zelda: Breath of the Wild' Sequel Announced
Nintendo saved the best announcement for last during the direct, teasing a sequel to the beloved Legend of Zelda: Breath of the Wild. Not many details about the sequel has been revealed, but the game does looks to be a lot darker than the original, as seen in the trailer.
'The Dark Crystal: Age of Resistance' Revealed
The Switch is getting a new turn-based strategy game based on Netflix's prequel called The Dark Crystal: Age of Resistance, and it looks great! Featuring a Final Fantasy Tactics style of gameplay, we can't be more excited to get our hands on this game.
The Witcher 3: Wild Hunt: Complete Edition is Coming to Switch
One of the best RPG games is coming to Switch. The Witcher 3: Wild Hunt will finally be able available to play on the go, and will feature all expansions and DLCs from the original game. There's not release date yet, but we can expect to play later in 2019.
Animal Crossing: New Horizons Delayed Until 2020
As the Direct gave us a good look at gameplay for Animal Crossing: New Horizons, unfortunately, we'll have to wait longer than expected to play. Nintendo's Yoshiaki Koizumi announced that the game has been pushed back to a March 20, 2020 release date, which was originally slated for a 2019 release window.
Other Notable Trailers from Nintendo's E3 2019 Direct
Astral Chain
Marvel Ultimate Alliance 3
Empire of Sin
Panzer Dragoon
No More Heroes 3
Fire Emblem: Three Houses
Contra: Rogue Corps
Resident Evil 5 and 6
Mana Trilogy Collection
Cadence of Hyrule: Crypt of the Necrodancer