Right now, well over a decade since it went mainstream, emo is having a moment all over again. Or rather, still having a moment, depending on who you ask. Either way it's everywhere: emo band reunions, rappers, club nights, and unashamed admissions that we all loved emo in the first place are the evidence. Some of the most successful and prominent people at the forefront of the revival are the founders of Emo Nite LA – a club night that has since evolved into a full-time job. Starting with monthly nights (then called Taking Back Tuesday) at the Echoplex in LA, Emo Nite now put out merch every season, tour the country, put on festivals, have huge guest DJs, and were even responsible for the surprise From First to Last reunion in 2017.
We went to the Emo Nite office in LA to meet founders Babs Szabo, TJ Petracca and Morgan Freed, who started Emo Nite in 2014. TJ tells us that it all began when he and Babs were at a karaoke party: "We were trying to pick songs from the book and we said 'let's do this Dashboard song.' So we sang that and we became friends and we were like, 'this is really fun, maybe we should try and do that again but at a bar.'" They managed to swing a Tuesday night at a nearby bar but found themselves well over capacity and quickly moved to the Echoplex, where the party is still held.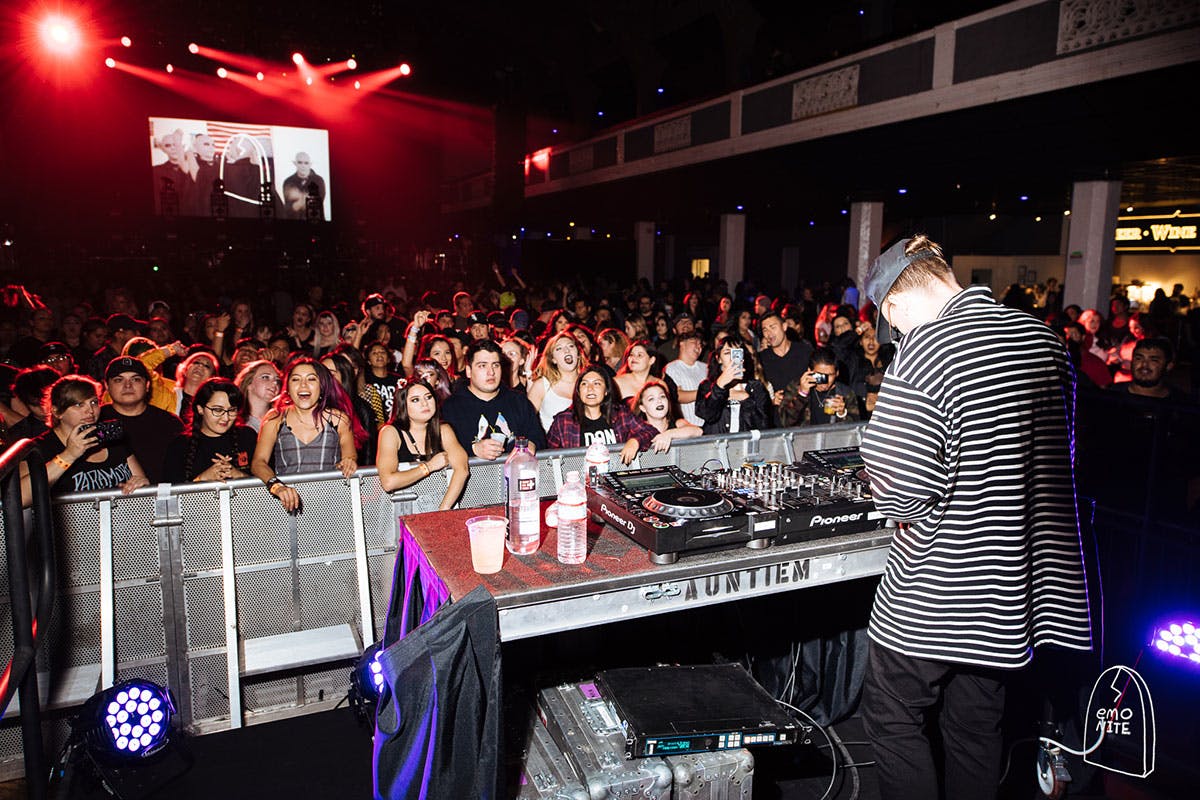 After that, things snowballed, and they booked their first guest DJ: Blink 182's Mark Hoppus. The same crowd often comes to every single Emo Nite, and they're aware of the pressure to mix things up: "We try to keep ourselves and our fanbase engaged and wanting to go to this party every single month even though it is the same songs almost every single month. We're just trying to think of new ways to make it fun" says TJ. Which begs the question: when you're playing people old music people have already heard at a party that's the same format every month, how do you make it different?
Emo Nite manage a few ways: one, they've learned to market themselves well. With backgrounds in social media and digital strategy, the team put their heads together to figure out how to reach people. They put out intro videos to advertise nights, which Morgan says, "are really funny and give it more of an identity than just going to listen to music." They also utilize their social media presence, and with almost 200,000 followers on Instagram and Twitter combined, it's working – so much so that they started a company, Ride or Cry, a "self-hating creative agency." Now they have nine employees, some of whom work for both companies, proving that they take this shit seriously. At Ride or Cry, they handle social media, photography, web development, and anything else you can think of – and Emo Nite is their guinea pig. There is some crossover with Emo Nite clients, they tell us, but their client list includes everyone from Ford to Paramount to Korn.
No small part of the night's appeal is in its guest DJs and special surprises that the group keep well under wraps so you "don't come to Emo Nite expecting a show." At the most recent one, DJs included Goldfinger's John Feldman and Sleeping With Sirens. A surprise acoustic set from The Used's Bert McCracken and Circa Survive's Anthony Green was the cherry on top – and the kind of surprise appearance that keeps fans coming back, hoping to witness something as special as Sonny Moore's first performance with From First to Last in years. While this strategy works, it isn't just a strategy – the Emo Nite founders truly, genuinely love pulling stuff like this off. "That was the coolest moment. It was just so unbelievable. Even the week leading up to it was like, is this really happening? This is crazy!" says Babs of the reunion. "It was this no pressure, really cool, almost like a small show that took me back to seeing random bands in high school. It was a loose format, no one took themselves seriously" she adds, genuinely pleased to have made all of our emo dreams come true.
The other thing that makes Emo Nite stand out from the pack of potentially similar nights is its merch. At the start, Emo Nite brought out "sad as fuck" balloons and T-shirts – something, TJ says, which started as a joke. Morgan adds that they would never do that now, because it's "Right on the fuckin' nose like all the other emo nights are. It's easy, it's low-hanging fruit." But it took off, and soon they were releasing merch like coach jackets reading "EMO NITE IS EVERY NITE," pins that say "emo girls rule the world," a T-shirt of a Skrillex tweet, and everything from patches to earrings to popsockets.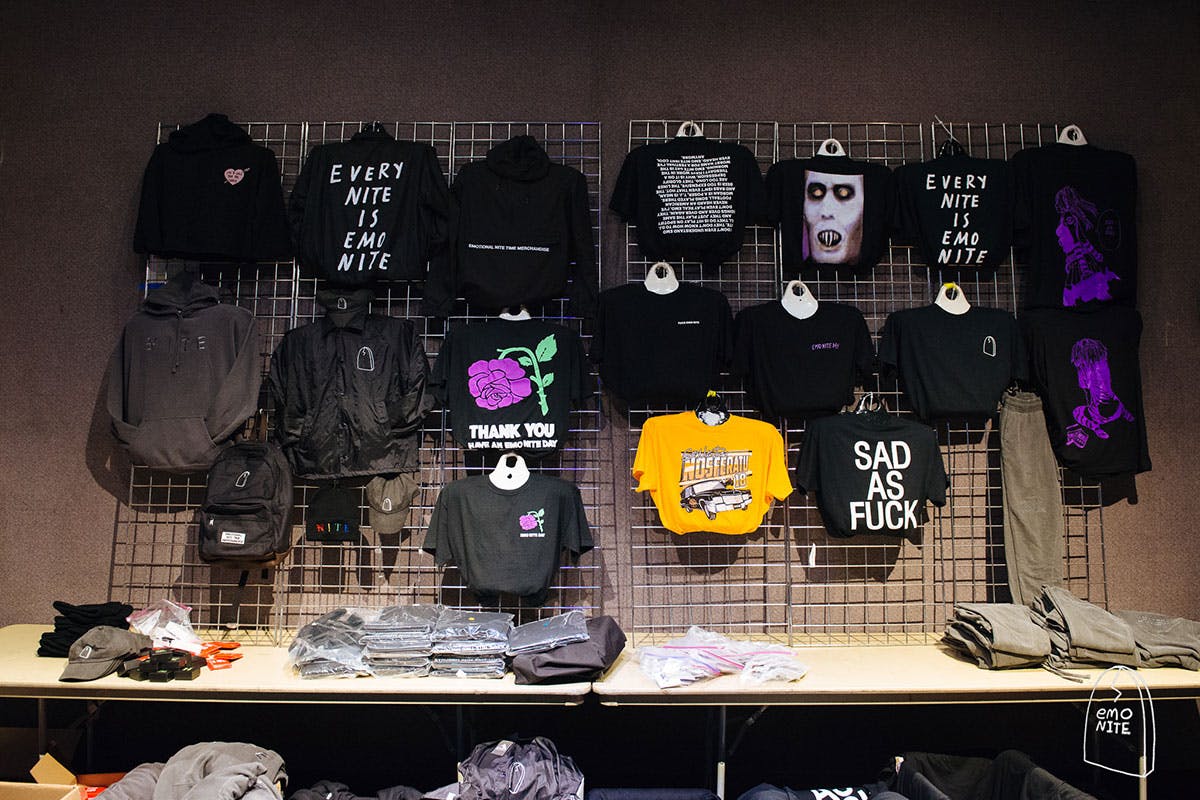 They've collaborated with brands like OBEY, Chinatown Market, and Urban Outfitters on their clothes, putting in the work to bring out things their fans covet. TJ says that they try to "make clothes that we would want to wear" just as they "throw parties we would want to go to." He adds that "it's something that you would consume yourself, you're not just creating it to put out a shirt. You're not just printing a shirt that says Emo Nite to say 'we have merch.' These are clothes we would want".
Many of the people who attend Emo Nite seem to do so not just for the music or potential surprise guests, but for the cult of the party itself. They show up early from all over California and even the country "to meet up and see their friends who live an hour or two apart," queueing hours in advance for both free entry and to make friends. People, Babs says, show up wearing Emo Nite merch sincerely, in a way that wasn't cool to do at shows growing up. "I remember that used to be such a hard decision, of what shirt to wear to a show. Like, it should be known that I know this other cool band and that I've been to their show. Now, I go to a Movements show and I'm so excited to wear my Movements shirt" she laughs. Unlike at other club nights, the audience faces the stage – something that's hard to get your head around, even for the founders: "It's been an interesting hurdle for us to go over in every city that we conquer. We'll do a few songs at the beginning and then I have to be like, 'we're literally up here pressing play.' You have to almost teach people how to let loose and have fun. They're used to going to rock shows." says TJ. "Especially in LA" Babs adds.
For emo to endure past 2006 or the current moment, it has to evolve. That and the surge of emo rap and pop has been hard for old school diehards to get their head around. But Emo Nite refuse to give in to nostalgia: "It's supposed to be very current, like it is 2019 and we want our event and our clothes to reflect what's happening right now. We try to do collaborations with brands that we like" says TJ. Emo has a bad rap for being cheesy or uncool, but he says "this genre is so much more than what people think of off the bat." Their guest DJ roster has seen a lot of names from outside of that world, from Demi Lovato to Post Malone to The Chainsmokers, much to the ire of emo purists. "People who are just creative outside of the world of this scene listened to this music and it influenced them and changed them, and I think that gets lost a lot of the time when people think of the word emo. They think of this one stereotype and it was very impactful and still is." TJ adds.
While emo never really went away, the founders acknowledge that after its mid '00s mainstream moment, the hype around it died down until the last few years. Now even today's teenagers are into it, and both emo's endurance and the reason people look down on it can be attributed to its association with youth. "I try to figure out why young people relate to it, and I think that it's a testament that it is music that you listen to in growth. It wasn't just our growth, they can listen to it and feel the same things that we did" says Morgan. "It was the first kind of music that was aimed at that age range, but I don't think it meant to do that. It just did that. I think that's why it was such an important part in everybody's lives" he adds.
Emo has always been there to make people feel better in their awkward growth; it did it for us in 2006, and it still can. Emo Nite, and on a smaller scale other alternative nights, gives people a place to fit in far away from their real lives. "It's always been about the community with this genre. It's just as important as any of the songs, it's always been about having a place to go" says TJ. "I think that's why emo nite is what it is, because it has that in its DNA."