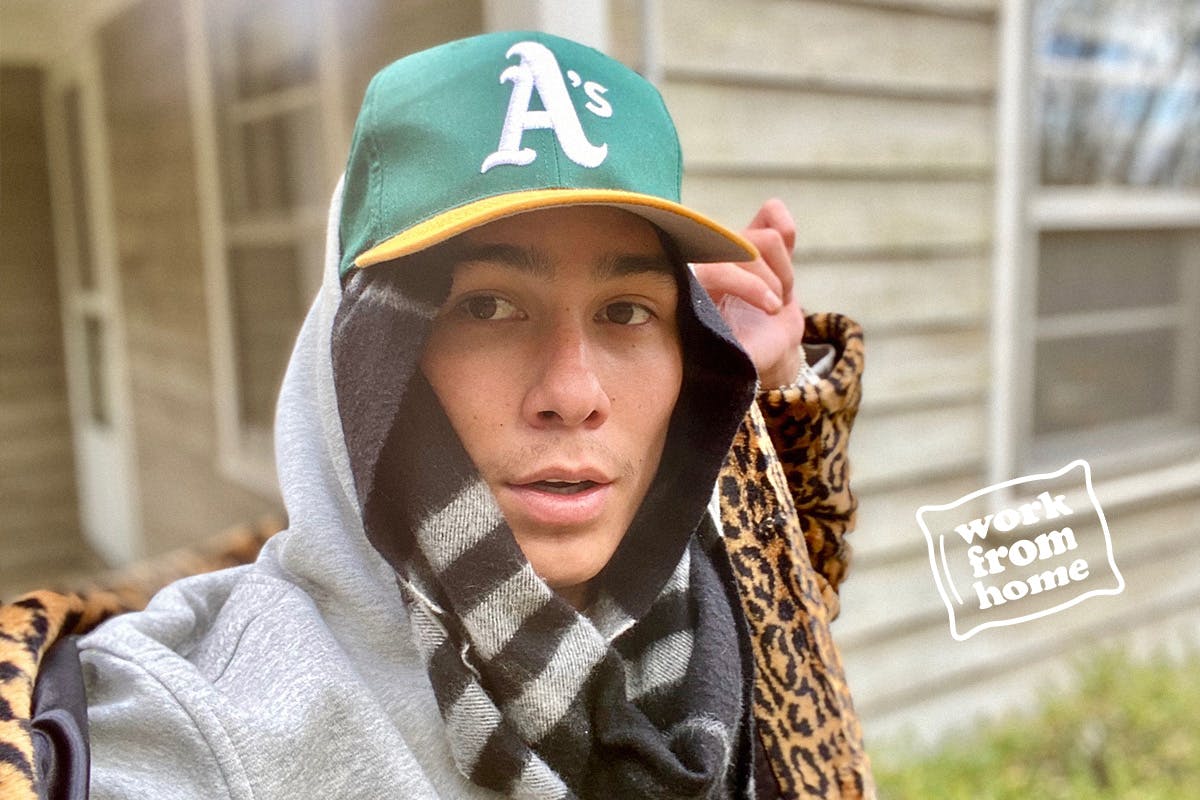 Work From Home is a new vertical dedicated to life and culture in the strange and unprecedented situation of self-quarantine that many of us are dealing with right now. From what to watch to how to get a fit off and how to not think about anything, this is our guide to the great indoors. For updates on the spread of Covid-19 and how to keep yourself safe and informed, consult WHO and the CDC.
While things are getting twice as bad back in Hawaii with stricter lockdown enforcement and a tsunami warning, skater, model, photographer, and designer Evan Mock has been spending the past two weeks in Connecticut. On this episode of 'Vibe Check,' Evan talks to host Jian DeLeon about the projects he has lined up in the pipeline, including his brand Sorry in Advance, and discusses the need to show love for local businesses and people during these trying times.
The below interview is a transcribed version of 'Vibe Check.' It has been edited and condensed for clarity.
Evan Mock: I'm pretty stoked on just doing the things that I've always put off, such as archiving photos and gathering photos from my photo book into one folder and kind of getting all those wrangled ready to go to print and stuff. But yeah, the things that I was working on, I'm going to do that collab with Justin, with his Drew House stuff. We just got the samples but it was supposed to drop around Coachella time. Now Coachella got pushed back 'til October, I guess. So we're not really stressing on dropping it anytime soon.
It's no surprise that Evan has his skateboard out in Connecticut, but snow and wet roads have been stopping him from bombing the hills. For now, the situation calls for Evan to reevaluate how he plans to build his brand in the long-run. While skating and fashion campaigns are on hold, other projects are taking off (8:07).
EM: I've been designing a lot of clothes. I'm going to be doing this collection with RVCA. The whole inspiration behind it is vintage Hawaiian shirts and T-shirts and old Halakah prints. I have this book, it's all about the history of the Aloha shirt and it kind of tells you the years and how it even came about and all this stuff. So I've been reading up on that and kind of pulling inspiration from the photos and just the whole vibe of that era of the sickest time for Hawaiian fashion. I would say.
Jian DeLeon: Do you have any other favorite brands that have been using Hawaiian shirts? I mean I know Sacai had a Reyn Spooner collab. It was this huge thing for a while and everyone was sort of collaborating and using Hawaiian prints.
EM: Yeah, I don't know. I haven't really seen any newer brands that I've been stoked on. It's kind of just the run of the mill Aloha shirt and it's kind of what I feel like a lot of the brands that are making a lot of shirts now are kind of just copying what they see so far… just the typical ones that are like, hey I'm in Hawaii so I'm going to buy a Hawaiian shirt kind of thing. I think all the best ones are already made, honestly.
JD: Well, you know the ironic thing too is that most people who haven't been to Hawaii, aren't from Hawaii, sort of see an Aloha shirt and they imagine vacation. But there it means business, doesn't it?
EM: It means business. It's also just the culture of it. There could be pineapple fields on one and that dates back to CNH cane sugar of people working in the sugar cane fields, in the pineapple fields. And I don't know, I feel like every Aloha shirt tells a story, which is cool.
Evan makes a shout out to NYC Chinatown's Labor Skate Shop, An Choi in the Lower East Side, the Faena Hotel in Miami, his brother-in-law's family-run Slow Tide, and his father's local business Island Fin Design in Hawaii (13:47). With the state being so dependent on tourism, small businesses are in need of support more than ever.
Tune in to new episodes of 'Vibe Check' every Tuesday and Thursday.