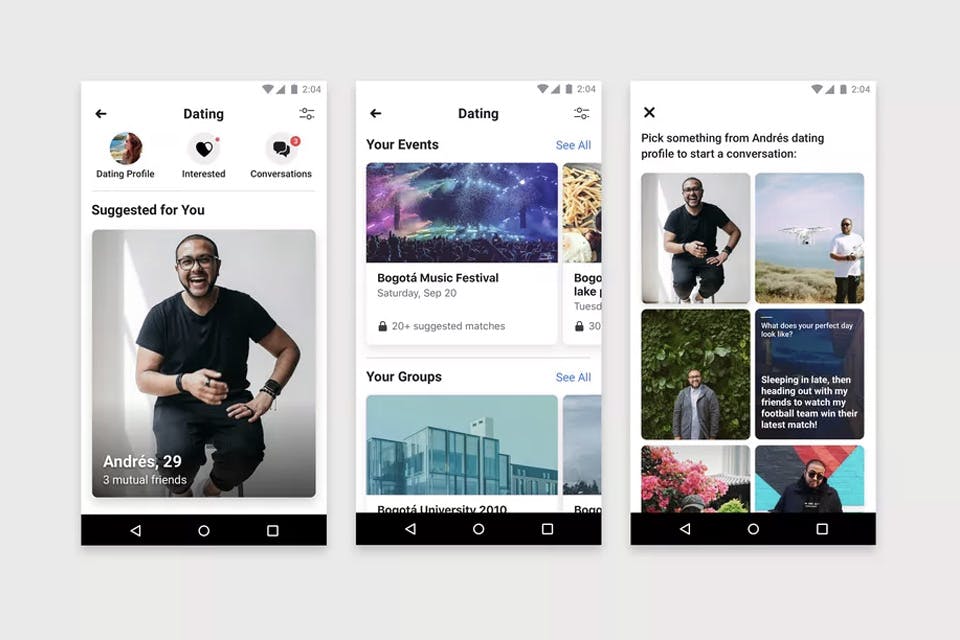 Four months after Facebook announced that it will implement a new dating feature, the streaming network has starting testing it in Colombia, Wired reports.
The dating service is a matched based system. But this is not Tinder 2.0; you won't find swipes here. What's more, according to Facebook, this feature is especially meaningful for those on the hunt for long-term relationships as opposed to impulsive swiping.
"We wanted to make a product that encouraged people to remember that there are people behind the profiles and the cards that they're seeing," Facebook's dating producing manager Nathan Sharp told Tech Crunch. "We wanted a system that emphasizes consideration over impulse. We want you to consider more than that person's profile photo."
For now, Colombian Facebook users can create their own dating profiles. While it doesn't involve downloading any kind of separate app, the dating profiles are separate from a user's main profile page. Basic information such as age and name is transported over from a primary account, and then additional information — like location, gender, sexual orientation, height, religion, job, children — is filled in manually.
Profiles can then be padded out with a maximum of nine photographs and ice-breaker questions such as "What does the perfect day look like?" Then, based on these answers and users' likes, hobbies, mutual friends, Facebook implements an algorithm that finds potential matches within a 100 kilometer radius. Of course, a metric system will be used when the dating feature is rolled out to American users.
A left and right swipe option is replaced with a "Not Interested" button, and similarly to Hinge, users won't be able to message others with a simple "hey." Rather, initial conversations are in reaction to messages and questions pertaining to information on the other's profile.
Facebook also ensures that you won't be shown anyone you're already friends with on the social network, or anyone you've blocked — helping to avoid face-palm inducing matches. However, users will be able to match with people who are attending the same events, or those in the same Facebook groups.
All messages will live in a separate inbox from Facebook Messenger, and thanks to security implementations it won't allow any links, photos, or payments to be sent via your dating profile.
Would you use Facebook's dating feature? Let us know in the comments.
Bored of Tinder? Here are the 8 best dating app alternatives.