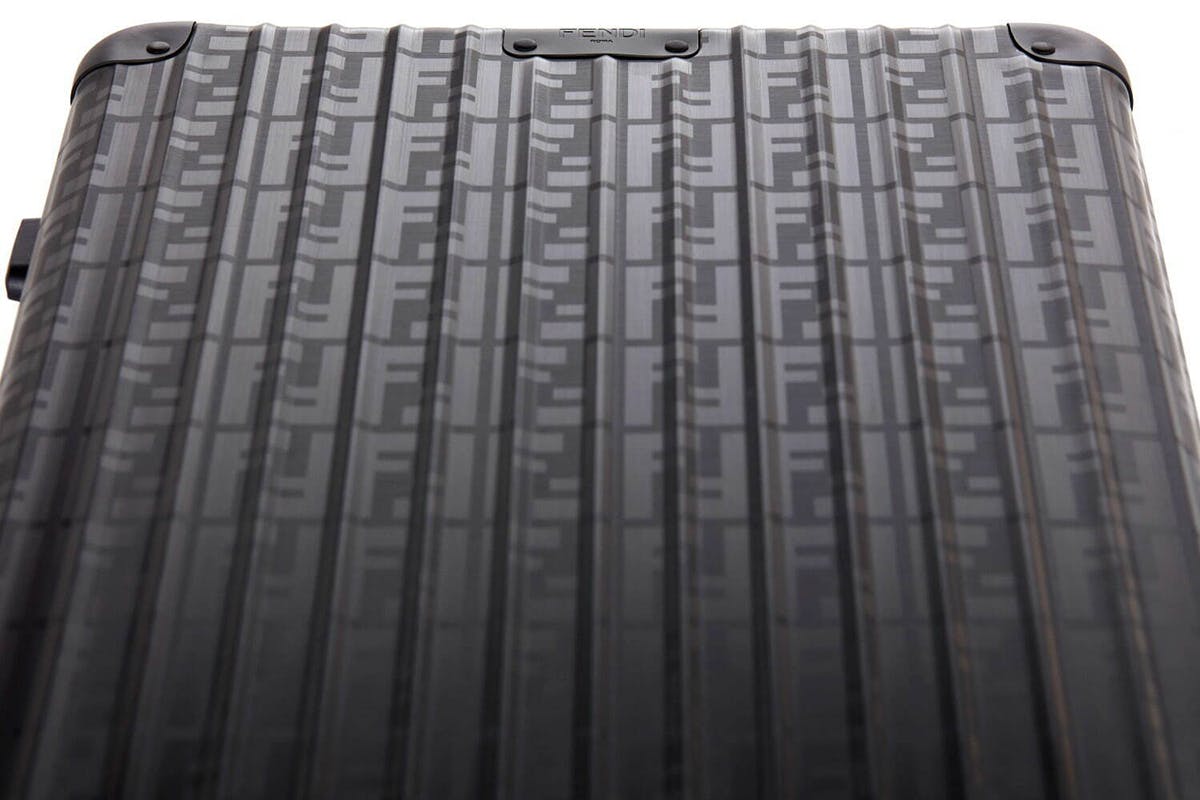 Buy: Pre-orders for the $3,290 cases begin today on Fendi's web shop and at its stores, with general launch scheduled for September 2021.
Editor's Notes: Unexpected collaborations are part of the Fendi DNA. Even before Kim Jones joined Silvia Venturini Fendi at the LVMH-owned label, it was already doing Moonstar and PORTER partnerships, for instance. Fendi's reunification with RIMOWA, however, represents more than just two companies putting their heads together: it speaks to LVMH's greater cross-pollination strategy.
Let's rewind a bit. One of Alexandre Arnault's key pushes while he was at RIMOWA was to boost the brand's collaborative output into the stratosphere. Mix-ups with Dior, Moncler and Off-White™ followed after he took the helm in 2017.
Borrowing the streetwear hype of limited edition collaborations, Arnault made RIMOWA hot again and simultaneously predicted luxury's next evolution: exhausting conglomerate crossovers. Not only do luxury labels partner with external peers nowadays, they also link with their siblings.
This could've been predicted back in 2017 or 2018, when the first and second RIMOWA x Fendi tie-ups dropped, possibly, but the Supreme collab that soon followed basically eclipsed everything.
Still, the revived Fendi x RIMOWA lineup that debuted today speaks to the kinda of mix-and-match ethos that Virgil Abloh will likely encourage as he ascends into the upper echelon of LVMH. It's interesting to consider that Fendi x RIMOWA basically foretold the contemporary in-house conglomerate collab and thus, as old becomes new four years later, the pair have reunited.
And reunited for what? Why, a duo of glossy black and silver RIMOWA aluminum cases remixed with Fendi design cues. You've got Cuoio Romano leather on the handles, you've got the all-over Fendi Zucca logo printed atop and inside the case, you've got classic RIMOWA features like a telescopic handle and 360-degree wheel movement, and you've got a matching leather address tag.
Nothing to sneeze at, sure, but it's what you'd expect from two luxury companies of this scale coming together. No, what's more interesting than these two luxurious pieces of luggage is the how they frame LVMH's big picture, representing its early collaborative experiments and future stabs at crossbreeding.