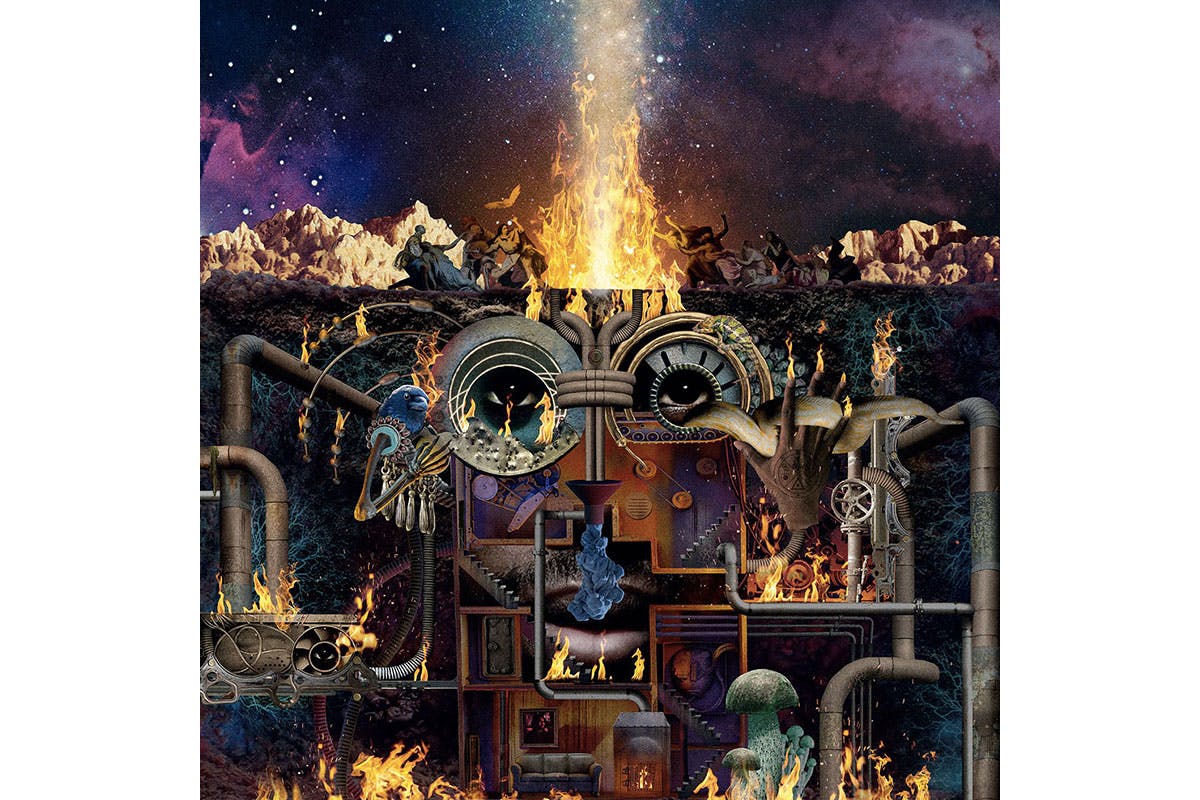 5.0/5.0
Flying Lotus has never been short on ambition. In the 13 years since his debut album, the Los Angeles super-producer has performed a world tour from inside a custom-made holographic cube, had his debut feature film Kuso premiered at Sundance, and helped to produce one of the most essential records of the 21st century so far, Kendrick Lamar's To Pimp a Butterfly. Somehow, his new album Flamagra manages to be his most ambitious work so far.
Clocking in at a staggering 27 tracks in 66 minutes, entering into Flamagra is a daunting prospect, but it soon becomes clear it will be a rewarding one. A cursory glance over the tracklist reveals features from Anderson .Paak, Funkadelic pioneer George Clinton, Tierra Whack, Denzel Curry, Solange, and regular collaborator Thundercat, not to mention Flying Lotus' fellow master of the surreal David Lynch, who lends a blood-chillingly weird monologue to album's lead single "Fire Is Coming" (more on Lynch, fire, and the blood-chillingly weird later). Lesser artists might struggle to keep an album of Flamagra's grandeur sounding tight – God knows we've all suffered through enough baggy Migos and Drake releases of a similar length – but Flying Lotus triumphs.
As the album unfolds, Lotus weaves together seemingly disparate musical and thematic threads with hints of narrative and a world just beyond the horizon. There are lyrical nods to spies ("Yellow Belly"), conspiracies ("Burning Down the House") and mysterious phone calls from unknown figures ("Fire Is Coming") hidden in strange corners of the record. Throughout Flamagra, there's a sense of something threatening in the background, something going on that the listener should know about, something to do with fire.
Fire is everywhere on Flamagra, from the album's nonsensical but definitely flammable-sounding title to the apocalyptic album art, which features vaguely steam-punk looking machines blasting orange jets into a purple sky. Restart the record the moment closing track "Hot Oct." comes to an end and you'll hear the same crackling flames that close the album burning in the background of opening track "Heroes" as well.
In the album's promotional materials, Flying Lotus mentions "an eternal flame sat on a hill," a symbol of something that divides the inhabitants of Flamagra's world. However, Flamagra's heat feels more sinister than the beacon Fly Lo has described it as so far. On "Burning Down the House," George Clinton yelps and moans as only he can about recusing "kids from all the smoke" and "burning up the judge" over a squelching funk beat punctuated with tortured vocal samples that repeat "the fire won't stop burning." Meanwhile "Fire Is Coming," sees Twin Peaks creator David Lynch tell a story of a world in which plants are covered in a greasy black substance and an ominous orange glow burns on the horizon. This dark, destructive vision of fire makes sense too when you consider the number of wildfires that have plagued Flying Lotus' home state of California in recent years, one of which destroyed the Ashram founded by his aunt, Alice Coltrane.
That said, Flamagra isn't all clouds of ash and scorched earth. Even "Fire Is Coming" morphs midway through into a thumping, techno-inspired anthem where repeated chants of "fire burning in the streets" feel more like innocently blazing flame emojis than the sinister hellfire of mere seconds before. As much as Flying Lotus has a morbid streak - his last album was called You're Dead! after all – he also has an equally strong sense of humor, and there are moments of levity throughout Flamagra that cool things down expertly.
The best of these is "Yellow Belly" featuring Tierra Whack, a cutesy mechanical-sounding track that would be equally at home on Tierra's Whack World or FlyLo's Until the Quiet Comes. Over a skittering, stripped back beat, Whack delivers silly one-liners like "my shoes are untied, he said I'm tripping" and bursts of marching, almost DOOM-like rhymes in her trademark bug-eyed flow. At one point she blurts, virtually from nowhere, "I put my titties in his face!", a line that is surely destined to be shouted at Flying Lotus at every show he plays in support of this record, and rightly so.
There are also thematic breaks to pay homage to Lotus' friend and peer, Mac Miller – who tragically passed away last year – on "Find Your Own Way Home" and "Thank U Malcolm." Though it makes for a less thematically cohesive album than You're Dead!, these changes in tone suggest alternate dimensions within Flamagra. Early cut "Takashi" invites you to listen to the album as a dance record, with its screw-your-face-up solos and pounding bassline. Meanwhile, the album's closing run of features from Thundercat, Toro Y Moi, and Solange are so blissful and serene you barely notice the sizzling forks lapping at the album's corners.
All these shifts in tone should be jarring, and it's hard to think of many producers who could transition Denzel Curry's cinematic Mobb Deep redux "Black Balloon Reprise" naturally into a David Lynch monologue, but FlyLo pulls it off. An artist who has collaborated with both Herbie Hancock and Cartoon Network, he's made his career from the kind of contradictions that fuel Flamagra. In fact, his sixth album feels like the greatest synthesis of those contradictions so far, a delicately balanced mix of every genre and theme that has defined his work to date, all bound together in the flames.
Flying Lotus' 'Flamagra' is available to buy or stream. For more of our album reviews, head here.