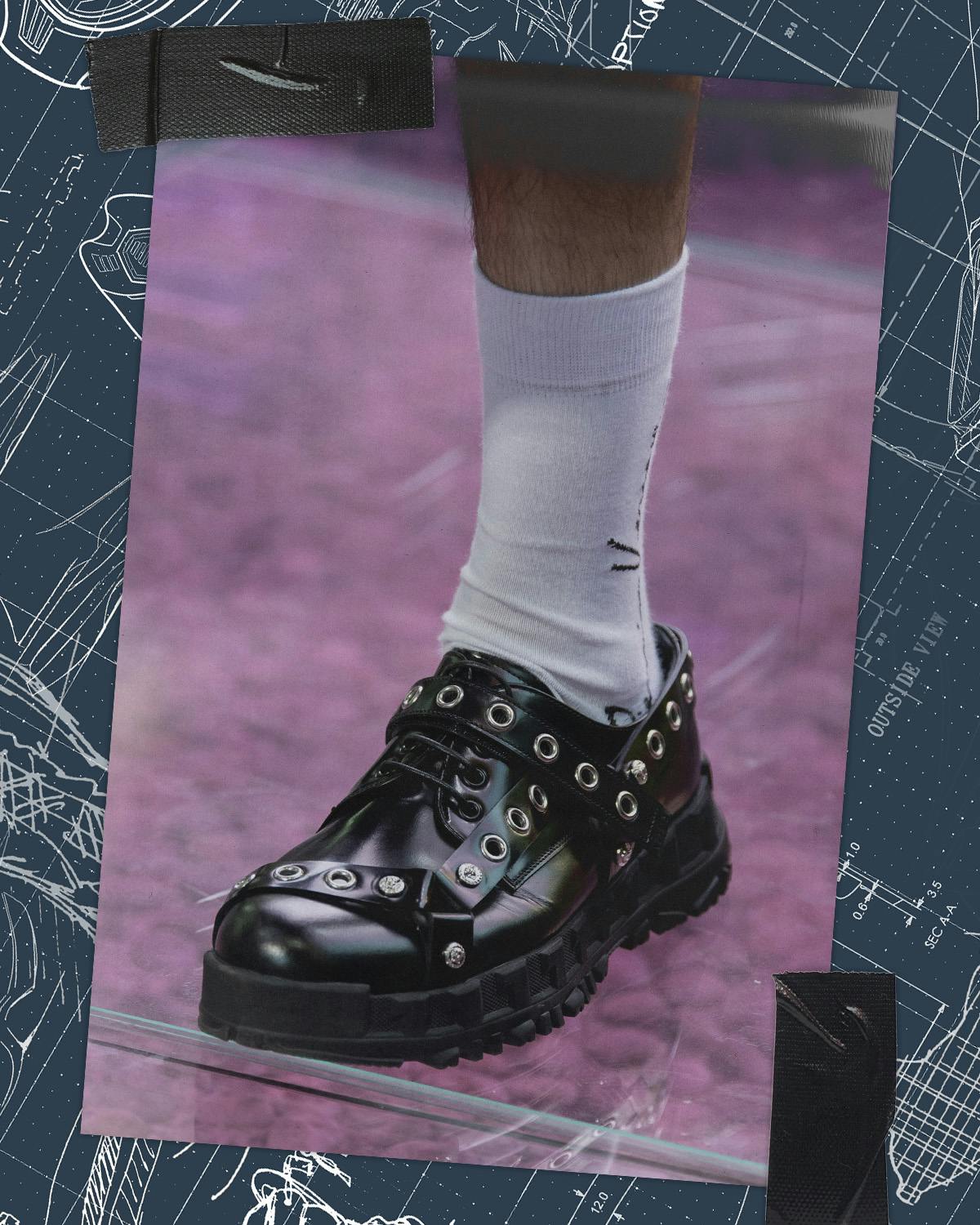 In an industry addicted to retro, Highsnobiety presents The New Vanguard of Footwear, a dedicated hub that celebrates the pioneers from around the globe who are changing the face of what today represents a multi-billion dollar industry. For this debut iteration we spotlight nine designers (most of whom were born after the Air Jordan) working across sportswear, streetwear, luxury and everything in between. They represent youth culture today, and show us early glimpses of where it's going next.
Before the global luxury fashion industry fully grasped the opportunity of a soon-to-be multi-billion dollar high-end sneaker market, Salehe Bembury had a hunch.
Following stints at Cole Haan and later YEEZY, the American footwear designer joined Versace as head sneaker designer in September 2017 after pitching the Italian company on LinkedIn (today he serves as the brand's vice-president of sneakers and men's footwear). Once hired, he pushed how luxury sneakers could look, be distributed and marketed, and be made hugely commercially viable for luxury businesses to continue their investment in the category, all strategies once simply reserved for sportswear giants like Nike and adidas.
And then, it worked. In early 2018, the Bembury-designed Versace "Chain Reaction" sneaker, recognized by its chunky fit and sculptural sole featuring a giant 3-D interlocking Cuban chain, hit the runway. "An effort to make a branded element functional," Bembury told The New York Times at the time. A special edition with rapper 2 Chainz was released around the same time, later appearing on the feet of Migos, Teyana Taylor, and Swizz Beats. That April, Versace partnered with resale app GOAT to launch the sneaker. Despite its $920 price tag, the sneaker sold out within 24 hours, a first for both parties.
"The Chain Reaction for Versace changed my life," Bembury admits. "It's both innovative in design ethos and execution. There are few silhouettes in sneaker history as unique as that sneaker. There are many sneakers in the market that have unsuccessfully taken a stab at overtness. The Chain Reaction is a sound balance of design, commercial appeal, and energy. It all comes down to design execution and storytelling."
The sneaker came at a time when luxury fashion houses identified their next potential cash cow, a new age status-signaling product category that could attract young consumers, much like high-end handbags had done for over thirty years. Bembury started leading the charge. Getting to that point, however, took time.
"My route to footwear design began with industrial design. I avoided fashion because I thought industrial design was a more versatile major," says Bembury, who started his design career with a stint at mass discount footwear chain Payless Shoesource. "While it wasn't where I would have predicted landing, it was an extremely educational first opportunity," says Bembury about the many different shoe models he got to experiment with. Next came Cole Haan, where he spent three years as an innovation designer and was part of the team that created the Lunar Grand, a highly successful wingtip-sneaker hybrid.
Via a colleague at Cole Haan, he was put in touch with the team at YEEZY where he joined in October 2015 in Kanye West's footwear team. There, he worked on footwear for SEASON 3 and SEASON 4 including the adidas YEEZY Boost 350 v2s.
"Despite [YEEZY and Versace] being at opposite ends of the spectrum, both positions taught me how to inject compelling products into the market from start to finish," says Bembury. Where once he was tasked to complete a single aspect of the design process of footwear, Bembury's skillset has evolved to the point where he now brings product to fruition from concept, to design, to marketing, and everything in between.
"I'm just trying to make sneakers that I'd want to wear [and] in most cases this yields an attractive silhouette," he says. "All footwear designers are cursed with having to design what some would consider 'bad' designs as well. The reason for this is because a percentage of the consumers (I would argue the majority) don't have good taste. However, working for a business, we still have to cater to this aforementioned group. This may be too transparent of a theory, but I think it does a good job of displaying design versatility absent of bias. Similar to how a chef may despise making a grilled cheese sandwich."
That's only true until you create a new flavor so good it becomes a new favorite among cultural pioneers and late adopters alike. Bembury is now on the path to create this year's special. With Versace, where since his appointment he's been promoted twice, he's expanded from overseeing sneakers to dress shoes, loafers, slides, and all other footwear outlets. It's re-contextualizing what formality looks like on the feet of the next generation.
Meanwhile, a blockbuster collaboration with New Balance on the brand's "2002" model was released in October of this year. The choice for using a burnt orange upper paired with yellow, exaggerated mesh was inspired by Bembury's recent time spent in nature after moving to the West Coast.
"My dad also always wore New Balance's. It was a uniform piece of the '90's Dad,' because the term existed. He was a photographer and I have vivid memories of him wearing them while shooting," says Bembury about the partnership.
With the eyes of over 200 thousand followers on Instagram on Bembury, the '2020 Footwear News Designer of the Year' is among a flock of young creatives that decide where the growing multi-billion dollar space goes next.
"I think we're going to see the creative being put first. We've lived through generations of the role models being athletes or rappers. Because of the visibility of social media, the audience is now attracted to the lifestyle of the designer," he says. "Gone are the days where the machine makes the decisions. The machine now works for the people. The people are demanding socially conscious environments, green production, and responsible practices. I believe it's my job to uphold this social contract."