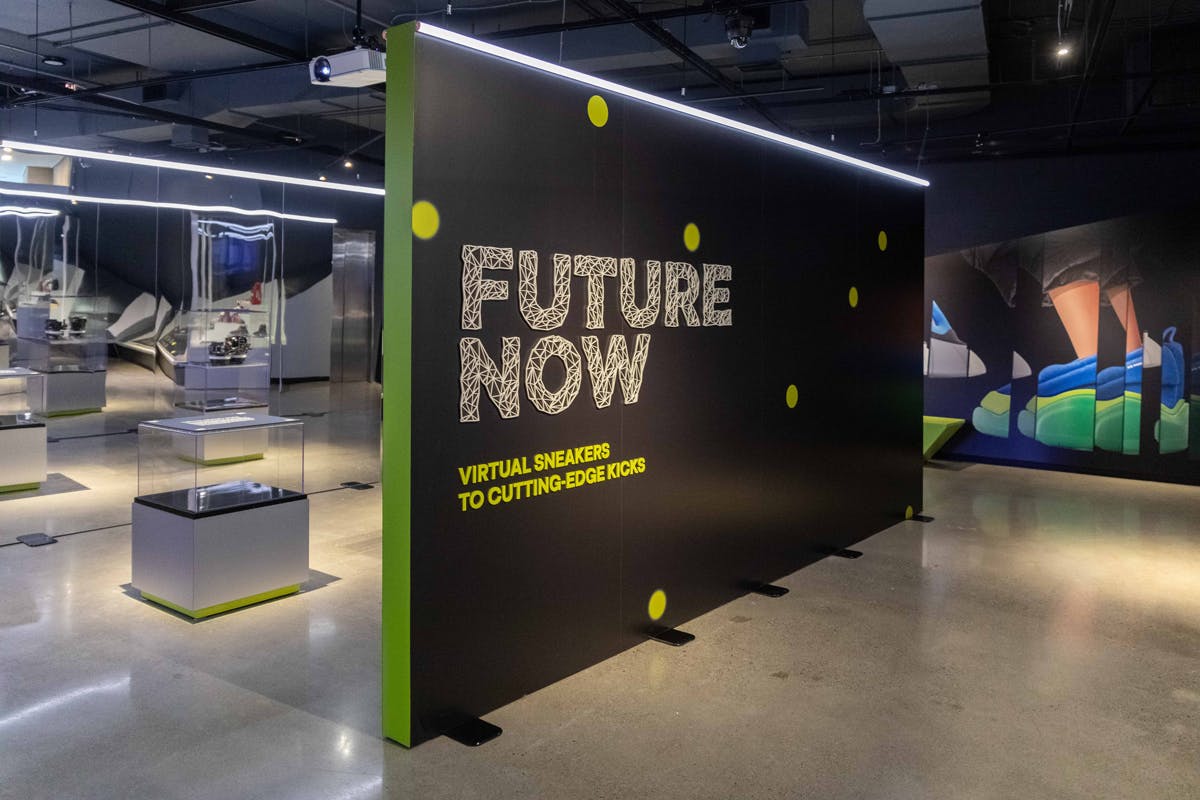 Innovation in footwear means many, many different things. For some, innovation means performance; to create shoes that are faster or lighter. For others, it could mean responsibly designing products that won't harm our planet. For others still, footwear innovation could mean bringing sneaker culture to the Metaverse.
Toronto's Bata Shoe Museum has opened the doors to its latest exhibition, and accompanying Rizzoli book, titled Future Now, which presents a comprehensive exploration of footwear innovation in all its meanings.
The exhibition is led by Director and Senior Curator of the Bata Shoe Museum, Elizabeth Semmelhack. Semmelhack tells me she studied Japanese art history and specialized in 18th-century art history, a topic that first brought to light similarities between mass-produced Japanese prints and footwear, which drew Semmelhack towards the nuances of sneaker culture. Her subsequent exploration of the latter was the starting point for Out of the Box: The Rise of Sneaker Culture, Semmelhack's first exhibition in 2013, and the resulting book from 2015, which looked at the collectibility, culture, and commodification of sneakers. The traveling exhibition and publication prompted a new set of questions about the future of not only sneaker culture but the footwear landscape at large, and Semmelhack began to consider the increasing impact of technology on footwear.
Including quotes, interviews, and input from over 50 leading names in the industry, including Salehe Bembury, Steven Smith, Mr. Bailey, and others, the book itself is fittingly covered by Jeff Staple's "Metapigeon" RTFKT project, generously lent by RTFKT.
Below, Semmelhack speaks with Highsnobiety about everything future and The Bata Shoe Museum's Future Now exhibition.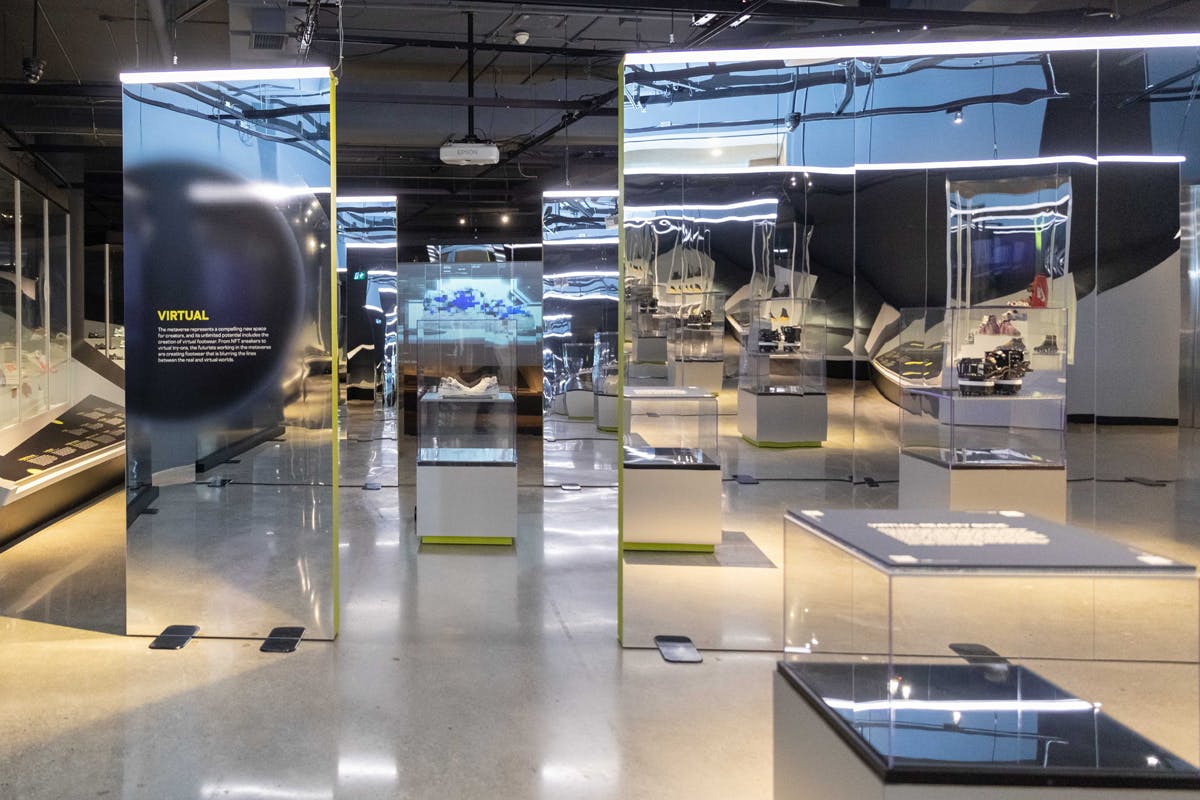 Innovation in footwear gives us a lot to talk about. Firstly, how did you structure your exhibition and accompanying book?
I decided to break it into four separate categories, but they all intersect. The first category is innovation, so I'm looking at things like 3D printing and some new materials.
The second section is on sustainability, thinking about the global challenges around climate, and how so many shoe designers, and shoe companies, are trying to solve that problem through circular economies or new materials. Looking at mushroom leathers, and ocean plastics like Parley for the Oceans.
For the third section, I wanted to look at who was engaging with a wide range of accessibility issues and using footwear in transformative ways. Of course, Nike Go FlyEase is in there, but also Kerby Jean-Raymond is in there with Pyer Moss. He's making very interesting political statements through the designs that he does. I also have Allyson Felix after she left Nike, going on to create her own sneaker company that's very focused on women, and the specific needs of women within the sneaker industry.
Then the last section, of course, is footwear within the metaverse. Thinking about NFTs, thinking about gaming, thinking about collecting sneakers within the metaverse space. Then also, considering the opportunities within the virtual realm, what can footwear be when footwear has no job to do?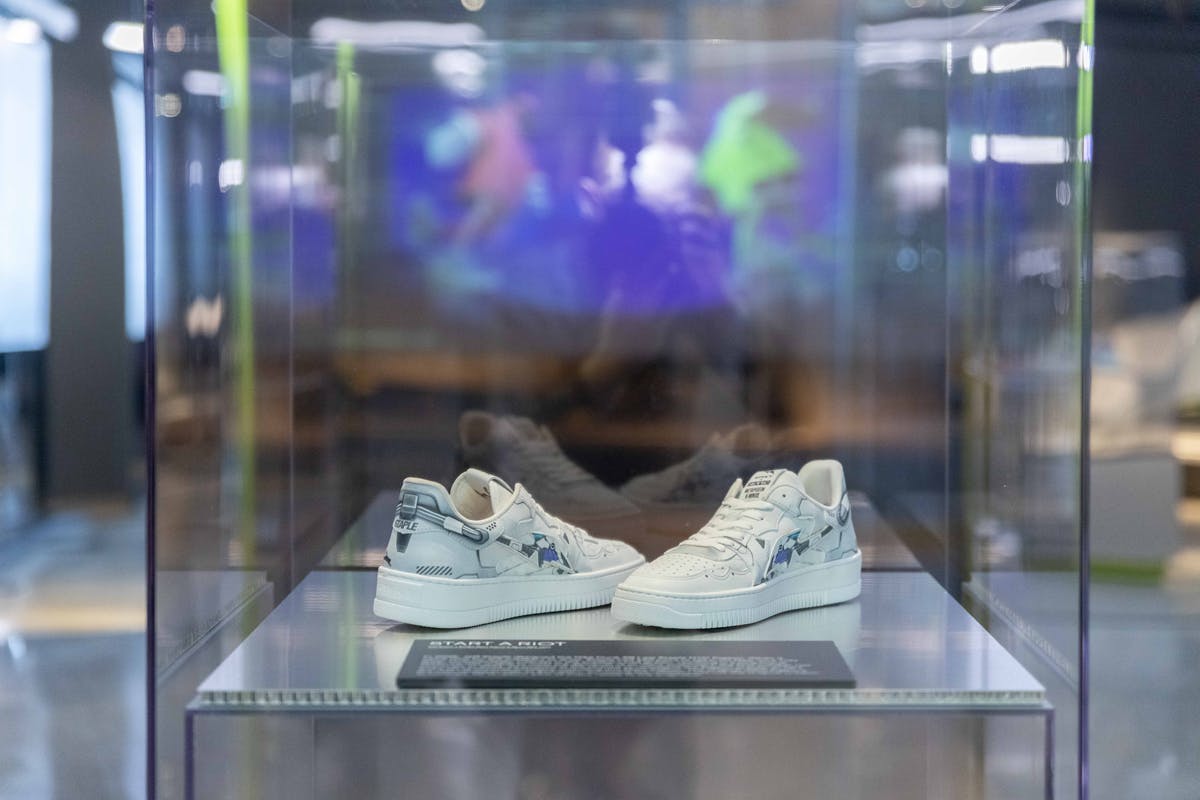 Future Now covers a lot of material. What were the most enjoyable parts of making this exhibition and book?
Speaking with Steven Smith is always interesting, he's a true futurist. I think that my answer to your question is that so many of the creators within the industry are truly trying to solve problems. It's not simply just creating the next desirable item, but actually, solving a problem that also creates desire. I've long been friends with Steven, and I think how his mind works is really very interesting, and he's willing to share those insights, but then someone like Mr. Bailey is so forthcoming. Everybody in the book was so willing to just really talk, I think one of the things that was so fun about the book is all of my interviews from Steven Smith, to Salehe, to Daniel, I went over my word count with every interview.
The exhibition contains many shoes that Highsnobiety readers will be familiar with. Which products are the most interesting to you?
Converse Renew Chuck 70 – Sustainability is key to the future of footwear, and one of my favorite sneakers in the exhibition is the Converse Renew Chuck 70. I think the historian in me loves that the Converse All-Star debuted over 100 years ago, yet it is still relevant today. I also love that the knit upper includes a nod to the traditional ankle patch and that the translucent sole incorporates recycled rubber scraps.
SCRY by Zixiong Wei – One of the things that I was looking for in doing this exhibition was footwear that really pushed the envelope of design. SCRY co-founder and designer Zixiong Wei exploits the possibilities of 3D printing in footwear to create footwear with a marked sci-fi aesthetic including this remarkable pair of boots.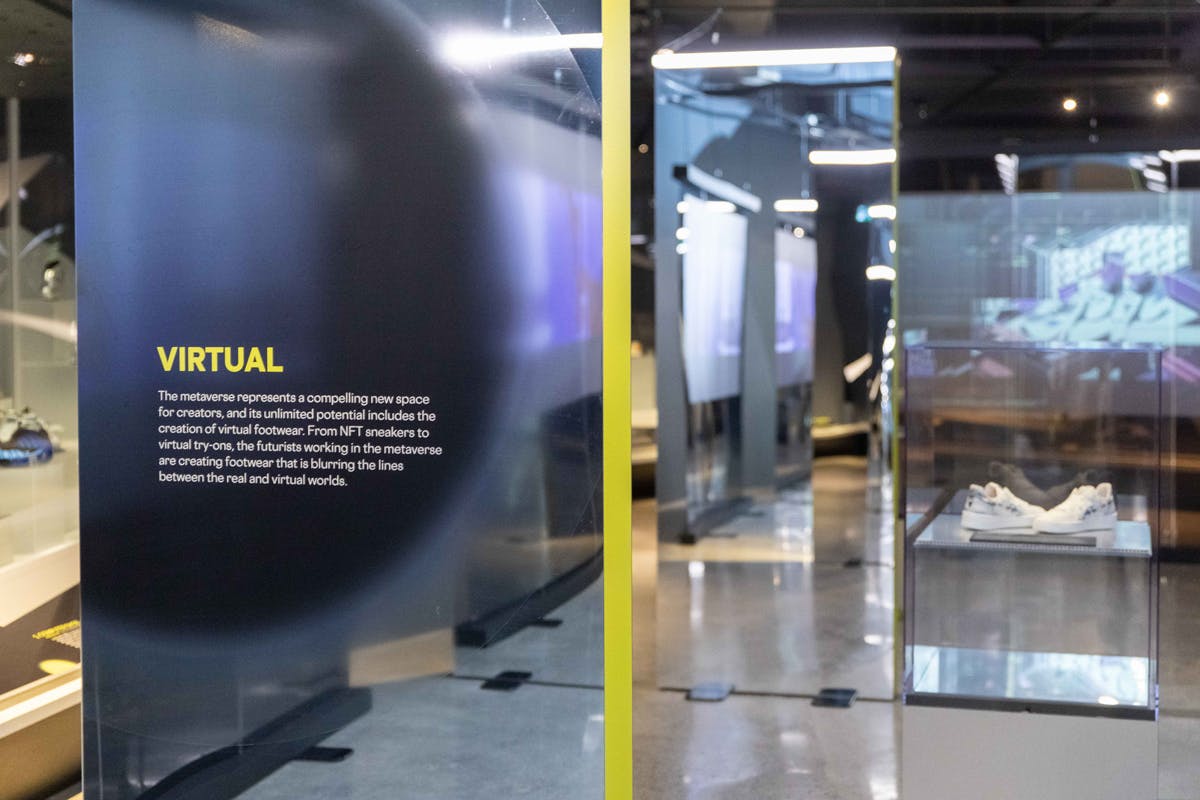 Takashi Murakami x Mr. Bailey – There are many reasons why Mr. Bailey's Octopus sneakers are among my favorites. One is that this remarkable design isn't just a concept, it is fully wearable. The other is that it links not only to the work of Takashi Murakami but reminds me of the famous print from 1814 by Hokusai called The Dream of the Fisherman's Wife.
Jeff Staple x RTFKT – I am very interested in where footwear design might go in the metaverse. I like this collab between Jeff Staple and RTFKT because it straddles the divide between the real and virtual world. I also think that NFTs offer an interesting option for creators as 10% of every resale is given to the originator which is an interesting way of addressing the resale market.
Salehe Bembury x Crocs Pollex – I love Salehe Bembury's Pollex Crocs because they represent the first time Crocs allowed a designer to reimagine the traditional Crocs silhouette. I also love that Salehe did this as an independent designer and that his own fingerprint inspired the design. Talk about putting a personal stamp on a project.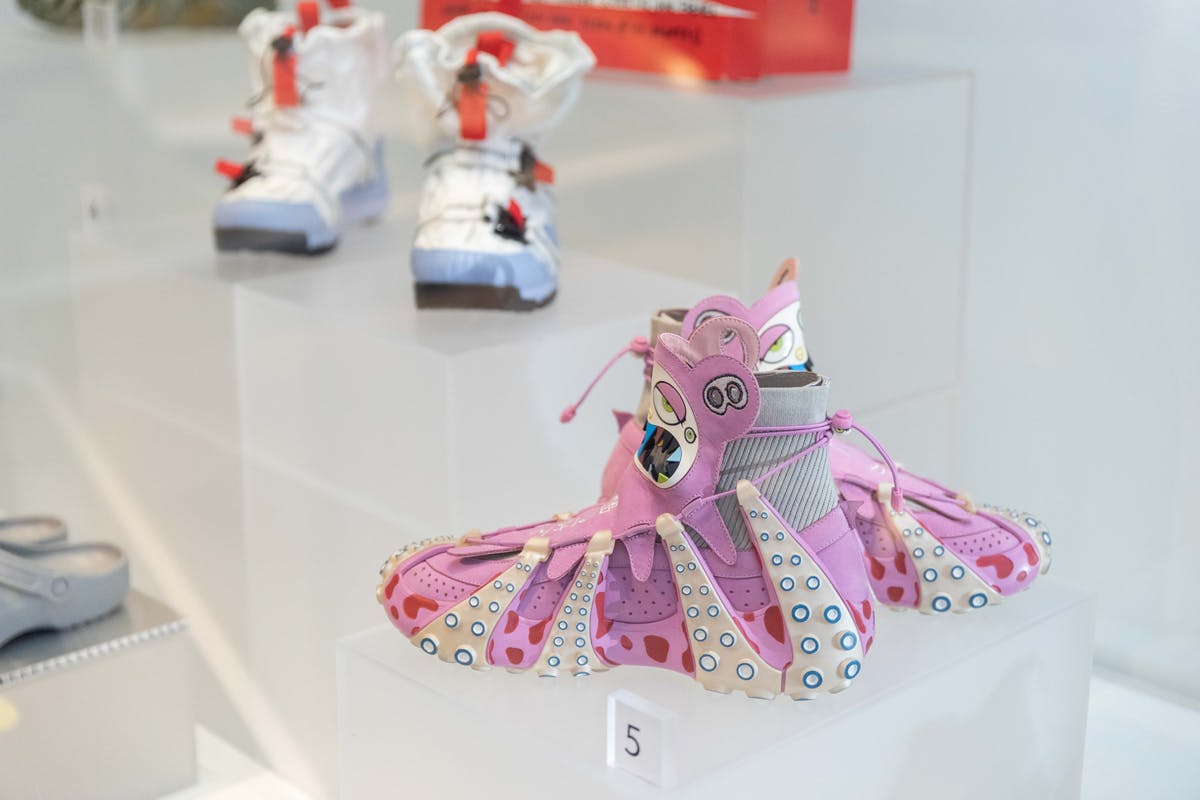 Since we're on the topic, do you have any predictions about the future of sneakers?
My prediction for the future is that innovation will move us back towards making bespoke or made-to-measure footwear and making things made to our individual needs and specifications. 500 years from now, people are going to be like, "Wait, what? There was a time period where you had to go into a store and fit into a size?" That is going to seem very odd, and we're just coming out of that.
I think we can see that very easily happening within the metaverse. But I think the bigger issue will be since so many of us do our own identity through brand alliance, is how will the possibilities of hyper-individualization through products continue to allow us to construct identity through brand alliance?
Future Now is open now at The Bata Shoe Museum in Toronto until October 2023, while the accompanying Rizzoli book is available through The Bata Shoe Museum for $75 CAD (approximately $58 USD)