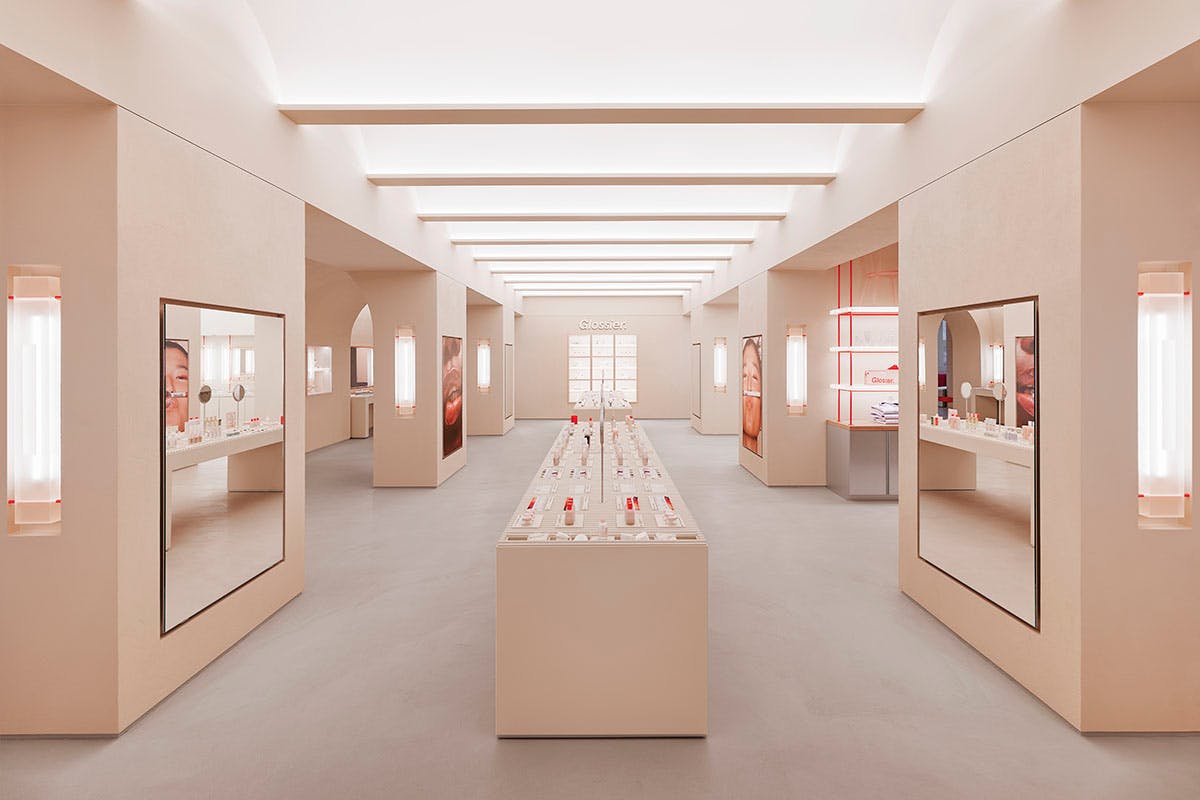 On Thursday night, a sea of perfectly slouchy mom jeans, cropped cardigans, and baguette shoulder bags overtook the corner of Spring Street in SoHo, the location of Glossier's new flagship store, opening to the public on February 17.
The line to enter the Millennial Pink mecca of Boy Brow and Cloud Paint snaked down the block, recalling the throngs that became a permanent fixture at Glossier's inaugural retail location — a perpetually packed space on Lafayette Street that shuttered in 2020, four years after opening.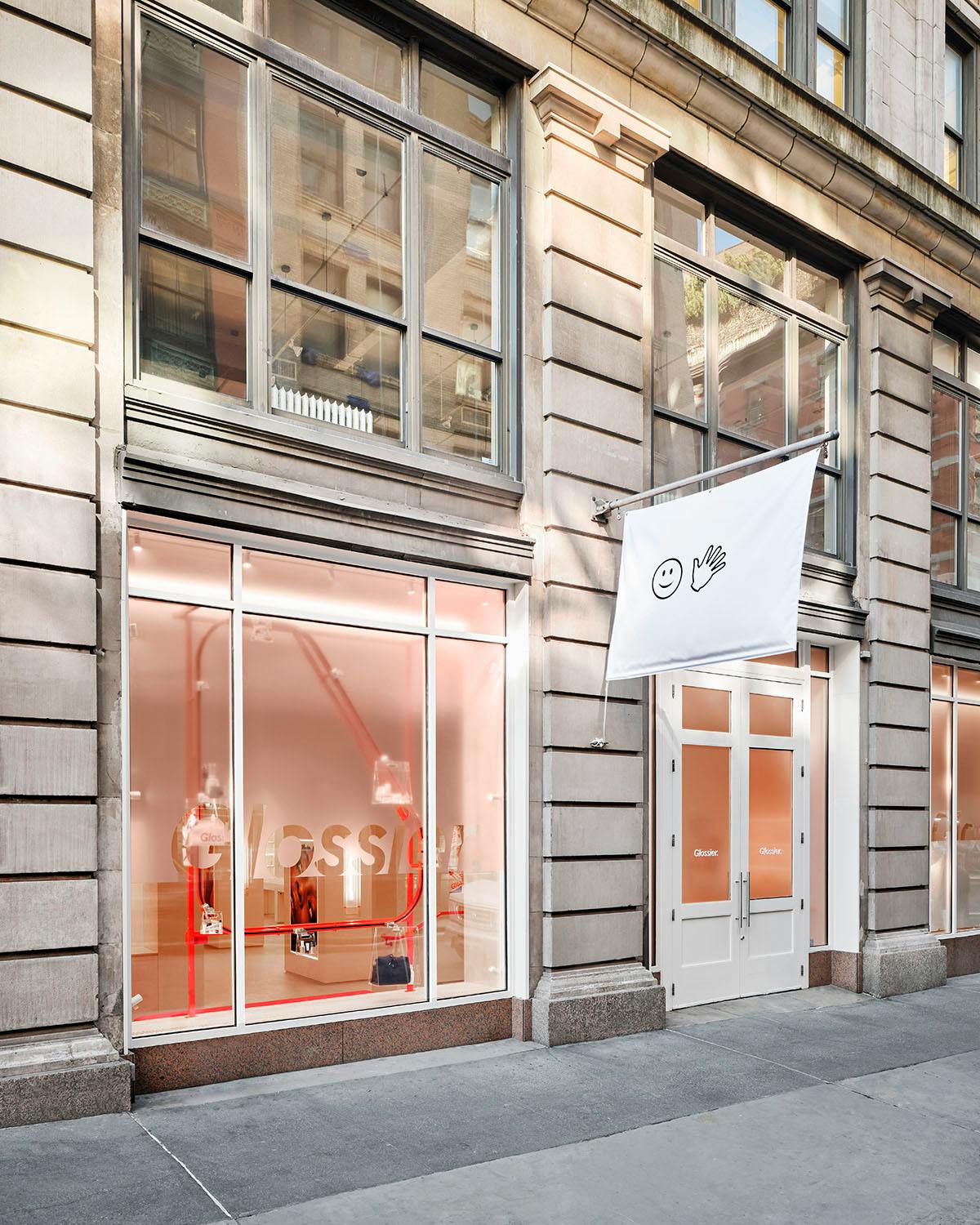 Now, the brand is returning to its downtown stomping grounds, a re-entry to the fold that, just 12 months ago, seemed unlikely for the "you-but-better" makeup brand.
At its inception in 2014, Glossier offered a revolutionary conceit: Your beauty routine doesn't have to be a complicated dance of color-correcting, contouring, and concealing. Its easy-to-use, low-maintenance products provided needed respite from the heavy-handed, maximalist makeup best worn by the Kardashians.
By 2019, Glossier was valued at over $1 billion. Everyone, from the casual beauty consumer to the makeup fanatic, seemed to buy into the aspirational image Glossier peddled, one of effortless cool and quiet wealth. But then the pandemic hit, bringing with it heightened discussion of inequality and racism. In the summer of 2020, a collective of former Glossier employees came forward with allegations of racial discrimination and inhumane work conditions.
Combined with the far-reaching effects of the pandemic, the preponderance of competing "no-makeup makeup" brands, and Glossier's reticence to expand internationally, the allegations dealt a major blow to the company.
In August 2020, it permanently shuttered all of its brick-and-mortar stores and in January 2022, the company laid off nearly a third of its corporate employees. It seemed as if Glossier's fate was sealed — as the saying goes, all things that go up must come down.
But the company has managed to hold on: Last July, founder Emily Weiss stepped down as CEO, appointing Kyle Leahy in her place. A month later, Glossier opened a permanent store in Williamsburg, Brooklyn. And in January, the brand announced its products would be sold at Sephora, a major move for the former DTC darling.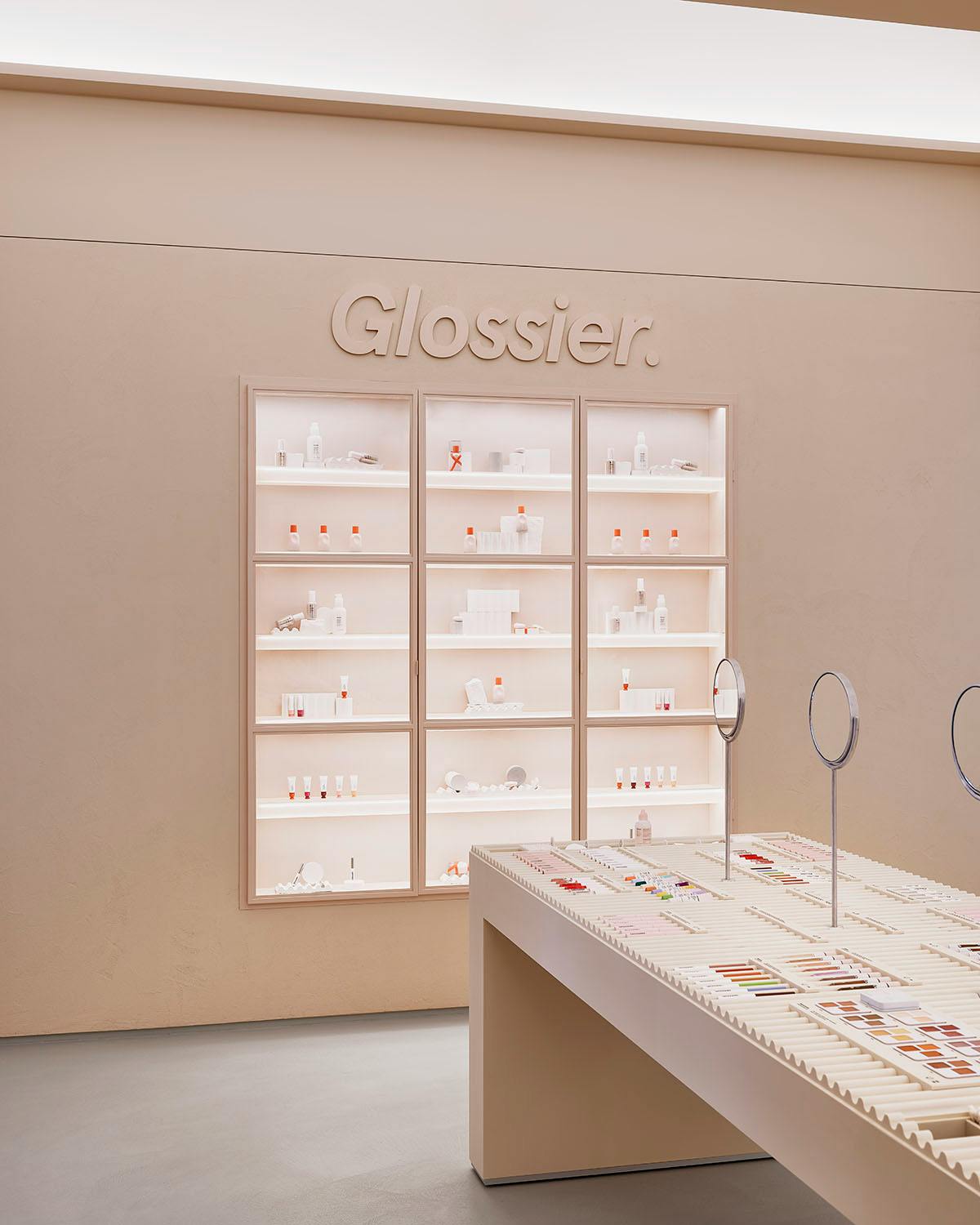 SoHo is the latest stop on Glossier's comeback tour. But is a new space enough to reboot the brand?
I'm not so sure. To remain relevant, Glossier must court Gen Z — but its store still reeks of the sans-serif "blanding" that under-25-year-olds have rejected in favor of unabashed maximalism. It's easy to imagine Gen Z'ers, a particularly picky cohort, turning their nose up at the store's several attractions, including a photo room decked out in subway tiles spelling out "You Look Good" —  inverted, of course, so Glossier's battle-cry-cum-slogan is legible in mirror selfies.
At Thursday's preview, the crowd seemed split. Some attendees enthusiastically interacted with the store, snapping selfies and swatching product. But others appeared hesitant, unsure of where to place themselves in the immaculate, nearly sterile space.
While the evening isn't necessarily indicative of how the location will perform, we do know one thing for certain: Novelty isn't enough to garner Gen Z's stamp of approval. The store's keychain-dispensing claw machine and dedicated merchandise room will win over Millennials, but their younger, brutally honest juniors might need more than bells and whistles to buy into Glossier 2.0.