It's hard to believe that Leonardo Fioravanti was born in 1997.
At just 20 years old, he's one of the surf world's ones to watch competing in international waters and has already defeated some of the biggest names in the sport.
Hailing from Rome, Fioravanti's achievements and drive haven't just gained the recognition of Italians, but of the fashion world, too.
He is currently an ambassador for Italian luxury brand Gucci, and Highsnobiety caught up with him while on location in Malibu, California, to discuss his Italian roots, his personal style, and what surfing has taught him about life.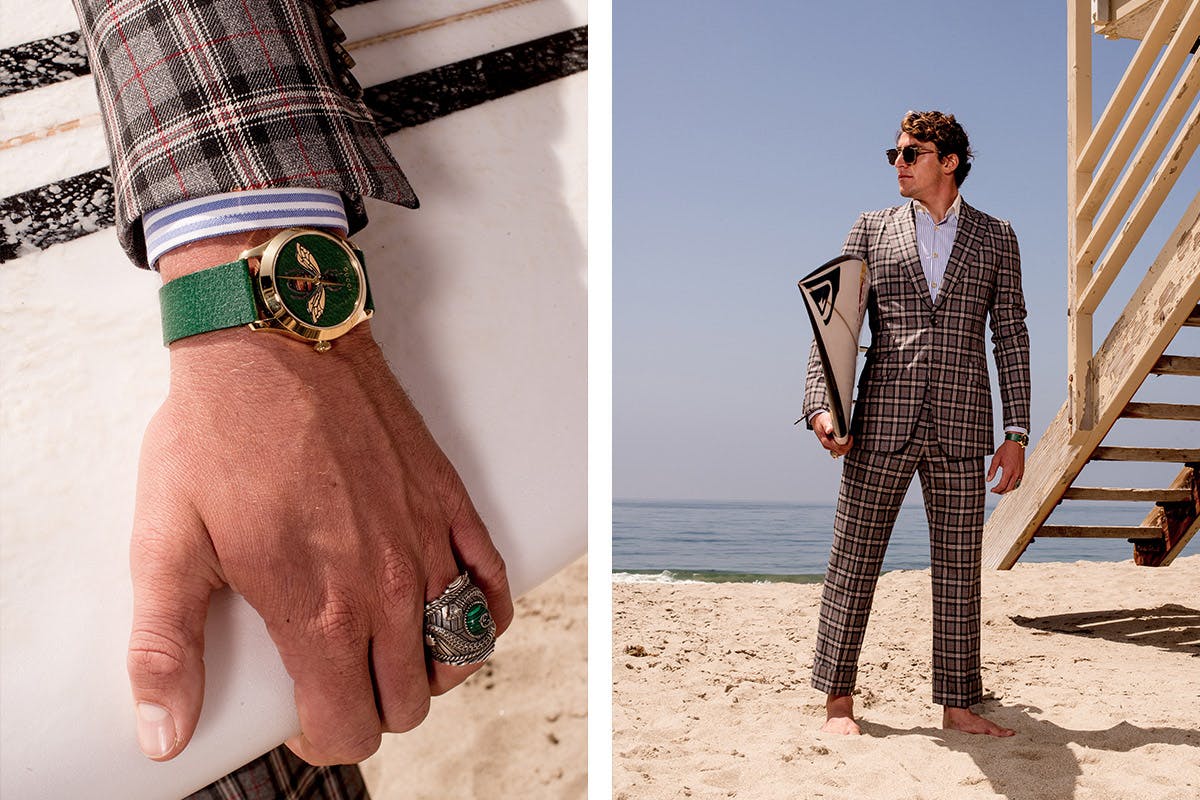 What was it like growing up in Italy?
I grew up in a little town called Cerveteri, which is about 20 minutes away from Rome. I was born in Rome, and I started surfing near Rome on a little surf beach called Oceansurf. The owners were pretty much the only surfers in Italy back then. And it all started that way: the passion I had for surfing, the love I had for surfing hit me straight away. All my friends were playing soccer; I love soccer, but whenever there were a bit of waves all I wanted to do is spend as much time in the Mediterranean Sea.
How did you get into surfing?
My brother, who's about six years older than me, it all started with him surfing, and myself following my brother. As a younger brother all you want to do is be like your older brother. We were both in love with surfing, and the passion for surfing overtook everything. It somehow turned into a career.
[img alignment="extended"]
You kind of have to be fearless out there on the waters. Where does your fearlessness come from?
Whenever there are bigger waves, yes, you have to be fearless, and, to tell you the truth, I love surfing bigger waves. I love that adrenaline. You still get scared, but at the same time you turn that fear into adrenaline. It kind of fires you up, and it's really addictive, actually. You're really scared but at the same time you're screaming 'cause you're enjoying it so much; it's a full drive and you want to keep getting that feeling.
Do you use that fear? Has it helped you become fearless in other parts of your life?
I would say fearless is a hard word—no one is fearless. Fear, you always have it no matter whether you are in the ocean, whether you are driving 250 kms an hour, but it's all about how you can handle it. Through surfing bigger waves or in places where there could be some sharks I've learned to handle the fear and make sure it doesn't overtake me.
You broke your back in the past, yet you didn't let that stop you from getting back on your board. Tell me about that.
It was the first event of the year and I was ready for the season. The first one, the very first wave I landed out in Hawaii, and it turned into a really big injury. I went to the hospital, I flew back to Europe with a big brace and had surgery, so it was a good four to six month of recovery. It was tough, because I was 17 years old and not used to, you're not used to being injured. I never had anything like that happen before.
Not being able to surf for about five months, that's crazy. Like, I was going crazy and at the same time it gave me an extra motivation and it really made me realize how important surfing is and not to take it for granted whether it's good waves or bad waves. I always enjoy it as much as possible and it really gave me an extra fire. I trained as much as I could, and I did everything possible so that I would come back on my surfboard stronger than before, and I really believe that happened.
Things happen for a reason and I'm sure my life would have been a lot different if it didn't happen, but it definitely hasn't stopped me from achieving what I want and it won't stop me from achieving my goals in the future.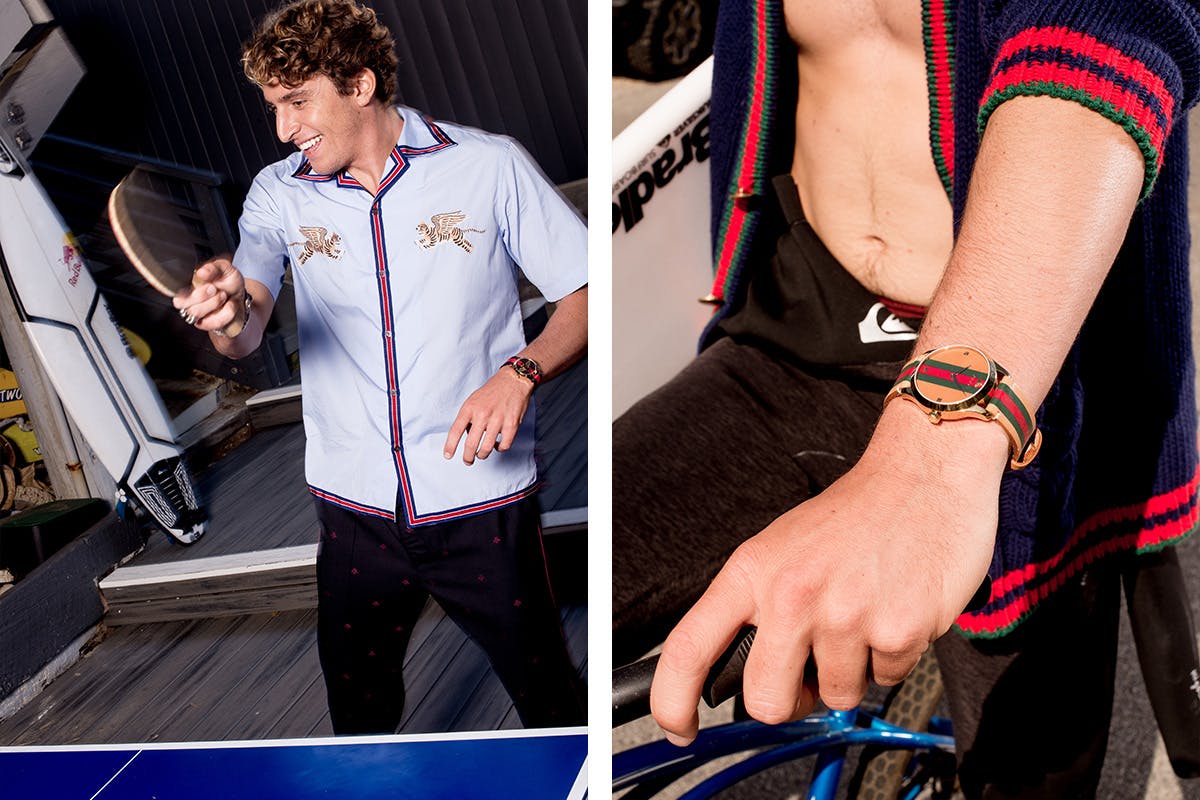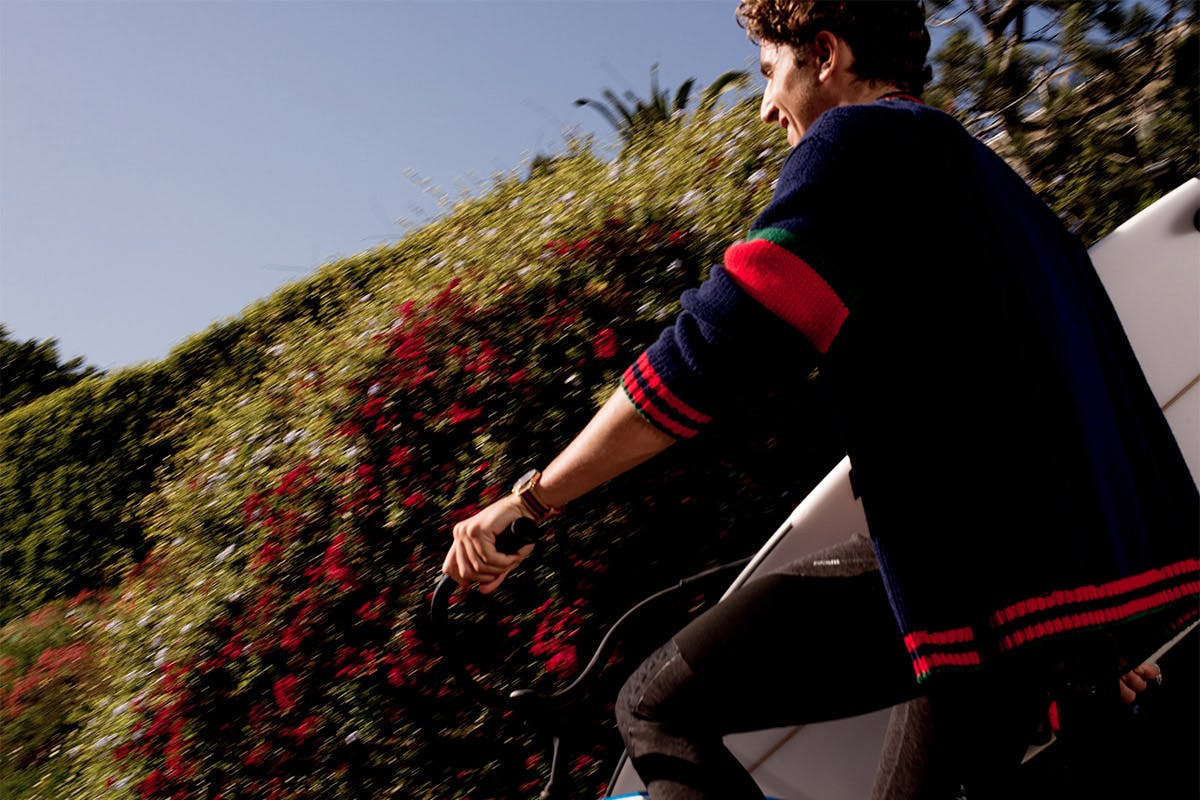 Note: The Gucci G-Timeless Watch in brown leather is available for pre-order now, and will be available on site from July 2018.
What's surfing like in Italy? Is it a popular sport?
It's great. In the last 10 years, surfing has grown so much and it keeps on growing. I wouldn't call it a popular sport. Compared to soccer, it's not even 1/10th of soccer, but there are a lot of surfers in Italy and it's a growing sport. The amount of support I get from all the Italians when I travel and when I compete in the world is incredible.
They're always watching whether it's night or day. Supporting, screaming. Whenever I come back and surf with all my friends I grew up with they are so happy and it's just great moments. In between my schedule, in between traveling, I try to go back as much as possible, especially if I can get in the water.
Is there an Italian style of surfing? Is there something about Italians and how they surf that's uniquely Italian?
No. I think it's more that each surfer has their own style; we all have very different styles.
Sometimes you just want to achieve the same—whether it's progression, speed—so we are looking for the same things to improve on. As far as outside the water, I really believe Italians have a different style, because they care a little more about how they dress, or how they look, whereas most surfers all they want to wear are board shorts and T-shirts and flip-flops.
I love to do that, too. A lot of times I like to play dress-up a bit and bring out some Italian blood.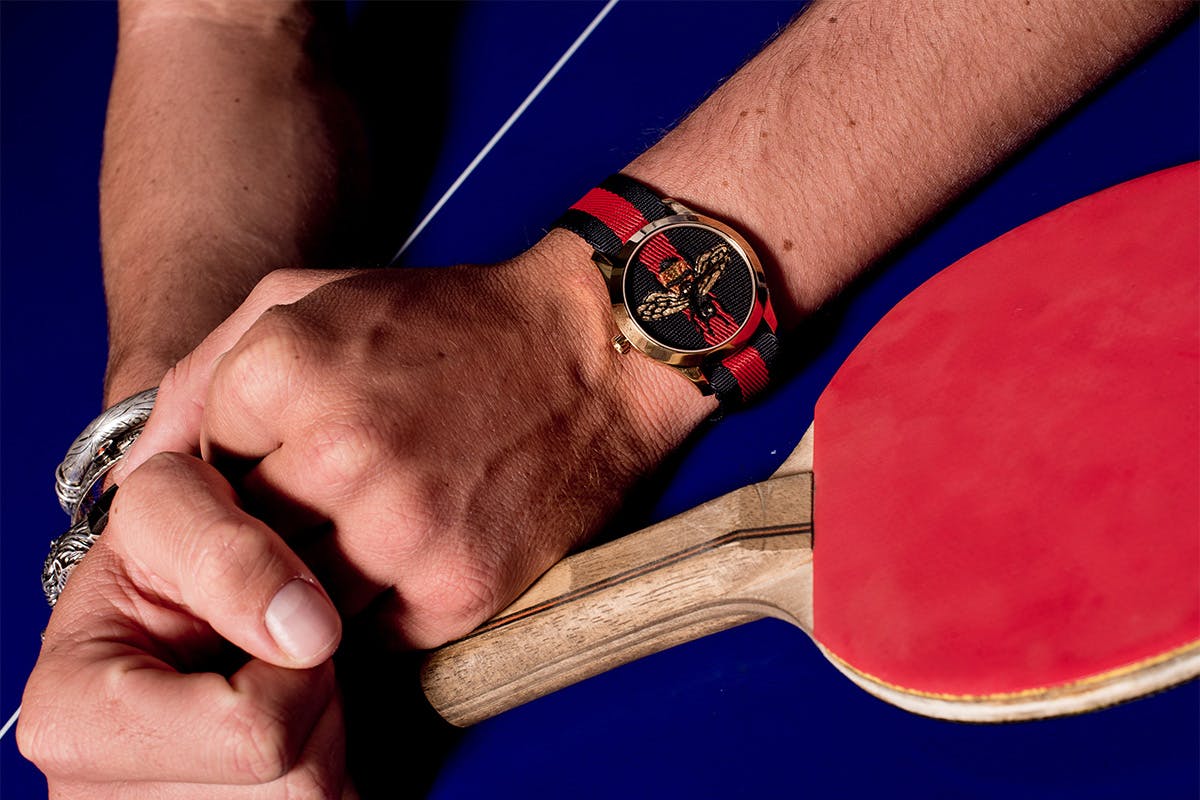 Let's talk about your personal style. Tell me about the things you like wearing and the things you always pack when you're traveling.
When I travel, whether it's for surf competitions or surf trips, I'm mostly at the beach. I always like to bring a nice shirt or stylish white shirt. Then I really like to play with my jewelry. I have a lot of rings that I mix out. I have one silver lion and one gold lion ring from Gucci. I also wear Gucci watches. One that's more elegant, one which has a sports style. Because at the end of the day, we are at the beach so I can't show up in a suit. I do wear my board shorts with rings, which is a little more my style.
You can express yourself through your accessories even when you're surfing.
So mostly I have my surf style, most of my clothes are all board shorts and T-shirts and Quiksilver, but then I have a couple of Gucci sunglasses, watches, bracelets, and rings. I try to keep it light when I'm traveling. You want to have a bit of a wardrobe on the road so you can mix things up.
What do you admire about Gucci?
Growing up in Italy, Gucci has always been, for me, for my family, one if not the best fashion brands we always looked up to. And starting this relationship with Gucci has been amazing. First of all, it has put some style in my surfing style, or in my lifestyle. As a surfer, I can give it an extra touch, and what they've done in the last few years with Alessandro [Michele] has been incredible.
They really brought Gucci back to the young people. I feel like four or five years ago it was kind of getting a bit older. In the last five years they've done an incredible job whether it's from Alessandro or the stylist or a lot of people in the background working with younger people. It's really shown.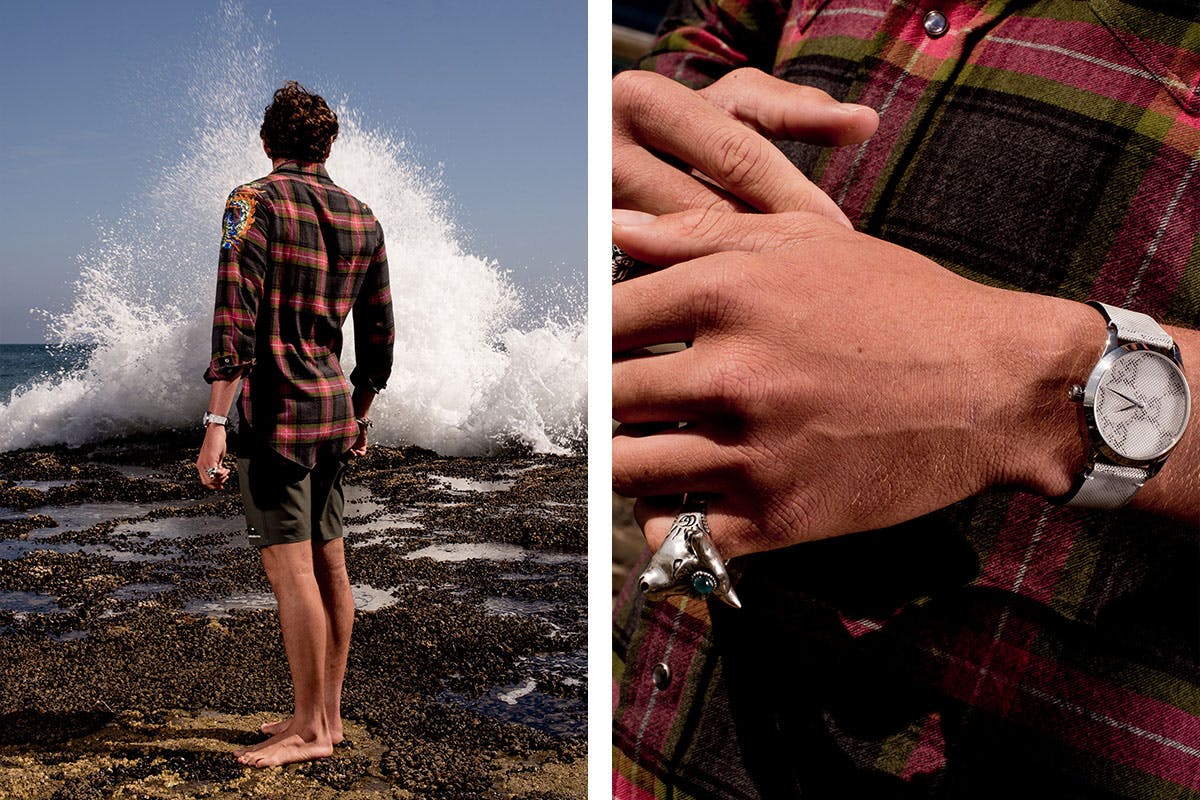 Available on Gucci.com from September 2018.
What's next for you?
What's next for me is I want to keep traveling. Keep exploring the world. I've always been very competitive, so I really want to work on becoming the best possible competitor as a surfer I can be. Outside of surfing, I want to keep trying different things, like what I've been doing a bit in the fashion world.
It takes me out of my surfing world, which kind of refreshes my ideas and, in a way, also reminds me that my life isn't only about surfing and there is so much more whether it's friendship, family, or fashion, which is fun and keeps it exciting. Most of all I want to make sure I'm having fun and enjoying it. 'Cause if not, what's the point of doing it?