Custom sneakers have never been more prevalent. While some customs rely on clichés and gimmicks in a forced bid to go viral, others, when done right, are works of sneaker art. Sneaker customization businesses are flourishing to meet demand from sneakerheads, collectors, and even celebrities. Even the most unlikely of names — Elon Musk, for example — appreciate bespoke kicks, with customizers often demanding thousands of dollars per pair.
Amazing bespoke creations are painted, glued, stitched, and dyed by talented hands that have spent hours perfecting their craft. In some cases, the line between a traditional cobbler and customizer of hyped sneakers is extremely fine.
So what makes Helen Kirkum's creations stand out? For one, it could be down to the fact she doesn't consider herself a sneakerhead. She doesn't put certain shoes on a pedestal, meaning she has the freedom to experiment.
"If I give [the shoe] too much validity, I'm never going to be able to take a scalpel to them and slice them in half," she says. "I can understand the importance of the sneakers, but I think, when it comes to my work, I have to allow myself to forget that and just go at it with a kind of naiveté and a spontaneity."
Kirkum points out Vivienne Westwood and Martin Margiela as designers who have informed her work, but her inspirations extend beyond fashion. She also mentions the "really beautiful illustrations and paintings" of early 20th-century Austrian artist Egon Schiele: "I think his work also reflects that sort of spontaneous attitude in a way; the pieces sometimes feel half-finished."
She graduated from London's Royal College of Art in 2016 and her work has already attracted major brands, some of which have tapped Kirkum to work collaboratively, including Reebok and adidas. Her resume includes co-designing sneakers for adidas' project with Alexander Wang.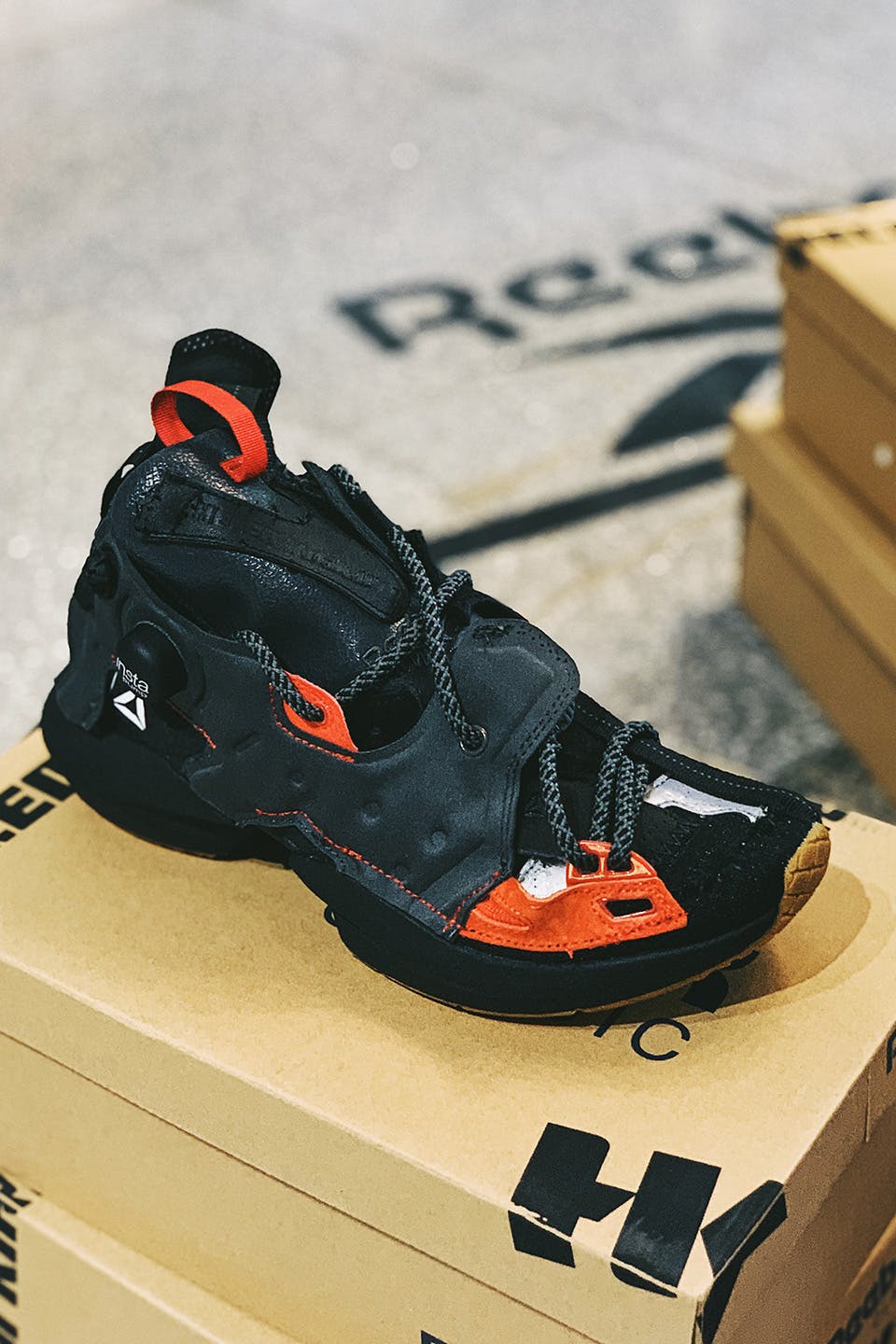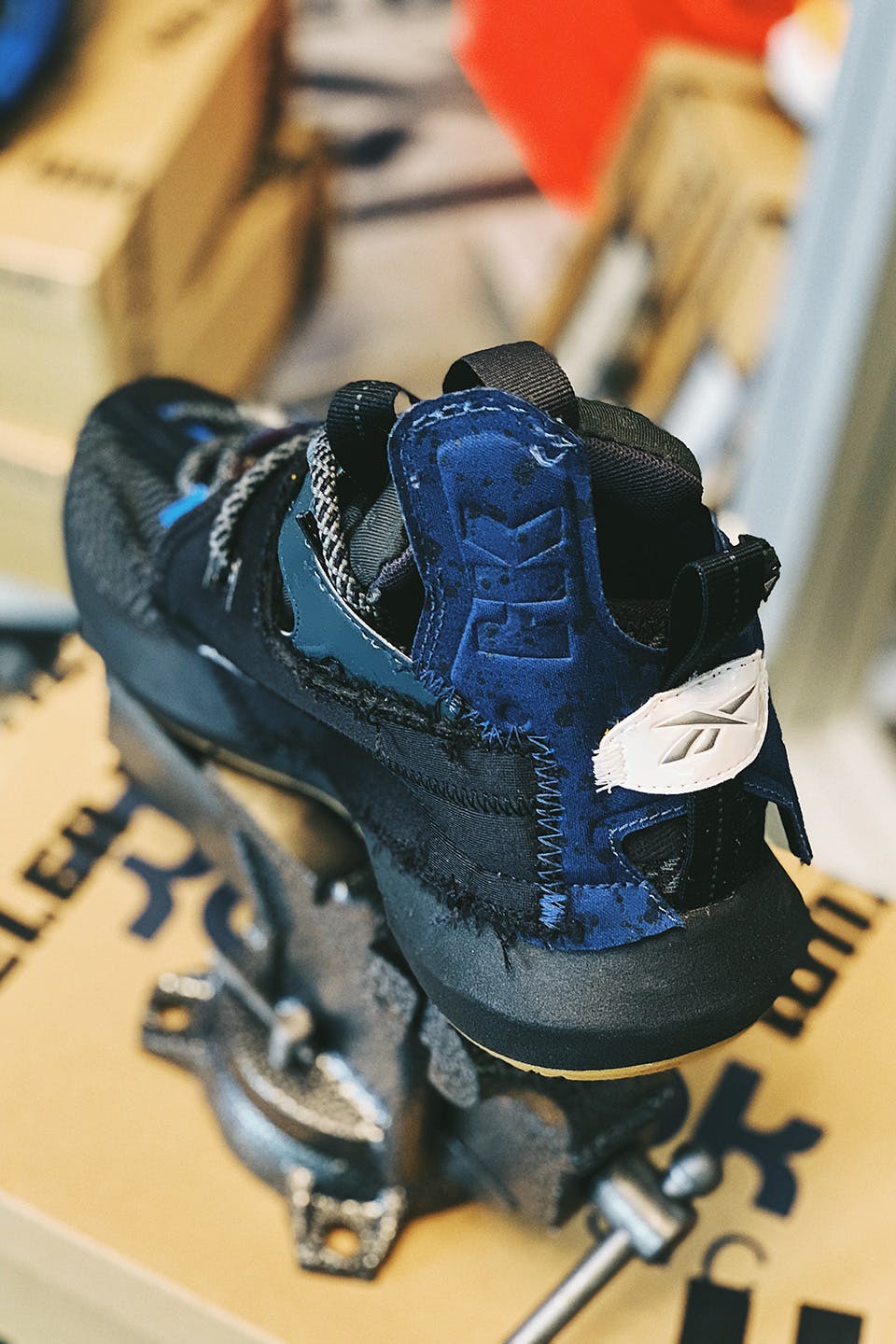 In some ways, Kirkum doesn't so much customize objects as she simply destroys them and puts them back together. Brands appear to be riffing on her signature deconstructed style, and while something like the Maison Margiela Fusion sneaker does fit into the Margiela oeuvre, it's also something that could have easily come from Kirkum's workshop.
"I think this trend of deconstruction is authenticating what I do," says Kirkum. "I think what comes around goes around and I'm going to do it my way and do it the friendly way, and hopefully that will pay off."
A byproduct of Kirkum's bricolage, upcycled aesthetic is that the sneakers represent bona fide sustainable practices, and this fact certainly isn't lost on her.
"I think now we're in this stage where [climate and the environment] is becoming quite a crisis, and everybody has a responsibility to do their part," she says. "I think not only is it about trying to be more resourceful with your materials, source more sustainable materials, but also education is so important because we've grown up in this industry of mass consumerism. Things are changing and it's important for people to understand how to go about this change in lifestyle."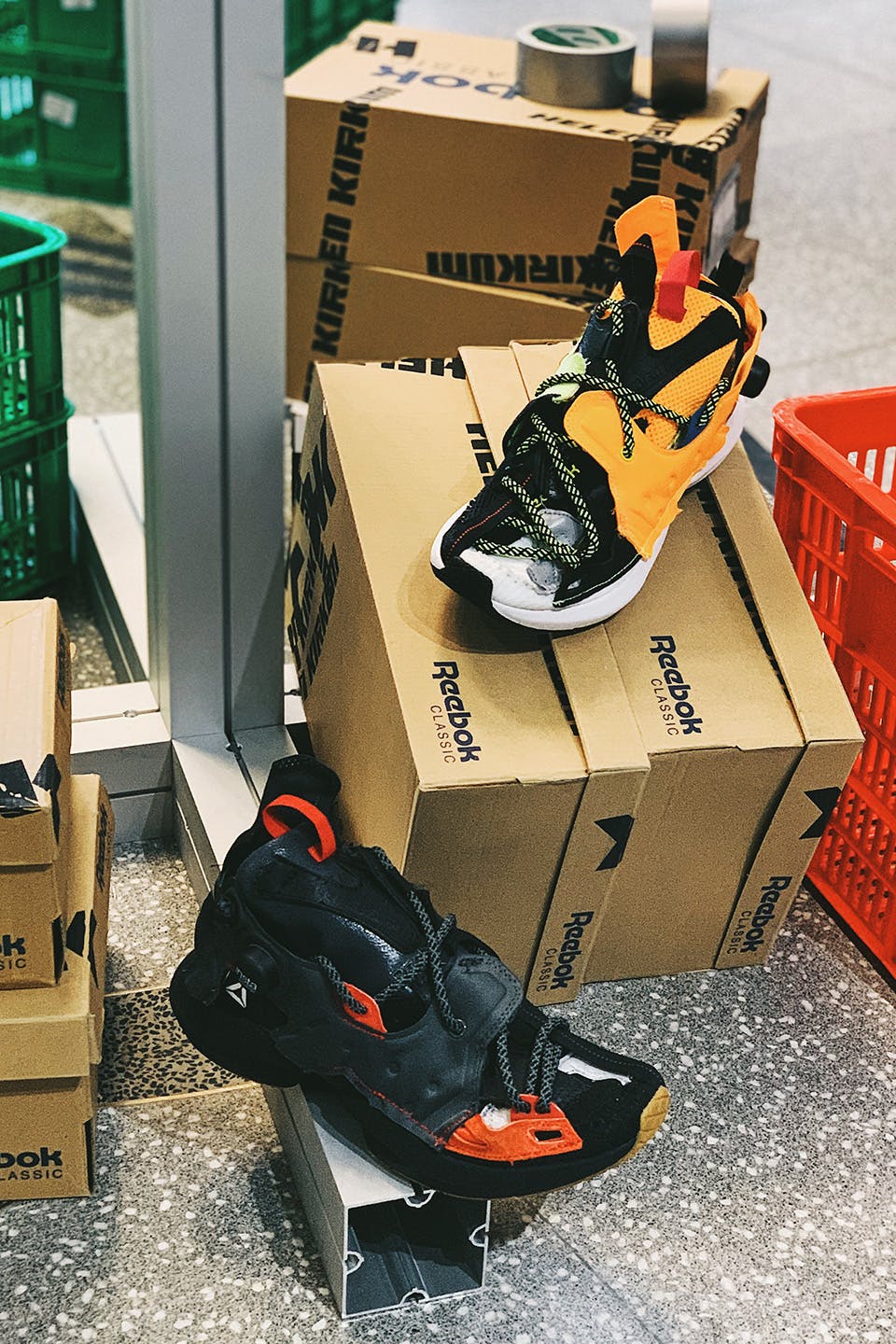 Authenticity is important in any creative discipline, be it pottery, writing, or product design, and this is a view Kirkum echoes. "Just always approach it from your own perspective," she says. "However you see or feel about the product or whatever at the time, that's the emotion you have to put into it because that's what's going to give you the most authentic result."
Kirkum's latest work was for Reebok's Advanced Concepts project, debuting at Shanghai retailer DOE. The project comprises 25 reinterpretations of the Sole Fury made using deconstructed components taken from Reebok's 3D OP. 98, Instapump Fury, Run.r 96, and Ventilator, giving us a truly Frankenstein's monster of a collection.
"It kind of goes back to this punk vibe in a way, this anarchy vibe," Kirkum says. "I think a lot of the time I'm taking the pieces and treating them as shapes and as components, so then they're kind of devoid of their original purpose in a way."
Edward Chiu contributed reporting to this story.
To stay updated on everything happening in the sneaker world, follow @Highsnobietysneakers on Instagram, check our sneaker release date calendar, and subscribe to our sneaker chatbot on Facebook to receive lightning quick updates to your inbox.