Athletic wear continues to leaves its mark on the apparel industry. In 2017, US activewear sales totaled $48 billion and accounted for 22% of total apparel sales, according to The NPD Group. Retail giant, Gap is doubling down on its focus on athlesiure and preparing to redefine high-performance menswear with new brand, Hill City.
Labeled as activewear, the new label aims to create collections combining versatility and function with streamlined, forward-thinking design. Their garments blur the line between the ultra-athlete and the working man without sacrificing the high performance fabrics and stylish builds. The brand wants to perform in every aspect of real life, following their motto of "everything on purpose."
"To me, that's the crux of so much of what we're doing here," Noah Palmer, Hill City General Manager, tells Highsnobiety. "It's like, you can't put a guy in a box today. I think a lot of the brands still talk to guys as if they are in that box of, hey, you're an athlete, or you're an outdoorsman, or you care about style, or you go to work in an office. It's like, you can do all that stuff, you can be all those things. You need a consistent aesthetic thread that goes across them."
He adds, "what we are trying to do is pull the worlds closer together. There's really high performing stuff that we don't think looks very cool, and then there's really cool stuff that doesn't perform. And, so what we are trying to do is to pull the two together. But, at it's most basic point, is your not going to wear something that doesn't look good."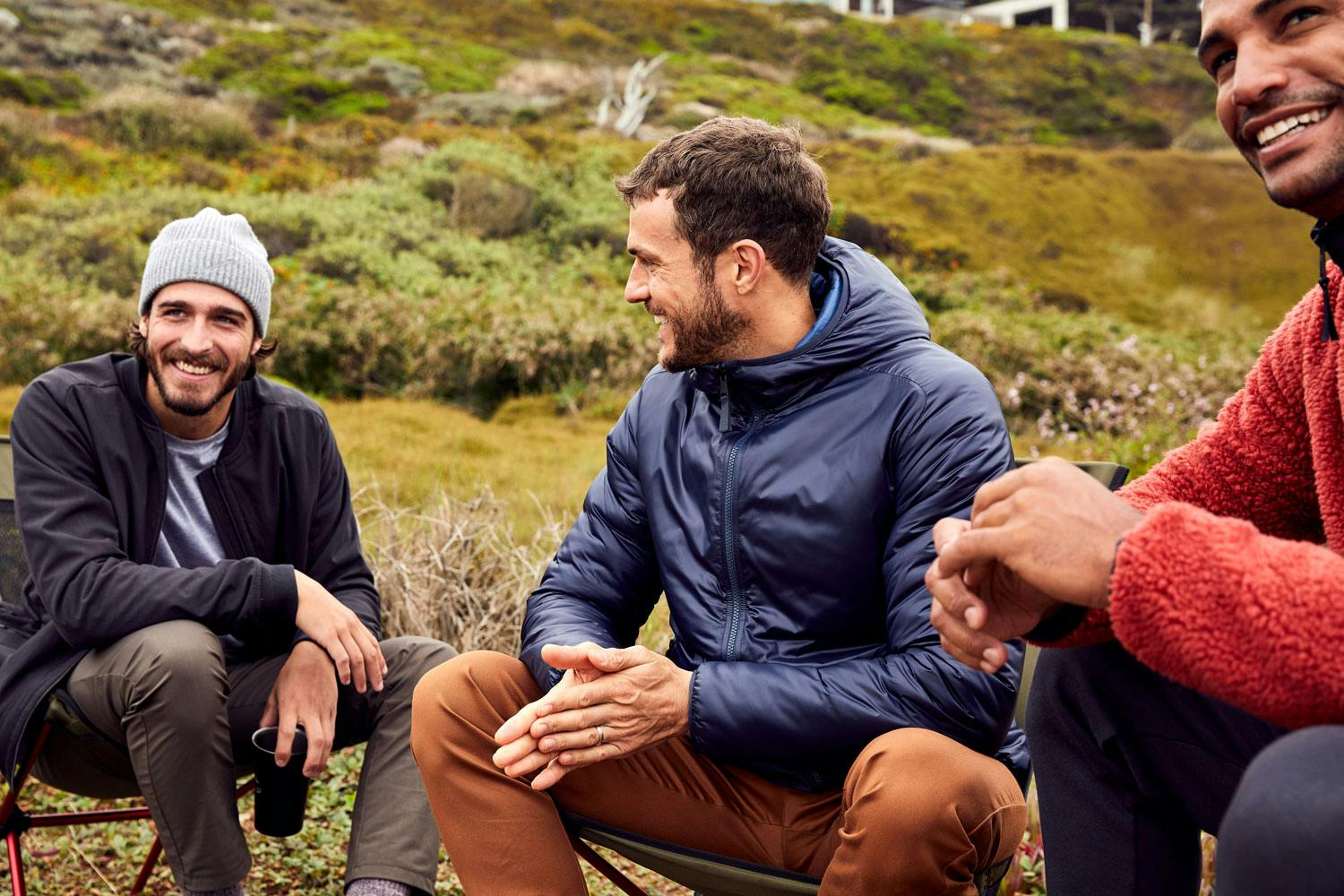 The collection features a mix of athletic and casual wear, such as shorts, hoodies, and light jackets, which have an average price point of $80. Running pants cost between $98 and $128. The athleisure brand will launch mid-October with a range of items including an "Everyday Supima Tee" for $38 and an "Everyday Tech Pant" for $98, along with a Sherpa jacket that retails for $148. Hill City will initially sell on its website, although some items will also be displayed in about 50 Athleta stores around the country.
To dive deeper into the Hill City and their "technical clothing," we sit down with Palmer, a former Major League Soccer player and most recently head of Gap's Old Navy men's business, to discuss the brands high performance fabrics, being "logo light", and Noah's MLS career. Read below.
Where does the motto "everything on purpose" come from?
It started as a design philosophy, honestly, and when we think about product design a lot of what we are frustrated with how do you strip back without losing performance, without losing functionality? How do you have a really clean aesthetic without being boring? We adopted that mantra early on.
We don't do something just to do it, we do it for a reason. It started from a product standpoint and it flowed through a lot of what we do, whether we are thinking about a web experience, whether that's do we do this partnership, do we do that partnership? We want everything to be really intentional.
Would you say the brand is more performance or style driven?
That's a hard question because what we are trying to do is pull the two closer together. Because so much of what we said is like, "There's a lot of good clothes out there. But, they're in one of two camps." There's really high performing stuff that we don't think looks very cool, and then there's really cool stuff that doesn't perform. I wouldn't wear something that performs but doesn't look good.
Do you have any influences from other companies or someone in another category who's able to straddle the line and marry two things in an effective way?
I think about Apple, as an example, and the way they think about engineering. It's a beautiful blend of form and function. And, what I'm describing, the form is the style element, the function is the performance element. So, I think there is a lot of examples when you think about Porsche, Apple, that do that really well. In the apparel space, I think it's a lot harder to identify one.
Can you tell us more about who this brand will speak to?
You know, the question we get all of the time is, "What's your target demographic?" And, what we always say is, we are not targeting a demographic. You know, we are thinking a lot about psychographic. We are thinking a lot about a lifestyle. It's not about how old you are, what you look like. But, it is about how you live your life.
Talk to us about what high-performance means within the Hill City collection.
Everything in the assortment has some element of functionality performance built in. A lot of is the fabric level. I think that's the most important place. There's a band, it ranges. Some stuff is really high performing, when you think about a waterproof shell, other stuff like the hoodie. It's an organic cotton, we liked it 'cause it's really dense and heavy weight but it's got some functionality to it, there's a hidden phone pocket in the kangaroo pocket, there's a stow pocket on the side that we hid in the seam. The simplest way to answer your question is yeah, every single item has some level of functionality and most of it is at the fabric level. We can talk about that as we go through and highlight that stuff.
There's a drive towards simplicity in your mantra and in the product. Why does the world need simplicity right now?
Some of the really early insights that we had was there are a lot of options out there, it can be overwhelming. It's hard to find what you're looking for in the world of more choice than ever. It's almost a weird juxtaposition. When we think about the simplicity of it, I think it was introspective. A lot of it was what we, as a group, were looking for.
What are the reasons behind using minimal logos?
We want this stuff to be really versatile. We want you to have fewer things in your closet. We just want them to be more serviceable for a bunch of different activities, things, days, whatever. Part of what inhibits that I think, in the world today, is the use of logos. We're pretty logo light. Where we do have it, we tone it down. It'll be tonal, it'll be dyed to match. I think that goes back to the everything on purpose, as a thread. It's like, do it only where you feel like it adds value.
The brand uses the term "recreational athlete" a lot. Can you explain what that means?
 As a grown man athletics is one of those few ways that you can exhibit and experience pure joy. There's something really beautiful about that and I've always felt that. I never put in those words but what it always made me think about was when I played soccer, even as an adult in a Sunday men's league, you score a goal and you get dog-piled, if you think about it if we did that right now that would be weird. Even if you guys did something at work that was extraordinary nobody would treat you in that same way. You wouldn't have that same experience. There is something, I think, in terms of passion and joy that comes out in sports, athletics, and achievement that's really unique and special. It's a little bit like a human soul element.
How does your MLS experience and soccer career inform what you're doing?
I think it informs a lot. To be successful in sport it requires a singular focus and it requires just wiping away everything else for good or for worse. A lot of what we've been doing over the course of the past year feels similar to that. I think a lot of the cultural ethos that we're establishing it feels really similar. We're talking about a group of 18 people which is the same size as a sports team. We're talking about a lot of leadership principles that are really similar to what you find in sports. So I think for me it was really good preparation that I just didn't know I was getting.
Soccer was something that was always really important to me. From the time I was 10 or 11 I was really serious about it. Did you guys read that Angela Duckworth book, 'Grit'? For my whole life I was like, "What's my thing?" In reading that book the whole idea is to be good at something, it's not about being a superior athlete or anything like that, it was just you have to want it really bad and be passionate about it and never stop. I say my career or my soccer like, that's my soccer life in a nutshell.
That's a perfect segway into our next question, what's the best book you've read recently?
Captain Class by Sam Walker and Thinking Fast and Slow.
What are your thoughts on the rise of soccer kits in fashion?
I love the soccer kit trend. Personally, it pulls at the heartstrings a little bit. Then some of them are just really cool, like the Juventus shirt, I think that's the best one. But there's so many good ones, especially when you look across the Champions League. What's funny about that is, I was early. I was wearing those shirts when I was 12 and 13.
What music do you listen to when you workout?
I listen to a lot of Dipset, and then I listen to a lot of old punk rock, like The Misfits, stuff like that. So, it's kind of different, but it's all stuff that gets you going.
Hill City is set to launch in mid-October as on online brand,  and will include 60 items. Head to their site to shop the collection.