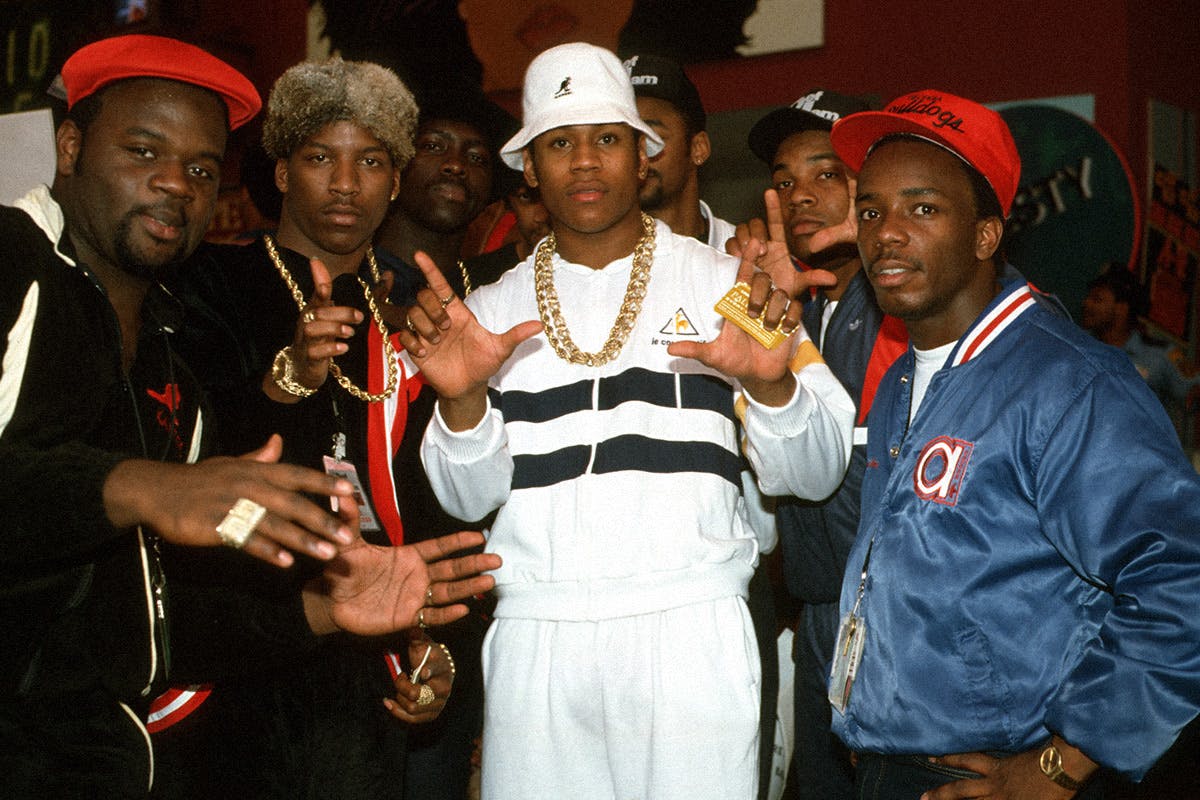 Hip Hop and jewelry's relationship is almost symbiotic. In a cultural context, it's damn near impossible to mention one without the other, with both entities influencing how we view the other. Take a walk down Hip Hop's hallway, and you will find that your favorite MCs had equally legendary collections and statement chains. Remember Slick the Rick's "Justice Scale" piece? Or How about Pharrell's dazzling Jacob & Co $1,000,000 NERD chain? Remember when Kanye West showed up to the BET awards with a chain that looked like he dug it up from Tutankhamun's tomb? Have you seen Quavo's jewelry box and its few Bugattis worth ice? You get the point. But why all this love for bling?
I am not a hip-hop historian in the slightest. However, when the genre was created, it served three main purposes. First, Hip Hop was a tool to tell the stories of disenfranchised people of color in the inner cities and across America. Secondly, it was a form of celebration, an extension of all the other music-bending genres that Black people had coined the decades before. Finally, it was a sport, with battle raps taking center stage to many mythical hip-hop origin stories that you are probably familiar with. This last part is important. Battle raps were opportunities to show off your lyrical ability and flex on your opponent.
Your fit and what you wore to the battle allowed you to showcase your status, wealth, and overall "flyness" to the audience and other competitors — with your jewelry and sneakers being the essential part of your fit. Though Hip hop has grown into the most influential culture in the world, things haven't changed that much. The stakes are just bigger, the chains flashier, and outfits are "flyer."
Today we will dive deeper into this history and explore how this Hip Hop Jewelry shapes our current obsession with bling and how it will continue to do so for decades to come.
The Formative Years of Hip-Hop Jewelry: 1979-1989
Ah, the 1970's. Richard Nixon. Elvis Presley. The Vietnam War. Cocaine. Disco. What's not to love? It's also the decade in which hip-hop was born. The genre was first popularized by DJ Kool Herc in the early 1970s at his famous block parties. Evidence of ice followed shortly thereafter, with Kurtis Blow donning several gold chains on the cover of his self-titled debut album. It was only natural that Blow, the emcee behind the first certified gold hip-hop record ever, wore gold on his album cover. Over the next three decades, future emcees would follow in his footsteps, acquiring jewelry to mark the milestones reached throughout their careers.
By the mid to late 1980s hip-hop evolved. It began to grow from its disco-inspired, block party roots to a multi-dimensional art form ready to be taken seriously by America's mainstream. Artists like Eric B. & Rakim pioneered a much more conscious, lyrically-driven listening experience while Biz Markie and Slick Rick blossomed by going into more of a storytelling route with their flows. Others, like LL Cool J and Run-DMC, began to achieve massive success with catchy production and high-energy delivery.
With bigger budgets and bolder rhymes, came bigger, bolder shines. At the height of Run-DMC's, well, run, adidas gifted the trio solid gold Classics sneakers. Of course they achieved even greater infamy with their dookie rope chains, but don't think that's where the buck stopped. They'd routinely rock some of the sickest gold watches, rings and pendants of the era.
LL Cool J is another example of gold rope chain excellence. He was also one of the first to popularize four-finger rings, but it was Biz Markie who took it a step further, flooding his with diamonds. In 1987, when Eric B. and Rakim released Paid In Full, their album cover was literally covered in money. Ben Baller, of IF & Co. Jewelry, estimated the value of those chains at $100,000... each! Slick Rick, an eyepatch icon without peer, got full-on monarchal with his accessories that ranged from crowns and sceptres to wearing a dozen solid gold chains all at once. Rick was not alone in his regal aesthetic; on the cover of his 1988 debut album Long Live The Kane, Big Daddy Kane bears a striking resemblance to the African rulers from centuries long past, creating pillars of wearable gold.
And with so many competing visions of opulence, you can be sure that it instilled a competitive air amongst these artists. Mr. Cee, Big Daddy Kane's longtime DJ, would explain it in greater detail to Minya Oh in her 2005 book Bling Bling: "Between Kane, Slick Rick, and Biz Markie- just those three, I can remember if one person got something, the next person got something else. They loved to compete. All three of them used to play the Apollo at the same time, so if they had a big show like that, it would be the perfect place to debut new pieces."
Moving Forward: 1990-2000
By the early '90s, hip-hop was organized into an industry all its own. Solo artists transitioned to executives and informal street crews banded together to form companies. In other words, the genre had become commercialized, and jewelry became part of the marketing. Pendants moved on from being flourishes of status and started to become billboards to advertise competing labels of the era. No better example of this type of piece of can be found than the enormous accoutrement worn by Notorious B.I.G.
Designed by Tito the Jeweler, Biggie's massive Jesus piece was the last chain he ever wore. It would turn into a good luck charm of sorts, worn by both Jay-Z and Lil Kim during the creation of their iconic albums of that era. Since his passing, the Jesus piece has arguably become the most popular pendant of all time. Jay and crew were familiar with the late Tito the Jeweler as well, as Jay would rap about taking his "fritos to Tito's" on Reasonable Doubt's "Politics As Usual."
Before long, hip-hop was the top-selling genre by the numbers. It was around this time that Jay-Z upped the stakes by introducing high-priced platinum pieces to the masses. While $10,000 was a lot for a chain back in the '80s, Roc-A-Fella members---namely Dame Dash and Biggs Burke---would drop $200,000 each with Jacob in the mid-90's.
This level of spending marked a period of transition in rap. As Jay-Z, Diddy, Dr. Dre and others would later demonstrate, it was a medium capable of generating wealth for its participants. And how better to show it than by placing it around your neck?
The New Millennium: 2000-Present
By the mid to late 2000's, hip-hop and corporate America became partners. Nelly had energy drinks. Jay-Z had a sneaker line. Other artists had liquor brands. Billionaire hedge-fund managers began to invest into hip-hop. Hell even Eminem earned an Academy Award for the 8 Mile soundtrack, and the film based on his life went onto gross $242 million dollars at the box office.
In October 2004, 50 Cent was given a minority stake in a burgeoning beverage company in exchange for being its spokesman. The company, Vitaminwater, went onto to sell to Coca Cola for a staggering $4.1 billion, netting 50 Cent a cool $100 million in the process. Successes like these, coupled with royalties, merchandise, sponsorships (Usher in your Cheerios, anyone?) and other income-earning avenues meant one thing: hip-hop was flushed with cash. Big time. And as the status of rap and it's artists evolved, so did the jewelry.
By 2005, every crew used the diamond chain to symbolize allegiance and status. At this time, the South, in complete parallel to the burgeoning ubiquity of trap music pouring out of the region, began to exert additional influence on the jewelry scene. Thanks to Nelly, Paul Wall and others, the bottom grill and other grills for teeth would see a spike in mainstream interest. Lil Wayne would even go on to get the most expensive set of grillz in hip-hop at $150,000.
It is also worth mentioning brothers Bryan "Birdman" and Ronald "Slim" Williams who, though you may not immediately recognize their name, made an indelible mark on the history of rap jewelry. After starting Cash Money records in 1991, the two would take hip-hop jewelry to a place that exceeded the imagination. Thanks to Juvenile, Hot Boyz, Lil Wayne and the other Cash Money signees at the time, the term "bling bling" became apart of the American lexicon. In April 2004, it was even added to the Oxford English Dictionary.
Though in today's world bling might be synonymous with rap, it does not mean it is now easy to attain. Chains rappers wore back in the 80's and early 90's might cost ten to twenty thousand dollars at most. Today, you'd be lucky to get a naked (meaning, no diamonds) Rolex Daytona for that. And that's not even factoring in the cost of the ring, chain, bracelet and other jewels that have become modus operandi for most rap stars. Before you know it, you're down $100,000.
Rap historians will agree that in the beginning, hip-hop was a medium for the oppressed, segregated and subjected people of color and lower income brackets. It was rooted in activism and resistance, not just partying and materialism. Rap was music for people who could probably never imagine themselves adorned in diamonds and precious metals. Rap was for people who were on the bottom of the social hierarchy.
So when a select few were able to climb out of that despair into the ranks of the rich via rap, it wasn't enough to have it. It had to be flaunted. It had to be shown for all the world to see. The more wealth that was acquired, the more shines there were to be admired. Rap has always been about struggle in one form or another, while jewelry in rap has always symbolized escaping that struggle. As Meek Mill pointedly called it, jewelry is a "trap trophy." Which means that though bling may still denote status, in the world of hip-hop, it means a great deal more.
For more of our in-depth pieces, here's why Hip Hop is obsessed with workwear.