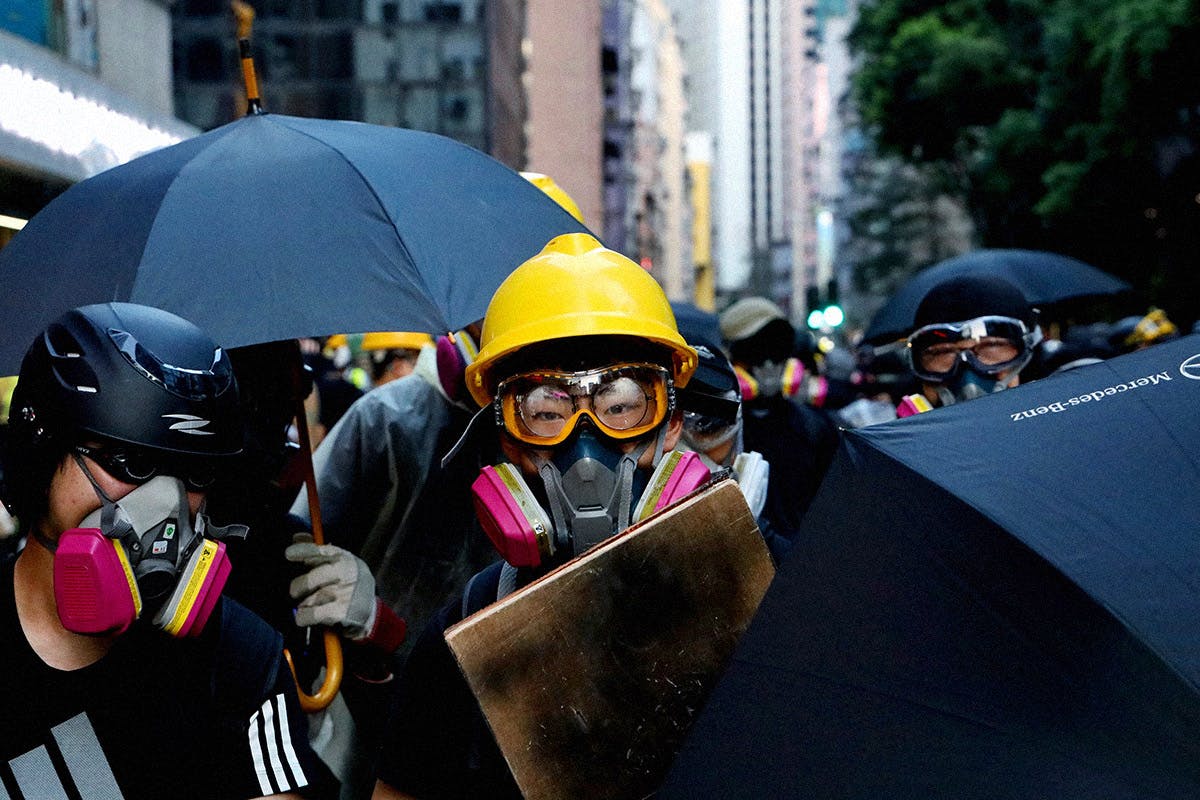 The police have always had a complicated relationship with the hip-hop world. Whether it's skate rats harnessing the genre to lash out at authorities, trappers taunting the opposition, or marginalized communities expressing their frustration with oppression, rap has provided common ground to criticize and denounce cops.
In Hong Kong, which has been facing civil unrest for half a year in a bid for autonomy from mainland China, hip-hop has again become an obvious space for the angry and frustrated to air their grievances. And it's not just directed towards corrupt police, it's also taking aim at an unresponsive government and has become a place for introspection as well. Rappers have been taking on the police, politicians, and the overall state of affairs. Although many in the scene have spoken up, just as many have kept their opinions to themselves, wary of repercussions.
The city has seen weekly protests in what has been a steady and consistent escalation in chaos and violence (in early October, the entire city shut down, including the famously never-closed 7-Elevens; supermarket shelves were empty and the subway ceased operation altogether). The movement was initially sparked in early June when over a million peaceful protestors took to the streets in protest of a now-withdrawn bill that would have allowed suspected criminals to be extradited to China - Hongkongers feared it could be used to send activists and critics across the border. But with their cause ignored for months and widespread abuse by the police since the unrest began, protestor's demands have grown to include a list of five points, including an independent inquiry into police misconduct and universal suffrage.
Hong Kong, located on the southern coast of China, was historically part of the country until the mid-1800s, when Britain colonized what was then just a backwater fishing outpost and pirate hideout. In 1997, what had become a major financial hub and world class city was returned to China as a special administrative region. Under the terms of the handover, the city was allowed freedoms like an open press and the right to assembly, which mainland China had clamped down on after World War II. In 2047, the Basic Law (the mini-constitution enshrining the rights Hong Kong currently is privilege to) is set to expire and the future beyond that is entirely in the hands of Beijing.
The majority of mainstream Hong Kong artists and entertainers have largely stayed silent or shown support for the government, wary of destroying their careers. But the underground, where the local rap scene thrives, has seen the most action, and a couple of the city's most prominent rappers have taken a firm stand. JB, a Filipino Hongkonger who raps in fluent Cantonese, went straight for the jugular in late June with a track called "Fuck the Popo," using a real life photo of protestors storming police headquarters. The song has over 1.5 million views so far, making it a hit by local standards, and crowds get buck during performances. LMF, a pioneering Cantonese rap group, released their own track last month called "2019," comparing the present circumstances with the dystopian novel 1984. Although both artists have organic popularity and strong fanbases, they've been dealt significant blows, like the loss of big sponsorships.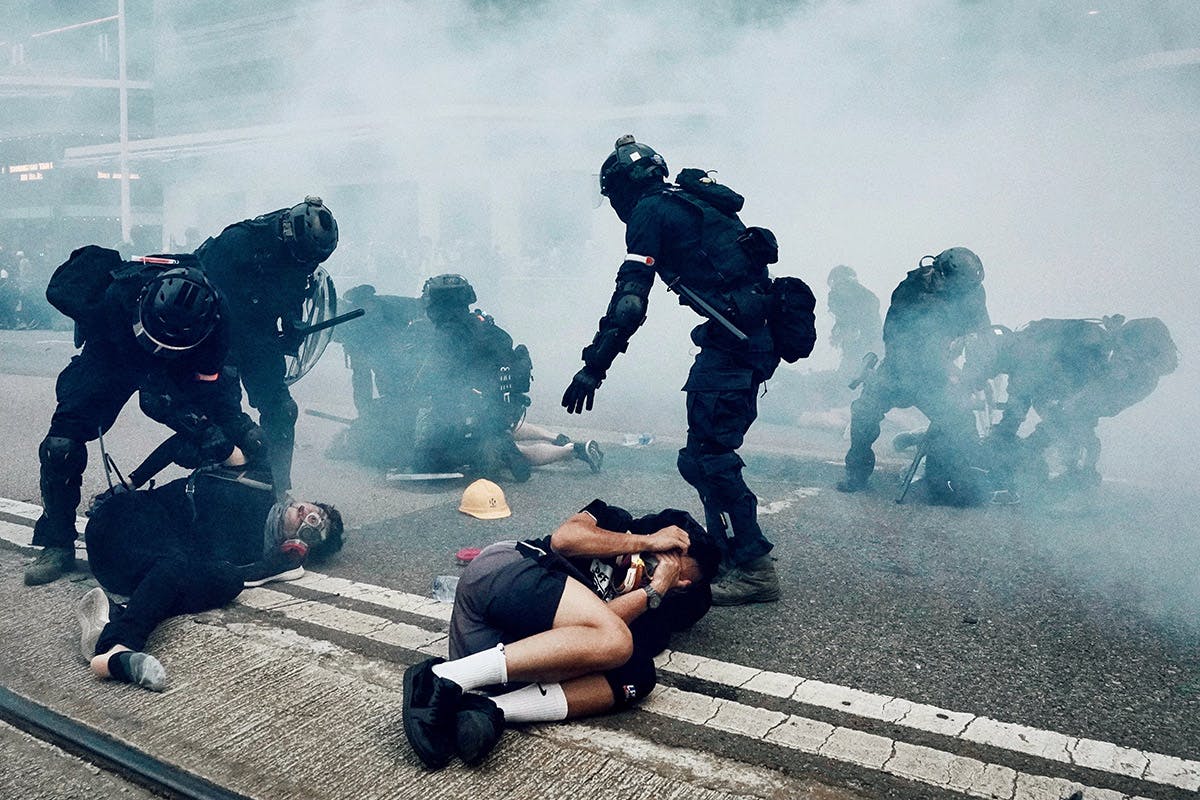 LMF has been preparing a 20 year anniversary album and event, but after the protests took off, several big sponsors pulled out, including major US brands worried about losing access to Chinese markets. Now the group's plans are up in the air. But their sponsors are not alone. Several Western brands have been forced to take a side. Vans pulled a popular entry from a fan design competition depicting Hong Kong protestors. Versace, Givenchy, and Coach all had to publicly state their support for the Chinese government. And billions of dollars and decades of work by the NBA and Chinese partners were put at risk after an international firestorm was sparked by one quickly deleted tweet in support of protestors by a coach on his personal account.
LMF have been banned from performing in the mainland since their early days, but as of this summer, the group's presence has now been scrubbed from the Chinese internet altogether. Their name doesn't even pop up in search results. "This started happening even before we dropped the new song," says MC Yan, one of the group's eight current members. "Our music was in the background of a lot of videos posted by protestors."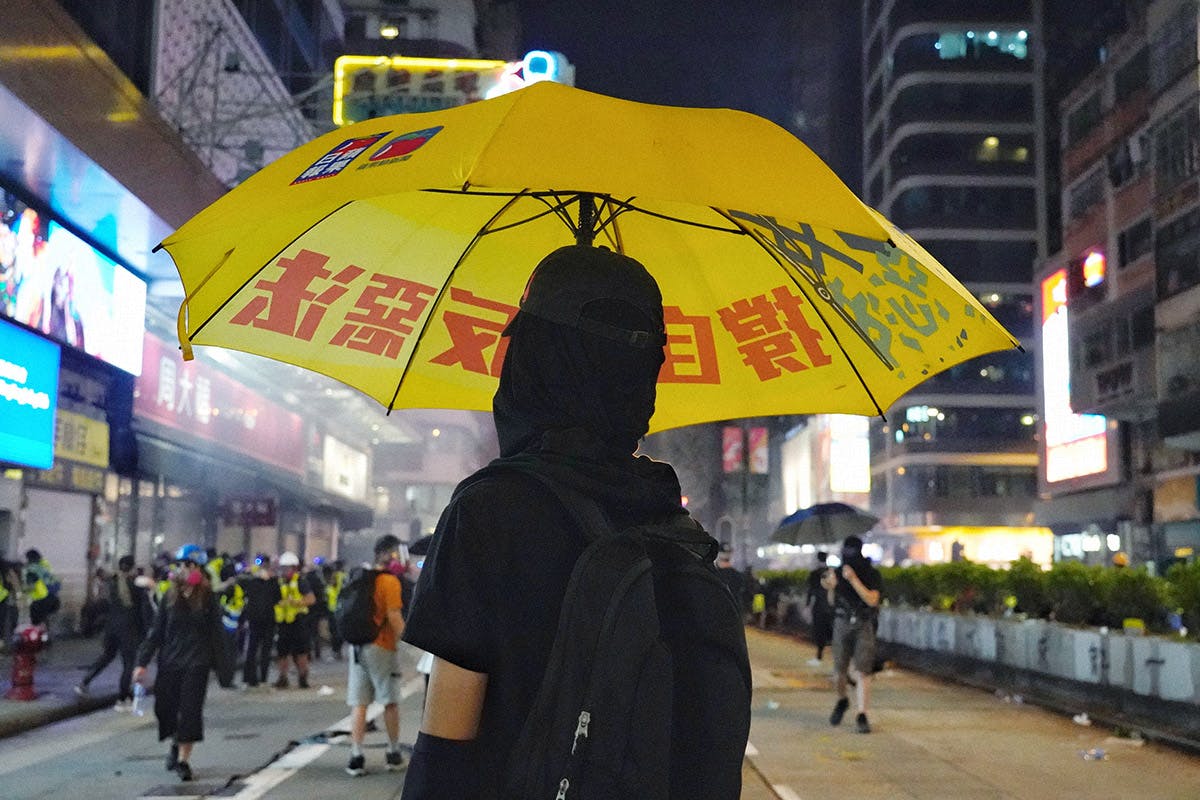 He says the harassment online has been intense, with hundreds of comments a day in the beginning calling the group "cockroaches" and telling them to "go to hell." While he doesn't go on Chinese platforms like WeChat and Weibo anymore because of this, his Instagram still gets daily hate. That harassment has kept many people silent. One artist declined to comment for this story due to threats online that made them worry for friends and family in China. It's affected Yan in real life, too: "We lost all our Chinese fans and friends. None of my friends in China talk to me anymore. The police showed up at my door recently and asked me questions."
Lines have also been drawn within Hong Kong, and artists perceived as being against the cause have taken their lumps. Dough Boy, a prominent Hong Kong rapper with a strong presence in the mainland scene, liked an Instagram picture of the Chinese flag posted by a Chengdu rapper from Higher Brothers. People in Hong Kong were not happy about it. "I liked it by accident!" he says with exasperation. "I woulda liked it for real, I respect someone repping their own country. The next day it was in the newspapers that I'm supporting China. I recently also liked something on Facebook and was put on blast for that, too. I'm all for my people but sometimes we read too much into other people's online activities and mistaken our motives." But he's taking it in stride. "No one's trying to jump me or anything, so it's OK."
When the incident with the flag happened, a wave of Chinese rappers were posting patriotic messages on social media that were often directly critical of the protestors. Famous rappers like Vava and PG One went a step further than just showing hometown pride and posted a meme explicitly shaming Hong Kong. PG One has experienced the full wrath of government censors in the past and was forced to temporarily pull all his music from streaming platforms. He later blamed "black music" for corrupting his morals during an apology tour. Pop music is increasingly being used to promote nationalism in China, and celebrity stan culture has evolved into a kind of pro-government troll army. Information about the Hong Kong protests that makes it to Chinese social media is often manipulated.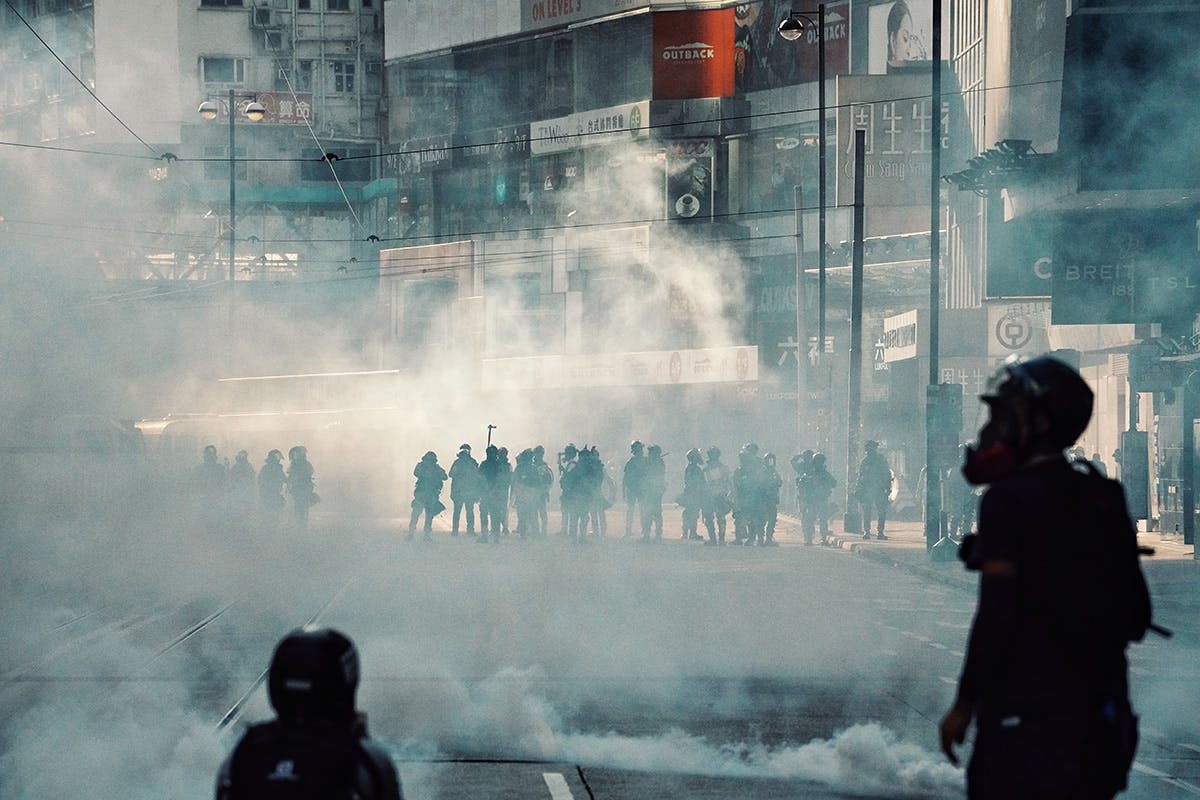 In the face of all this, many feel abandoned. "I think the Hong Kong community felt very marginalized by how Chinese artists reacted to the protests, by the Hong Kong entertainment industry, and by the government," says Young Hysan, a popular rapper from the city. "A lot of major Hong Kong entertainers have even started showing support for the police because they have Chinese endorsement deals. Some of them didn't even know their management was posting statements on their social media."
As Hong Kong fans started trying to figure out who was on their side, Hysan landed in their crosshairs by posting an Instagram story saying that artists shouldn't be forced to take political stances. Although he still believes in the statement, he admits fault now: "It's true, I fucked up. You don't say some things at certain times. They thought I was backtracking so I could get into China, because a lot of people are doing that. I get invited to perform there but haven't gone yet because I don't think it's worth it. Chinese promoters read through your lyrics and will censor you. I guess they're just doing their job. But I mean, Justin Bieber is banned in China for non-political indecent behavior. I don't wanna deal with that."
Most Hong Kong artists seem to agree that it's up to the individual whether to express their support through music, even when they feel the need to do so personally. Luna Is a Bep had never been political before. Her parents didn't impose a political belief in her either. While her dad was smuggled into Hong Kong in '97 by swimming across the river from the mainland, he's still pro-Communist. And her mother is a waitress at a restaurant that's suffering badly from its loss of regular mainland tourist customers. Luna's music had always been about light-hearted subjects, like her love life and texting. But all that changed when a local politician accused young protestors of making a mess and saying they ask for everything while doing nothing.
"They think we should follow the path the city has been taking and that the problem is that we are just lazy," she says, summarizing part of her track "Harvest," which engages the politician directly. "But I say we are working hard, and it's not paying off. We all have lives and families, but we have to sacrifice a normal life to stand up and protest. We can't wait anymore." Although the song is explicitly political, the vibe is still mild and kind of cute. That's because her music has always been like that, but also because she wants to promote dialogue. "I want them to understand us and our situation."
"I think artists should stand up for freedom because we need it to create our music," Luna adds. "But I don't have a huge crowd and don't have to worry about my career. So I've got nothing to lose and can talk shit. It's already very hard to make money off music in Hong Kong."
Other Hong Kong artists have given up on communicating and use music to direct their rage at authorities. Spiritual Teenage Center is a group of six artists in their 20s with a background in black metal who have released some of the harshest music about the protests to date. Their track "Dirty Cops Fuck You" is pure anger in the face of hopelessness. With clipped lyrics in guttural tones, they wish some pretty dreadful things on their foes. But while the music is radical, they say that in real life they're relatively modest. "If you've joined the protests, you know the government is much more radical," says group member Y5. "Compared with the things that have happened on the front lines recently, I guess I'm just a normal protester," Mu chimes in.
The theme of a lack of agency is common. Matt Force, who is a member of WILDSTYLE, one of the city's most well known rap crews, says many people feel powerless. "My new album is inspired by the social environment and the suffocating reality we face: how Hong Kong people are suppressed by those in power, how the capitalists cooperate with the government, and how all these things affect us emotionally," he says. "People are choosing to make their voice heard by ending their own lives." The despondence can run deep.
Just finding a way to deal with it all is essential. Protestors often make the point that they're not enjoying any of this. Lobo Slashemall is one of them. At only 17, his generation will be the first to experience reunification while in their prime adult years, and these kids make up a large part of the protests. A third of those arrested have been minors, some as young as 12. Lobo goes to a public high school dedicated to the arts, which he got into by beatboxing during his admissions interview. "I don't know the way anymore, how to make myself feel better," he says. "Everyone's been very down, even my teachers." So he wrote "We Ain't a Riot," a song named after one of the movement's demands about the government recalling its designation of protestors as rioters. In the song, he pines for the days before all the violence and lies. "It helped a little bit. But I'm starting to feel the same way again. Things are getting crazier and crazier."
Despite all the beef and anger, rap parties have proven to be a way of unifying everyone. Granted, some people may not be in the mood to party or might not have the money to even go out right now; some events have definitely seen reduced attendance; and October's Rolling Loud festival, which would have been its first time in Asia, was canceled. But for the people who do show up for the events, they've found a lot of positive energy. Bloom Festival was organized this summer as a way to contribute to the cause. With dozens of performers and hundreds of fans in attendance, they raised $14,000 USD, which they donated to the Spark Alliance to help protestors in need of legal assistance, according to a volunteer organizer who requested anonymity. "Underground rappers don't have many opportunities to perform in general, so they were very happy for the chance," the organizer says. "That combined with being able to help the protestors put everyone in a good mood. It was a celebration."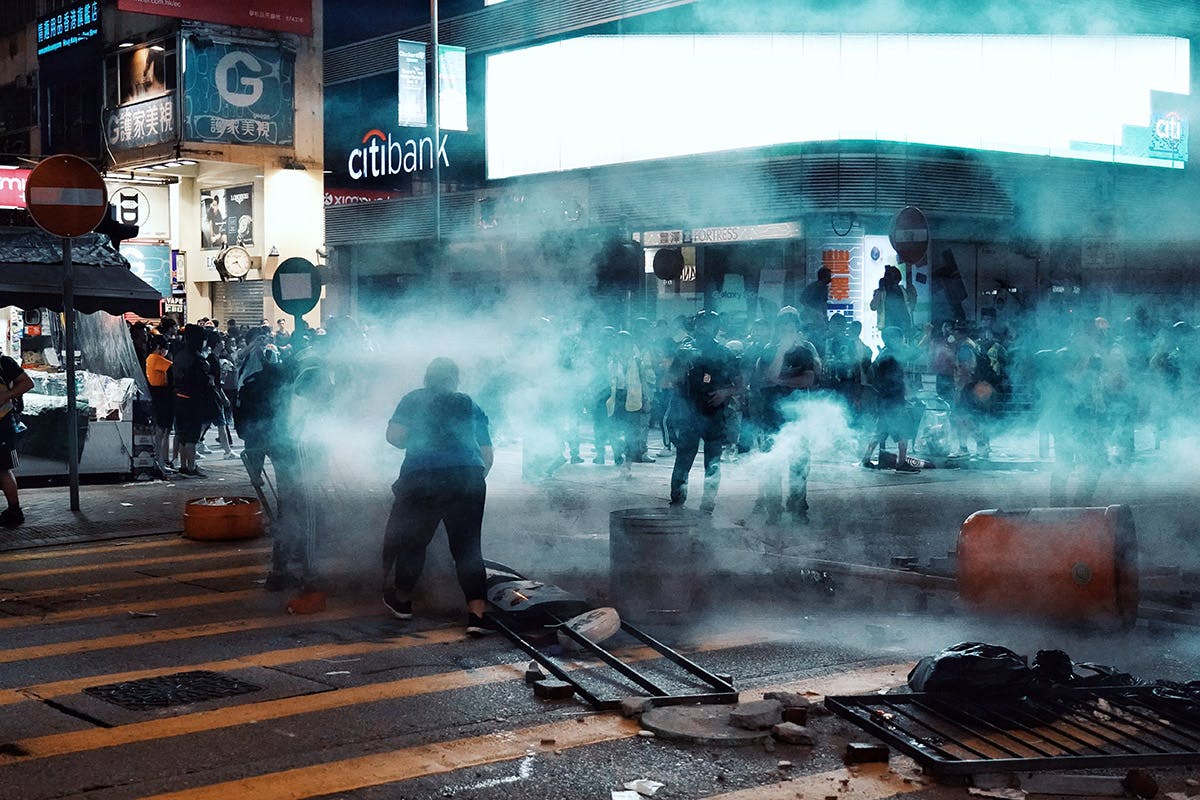 A$AP Ferg came to town for a packed show during his Asia tour, and a lot of local artists performed. "There was a lot of Hong Kong pride in the air," says Txmiyama, a Canadian-Japanese rapper who has lived in the city since he was 12. "The place went crazy cuz I have so many Hong Kong lines. There's so much unity at the hip-hop shows." One of his lines, "7k for a house like a cell, and you really think we out here scared of jail?" was spray painted in the street during a protest and a pic of it was tweeted by Joshua Wong, one of the public faces of this leaderless movement who was recently banned from running for office.
While he was raised in the city, Txmiyama recognizes how simply being born in the West offers him an escape not available to most Hongkongers: "Those of us with another passport are super spoiled. We're so privileged that at any time if things go wrong, we can just buy a ticket and bounce. We're not owned by the Hong Kong government. At the end of the day I'm just a guest here and have the privilege to leave whenever I want. I don't take that shit for granted."