 Sweater vests have always been around, but when the preppy style started making headlines again a few years ago, you'd be forgiven for thinking it was another micro-trend that would dissipate as soon as it began.
Those who remember Harry Styles stepping out in a sheep-covered, fluffy sweater vest back in 2019 probably remember cracking a smile at the ironic and quirky knitwear choice as it became highly memed online. Little did we know that the following years would see the likes of A$AP Rocky, Tyler, The Creator, Jaden Smith, Kendall Jenner, and many more add the style to their regular rotation.
Over the past few years, the sweater vest has proven that it's here to stay.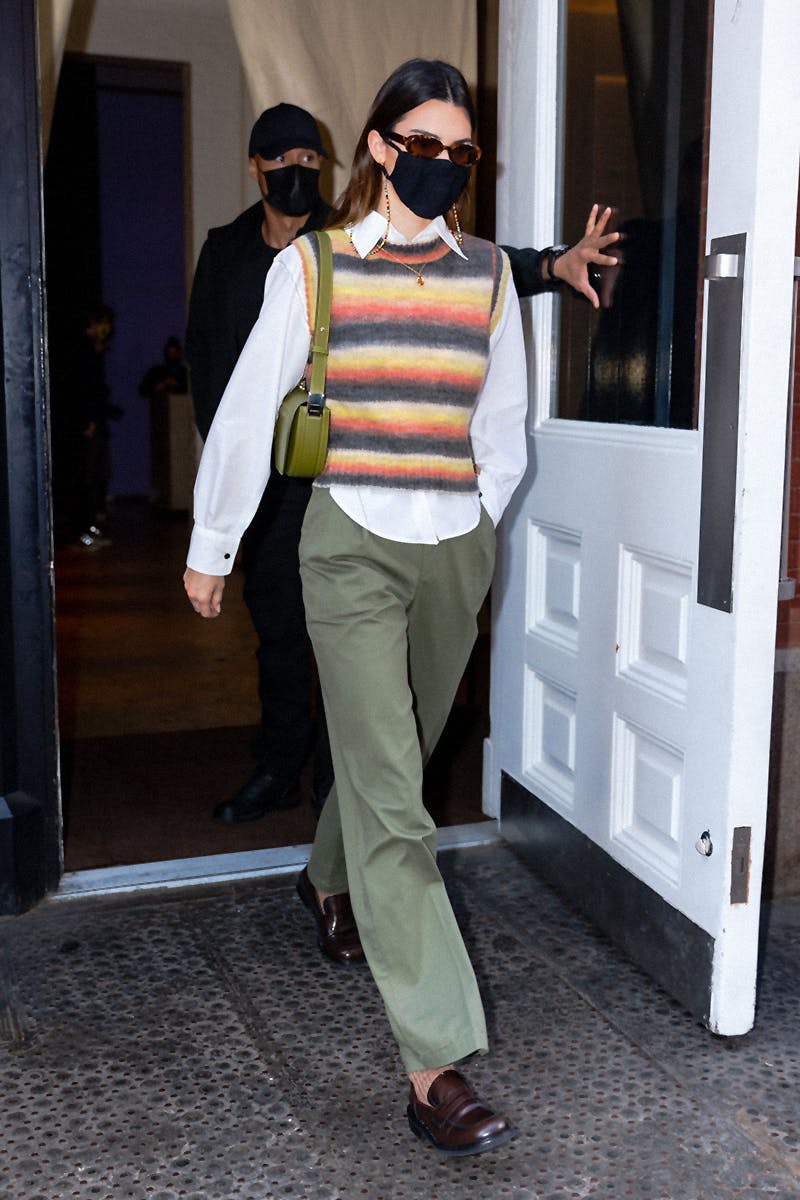 What was once a slightly ironic play on the grandad aesthetic has gone on to become a pretty standard fixture not only on the backs of celebs but also on the runway. Some of the most talked-about shows in recent seasons have been bringing new takes on the sweater vest: Kenzo, Jil Sander, and JW Anderson to name just a few.
A testament to how popular they have become, a number of these designers and celebrities have even been flying the flag for going commando in warm weather, treating the sweater vest like a winter-fied version of a tank top and not wearing anything underneath.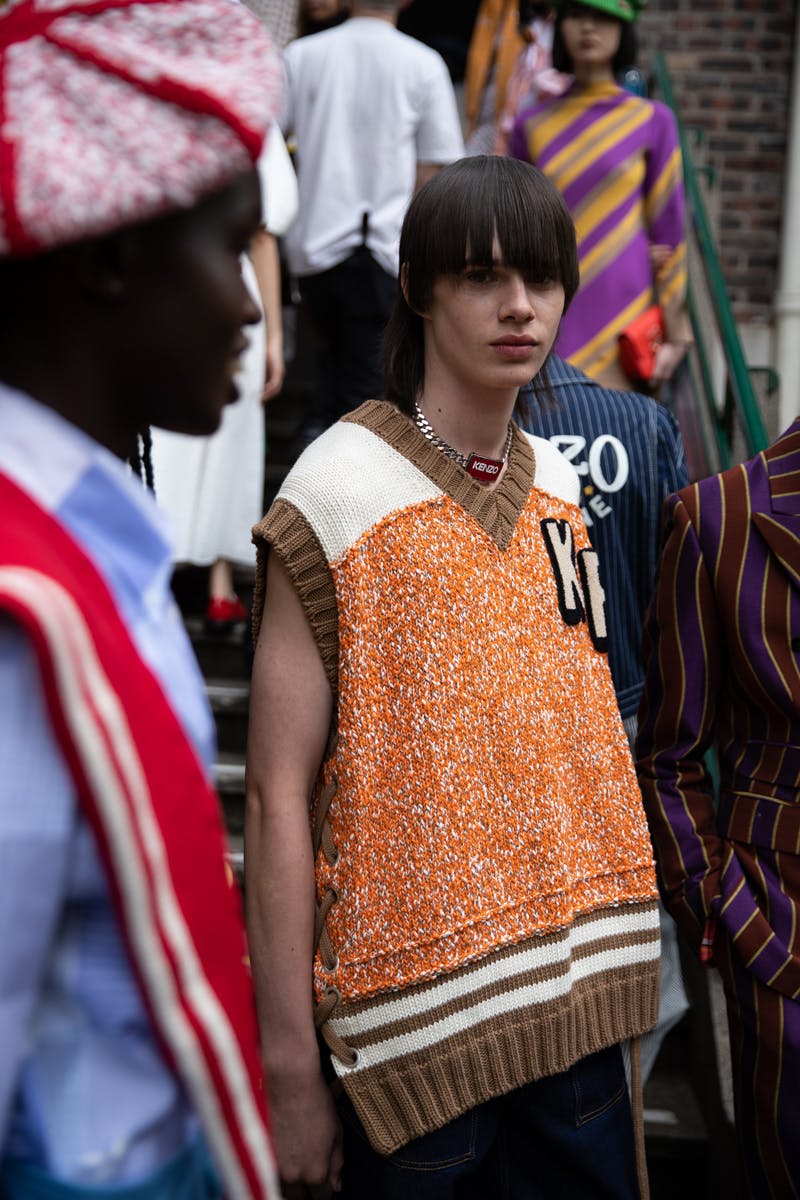 Whether it be a thick-knitted collegiate style, like the Kenzo sweater vest shown above, or a more slim-fitting graphic design like those shown by Dior for SS23, it seems that nobody was worried about itchy cotton on their bare skin this summer.
However, now that we're suddenly in the depths of winter, we can start wearing sweater vests the way that was intended.
The most common way you will have seen sweater vests styled in the past, whether it be by a school teacher or Brad Pitt in Inglourious Basterds, is over a shirt — a classic combination that layering season has allowed us to once again experiment with. And if you want to go for a more casual look, there's always the option of wearing a white t-shirt underneath.
Regardless of how it's worn, you'll find a sweater vest to be a versatile piece and it's not by coincidence: sweater vests are a creation that was birthed from a focus on practicality.
They are one of the earliest examples of athleisure, an early-20th-century example of a focus on functionality with the lack of sleeves making it a sportsman's essential. Soon the functional pros of going sleeveless made it hugely popular outside of sports, with its biggest surge in popularity coming in the '70s before being sidelined to life as a preppy piece of golf attire. No doubt influenced by the current '70s resurgence, the sleeveless sweater is once again getting the respect it deserves and we've picked our favorite designs. From a Missoni knit with a pattern that is literally wavy to one featuring a "flower boner," check them out below.
Scroll down to shop our favorite sweater vests.
Highsnobiety Striped Sweater Vest
If you're looking for a vest that's going to make a statement, this one not only comes with a colorful striped design but it's also made in our fluffy alpaca-blend fabric. This one has been released as part of the Highsnobiety Gift Shop, a selection of gifts for the holiday period that we have curated and created but there's more stripey experimentation available from our in-house label.
Shop more striped sweater vests
Wales Bonner Swing Stripe Knit Vest
The sweater vest resurgence has been fueled by nostalgia and, in true Wales Bonner fashion, this one looks light it's straight out of the 20th century.
Carne Bollente Flower Boner Sweater Vest
Nope, that isn't a typo, the product name for this sweater vest is really "Flower Boner." If you're familiar with the sex-positive brand Carne Bollente this should come as no surprise, it has full collections filled with innuendos.
Missoni Wavy Knit Vest
Missoni's signature zig-zag pattern has lost some of its sharp edges on this vest, adopting a more "wavy" look. However, what hasn't changed is the Italian house's expertise in knitwear, which are on full display here.
Highsnobiety V-Neck Sweater Vest
Having reached the peak of its popularity in the 70s, a time when bold patterns were all the rage, it's no surprise that sweater vests often come complete with garish prints. This one takes a different approach though, opting to let a towel-like cotton and nylon blend fabric do the talking.
Dries Van Noten Neptune Sweater Vest
Merino wool has a reputation for being about the softest wool that you can find, and it is what makes this vest perfectly suited for winter.
Wales Bonner Clarinet Vest
Sweater vests peaked in popularity during the 70s and the colorful striped pattern on this one makes it look like it came directly from that era.
Marni Shetland Wool V-Neck Sweater Vest
Marni's reputation for top-tier knitwear has only increased in recent seasons and this sweater vest shows why. With wool that comes straight from the Scottish Shetland Islands, it features a jacquard print and subtle branding that is stitched on the collar.
Want to keep browsing? Head to the Highsnobiety Shop for more products that we love. Highsnobiety has affiliate marketing partnerships, which means we may receive a commission from your purchase.