Garment 101 is Highsnobiety's bi-weekly homage to fashion's most iconic silhouettes, breaking down the designs that helped shape the aesthetic of an industry. For the second edition of our series, we discuss how the sweater vest blazed the trail for contemporary athleisure fashion.
Arguably one of fashion's most polarizing silhouettes, the sweater vest has been a topic of sartorial taboo for years now. Widely misunderstood, the sleeveless design was initially born out of a need for functionality and has been subject to mass criticism for the simple reason that it so tentatively straddles two important silhouettes: the long-sleeved knit sweater and the gilet.
In a world where the consumer's attention span comes in increasingly short supply, being "neither here, nor there" can prove costly. This confusion only served to banish the sweater vest to the runway's sideline after it found favor in the furthest extremes of what one might deem "acceptably stylish;" golfers, out-to-pasture football coaches, and the likes of Steve Urkel from Family Matters. Such associations cemented it as a staple of schlubby chic, causing fashion at large to glaze over its relevance as a brave interpretation.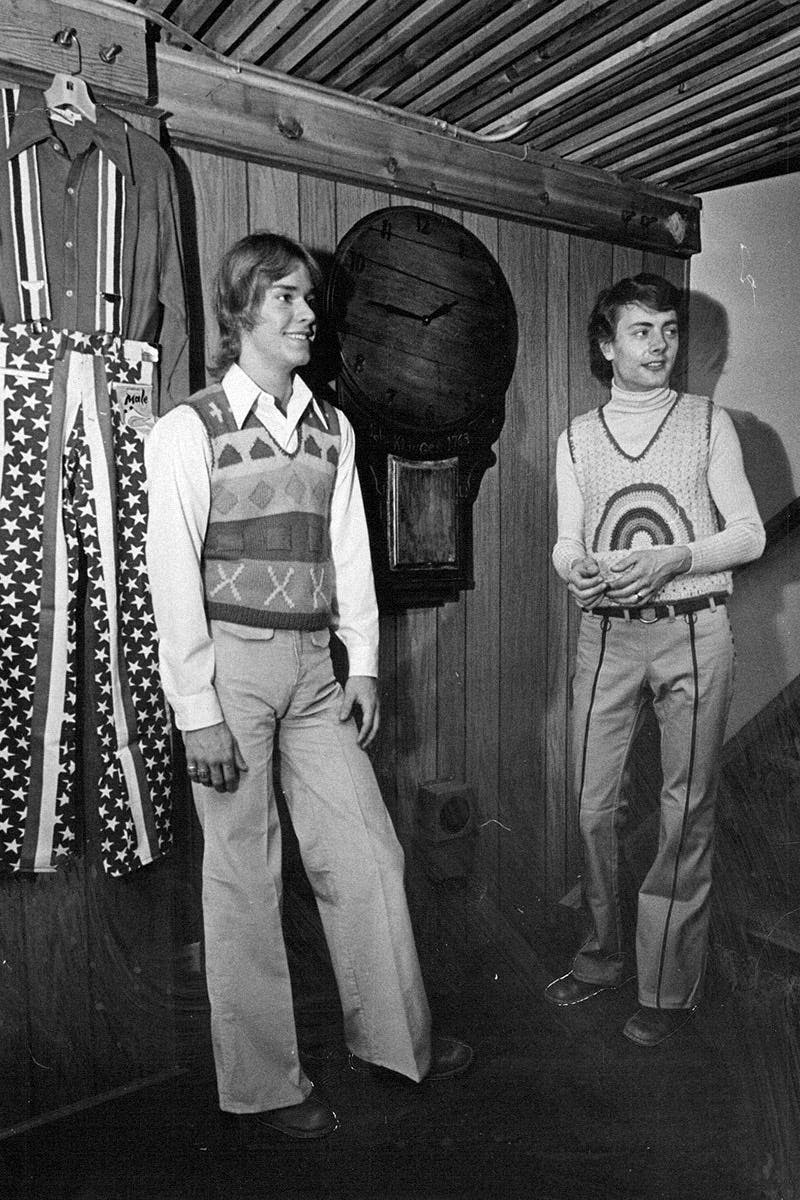 Yet, as we observe the humble design independent of fairway fogeys and the world's Urkels, we begin to see a silhouette that was one of the earliest examples of what we've now come to call "athleisure." Predating yoga pants, hoodies, packable shell jackets, and Lululemon, the sweater vest was instrumental in the preliminary stages of function's introduction to mainstream fashion.
Sweater vests are a great reminder of the zen principle that all things are defined by their absence. How your shirt looks under your sweater — whether it's peeking out of the collar, saying "Hi" from the edge of the sleeve, or cheekily slipping below the waist — is what makes for a well-styled look. With a sweater vest, there's a lot more shirt surface to play with.

Thom Bettridge, Highsnobiety editor-in-chief
Today, athleisure's production model continues to be rooted in a function-follows-form approach, and whether or not its pieces accurately serve the user remains mostly irrelevant. And when we look at the spotted history of the sweater vest, we begin to see how it, too, may have shared such ideals. Objectively speaking, lopping the sleeves off a perfectly good knit makes no sense, but at the start of the 20th century, when innovative materials were in short supply, doing so might have been the only way to retain an aesthetic, while simultaneously servicing the budding sportsman.
When observed on a product level, early athleisure did more to support the ideology of Gen Z than it did for actually innovating material goods. Whether or not you really did sport was beside the point; what mattered was the clothing's ability to help wearers aspire to something greater through fashion, essentially helping consumers tell the world how they wanted to be seen with a single piece that transitioned from the gym to the everyday. Yet, as the sweater vest was so largely misunderstood, it never really resonated with a particular lifestyle. Should it, however, have come at a time when silhouettes like it were part of the fantasy of someone's aspirational life, perhaps it would have broken out of its confusion to become something notable.
In comparison to silhouettes like the MA-1 bomber jacket, whose widespread subcultural adoption led it to become a design rife with compelling — sometimes challenging — narrative, the sweater vest was never anchored in a simplicity everyone could relate to. Often bracketed by demanding argyle patterns, or unflattering cuts that would fold at the hem like some sort of cinched beanbag, the design became unwelcoming to the entry-level consumer. Some might argue that such design exaggeration was an attempt to level peg with the sweater vest's full-sleeved counterparts, but all this was good for was ensuring it remained inaccessible while occupying two extremes of the style spectrum: the totally fashionable and the painfully unfashionable. Cinema also added to the confusion, outfitting both the square and the cool — from Chandler Bing and Urkel, all the way through to Clint Eastwood's Dirty Harry and Brad Pitt in Inglorious Basterds.
Cinema and the consumer, however, cannot be blamed; the sweater vest is, after all, packed with contradiction. On one hand, it is wholly functional, providing warmth to the body, and leaving the arms free — perfect for athletes such as rowers, golfers, and cricketers — but on the other hand, it is synonymous with ill-founded attempts at jazzing up staid garb by simply "adding another layer."
It's not exactly clear when the sleeves were ditched, but the Oxford English Dictionary lists the first use of a "sweater" in 1882, when long-sleeved garments were worn by sportsmen to encourage perspiration and weight loss. One of the earliest public sightings of the sweater vest in a similar context was when a trope of Michigan football players donned them to a game in 1907. By the 1930s, sweater vests were a staple menswear item. However, some years after the Great Depression, in 1939, The New York Times reported manufacturers were selling two-piece suits with sweater vests to help drive prices back up.
Despite re-gaining traction in 1970s Britain, the sweater vest was never able to solidify itself as a subcultural icon. Never symbolic of any noteworthy culture — except for maybe the Ivy League — the sweater vest, for reasons unknown, remained a supplementary fashion item. It divided opinion, without ever having one of its own.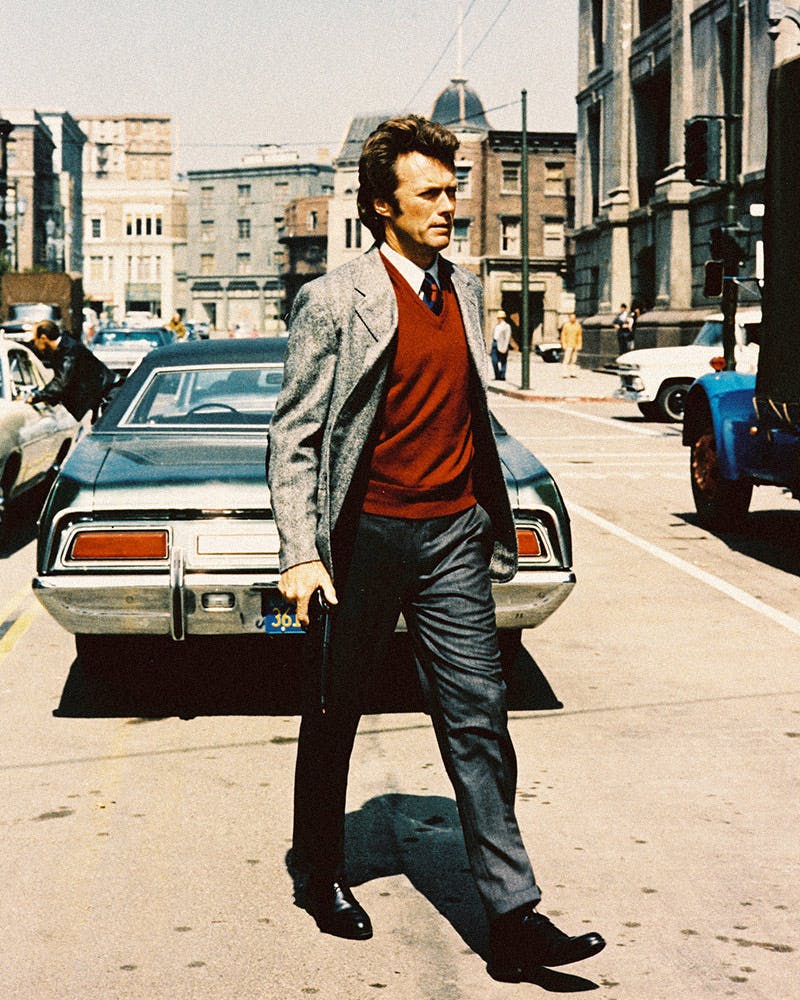 It was not until very recently that its fuddy-duddy connotations were subverted by some of the world's most notable fashion houses. As it fluttered in and out of collections from the beginning of the 21st century, it was in the Spring/Summer 2017 presentations that the silhouette really shone brightly. Raf Simons presented a cropped collegiate iteration over billowing button-down layers, with kinky biker hats to boot, and Prada played with the design's dorkier cues, presenting an array of them over child-like illustrations, alongside the king of all taboos: socks and sandals. But they made it work, either by completely playing into the sweater vest's many connotations or going the extra mile to pair something so famously unsexy with hints of objectively sexy accessories; like the icing on top of an argyle-patterned cake. John Galliano's Maison Margiela also attempted turning the vest into the next cool item when it presented peaks at a destroyed iteration for FW19, juxtaposed against knee-high leather boots and split-hem trousers.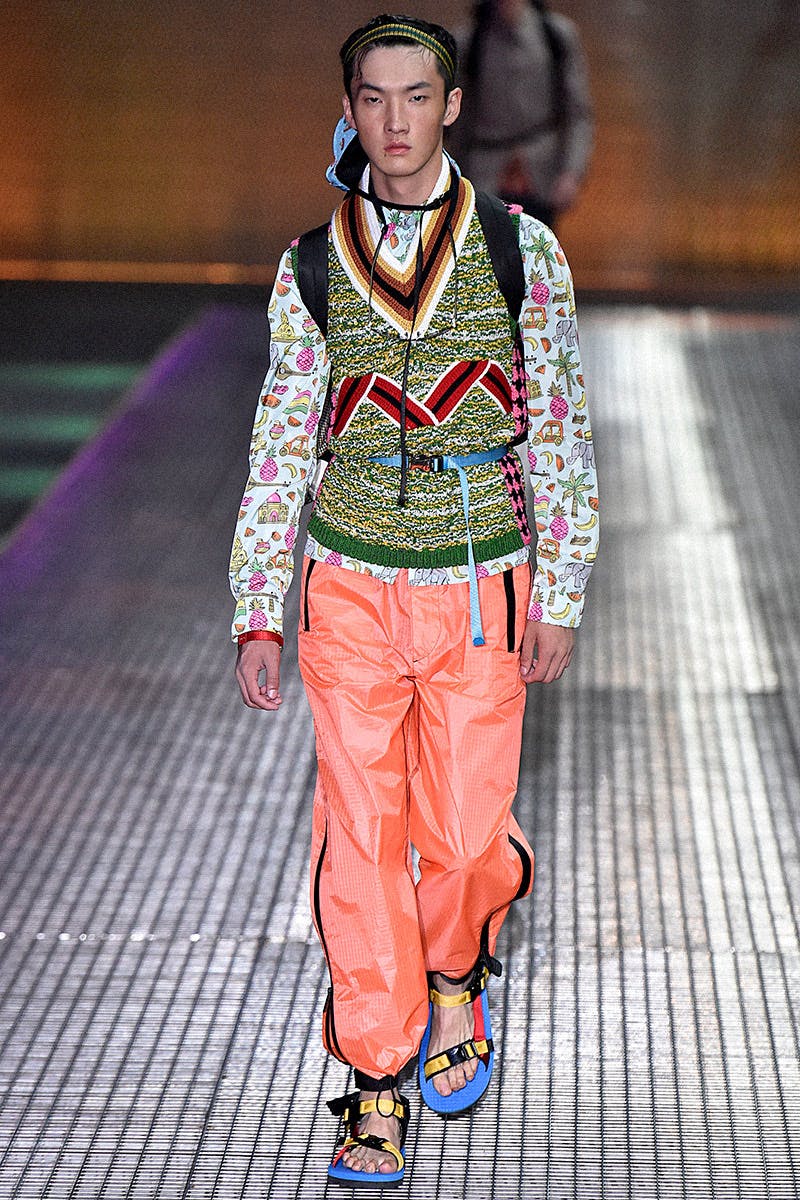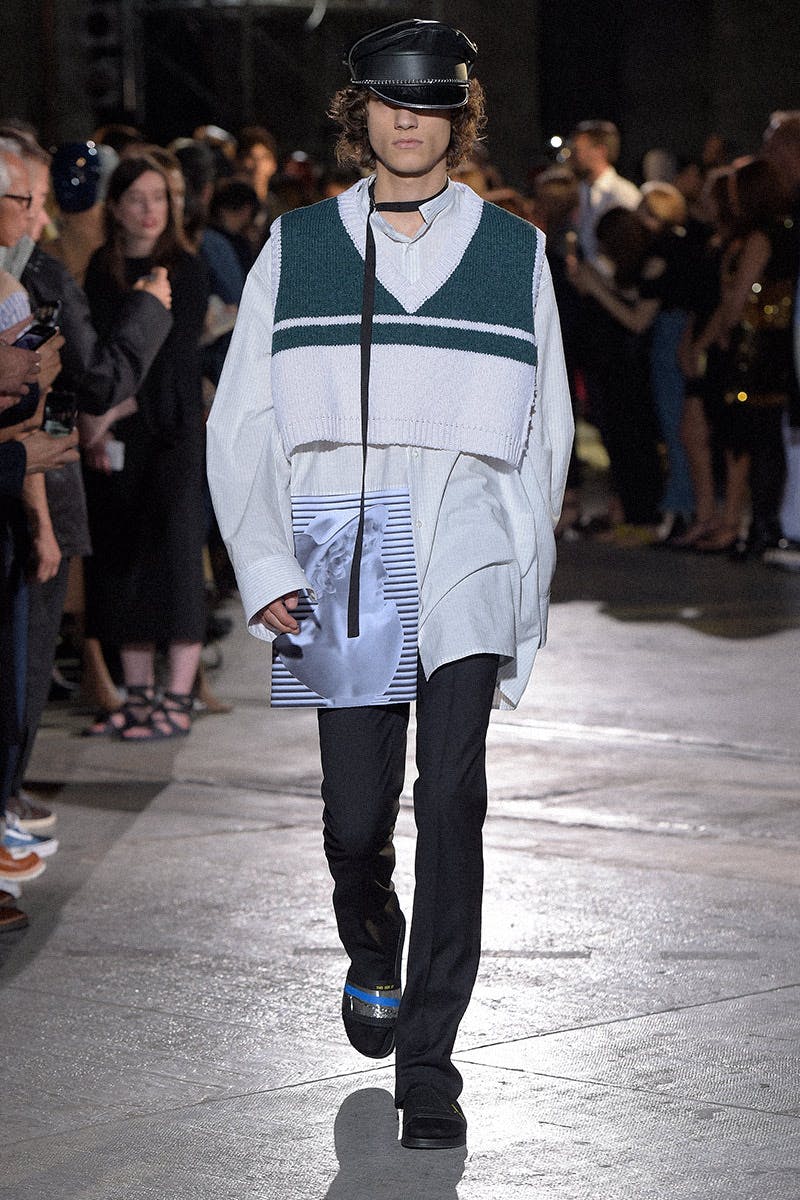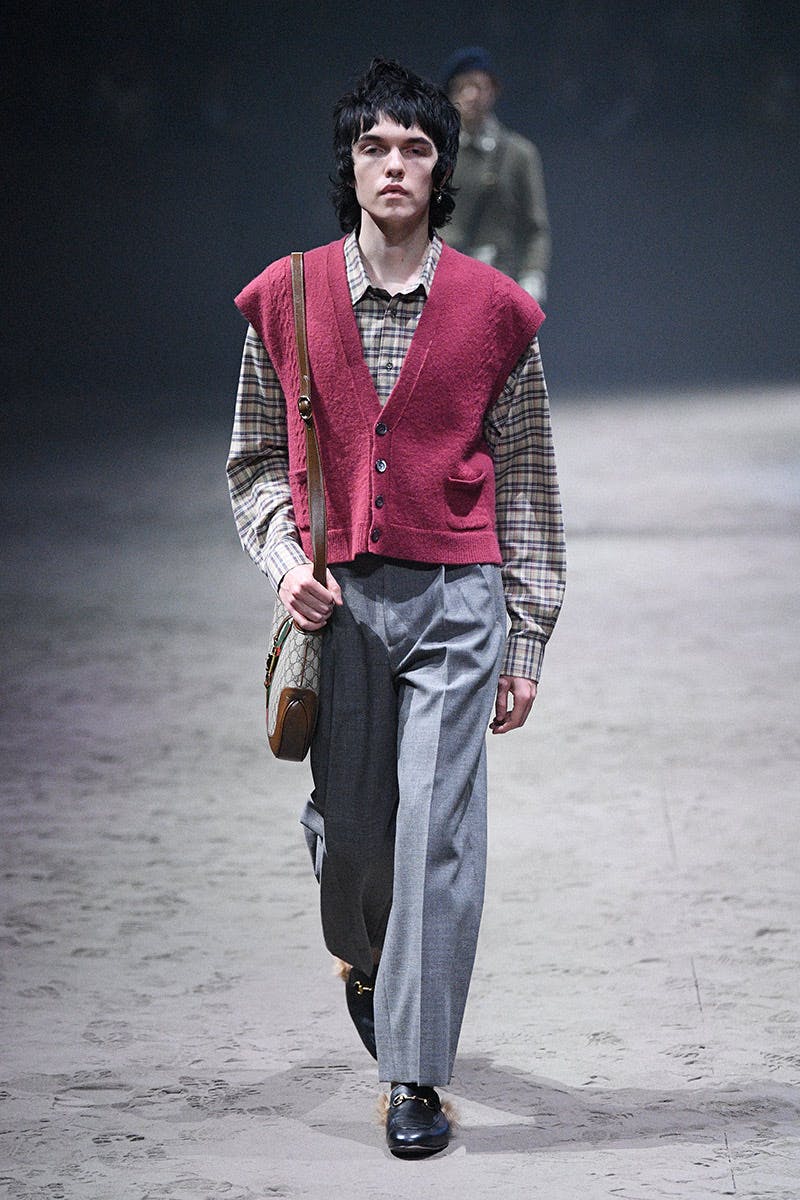 For all its shortcomings and failure to ever grasp the fashion community at large, the sweater vest has been vital in crafting today's style narrative. Without it, we might have never truly understood the power of linking design to subculture, or that a bridge between the athletic and casual could ever exist. Laden with a seemingly endless list of conflicting associations, its design speaks to the fashion principle of something being "so out, it's in" — a principle that has served to fortify the likes of Balenciaga, Vetements, and many more.
SHOP ADDITIONAL SILHOUETTES
Our designated Selects section features products that we love and want to share with you. Highsnobiety has affiliate marketing partnerships, which means we may receive a commission from your purchase.