ILYSM is internet speak for "I love you so much." It's also the name of the sneaker brand, design studio, fashion house, and overall creative chimera that's writing a love letter to creativity. Helmed by Alice Wang and Sara Jaramillo (a fashion entrepreneur and YEEZY alumni, respectively), ILYSM turns the entire concept of a creative brand on its head. And it's made a fittingly unconventional debut: a sustainable Tabi-inspired sneaker offered at an affordable price point.
In an industry that prides itself on exclusivity and hype, what Wang and Jaramillo are doing is veritably revolutionary. On the occasion of ILYSM's launch, I spoke to the two women behind the venture about why the "brand" as we know it is outdated, what sneaker innovation really looks like, and why running a business is about more than just selling stuff.
Tell me about this new venture.
Alice Wang: ILYSM is a creative studio and sneaker brand. We want to reframe the relationship that brands have with customers. Usually brands create, design, and manufacture products, and then they usually create a lookbook, fashion videos, and social media content to sell them. We're still doing all those things, but we're collaborating with artists, creatives, and friends, and trying to make work that is meaningful and fun, which feels like it could stand on its own. We approach the product in a similar way to how musicians make singles, albums, and music videos, where the work exists for the work's sake.
Why did you feel the need for this kind of creative platform?
AW: We're just tired of the way brands communicate with customers. You create a product, and then you create all of this stuff around a product to try to sell it. At the end of the day, you have really beautiful brand imagery, a brand story, social media content, lookbooks, fashion videos, and all they're doing is selling a product. Even if you work with interesting artists and creatives, you're just leveraging their value to give yourself a halo effect. We were just kind of overwhelmed with all of the brands that are trying to sell on a day-to-day basis.
I see – you're getting rid of the brand as a machine...
AW: Yeah. I think a lot of creatives just do commercial work to support their practice and pay the bills, but we want to make that process of working with a commercial brand feel meaningful, while also supporting up-and-coming creatives and promoting their voices as artists. We want to use all of that brand machinery – like PR and press-worthy events – to talk about them as artists and actually help them get traction in their careers while they're on their way up.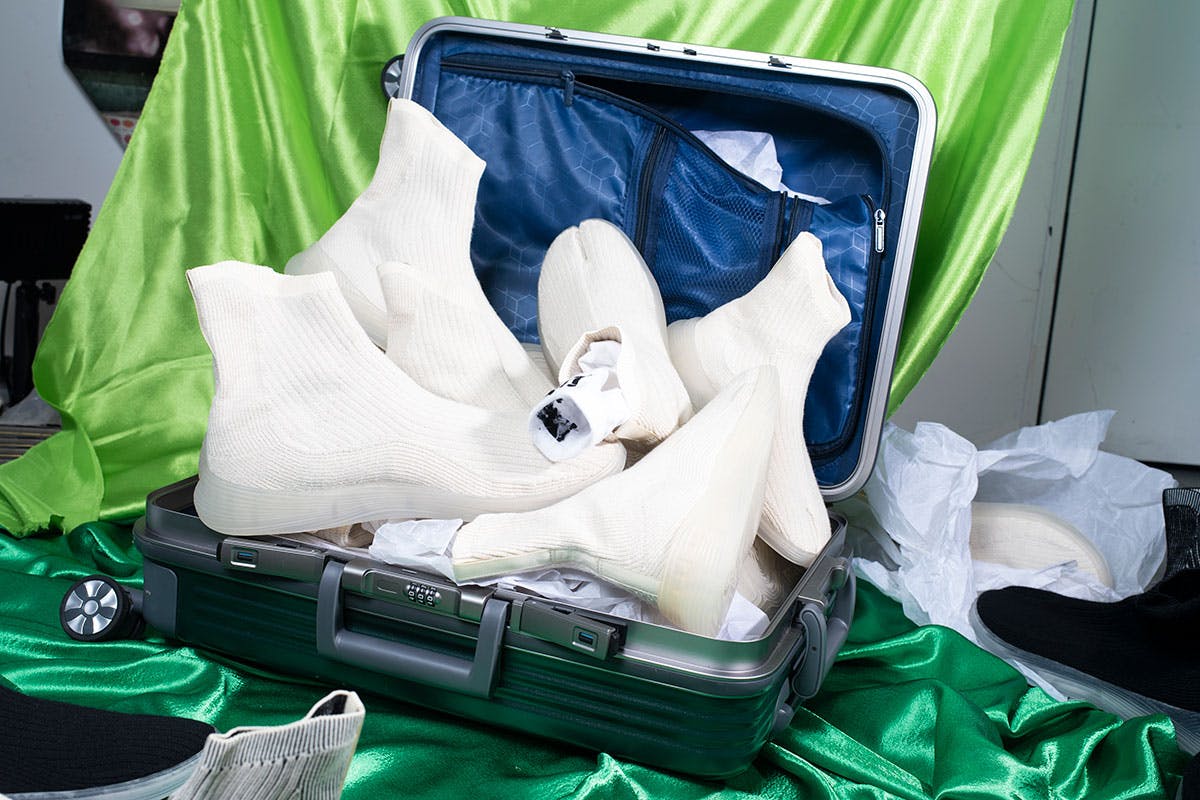 You're also doing something quite unconventional within the sneaker culture by entering the game with a $99 shoe.
AW: We started with this idea of an accessible price point; we really meant something that a teenager could work a job or save up their allowance for, and actually be able to afford. I think a lot of traditional fashion is based on exclusivity. At the end of the day, elitism and classism are things that we don't really believe in and we don't want to be a part of selling an unattainable image to people, to make them feel like they don't have enough in their life or that they need to buy something to be the person they want to be. It's not what we're about.
That's interesting, because, Sara, I know that you worked at YEEZY, which is one of the most covetable sneaker brands.
Sara Jaramillo: I also feel a bit like an outsider in the sneaker world – I don't consider myself a sneakerhead. The perspective that I got from my time at YEEZY was more about performance and design, not about the hype, or all of that culture around it.
Now, [...] we're forgetting the sneakers, the real reason we love sneakers. Instead, it's more about the hype and the price. Like, in some cases, if you have the most expensive shoe, or if you got it in a resale for four times more, that makes you cool. We wanted to go back to [the real meaning of a sneaker]. So that's why we chose an affordable price; we'd rather focus on comfort and materials than making a hyped product.
How was it working with Kanye?
SJ: That was an amazing experience. But, like I said, I don't think of myself as a sneakerhead, and I wasn't really a Kanye fan. So it was really interesting, because I entered this world and learnt a lot about industry people and the hype. And at the end of the day, I just wanted to make cool shoes, no matter for whom, no matter if it's Kanye. So I think that's what kept me there for so long, because it wasn't an easy experience – but of course, it was amazing. He's a true artist, he has an amazing point of view about pattern and art. But at the end of the day, the hype ignores all the true work it takes to work on a sneaker. I wanted to get back to that.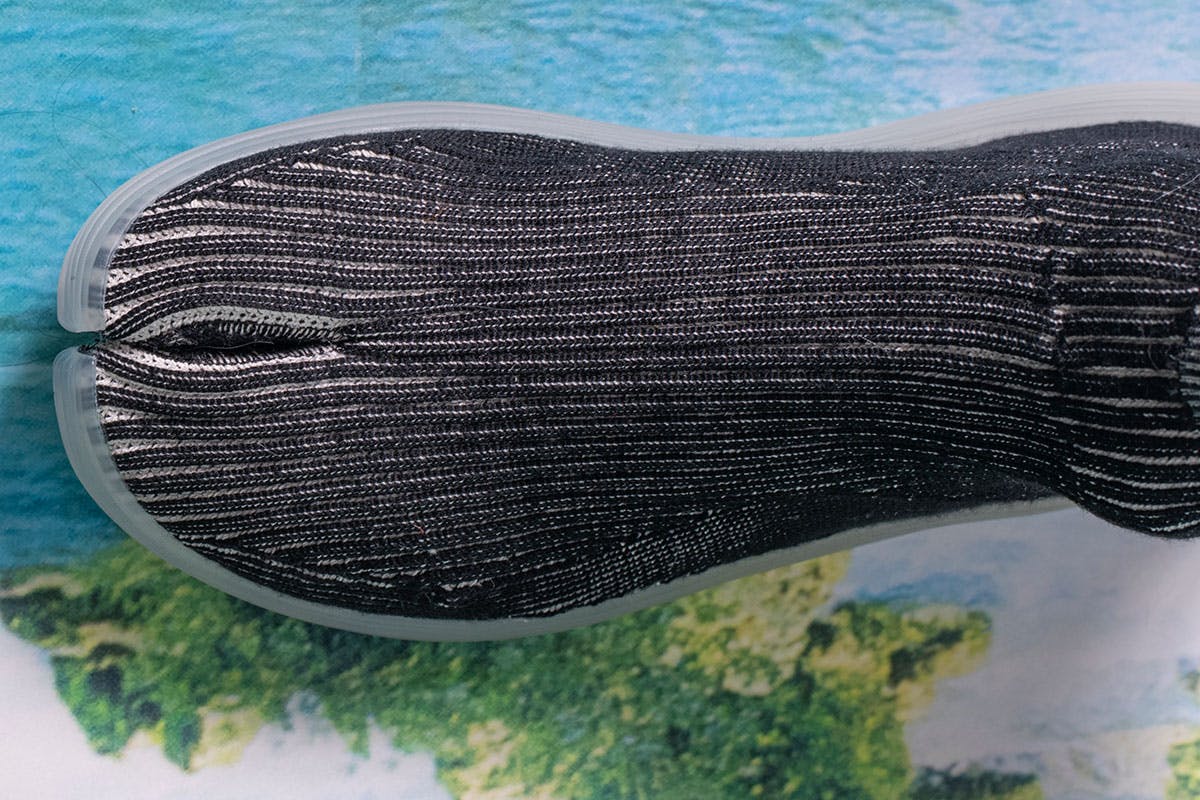 Why did you choose to rework the Tabi – which is such an iconic silhouette — for your debut?
AW: When I met Sara, what I found so cool was that she worked on the [YEEZY Boost] 350. To me, as a non-sneakerhead, what was so exciting about the 350 and all of these engineer-knit shoes was that they weren't mimicking traditional sneaker construction. That was super inspiring, because we were like: "Let's not take other shoes as references. Let's look at other things that inspire us, other things that are interesting."
That's where the Tabi idea came from. The Tabi represents so much, because of its history, because of its place in culture. It was the first rubber-soled shoe in Japan – almost like the first sneaker. It feels like it's something bigger than itself. It's not just the shape. It represents somebody who is not afraid to do their own thing. The fact that other people look at the shoe and are like, "That is the weirdest, ugliest thing I've ever seen," kind of makes me love it more.
Yeah, it's a very different concept for a sneaker, especially since it's sustainable as well.
AW: I mean, let's be real, though. We know since we're producing something, we're making choices that are not the most sustainable. But ultimately, we care about sustainability, and that's something that we keep in mind throughout the entire manufacturing process. I think it can be scary to talk about sustainability, especially as a new brand, because you don't have access to a big consulting company to tell you [about] your carbon footprint and all of your emissions. So we did everything that we could. We're really small, we're brand new, but when we looked at designing, who we work with, our vendors, and our materials, we thought about sustainability in the process. We're not afraid to talk about why we choose to do what we're doing.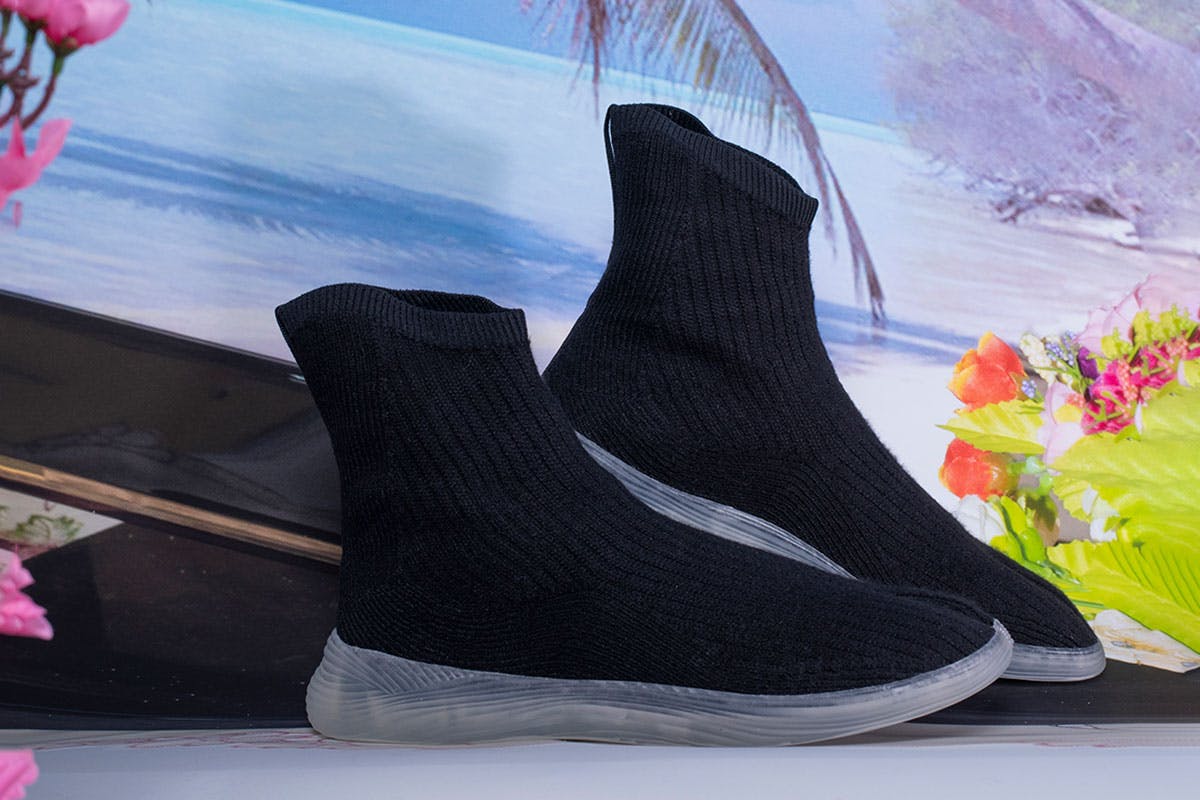 Talk us through how you constructed the shoe with that in mind.
AW: The engineered knit construction means the whole upper is made in a single piece. Compared to traditional cotton-fill manufacturing, we save over 30 percent of the materials that would otherwise be waste material. Our yarn is 50 percent recycled polyester, 40 percent viscose, and 10 percent silk. The insole – which is removable and washable – is made of two layers of recycled foam. So it's super soft, and it's sustainable, and it's also a technological innovation.
After the shoe drops, what do you have planned for ILYSM? What's the dream?
AW: We want to be big enough to have the power to actually make a difference in the careers of artists. You need scale and reach to actually help people. We want the power to have a real platform, and make things happen for people, and support them before anyone else would have supported them, and play a meaningful part in somebody's ride.
SJ: Yeah, we want to create a different experience around what's [expected] in the creative world. I think we're used to putting brands in boxes, like just a shoe brand, or just a clothing brand. We don't want to put labels on the creative field. The idea is creating experiences, not just products, and have product releases be a great experience. We're trying to create a new vision of how design should be.