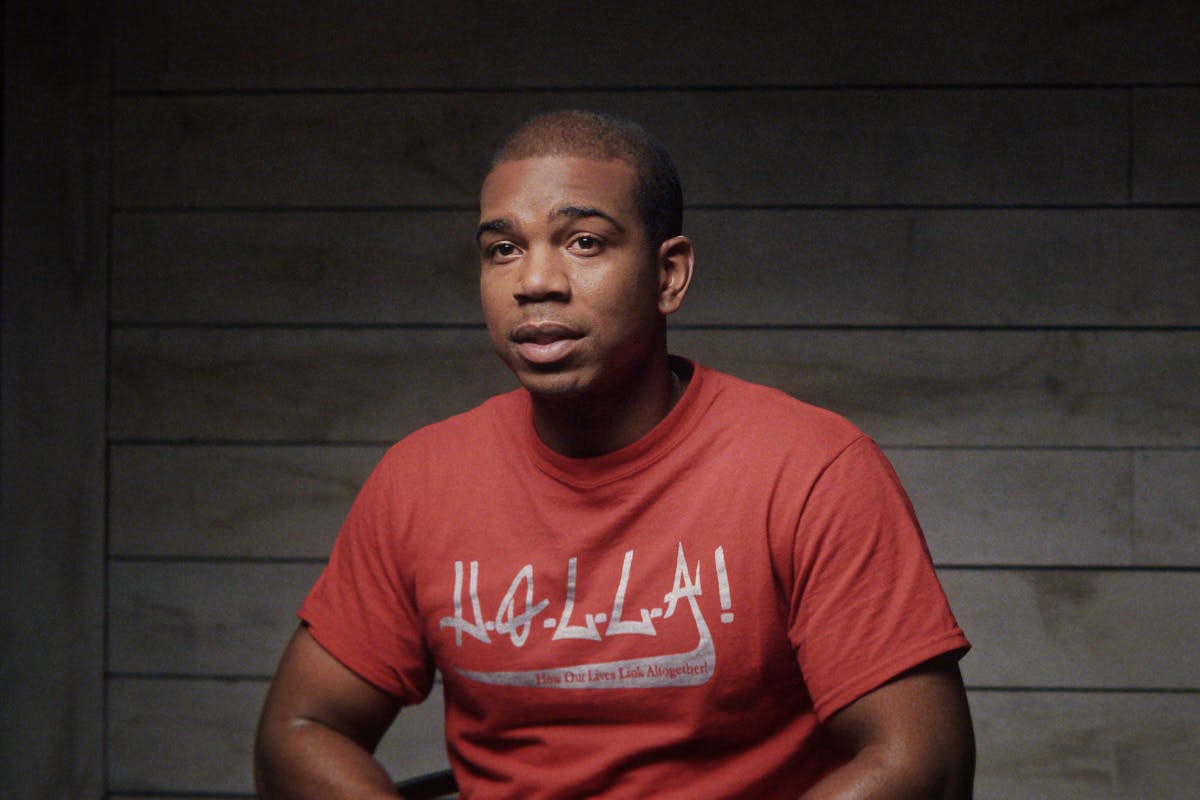 As the holidays approach, your mind might begin to drift towards self-improvement. Many New Year's resolutions are broken every year because people simply don't know where to start. Becoming a better person often requires some inspiration and a little guidance. Those who came before us and those who are currently changing the world can provide the road map for you to become a better person.
Luckily, Netflix's expansive library of documentaries provides a variety of viewing options for those of you hoping to make a better "you." From social justice to dietary movements, from scientific studies to intimate portraits, there are a ton of docs that could inspire you to change yourself, and maybe the world, for the better.
We've sifted through the streaming platform to find the 15 best inspirational documentaries. Check out the list in full below.
13th (2016)
Director: Ava DuVerney
The Black Lives Matter movement has had an enormous impact on public consciousness and policy proposals across the country. While you may have seen the protests in Ferguson, Baltimore, and elsewhere, you may not have a full understanding of the systems that led to the inequality people were speaking out against.
Ava DuVerney's documentary traces the roots of the mass incarceration of black people in America, from the abolition of slavery to present day. The film focuses on the fact that when slavery was abolished with the passage of the 13th amendment, prisoners were excluded, creating a culture of forced labor in correctional institutions. This culture has been so poisonous to the United States that America now houses 25 percent of the world's inmates.
13th calls upon the expertise of activists, historians, journalists, politicians, and prisoners to help paint the complete, sorrowful picture of mass incarceration in the United States. This documentary will leave you with a better understanding of the institutional forces of inequality in America, and what can be done to change systemic issues that have existed for centuries.
Ai Weiwei: Never Sorry (2012)
Director: Alison Klayman
Creating meaningful art means taking risks. Few artists have taken the kind of risks Ai Weiwei has. The Chinese artist, sometimes called the "Chinese Warhol," has often found himself at odds with China's one party regime during his career. That hasn't stopped him from continuing to push boundaries with his work.
Director Alison Klayman started documenting Ai Weiwei at an interesting time. In May of 2008, a massive earthquake hit the Sichuan Province, which led Ai Weiwei to sharpen his criticism of the Chinese government. The film follows Ai Weiwei as he continues to create art despite harassment from the state. The film ends with authorities trashing Ai Weiwei's studio and assaulting him. While this is a horrific moment, the viewer is also meant to appreciate that for Ai Weiwei, there is no separation between his art and his activism.
After you've finished the film, look for Ai Weiwei's new film Human Flow, and the accompanying New York-wide art installation Good Fences Make Good Neighbors. Both projects aim to draw attention to the world's refugee crisis in an immediate and confrontational way.
Food Inc. (2009)
Director: Robert Kenner
Though there have been a slew of food documentaries in recent years, Food Inc. remains one of the best and most informative examples of the sub-genre. The film does a great job of breaking down how conglomerates have created the "illusion of choice," filling aisles with thousands of products that are processed and, more often than not, contain corn syrup.
More importantly, Food Inc. is careful to walk you through the various steps of the "farm to fork" process and explain how American companies are exploiting farmers, animals and consumers while producing an inferior product. The filmmakers are careful to expose the human cost of the American corporate approach to food production, from farmers too fearful to speak out against agribusiness giants like Monsanto, to impoverished families forced to choose between their budget and the wellbeing of their children.
One thing that separates Food Inc. from the pack of similar films is that it goes beyond paralyzing negativity and lays out paths of action that any individual can take. The focus is on the kind of work a single consumer could do that might change things, from demanding action of legislators to purchasing food from farmers' markets.
The Bad Kids (2016)
Directors: Keith Fulton & Louis Pepe
Developing a greater sense of empathy is a difficult thing to do, and rarely can a film help you better understand the trials and tribulations of those around you. The Bad Kids is one of those rare films that does just that. Black Rock High School in the Mojave Desert is a school for 11th and 12th grades in danger of not finishing high school. The documentary primarily follows four students: a couple who had a child as a teenager, a young woman with an abusive father, and an aspiring musician who struggles with drugs. Bad Kids challenges our assumptions about underperforming, disinterested, and even violent students, and asks what makes a kid "bad," and examines how a community can help them succeed.
Vonda Viland, Black Rock's principal, is a ray of light in the film. She warmly greets the children as they come to school, checks in with them individually, and even picks some of them up when they don't have a way to get to school. In Viland, the filmmakers demonstrate how genuine human effort can reach at-risk kids. Once you see the impact Viland has on the kids at Black Rock, Hollywood Reporter's declaration that Bad Kids, "may even help inspire a new generation of teachers and social workers," won't surprise you.
Happy (2011)
Director: Robo Belic
Can you make yourself happy? It may seem like a childish question to ask, but director Robo Belic tackles the issue with inquisitive earnestness in Happy. Belic begins with a fair point: so much energy is placed on what can make us sad, depressed, or anxious; why is their so little discussion of what could make us happy? From there, Belic travels the globe trying to figure out for himself what makes people happy.
We meet members of a Danish commune, some of the world's healthiest people in Okinawa, Japan, a 60-year-old Brazilian surfer, and a slew of other subjects who claim to have found happiness in one way or another. There are some moments when the film relies on science and statistics (for example, biology tells us that happiness is 50% genetic), but the beauty of the film lies in simply showing you people's happiness and inviting you to interrogate your own.
The Look of Silence (2015)
Director: Joshua Oppenheimer
Witnessing the depths of human suffering is one path to self-improvement. Though there have been many documentaries that have explored the pain that humans are capable of inflicting on one another, few have been as savage or as beautiful as The Look of Silence.
The Look of Silence is the second in Joshua Oppenheimer's two-part examination of Indonesian genocide, and the reverberations of the intense pain and suffering that took place as it was carried out. In 1965, Indonesia saw a military coup, and over one million people were killed in its aftermath. In the first film, The Act of Killing (no longer available for streaming on Netflix, unfortunately), Oppenheimer encouraged perpetrators of these war crimes to reenact and consider their role in mass murder. In The Look of Silence, Oppenheimer follows survivors and descendents of tragedy as they seek answers. They find many of the living criminals are still unapologetic, and even boastful, decades later.
In our current political moment, we talk a lot about complicity, about ignoring the terrible realities around us. Perhaps no film understands complicity as well as The Look of Silence. Complicity, after all, is about not speaking out, and it is certainly not about apologies.
Fed Up (2014)
Director: Stephanie Soechtig
A nice companion film to Food Inc., Fed Up aims at a narrower target: big sugar. America is in the throes of an obesity epidemic and it only promises to get worse. While many in media and politics are quick to place the blame at our the feet of America's unhealthy lifestyle, driving everywhere and never taking the stairs, Fed Up has a different target.
The real culprits, the filmmakers argue, are the people making our food. Fast food, school lunches, grocery stores: every avenue we have for getting food has been tainted by a corporate food culture that prizes profits over nutrition. So many of the foods readily available to Americans are packed with sugar and practically devoid of nutrients. The film pays special attention to the generation of children growing up with a lower life expectancy than their parents before prescribing some last ditch remedies to loosen sugar's grip on our country's diet.
Minimalism: A Documentary About Important Things (2016)
Director: Matt D'Avella
Stuff drives capitalism. You make more money, you buy more stuff. You don't have to own a tiny house or live out of a suitcase to appreciate the radical idea that you may not necessarily need more stuff. In fact, you could probably do with less. This is the central conceit behind Minimalism: A Documentary About Important Things.
Much of the film is devoted to Ryan Nicodemus and Joshua Fields Millburn, who together call themselves "The Minimalists," as they embark on a cross-country speaking tour. While their philosophy can feel a bit too close to proselytizing, and it may not seem all that radical that less clutter in your house leads to a less cluttered mind — they do have a point. There is something to reducing the number of things in our lives.
Nicodemus and Millburn are charming, earnest figureheads for this movement and they speak to a number of folks, from scientists to tiny house owners, about their own beliefs about starting with less. Even if you don't drop everything and start following the gospel of minimalism after you watch this one, this film will at least lead you to take a second look at just how much stuff you've got lying around.
Living on One Dollar (2012)
Director: Chris Temple, Zach Ingrasci, Sean Leonard
There is a sweet naivete that buoys the DIY project Living on One Dollar, a documentary that follows four college students as they attempt to live on one dollar a day in Guatemala. 1.1 billion of the world's citizens live on a dollar a day, yet for comfortable Americans living as much of the world lives would be an unthinkably drastic departure.
The students live on a small allotment of money (between $0 and $9 a day) and take out a loan for a small dwelling to simulate the lifestyle of the people around them. They contend with the harsh realities of poverty, unable to pay for unexpected expenses, and forced to bargain with vendors who know they don't have other options. The filmmakers tackle the subject with an openness, earnestness, and honesty about their privilege that lifts the documentary beyond mere poverty tourism.
Living on One Dollar is at its best when when the young men interact with the locals and get a true sense of the lives they lead while getting tips on survival from the people who do just that every day. As the filmmakers learn, the audience learns to, taking a few steps towards understanding a little bit about how life in extreme poverty works for so much of the world's population.
Miss Representation (2011)
Director: Jennifer Siebel Neusome
Explaining the realities of living in the patriarchy is a challenging task. Miss Representation is one of the best attempts at this that has ever been made. The film looks at how the representation of women in media impacts perceptions of what is possible. From the perspective of the film, bikini-clad women in music videos, female pundits who play dumb, and Fox News anchors who dismiss the ability of women to hold higher office jobs combine to deliver a united message: women are less.
The film then lays out statistics — like the fact that fewer 15-year-old girls want to be President than fifteen year-old boys, or that only 17 percent of Congress is female — that demonstrate that this destructive message is being heard loud and clear. The film then goes on to interview powerful women in and around media about what can be done to shift women's perceptions of themselves and the male perceptions about what women can achieve. Subjects not only advocate for more women telling their stories, but considering how one story may have a different impact on shaping women than another.
The Mask You Live In
Director: Jennifer Siebel Neusome
Several years after the release of Miss Representation, Neusome turned her lens towards the American construct of masculinity. Through interviews with a variety of experts, The Mask You Live In forges the connection between social expectations of men and anger, frustration, lack of emotional connection and even untreated mental illness.
Boys are told at a young age to "man up" and "be a man," and often that means refusing to express emotion. Some of the most effective scenes in the film come when Ashanti Branch, an Oakland-based educator, speaks with boys and young men about their difficulty expressing their emotions. Though you may leave the film wishing for more scenes with people like Ashanti demonstrating how to break down the walls around masculine behavior in the US, you can't help but feel the power of young men realizing that it is okay to cry.
Awake: A Dream From Standing Rock
Director: Josh Fox, James Spione, and Myron Dewey
The NoDAPL protest led by the Standing Rock Sioux was one of the most powerful protests in recent history. Though Donald Trump's election ensured the Dakota Access Pipeline's completion, the "water protectors" who stood against a coalition of corporate interests and the government are an inspiring group. The principles they stood for will live on, though the camps at Standing Rock have been cleared out for months.
Awake: A Dream From Standing Rock is less an investigative report than a record of the strength and perseverance of the Water Protectors at Standing Rock. The film is unflinching in its documentation of the various abuses the water protectors suffered: you watch them being beaten, subjected to water canons, maced and arrested. The filmmakers are equally intimate in their recording of the celebratory and even spiritual moments of resistance that came out of the protest. Though some of the imagery is difficult to watch, you leave inspired by a group of people who never backed down from their fight, standing together for what they believe in until the very end.
The film's narrator, Floris White Bull, says in the film, "I am not dreaming. I am awake. I have been woken by the spirit inside me that demanded I open my eyes and see the world." If the film leaves you with even a small inkling of that kind of awakening, it will have been well worth a watch.
Life Itself (2014)
Director: Steve James
Documentaries about well known figures often dwell on the controversies of their lives, the tough moments that defined them, or the scandals that made them newsworthy. There is something refreshingly beautiful about a documentary that simply celebrates what someone achieved and the impact they had along the way. Writers are often perceived as curmudgeons, and critics are so often considered the most curmudgeonly of the bunch. Yet, when you watch Life Itself, you leave the film with a sense of awe at Roger Ebert's sheer passion and joy for cinema. By all accounts, it was infectious. Even when the film touches on the illness that befell Roger late in life, the story isn't tragic. The story is one of perseverance, and it is a story of how beautiful it can be to see a life well lived.
The Square (2013)
Director: Jehane Noujaim
What can social media achieve? What can young people achieve? Can you change the world? These are the questions that so many Americans are asking themselves in the aftermath of the 2016 election. Young Egyptians answered these questions in a much more meaningful and intense way during the so-called Arab Spring of 2011. In many Middle Eastern countries citizens took to the streets. In Egypt, people gathered in Tahrir Square to protest the government, and the result was the fall of a regime.
Though the film offers inspiring elements, the film really focuses on the two years following the events in Tahrir Square and the installation of Muslim Brotherhood-aligned President Mohammad Morsi. Many young revolutionaries are disappointed as one hardline regime is replaced with another. But, the relentless determination and hope exhibited by people like young activist Ahmed Hassan will motivate you to fight for what you believe in even after being handed bitter defeats.
Sustainable
Director: Matt Wechsler
Sustainable is a different kind of food documentary. Instead of looking at how food is consumed in America, it looks at how its made. In recent years there have been a variety of movements: organic, farm to table, slow food, and more, that have focused on taking a new look at how food is grown. These movements have looked a building sustainable infrastructure around farming with a focus on local sourced food. Matt Wechsler's Sustainable takes the argument behind this movement a step further, arguing that the only thing holding America back from sourcing their food from sustainable, small farms is the death grip of massive corporations.
Though Wechsler's argument might seem far fetched, he makes a good case in Sustainable. He introduces the audience to farmers like Marty Travis, an Illinois farmer who serves two hundred chefs in the Chicago area, Greg Wade, a baker who takes great pride in his grains, and a number of other inspiring figures working towards a sustainable food economy. As Sustainable introduces you to various and sundry pioneers in this new food movement, it maintains a buoyant optimism that may leave you thinking that you too could help change the way America eats.
Watched them all, or maybe you don't have Netflix? Here's a list of 25 fashion documentaries, including Colette Mon Amour, an inside look in the days leading up to and following the iconic Parisian shop's closing three years ago, with exclusive interviews from Kanye West, Pharrell Williams, Virgil Abloh, Kaws, and other notable industry figures. Watch the trailer below.