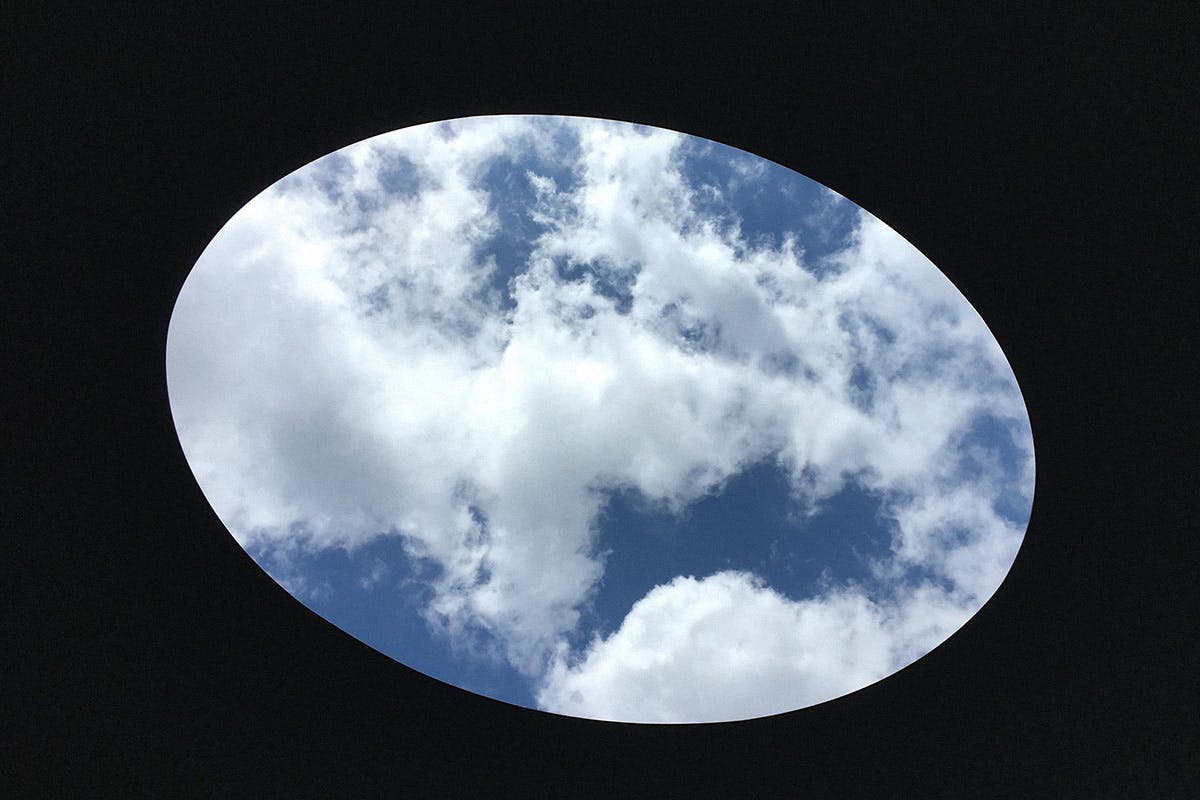 In a newly revisited interview with Art21, pioneering art and space artist James Turrell reflects on his career-long desire to harness the power of light.
Since 2013, when the interview was filmed, Turrell gained an ardent fan in Kanye West. Today, the artist's reflections on light and art offer remarkable insights into how his ideas may have informed West's own practice.
Over the last two years, West has described Turrell's land art as "life-changing" and even donated $10 million to Turrell's Roden Crater, constructed on top of a dormant volcano in Arizona.
In the interview below, Turrell reflects on why he devoted his life to helping viewers understand and appreciate light as something valuable, on par with gold or silver.
Watch the full video below and scroll down to see how his ideas have hugely influenced West's projects, including Jesus Is King film, his "pinhole" Coachella film, and the visual language of his Sunday Service.
"To Value Light As We Value Gold, Paintings, Objects"
Turrell explains that "you don't normally look at light, we're generally looking at something light reveals." Through his immersive pieces, he wanted people to "come to value light."
In 2018, West toured Turrell's Mass MoCA exhibit, "Into the Light," is a 25-year retrospective consisting of several pieces using the immersion in and absence of light. The two reportedly spoke extensively within the two-story "Perfectly Clear" installation space.
In the subsequent months, many of West's most elaborate Sunday Services were bathed in red and blue light that evoked Turrell's oeuvre. Here, light is not so much a way of seeing, as it is an art object in and of itself.
"I Want to Bring the Sky Down"
In the video, Turrell contemplates the sky in his work "Second Meeting," which was originally installed at the Museum of Contemporary Art in Los Angeles in 1986. "I want to bring the space of the sky down to the top of the space you're in so that you really feel at the bottom of the ocean of air," he explains.
In his Roden Crater, Turrell employs the logic of a pin-hole camera to observe celestial events from the earth. West borrowed this effect for his 2019 Coachella performance.
Both Turrell and West are concerned with accessibility. "There are very few religious or spiritual experiences that people don't use the vocabulary of light to describe," explains Turrell, and by bringing the sky down, he is bringing a spiritual experience closer to the viewer. It could be argued that West's Sunday Servies do the same thing.
"We Do Create the Reality in Which We Live."
Turrell suggests that we're attached to the idea that we receive perceptions rather than creating them. "Basically, we feel, when we look at the sky, that we receive this blue, this color," Turrell explains, focusing on how artists use the surroundings or context of the area to intensify color.
West employs this technique at the beginning of this Jesus Is King. The screen opens up in the darkness of the Roden Crater's East Tunnel, darkness ringed with bright bright receding arches, and the camera moves forward until it opens up into a white space. West achieves this celestially bright climax precisely because of the relative darkness of the initial shot.