After nearly 70 years in business, Japanese outdoor apparel brand Goldwin has opened its first retail flagship store outside of Japan, in San Francisco, California.
Situated in a historic warehouse on a tree-lined street in the Jackson Square neighborhood, Goldwin joins an influx of brands and boutiques who are bringing new energy to one of the city's oldest commercial districts. The likes of A.P.C., Aesop, Filson and Isabel Marant nestle with upscale restaurants and brands popular with the city's tech entrepreneurs, such as Allbirds and Shinola. A renowned natural wine bar – who provided refreshments for Goldwin's store opening – sits at the end of a nearby brick-lined alleyway. The area has become a hub for the mix of creative, finance and tech types who make up an increasing proportion of San Francisco's population.
The architecture of Jackson Square dates back to California's Gold Rush era and is made up of buildings that survived through quakes and fires that leveled much of the city in the early 1900s. As such, the neighborhood carries a distinctly more old-world vibe than is typical of California.  It's a place that's endured and held true to its character while adapting to the changing world around it, much like Goldwin itself, a brand that's been carefully and subtly building one of the world's most advanced technical apparel companies for over six decades.
GOLDWIN INC. is no stranger to Northern California. In 1978 they began distribution in Japan for The North Face – a brand founded a mere 30-minute drive from San Francisco, in Berkeley – before going on to create the much sought-after Japanese-exclusive The North Face Purple Label collection. In that sense, opening a Goldwin outpost in San Francisco is something of a homecoming for the brand.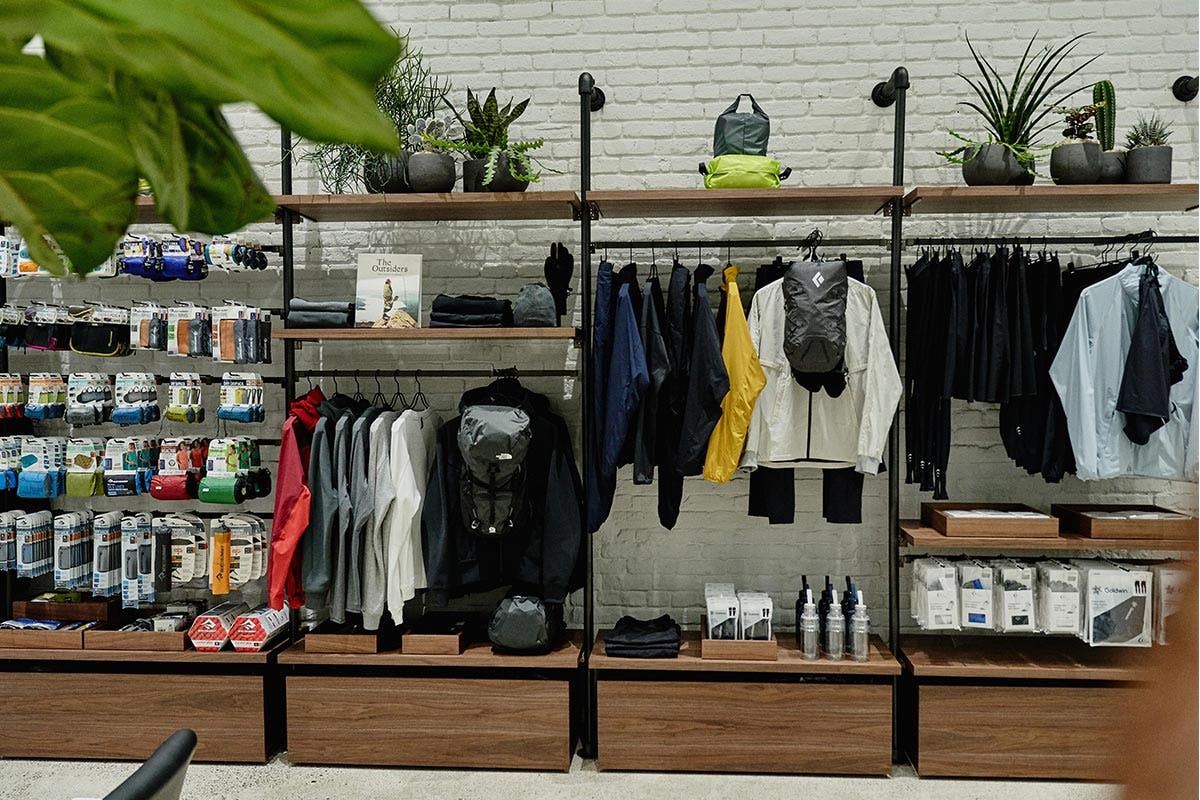 Building on the design standards set with the opening of Goldwin's first flagship store in Marunouchi, Japan last November, the new San Francisco location takes the minimalist Tokyo aesthetic and accentuates it with local Californian elements. The original white-painted brick walls of the heritage building were kept intact, adding only a handful of large scale black and white photos highlighting Goldwin's expertise in both summer and winter sport: namely skiing and running. Floorboards were pulled up to reveal the original raw concrete, which was then kept as-is to celebrate the roots and charm of the district.
Directly in front of the store's floor-to-ceiling glass facade (with a decal reading "Dedication to Detail") stands one of the large, lush trees typical of San Franciscan sidewalks.
Goldwin General Manager Gen Arai, who lead the buildout, says he was so inspired by the abundance of green in the city – and that specific sidewalk tree – that he spent the better part of a week searching the city for the perfect selection of local California plants for the store, subtly paying tribute to the diversity and growth of the Bay Area. The centerpiece is a massive Ficus tree, perched above a bus-stop style bench. Arai says he envisions customers (many of them career-focused city dwellers who like to spend their weekends in the great outdoors) sitting here, under the tree, to talk about the adventures they will go on, and, ideally, how Goldwin products will help them get there.
The curation of product within the store speaks to this desire to connect city life with nature through design. And that's important in communicating Goldwin's adventure-focused ethos to an audience who perhaps isn't explicitly familiar with the name.
In addition to Goldwin's new Fall/Winter 2019 collection of smartly-tailored ski, hiking, mountaineering and running gear including an assortment of compression goods under their in-house label C3fit, the new store also sells accessories from The North Face, Icebreaker and Fischer, as well as other iconic American heritage brands such as Danner boots. Premium outdoor adventure accessories, from high-end headlamps by Black Diamond to 100% silk sleeping bag liners by Sea to Summit round out the selection, next to outdoor-focused publications from the likes of gestalten. Each item in the store, whether apparel or accessory, can be viewed as a tool to improve quality of life.
Goldwin apparel features not only technical attributes like GORE-TEX membranes, high-quality down, taped seams, waterproof zippers and sleek closures to offer comfort in all conditions but also convenience factors including multiple hidden pockets and magnetic hood fasteners. Details that exemplify Goldwin's technical prowess and dedication to timeless design that can handle anything modern life throws at you. Visually, muted earthy tones of green, blue, yellow and khaki enhance the beauty of each silhouette. Many pieces even include a "spur" line, a stitch inspired by a skier's carve which traces along the chest. A smooth but impressive detail that perfectly encapsulates Goldwin's proficiency as a garment-maker.
San Francisco is a city that's both a global leader in tech and one that's situated in close proximity to some of the world's best adventure terrain including Yosemite and Lake Tahoe, so it's only natural that many of its residents are exactly the sort of people who can make the most of what Goldwin has to offer. With nearly 70 years' worth of experience at the forefront of outdoor innovation, some of the highest quality, fashion-forward technical apparel in the world and a new home base in San Francisco, Goldwin is well equipped to take the American market by a storm.
Goldwin San Francisco is now open at 444 Jackson Street, San Francisco, CA 94111.