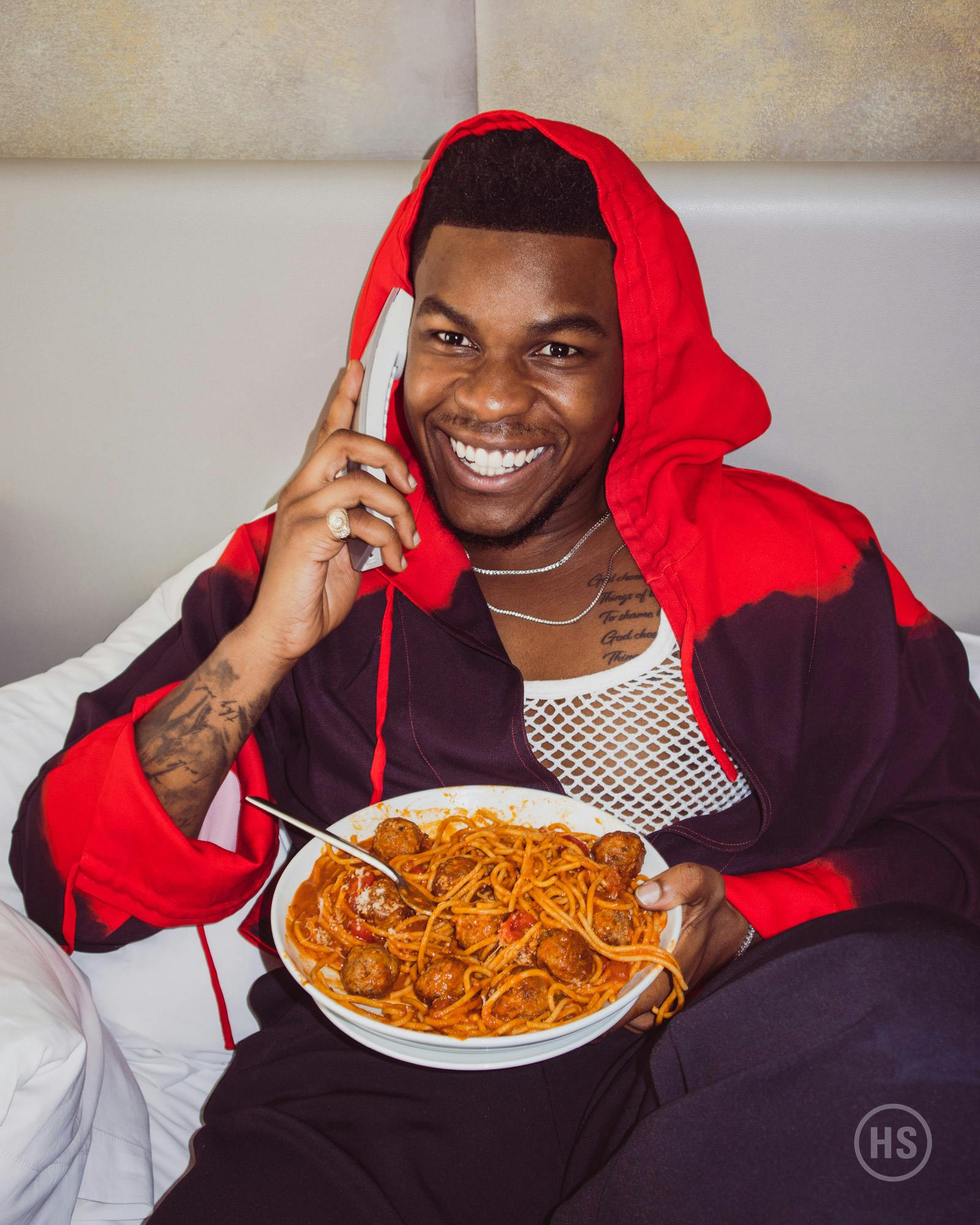 This week's FRONTPAGE is all about the effervescent John Boyega. With a huge spate of new projects freshly out and on the horizon, we pin him down to get a glimpse of what he's been up to.
John Boyega appreciates when he receives honest feedback about his work — especially if it's from someone who doesn't recognize him.
This happened recently when he noticed a passenger sitting near him on a flight watching one of his films, Breaking. In the drama, Boyega plays Marine veteran Brian Brown-Easley, who held up a Wells Fargo bank in 2017 after the US Department of Veteran Affairs stopped sending him money he was owed. As the passenger dished out her critique — she said she enjoyed the performances but needed a break from the film's emotional intensity — one of Boyega's friends encouraged him to reveal that he was its star. Instead, Boyega listened to the stranger, gleefully opting to keep that information to himself.
"I love that though!" Boyega says, recalling the moment and motioning his fist downward as if proclaiming victory. "Whenever they struggle, I'm like, 'Yes! Character!'"
It's a feeling that still excites the 30-year-old British Nigerian actor. Each time Boyega picks up a script, he's looking for a nuanced character, one that not only differs from "the stereotypical norm" but also from any role that he's played before. He aims to transform into a character, rather than just play a version of himself.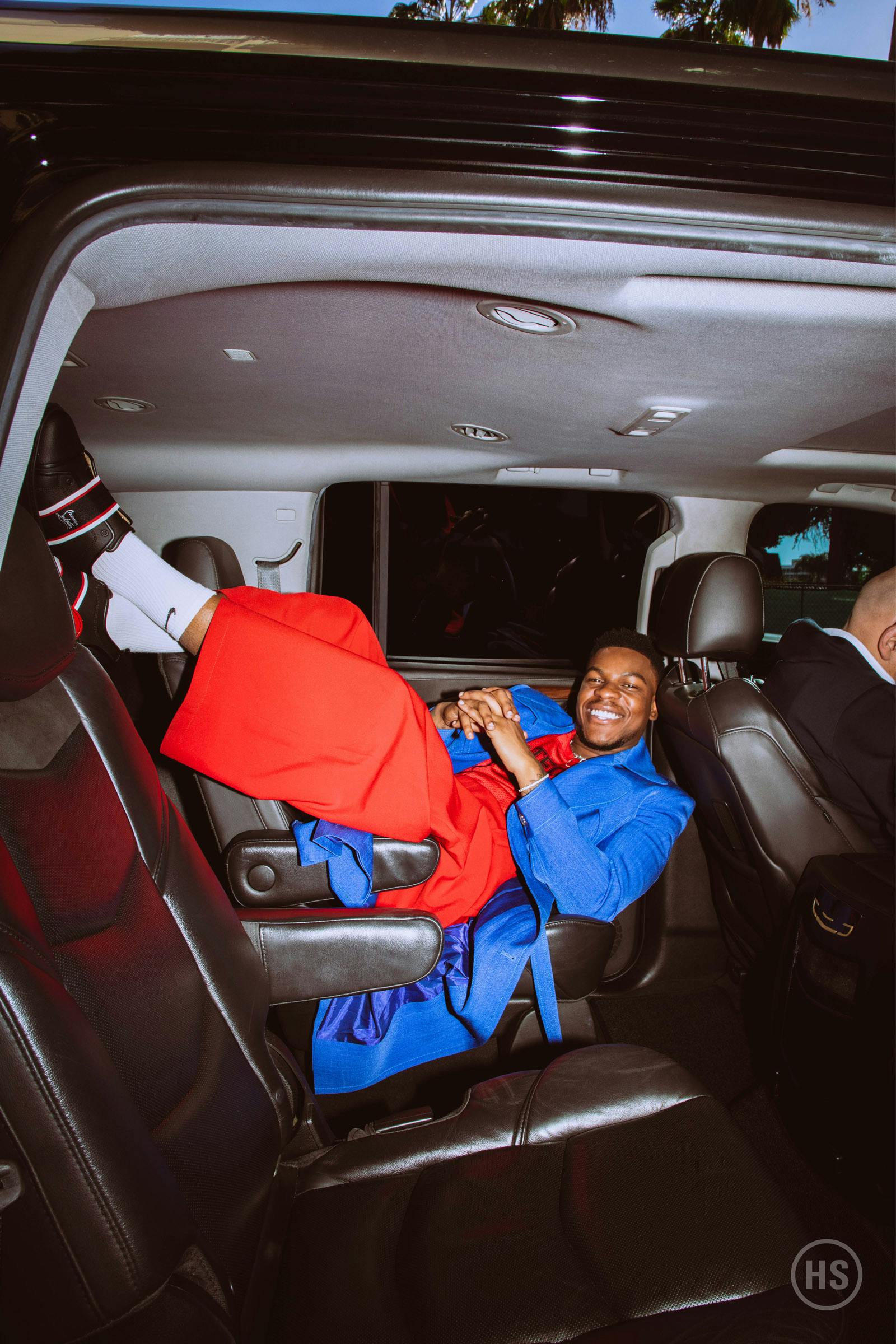 "I always tell my agent, it can't be too easy to say the lines," says Boyega, who's played everything from the stoic King Ghezo in The Woman King opposite Viola Davis to a compassionate security guard in Detroit to his breakthrough role as a stormtrooper-turned-resistance fighter in the Star Wars sequel trilogy. "I always have to feel like there's real thought behind it. I work better delving into characters like that because it genuinely teaches me [about] people."
The London-native felt like he "found the love of my life" when he discovered acting in primary school. He initially joined the theater club because he felt like he didn't fit in with other social groups. "And there were girls," he adds, flashing his megawatt smile. But Boyega recognized his innate talent when he received a scholarship to attend Theatre Peckham, an award-winning community theatre, at age 10.
"I just felt like I was giving performances that people were actually watching and were glued to," Boyega reflects on his early career, like the time he played Donkey in a production of Shrek.
Director Joe Cornish noticed that spark in Boyega — who'd never starred in a film before — when he cast him as the lead in his 2011 sci-fi comedy Attack the Block. Boyega plays Moses, the leader of a teenage gang who ends up saving his neighborhood from a deadly alien invasion. A sequel for the film is in the works, which Boyega is co-writing with Cornish.
This time around, Boyega will be able to help determine the fate of his character, who in Attack the Block was last seen being hauled away in handcuffs while his neighbors cheered him on for saving the day. "I feel like this guy's like Bruce Willis, like a silent Bruce Willis," Boyega says of Moses. "To be able to kind of use that knowledge to now move the story forward, especially after over a decade since the first movie, it's really cool."
It'll also be a full circle moment for Boyega to return to the neighborhood where the film was shot in South London. It's the same street where his parents moved in the early 1990s and where he lived until he was 4. The area looks a lot different these days: "Everything's changed. The environment has changed. The people have changed," he says, adding that the film won't shy away from what has "actually happened in London. There's been riots. There's been uprisings, a whole bunch of things."
As he speaks, I can't help but think about how he played a role in some of that change when he delivered a powerful, impromptu speech during a social justice rally in London during the summer of 2020, which has been seen by millions.
"Even doing a role where I'm speaking in my own accent… like my accent accent. Because when I speak to people when I travel, I still fine tune it so people can understand me. But to be able to go into that deeper, that's going to be cool."
Attack the Block is a cult favorite for Boyega fans, but many people were introduced to him through his role as Finn in Star Wars. Though the franchise catapulted him into superstardom, Boyega faced racist backlash, while many of his fans complained that his character lacked nuance and development despite the film's promising marketing. Boyega has spoken at length about his experience over the years, so we didn't delve deep into the topic, though it's clear that he's made peace with the experience.
He's been looking forward, focusing on working with people — and on projects — that align with his values, including through the work of his own production company, Upperroom Productions, which he launched in 2016. They are currently working to develop a slate of non-English language feature films focused on African stories for Netflix. When we speak, Boyega has recently finished writing the treatment for his own project. He's tight-lipped about it, but his excitement for what is to come is palpable.
"[It's] kind of scary, but I feel proud of myself," he beams. "It's a great opportunity, because with my acting experience, I've always been hungry to be involved in other departments." He's not quite ready to start directing yet, he says, but that may come in the future.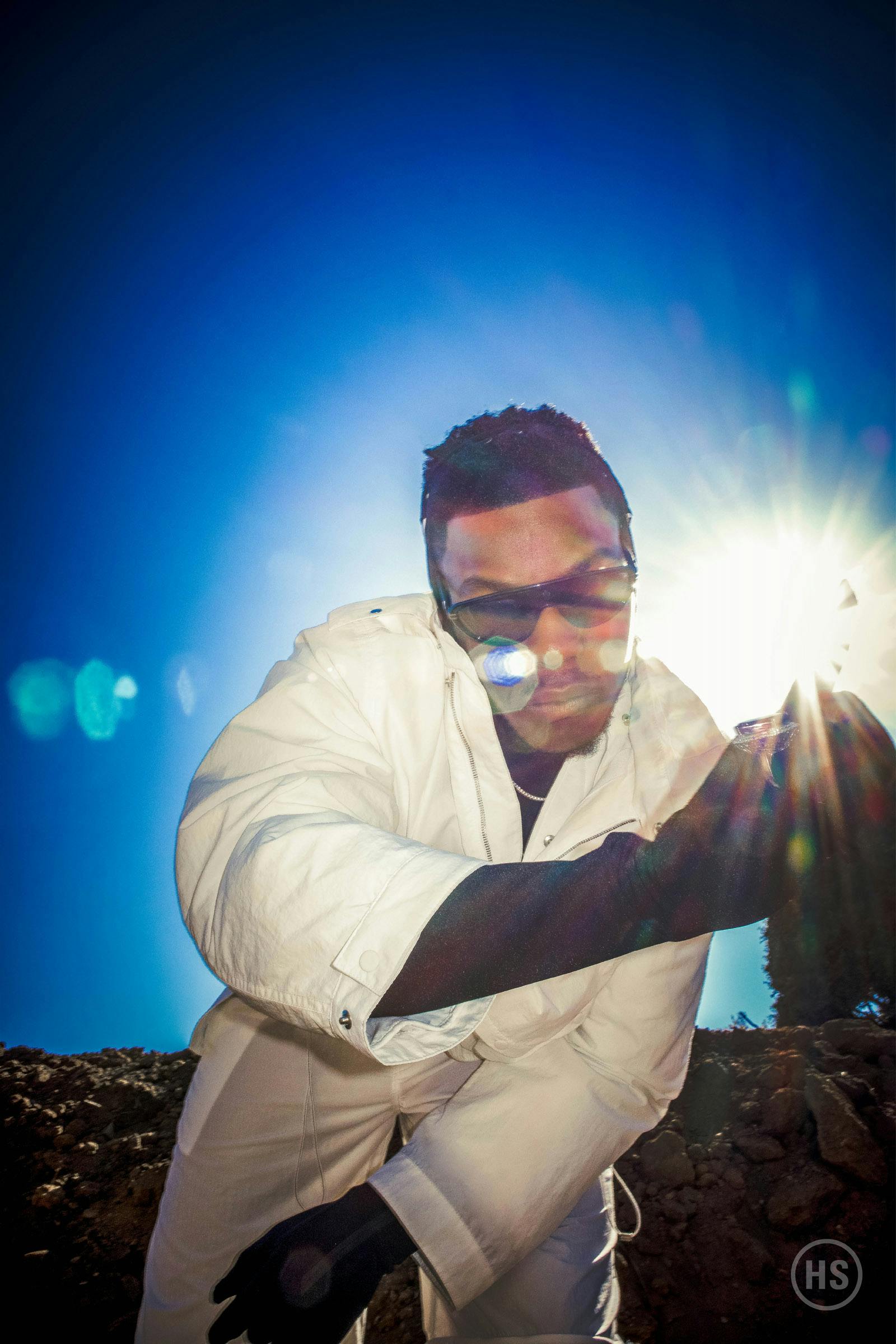 When Boyega and I meet on a sunny afternoon in Beverly Hills, he's posing for this photoshoot in a white jumpsuit, a black ski mask, and chunky boots while standing in what appears to be a dirt-filled construction area. It's not an official set, but he makes it feel like one. In between shots, he's dancing to Missy Elliot's "Work It" and other early 2000s hits, attracting the eyes of curious drivers on the busy street. At one point, a young couple slowed down their car and waved excitedly once they recognized who he was.
The charismatic actor can't help but stand out, on and offscreen. Much like his acting, his fashion style is commanding. He largely credits this to the culture of Nigeria, where he holds dual citizenship. "I don't hit no red carpets on some 'Let's just do black and white,'" he says. "I do color. I do stuff that looks good with [my] skin, especially being Black. You know how color suits us. The Yoruba believe that 'You are the center of attention. Dress like it,'" he says, letting loose a laugh.
He's become known for his expertly tailored suits and vibrant jackets. He wore an agbada — Nigerian native wear — to the London premiere of Star Wars: The Rise of Skywalker. "Clothes are a representation of how I see myself," he says, adding that, as of late, he's mostly been doing his own styling.
For Boyega, fashion is more than just looking good — it's also given him a chance to give back. Through a partnership with Converse in 2022, he mentored a group of budding London-based filmmakers, whom he proudly calls his "babies," as they created short films. "They're killing it right now!" he says. His smile broadens as he lists each of their names and recent accomplishments.
"It's fulfillment. That's cool to me, because somebody helped me get on," he adds, saying that he plans to continue that cycle. "But it's even better when it's with people who come with the same kind of passion you had when you were hustling."
Since Star Wars, Boyega hasn't slowed down. In 2021, he earned a Golden Golden Globe for his stirring performance as a police officer in Steve McQueen's anthology series Small Axe. And over the course of the pandemic, he filmed three projects, including the blockbuster The Woman King, which hit theaters in September, and then Breaking the following month. Next up, he'll star in Netflix's sci-fi comedy They Cloned Tyrone — he calls it a "hood Scooby-Doo" — alongside Jamie Foxx and Teyonah Parris, which is set to release on July 21.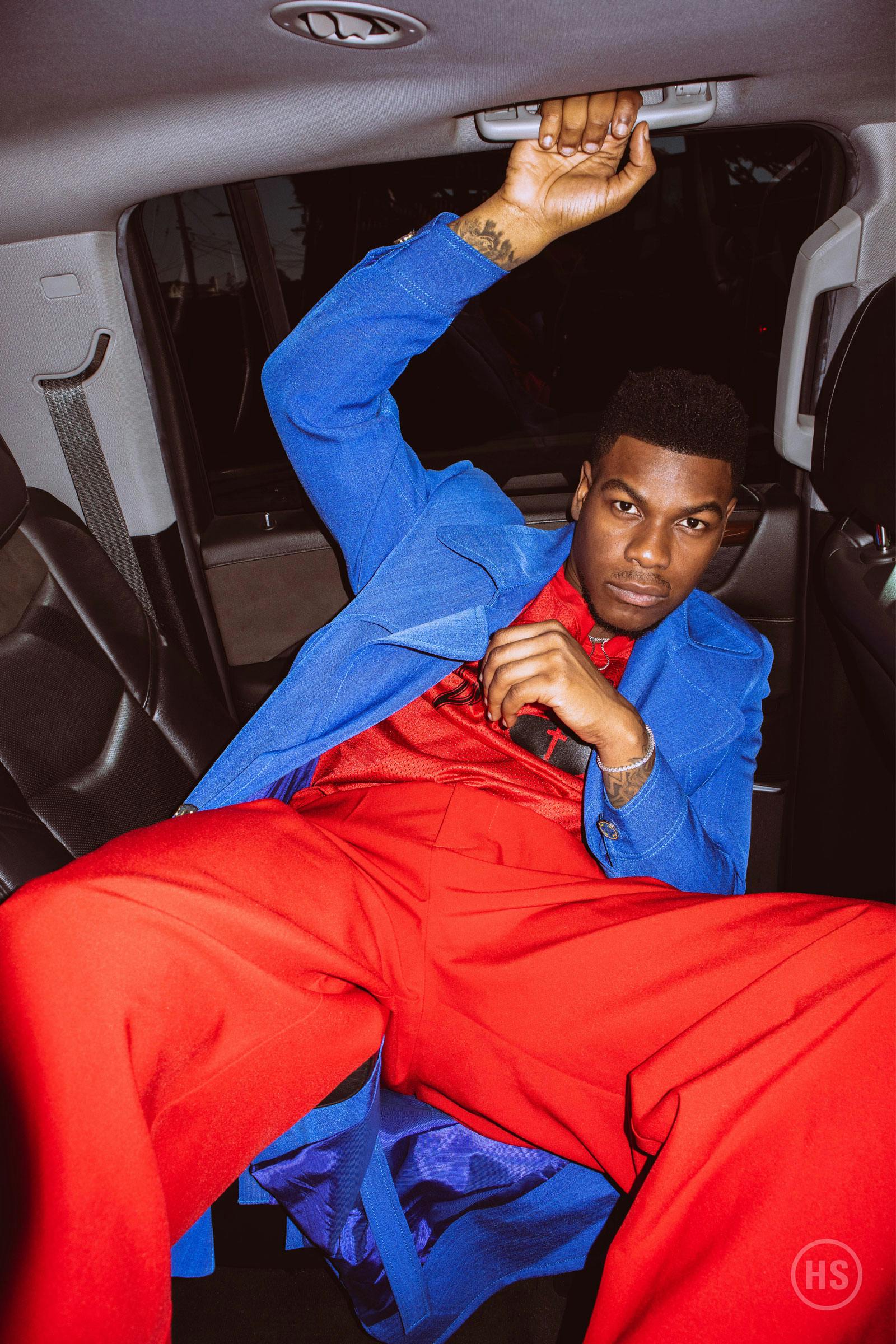 "I love it, because it's testament to how I filmed them, back to back like one after the other. I feel like especially when people watch the trailers, they're like, 'John, when do you sleep?' And I'm like 'Wait, when do I sleep?' It's been a crazy one," he says. "Also, it's a great opportunity to show versatility so when people watch you in that thing and then you've got a project coming up quite fast after the other, the audience can compare and actually see your range."
Before discussing what it was like to be on set with Foxx and Parris, Boyega breaks out into song — just like his co-stars in the trailer — and croons the lyrics, "I'm goin' downnnnn." (Mary J. Blige would be proud of his rendition.) "It was fun," he says, adding that because his character is cloned, he plays multiple roles. "[It's] like four characters within one project and that to me is a massive opportunity and they're very different in age, in look, the amount of hair [they have]." Boyega recalls Foxx telling him, "'You're in your Eddie Murphy bag now, huh?'"
Boyega is a self-proclaimed "homebody," but when he's not reading a script or preparing for a role, he enjoys spending time with his loved ones, swimming, horseback riding, attending parties and going on dates. He describes his dating life as "brilliant," though he's noticed that "everyone defines dating differently. For me, it's actually intentionally getting to know somebody for a relationship," he says. Boyega also has to navigate the perception that comes with dating an actor, which he calls "icky," due to the attention that it brings to the person especially if they aren't in the same industry. "But most of the time it's good," he says. "There's some great people out there. It's just about who matches, who's good for you and their readiness, too. I always like going on [dates] when I can, when somebody agrees and they're not too scared."
As someone who still makes New Year's resolutions — a true rarity these days — Boyega is constantly reflecting on ways that he can improve in all areas of his life. When I ask Boyega — who turns 31 this month — how he's felt about his third decade, he says, "The 20s are the trenches of figuring yourself out and deciding who you want to be. I'm very straight-faced, but my head is like thinking of all these different things," he adds, making a whistling sound to emphasize his point.
In many ways, Boyega has also entered a new season in his career. With more than a decade in the game now, the vested actor says that he's focused on continuing to flex his versatility and range as an actor: "It's a monumental time for me."