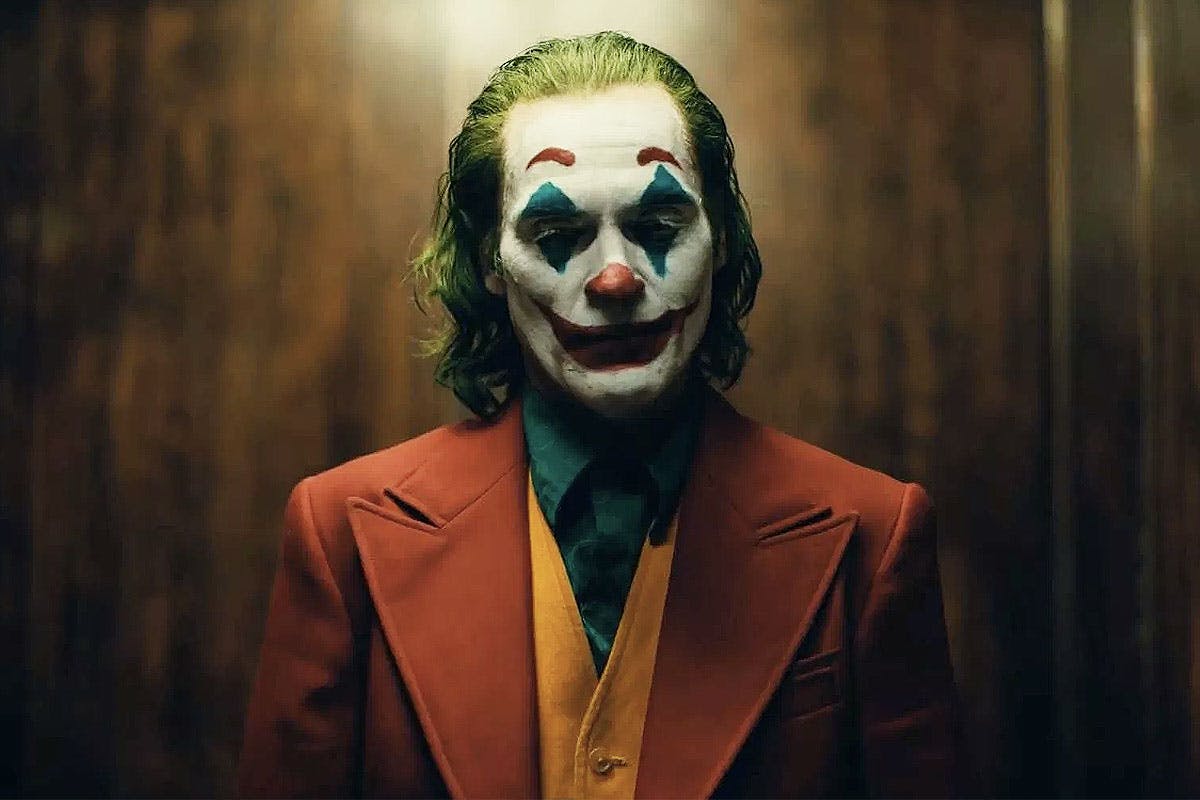 After early social media reacts emerged yesterday, the first full reviews of Todd Phillips' Joker have arrived. The film was premiered at Venice Film Festival over the weekend where it received an eight minute standing ovation — needless to say the majority of critics reviews reflect this love. Time Out calls the movie "the best social horror film since Get Out" while Forbes declares it "one of the true masterpieces of the superhero cinema." Elsewhere, star Joaquin Phoenix gets praised for his portrayal of the classic villain.
However, a few reviewers have cautioned that Joker is a toxic and potentially dangerous movie. According to IndieWire, the movie is "a toxic rallying cry for self-pitying incels" made by "a glorified edgelord" while Time calls it "a prime example" of the "emptiness of our culture."
Read on for the full critic roundup and revisit the final trailer below. Joker hits theaters October 4
Joker is "relevant" and "one of 2019's greatest achievements"
Nobody who sees this new film will ever need any other version.

David Sexton, London Evening Standard
This is a truly nightmarish vision of late-era capitalism - arguably the best social horror film since Get Out - and Joaquin Phoenix is magnetic in it.

Philip De Semlyen, Time Out
Joker is one of the true masterpieces of the superhero cinema, and one of 2019's greatest achievements.

Mark Hughes, Forbes
A dazzlingly disturbed psycho morality play, one that speaks to the age of incels and mass shooters and no-hope politics, of the kind of hate that emerges from crushed dreams.

Owen Gleiberman, Variety
Joker succeeds thanks to the talents of Phoenix, who's crafted a layered, terror-inducing antagonist, and earned his rightful place alongside Heath Ledger and Jack Nicholson in the pantheon of all-time-great Jokers.

Marlow Stern, The Daily Beast
"Joker" is a dark, brooding and psychologically plausible origin story, a vision of cartoon sociopathy made flesh.

Justin Chang, Los Angeles Times
But it's also potentially dangerous
Phillips may want us to think he's giving us a movie all about the emptiness of our culture, but really, he's just offering a prime example of it.

Stephanie Zacharek, TIME Magazine
Todd Phillips' "Joker" is unquestionably the boldest reinvention of "superhero" cinema since "The Dark Knight"; a true original that's sure to be remembered as one of the most transgressive studio blockbusters of the 21st Century. It's also a toxic rallying cry for self-pitying incels [...] directed by a glorified edgelord who lacks the discipline or nuance to responsibly handle such hazardous material, and who reliably takes the coward's way out of the narrative's most critical moments.

David Ehrlich, IndieWire
"For so many tragic reasons, the American imagination has of late been preoccupied with the motivations of disaffected white men who've turned violent [...] In Joker, "we watch the terrible burgeoning of just such a man and are, in some grim way, asked to sympathize with him."

Richard Lawson, Vanity Fair
Having brazenly plundered the films of Scorsese, Phillips fashions stolen ingredients into something new, so that what began as a gleeful cosplay session turns progressively more dangerous - and somehow more relevant, too.

Xan Brooks, Guardian
If you strip the Joker and his nearly 80-year history as a cultural icon out of this film, as well as all the 1970s movie homages, there's not a whole lot left except for Phoenix's performance, and it's the kind of turn that's destined to be divisive.

Alonso Duralde, TheWrap
As social commentary, Joker is pernicious garbage.

Glenn Kenny, RogerEbert.com