José Parlá's art unpacks the memory of urban spaces. His work builds on this foundation, similar to a city, guiding us through visual and textured storytelling into his world. Now, the artist invites us to experience his work more intimately than ever before, with a limited run of prints of his work "Exile and The Kingdom." His first print in 10 years, the piece packs the rawness and energy of the Cuban-American artist's lived autobiography through his signature abstraction.
Whether he's creating abstract prints or writing graffiti, the city has been Parlá's canvas, material, and muse. Recently, the story of the ever-evolving and deteriorating cityscape was told in Parlá's "Textures of Memory" exhibition, sourced from and inspired by his experiences and memories in different cities. Housed between Hong Kong Contemporary Art (HOCA) and Ben Brown Fine Arts, "Textures of Memory" showed a selection of Parlá's oeuvre dating from 2004 to 2018. Curator Dieter Buchhart pieced together the 13 works – or "artifacts" – showing the wear and tear of time and human interaction, in the collective memories of the cities Parlá visited.
We caught up with José Parlá on the occasion of his exhibition to learn about how he went from random explorations in strange cities to creating these textured memories and how he's making his art more accessible than ever.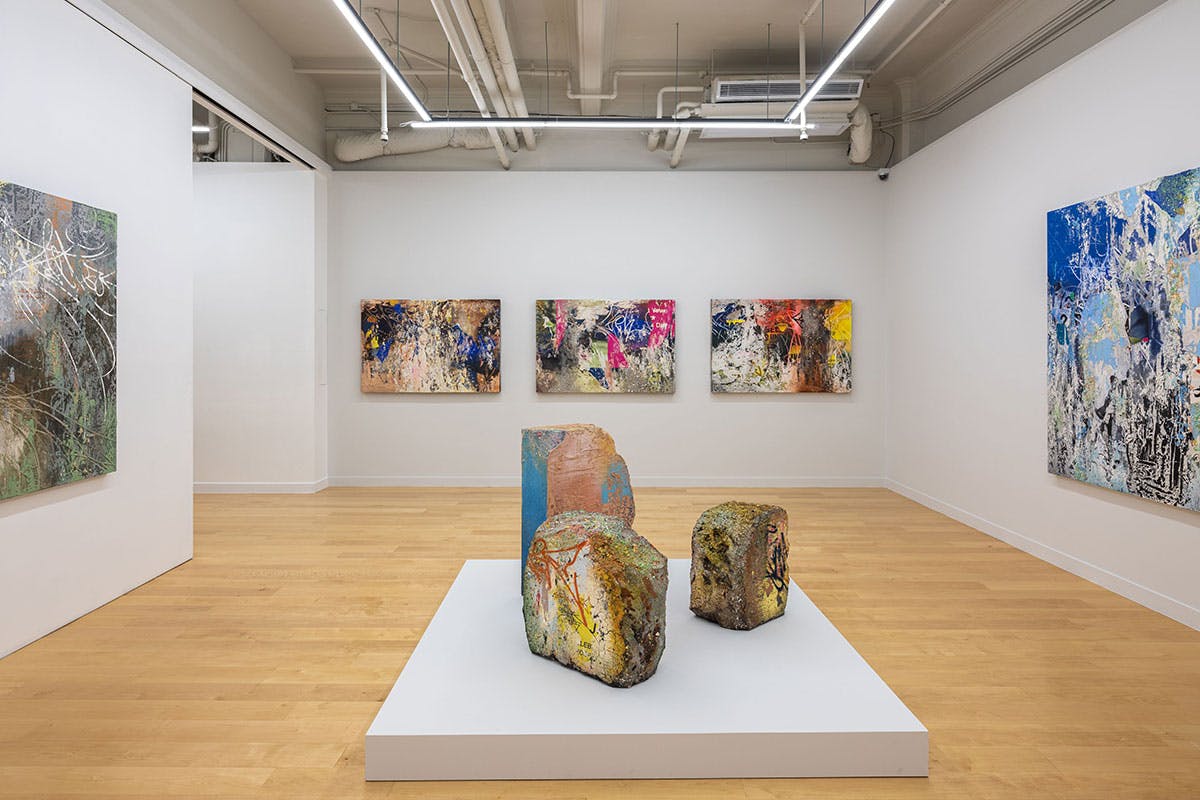 With the exhibition spanning two venues, what are the key differences between the two groups of work? 
In the HOCA space, we have works shown between 2004 and 2018, and all of the works in Ben Brown Fine Arts were completed in 2019.
The curator, Dieter Buchhart chose works for the HOCA exhibition that would allow the visitor to see different phases in my work throughout the years. At Ben Brown Fine Arts, I made works inspired by Hong Kong and Brooklyn walls, sometimes using collages of torn advertising found on local walls from both cities.
What was the catalyst in choosing Abstract Expressionism as your practice from the very beginning? 
Seeing the relation between urban realism and the work of abstract-expressionist painters around 1988 was possibly the catalyst. My work has had expansions that weave in and out of the context of subway art, wall textures, cities, psycho-geography, and abstraction. I would like to explore filmmaking and sculpture more.
How do you go about choosing the various artifacts that you find through your travels?
Sometimes I will follow a map that belongs to a different city in order to end up in places that are random. Random acts like this are one of my starting points to select artifacts such as posters or to take photos to study in my studio. I collect fragments of advertisements that are already aged and torn and that have colors or texts that work for me. I like the ambiguity of fragments.
Do you always have a preliminary outcome and palette in mind, or is it more of a loose deconstruction and reconstruction process?
When working on a new painting, I like to develop the layers over a long period of time, and it can go either way from the start. Sometimes I have a distinct palette and precise idea in mind, and sometimes I like to improvise and develop the layers spontaneously. The process allows me to experiment with techniques I know in combination with using new materials that might allow me to discover something else that's new and adds to my painting process.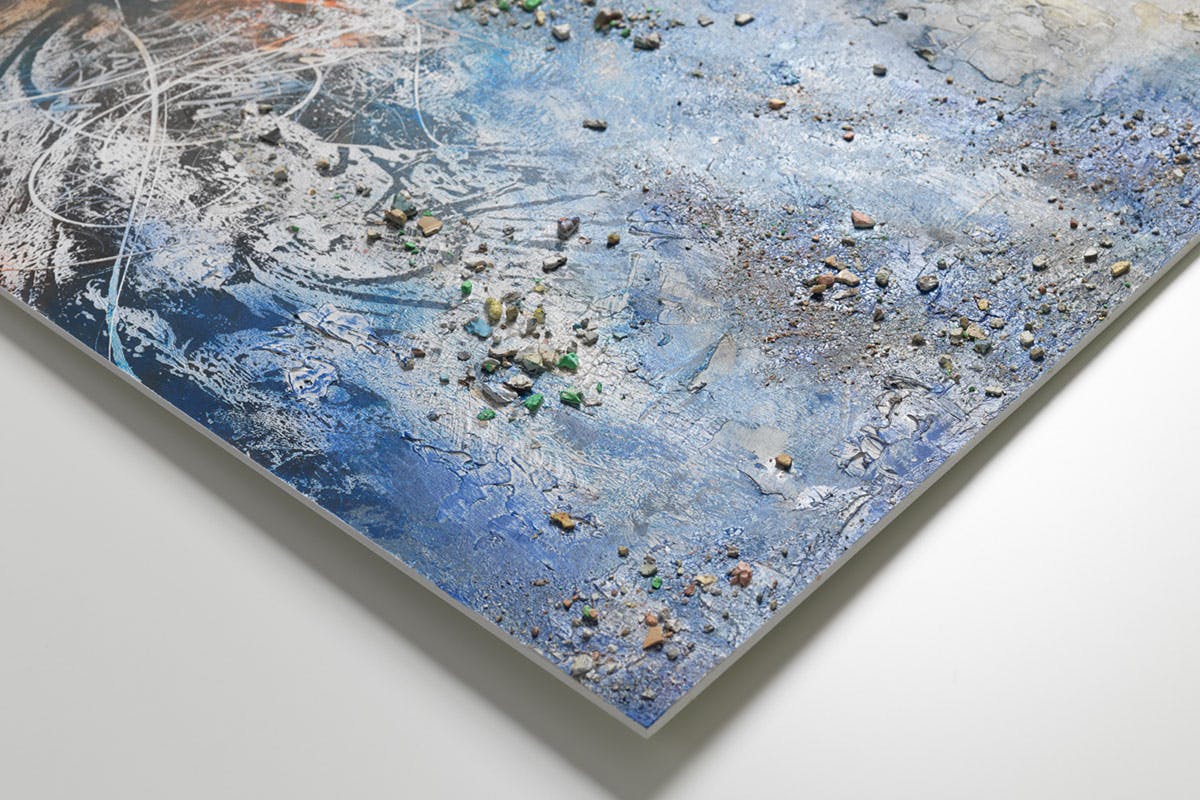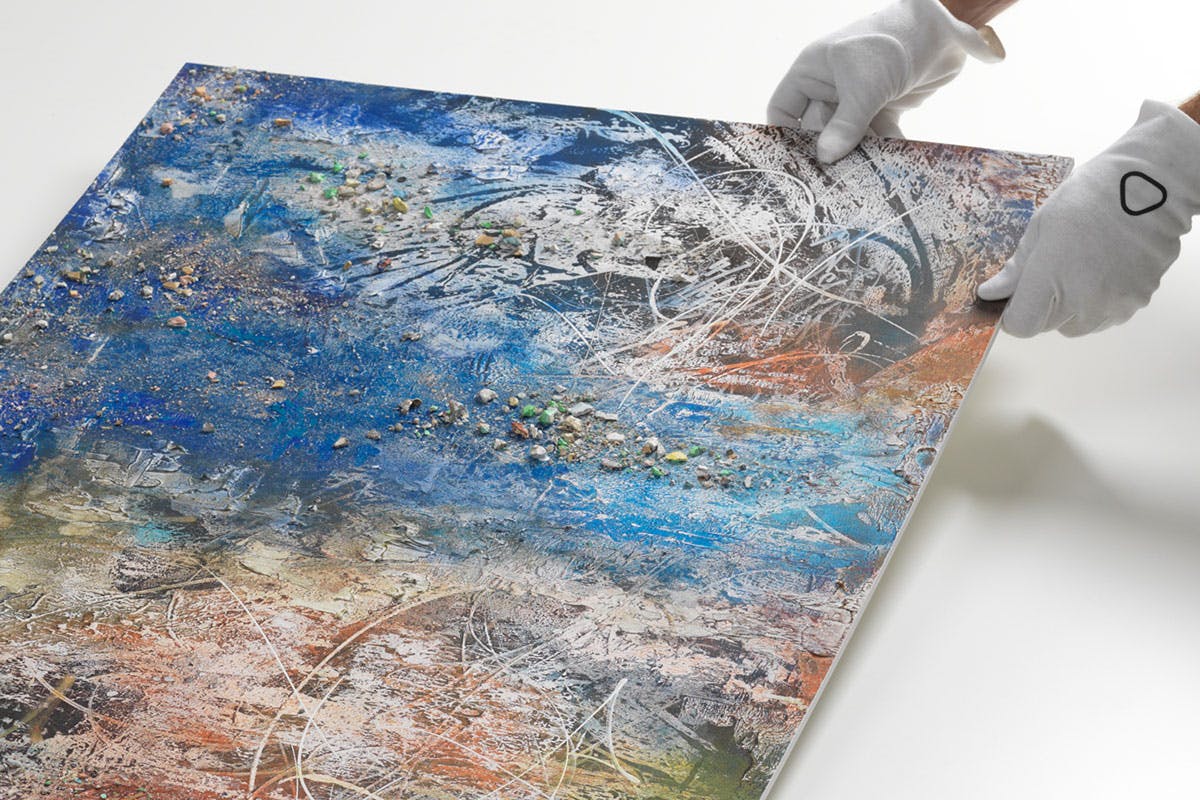 What is the meaning behind "Exile and The Kingdom," and what inspired the artwork?
The title is inspired by short stories under the same name by French writer Albert Camus. It's a story of feeling isolation in a new land, not one's own, which I think is a feeling many people have had for ages, due to immigration and survival.
Why did you choose this piece to launch your first print release in 10 years?
I chose this painting because I believe it's a good message to have multiplied in the world. Perhaps the title will make people ask its meaning, or even ask 'who is the exile and what kingdom is being referred to in the title?' – it's up to the viewer and their personal experience.
In my opinion, it's a universal message in a time when borders are on everyone's mind. The colors and textures are also important in my decision-making, as I have made many details by hand; creating the right balance between, color, textures, and calligraphy is very important to me.
José Parlá's "Exile and The Kingdom" is limited to 50 pieces, priced at $5,457.67, and comes with a white frame and 90% UV glass. It arrives at November 28, 2019 via Avant Arte.