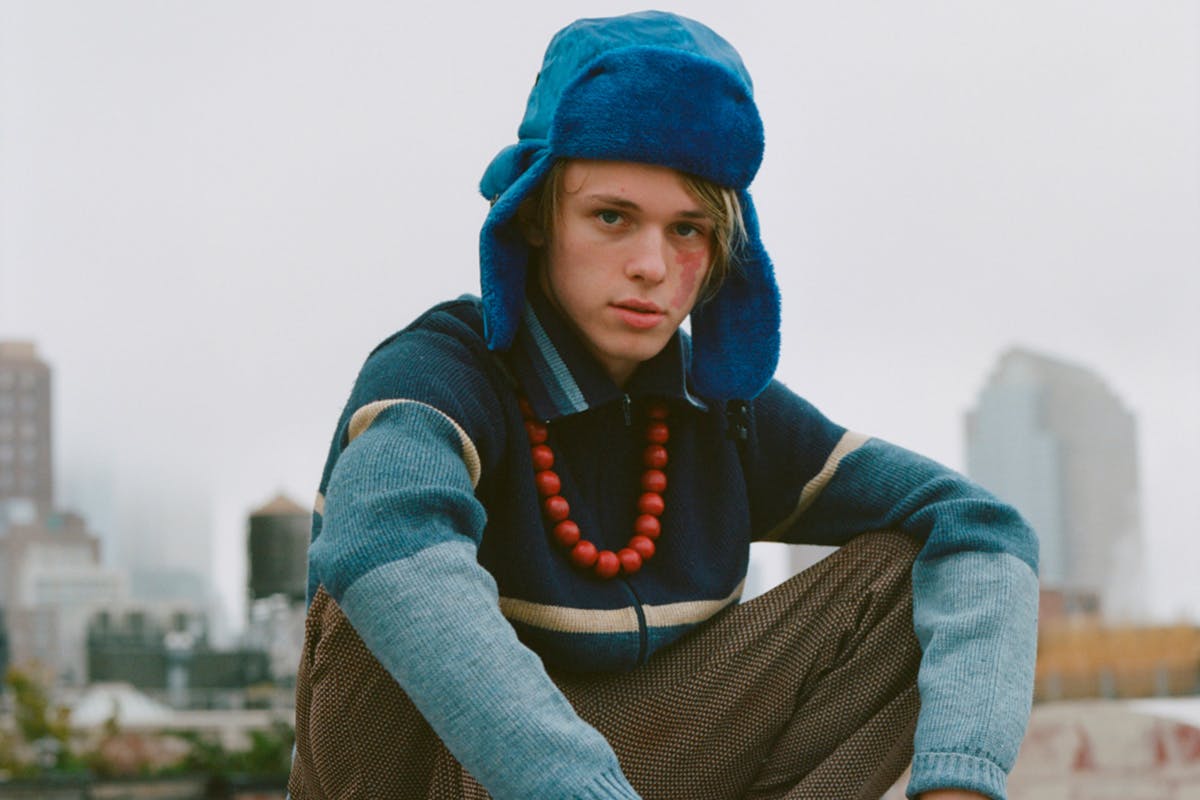 As an actor-slash-model-slash-rapper, New Yorker Judah Lang is a living embodiment of the millennial multi-hyphenate. But when he was younger, he had more austere ambitions.
"Back in school, I wanted to be a farmer," he tells me down a crackly Skype connection.
"Really?" I ask.
"Yep. Grow food and never look back. I also wanted to be a scientist. You know, it's easy to be naive when you're a kid. I wanted to either be the president, a scientist, farmer, or rapper. Those four things."
Given Lang's recent career path, a position in politics, science, or agriculture seems unlikely at this point. Since being discovered by manager Aaron Bakalar on the New York subway four years ago, the 20-year-old has fallen down a creative wormhole, crossing paths with some of the biggest names in fashion, film, and music.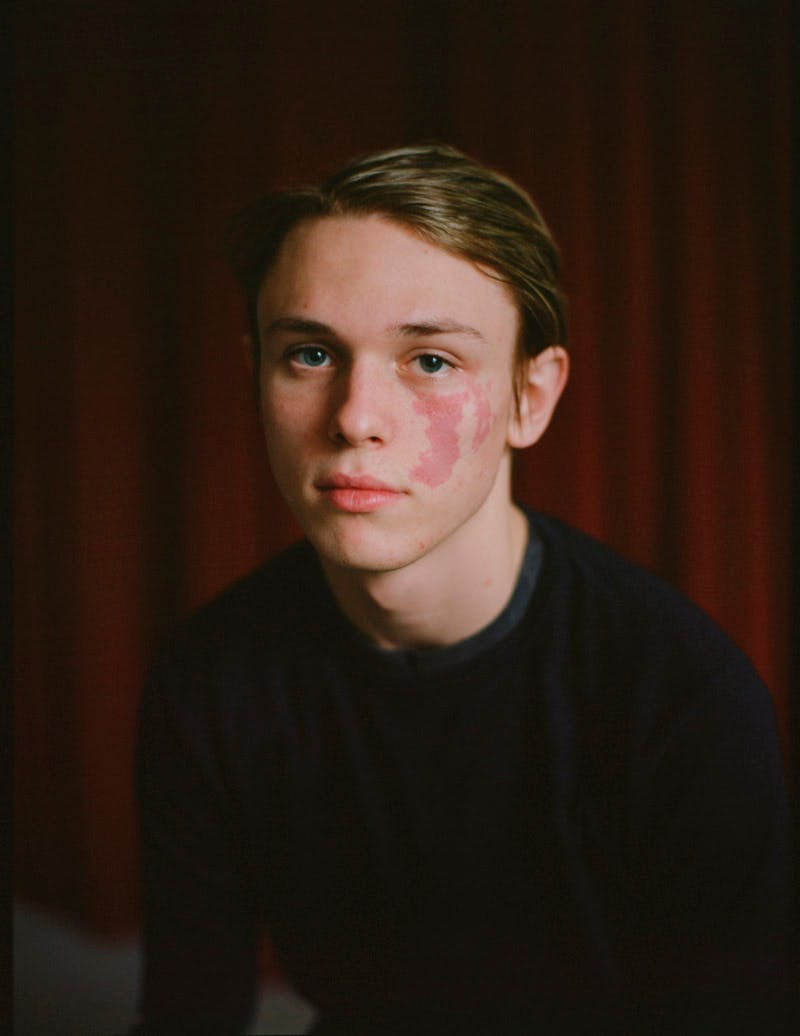 In 2015, Lang caught the eye of Hedi Slimane and starred in Saint Laurent Paris' "Le Smoking" campaign — lensed by Slimane himself — before being tapped by Donatella Versace for Versus Versace FW17. He's been in a music video with A$AP Rocky and he's just been in the movie Skate Kitchen alongside Jaden Smith. Then there's the small matter of his own hip-hop career.
Like the Na-Kel Smiths and Luka Sabbats of this world, Lang is one of those annoyingly talented kids who is embracing the democratization of the internet and the convergence of artistic disciplines. He's fearless, happy to try his hand at anything.
"You can't put me in a box," Lang self-deprecates, clearly aware of how corny the idea of the "teenage creative" has become ("Please don't write that!" he adds). "I just love art. I definitely can't see myself not doing creative things in my future."
Operating under the MC moniker Judah Stax, Lang claims he's been rapping since he was six years old. With just over 200 SoundCloud followers, it's fair to say his hip-hop career is still in its embryonic stages and remains more of a passion project at this point. That said, his bars have already led him to some interesting places, most notably a set with A$AP Rocky, where they shot the video for A$AP Mob's "RAF."
"That's a really dope story," Lang tells me. "I was walking home, and then I see all these people on my stoop. I just kinda walk past them, and then one of them is like, 'Oh, it's that white kid that raps!' I was like, 'What's up? Y'all know me?' And then we started to freestyle. This guy walks up and he's like, 'Hey, come to this address at 2:30 tomorrow, sharp, for our music video.'
"He dropped the name A$AP so I knew it was gonna be some lit shit."
Unfortunately, Lang found out the hard way that music video shoots aren't usually the bacchanalian affairs you might imagine from the outside looking in — even ones with A$AP Rocky.
"I got there at around 2:30 and they had us waiting around for super-long," he says. "They took away our phones. I've been on a lot of sets and that was not a good one to be on.
"I remember after we were waiting there for, like, eight hours, me and all the other kids — who are cool people, but after we were waiting there for eight hours, someone was like, 'Hey, so you took our entire day and you're not paying us anything?' And the guy immediately was like, 'You can leave.'
"We didn't get food until Rocky finally showed up at, like, 9:30. He walked in and was the coolest. He dapped all of us up individually and showed us love. He was like, 'Yo, have you eaten?' Which we hadn't. He turned to his people and said, 'Get them pizza!'"
His biggest acting role to date came this year with Smith in Crystal Moselle's Skate Kitchen, a cinéma vérité-style movie based on a real-life Lower East Side Manhattan all-girl skateboard posse. Lang used to be in an acting troupe and his dad David is an Oscar-nominated composer. He is naturally chill, albeit never passive, and speaks with an unflustered confidence that you imagine will take him far. He says he learned a lot filming Skate Kitchen and was surprised at how down to earth Smith was.
"He's cool, would go out without any security," says Lang. "Definitely, he should have had some security. I mean, he had some at some points. I saw people run down on him on the street, like, 'Oh my god, Jaden!' He was cool to them. He was like, 'Yo, what up?' He hugged them like he knew them."
If Lang is excited to talk music and acting, he's more circumspect when it comes to his modeling career. Tall with floppy blonde hair, Lang possesses an all-American vibe that gives him the appearance of having just wandered off the set of Baywatch. The birthmark on his left cheek marks him out as distinct. He says Slimane was a "really cool guy" but is switched-on enough to realize he doesn't understand enough about fashion to truly love it just yet.
"I can't say that I do [love modeling,]" he says. "I think that my clothes are popping. I think I'm fashionable, I think my whole squad is fashionable, but do I really know? Am I knowledgeable about fashion? Not really. I love acting. I love rapping."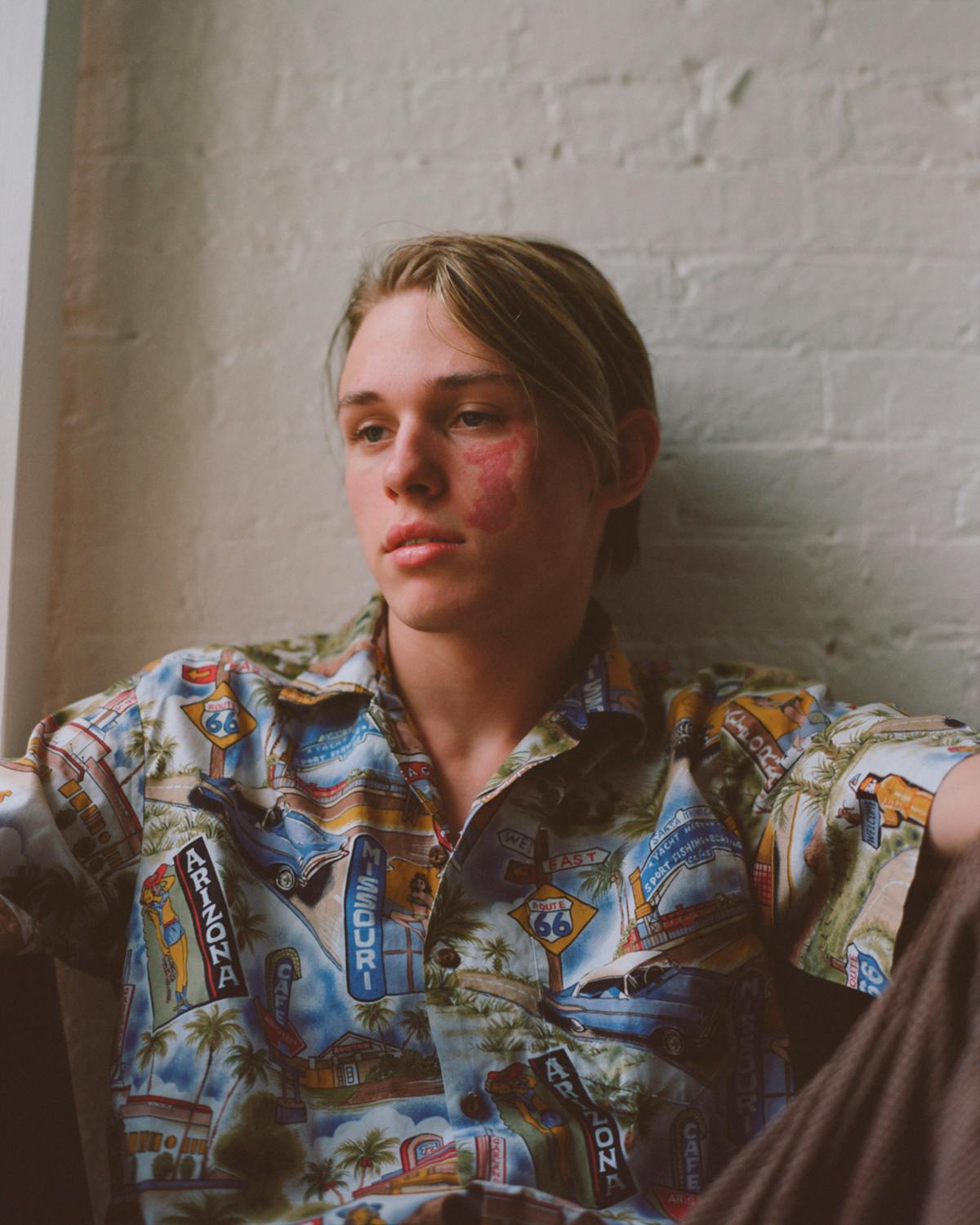 As for his favorite brands, Lang mentions Carhartt and Billionaire Boys Club, while he was seen rocking an all-Heron Preston look at the Skate Kitchen premiere in New York (where his co-star's custom kicks took the plaudits). He knows his streetwear but is quick to stress that he likes his clothing to have more of a personal story. "Most of my stuff is random pieces, I gotta be real," he says. "I have a bunch of weird fur coats and a bunch of weird things. My sister brought me back a lot of knock-offs from Korea."
Lang is ambivalent when discussing his next move. He says he's currently auditioning for movie and TV parts, and wants to eventually make some "weird shit" merch with his crew. Actor, rapper, model, and soon-to-be designer? Lang is a long way from the range.