The stylist and design consultant Julian Ganio opens his archive of menswear treasures, including two very different kinds of crocs.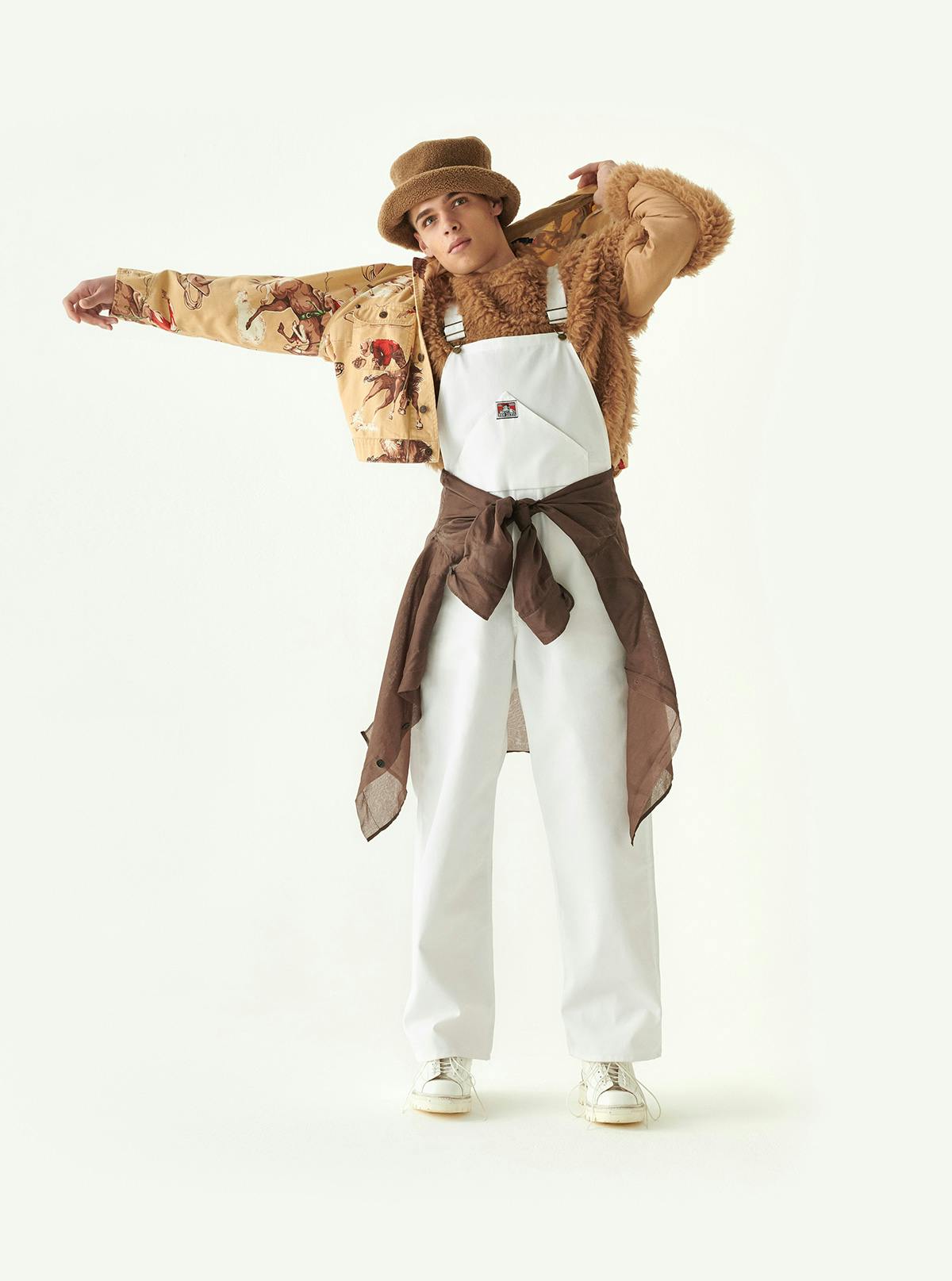 "This is a shearling Fendi hat from my first season working there; a touch Jamiroquai. The jacket with the cowboy motif is very old Polo Ralph Lauren, and it's actually quite cropped. It's supposed to be worn with dungarees. The sweater is by Lou Dalton, a good friend of mine that I used to consult and style for. These overalls are Ben Davis, one of the best workwear brands: hard-wearing, classic shapes, plenty tough."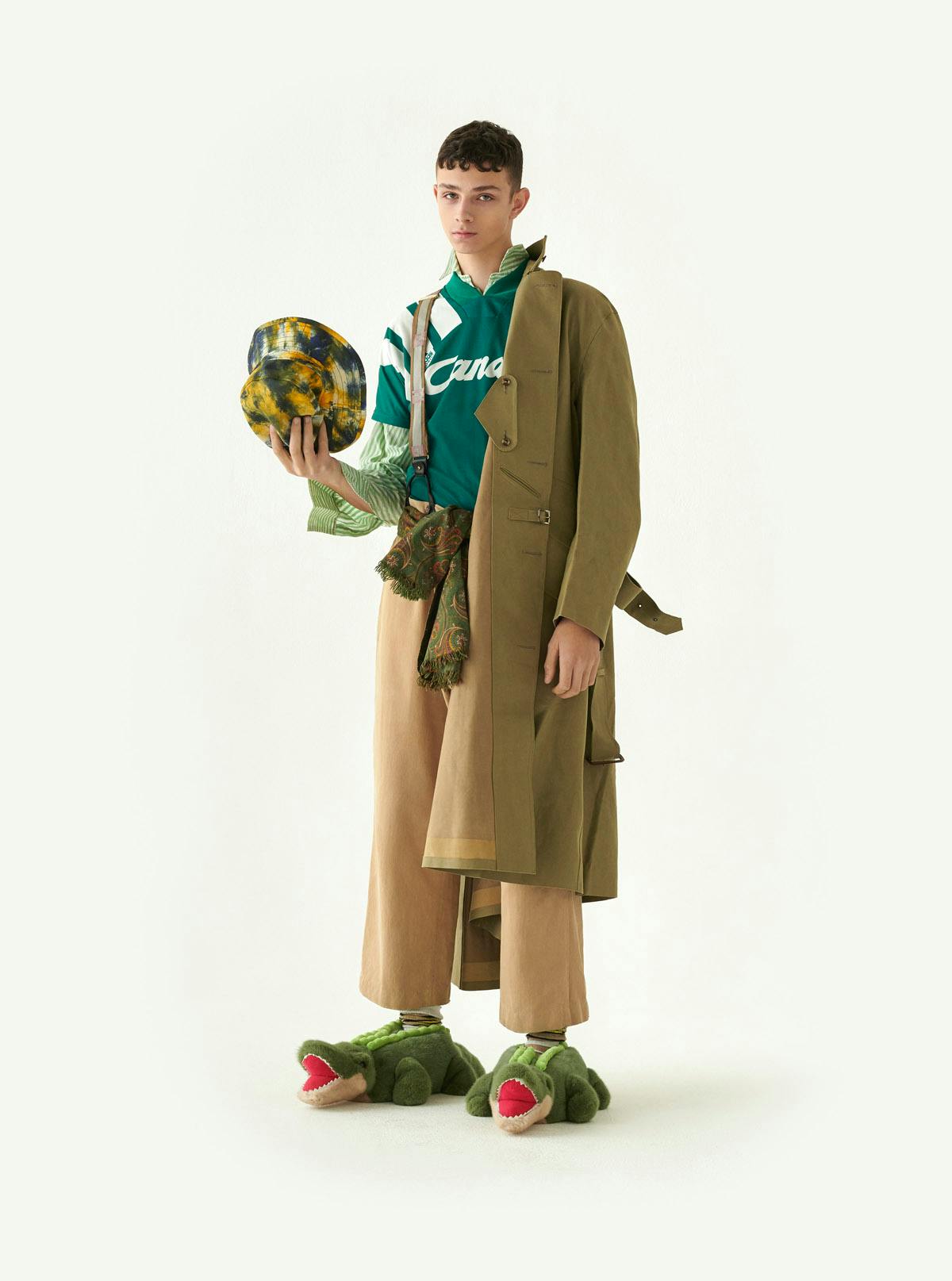 "This hat is from Craig Green's second collection, which I styled. The bucket hat is my favorite hat. I'm unsure how many I own, but at least around 100. The Paul Smith shirt and scarf are from the late '80s, and they were originally my father's. Paul Smith is a firm favorite of mine, and I wore a lot of it in the '90s. I don't know what the magazine's stance on fur is, but these Crocs are actually mink."
"This is a Judy Blame key ring. The stylist's stylist. RIP."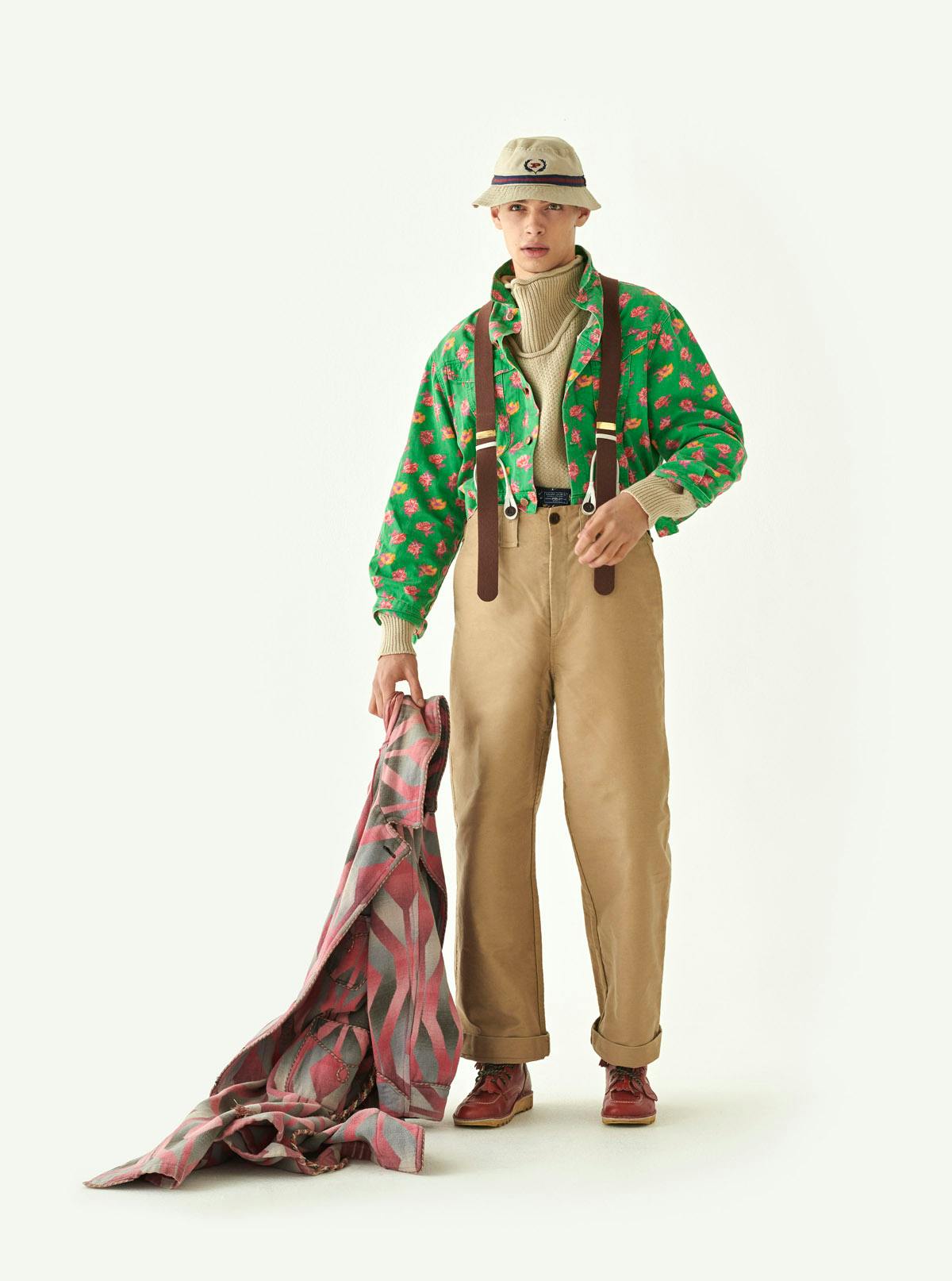 "This cream knit with a strange neck feature is another Paul Smith steal from my father's wardrobe. I'm a big braces and suspenders fan, and these brown felt ones are from Thomas Pink, designed by the talented John Ray, a dear friend of mine. The jacket is Naf Naf, a brand I was obsessed with in the '90s."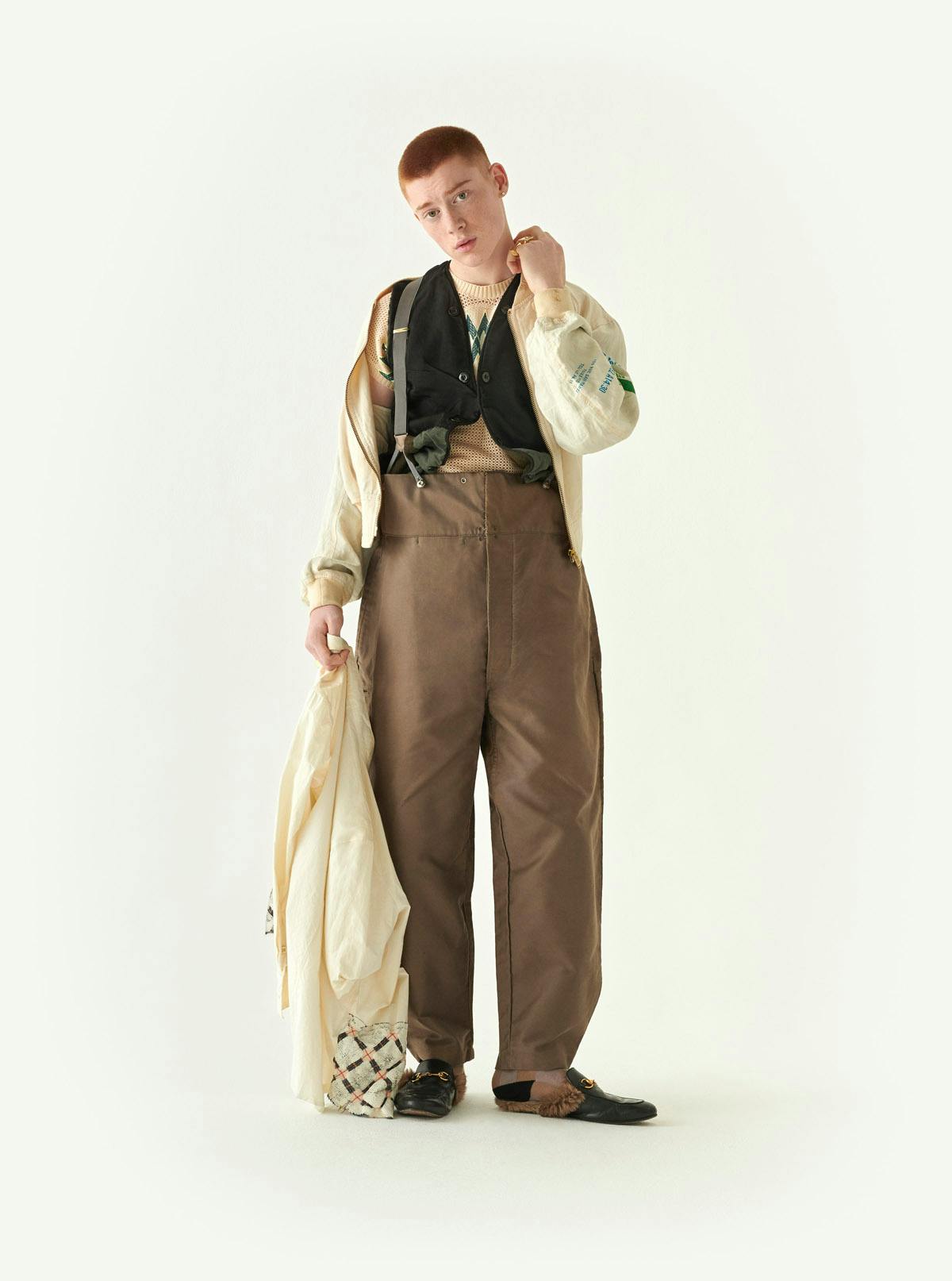 "This Craig Green shirt is from his graduate collection!"
"When I brought these nerdy old Patagonia salopettes to the shoot, all of the kids were like, 'Fuck, these are so cool!' The Helly Hansen jacket is a triple or double XL — it's quite interesting because you can really see the volume and the shape. And then I put it all with these Louis Vuitton sandals, because it made the whole thing feel a bit après-ski."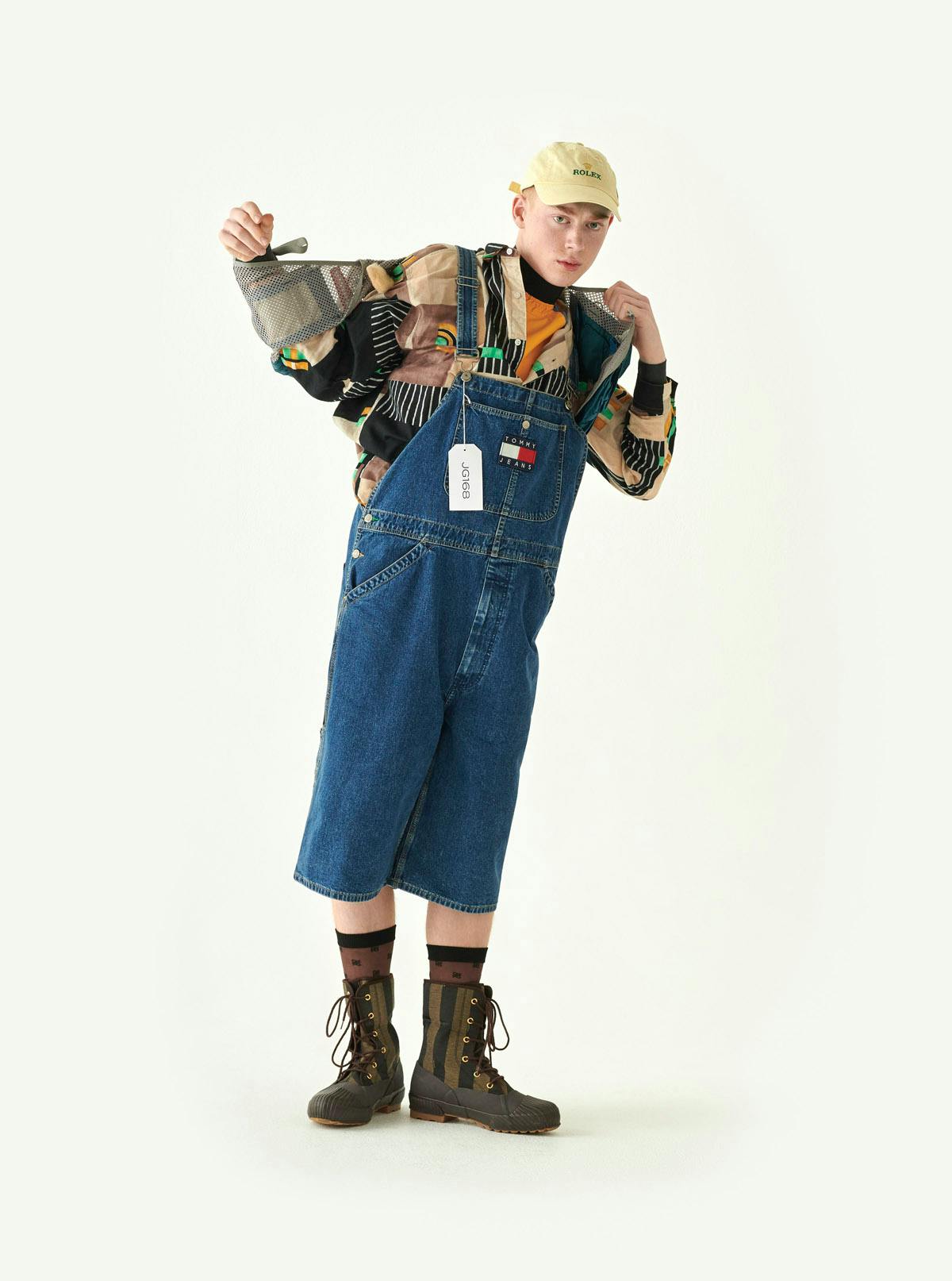 "When I was a teenager, I liked dressing with a lot of irony. I'd love to make a mash-up — like wearing a proper Saville Row shirt with a really chavy pair of jeans. So I always collected a lot of things, because I always enjoyed playing with stereotypes and everything that was really interesting to me. I think this Rolex hat is from a golf tournament that Rolex sponsored. So it's not fake, but it's just some old shitty hat with the logo on it. Everyone was obsessed with this on set as well."
"This is a Stüssy shirt of mine worn under a shirt by Christopher Shannon, one of my favorite London sportswear designers of the 2010s, with an Hermès tie — always the best. The shoes are Marks & Spencer dad slippers — I'm a big fan. Then you have old vintage Yohji Yamamoto denim, some of the best denim you'll find. Super shapes and silhouettes."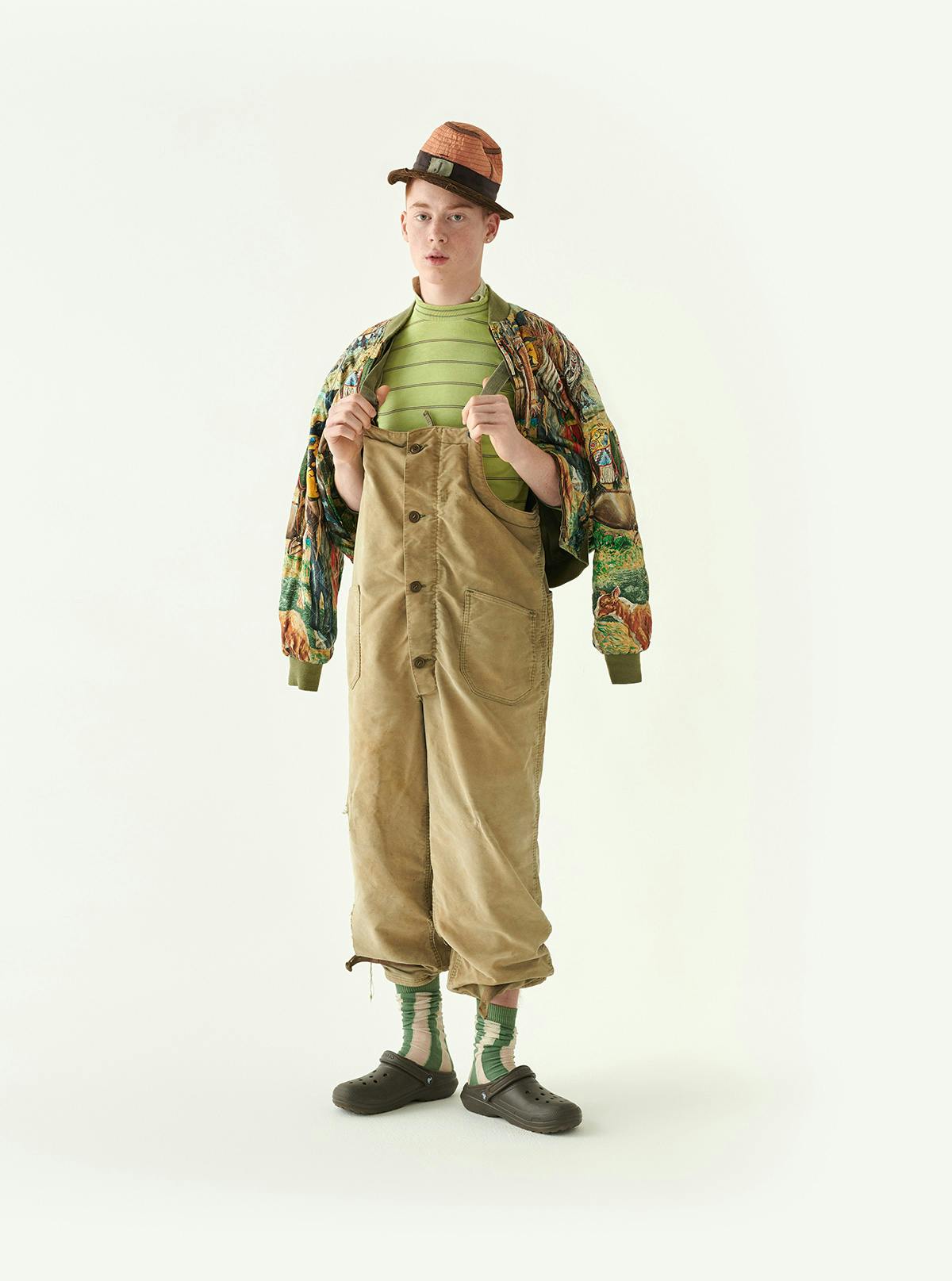 "This brown corduroy hat is by Joseph. My mother used to work for them in the '80s. I bought this vintage reversible silk bomber by Hermès in Tokyo, which for me is the best city for shopping. The trousers are US naval over-trousers, and I found them while I was doing Spring/Summer 2020 research for Fendi, and we were doing something very 'gardeny' and outdoors. They had a pair that was in much better condition, [but] I ended up going for this pair, just because I actually liked the way they were worn more. You could see that there was a history to them. It's quite nice to find something that's been so worn, because you think, 'Well, fuck me, someone's worn that for 20 or 40 years.'"
This story appears in the new issue of HIGHStyle, a Magazine by Highsnobiety. Click the link below to order a copy.