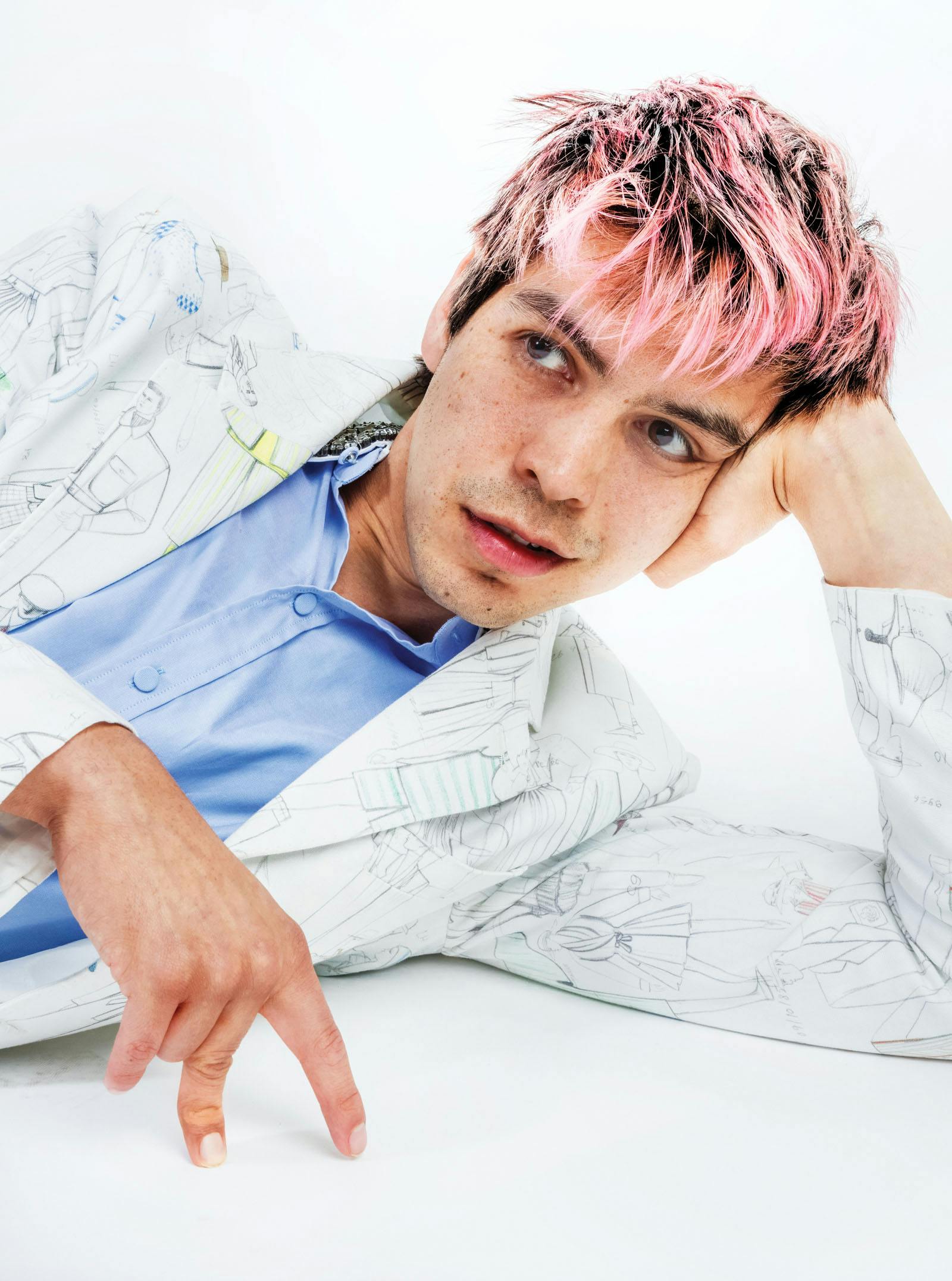 This week's FRONTPAGE puts the spotlight on one of today's most surrealist comedic talents — the incomparable Julio Torres.
There is a certain finesse to portraying Andrés, the blue-haired, dangly-earringed chocolate empire heir in the HBO series, Los Espookys. When he isn't scaring locals in a fictional Latin American country alongside his ragtag group of queer, horror-loving friends or finding new ways to avoid even the most menial labor, he's grappling with a parasitic water spirit living inside of him that demands he watch the 2010 period drama, The King's Speech. It's a complex character that could quickly fall flat or become a grating caricature, but in the dexterous hands of Salvadorian comedian Julio Torres, Andrés is one of the most captivating characters in not just the strange, Surrealist world of Los Espookys, but across the entire TV landscape. Of course, it helps that Torres wrote the character himself.
While it was Portlandia mastermind Fred Armisen who initially sold HBO on the idea for a show predominantly in Spanish, it has been the trio of Torres, Armisen, and Ana Fabrega who have taken that premise and crafted one of the most confounding, brilliant — and, yes — spooky shows on television. "I feel incredibly fortunate that Ana and I got to Trojan Horse our way in through Fred, who is a kindred spirit in bringing things that are odd or new into the mainstream," Torres explains. "[Fred] asked [us] if we wanted to write it, be in it, transform it into something. We took it from there and turned it into the show that it is now, which is perhaps a lot more abstract than it was originally conceived."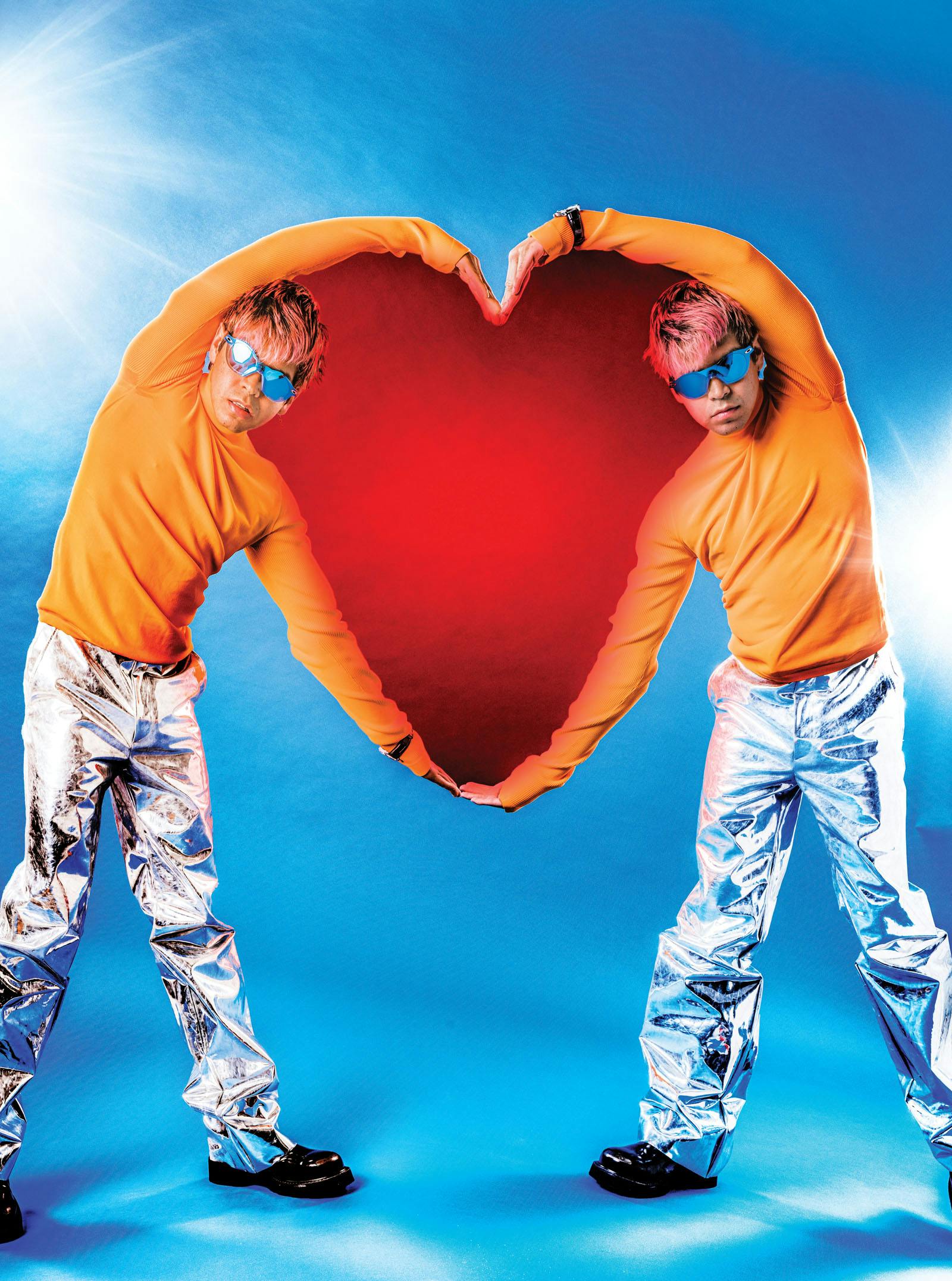 The series has proven to be a worthy spotlight for Torres' talents since it debuted in 2019, but it isn't the only place to catch a glimpse into the machinations of his unique comedic flair. Just two months after the first episode of Los Espookys, HBO released an hour-long comedy special called My Favorite Shapes which garnered immense acclaim. Taking the elementary school concept of "show and tell" and combining it with a set that looked like the interior of a UFO as designed by The Memphis Group, Torres methodically unveiled a series of found objects to his enraptured audience via an industrial conveyor belt. Besides giving Emma Stone, Lin-Manuel Miranda, and Ryan Gosling the chance to voice a shoe, cactus, and blue penguin, respectively, it also showcased Torres' effortless blend of absurdist flair and the dry, serious energy of a mail clerk explaining you put too many stamps on your package (and maybe that package has a complex inner life you're ignoring).
Shapes and objects are a recurring motif for the comedian, who possesses immense talent for giving inanimate objects a rich inner life — and who personally wishes he could be a perfectly smooth sphere so he could "just leave whenever [he] wants." It was this skill — plus the rapturous response to My Favorite Shapes — that led publishing giant Simon & Schuster to offer Torres a children's book deal. Released in June 2022 under their Atheneum Books imprint, I Want to Be a Vase centers around a toilet plunger who wants to be a vase fighting against an antagonistic vacuum. It's a synopsis that could just as easily be a storyline on Los Espookys, and it's a mark of the "Torres touch" that permeates his work.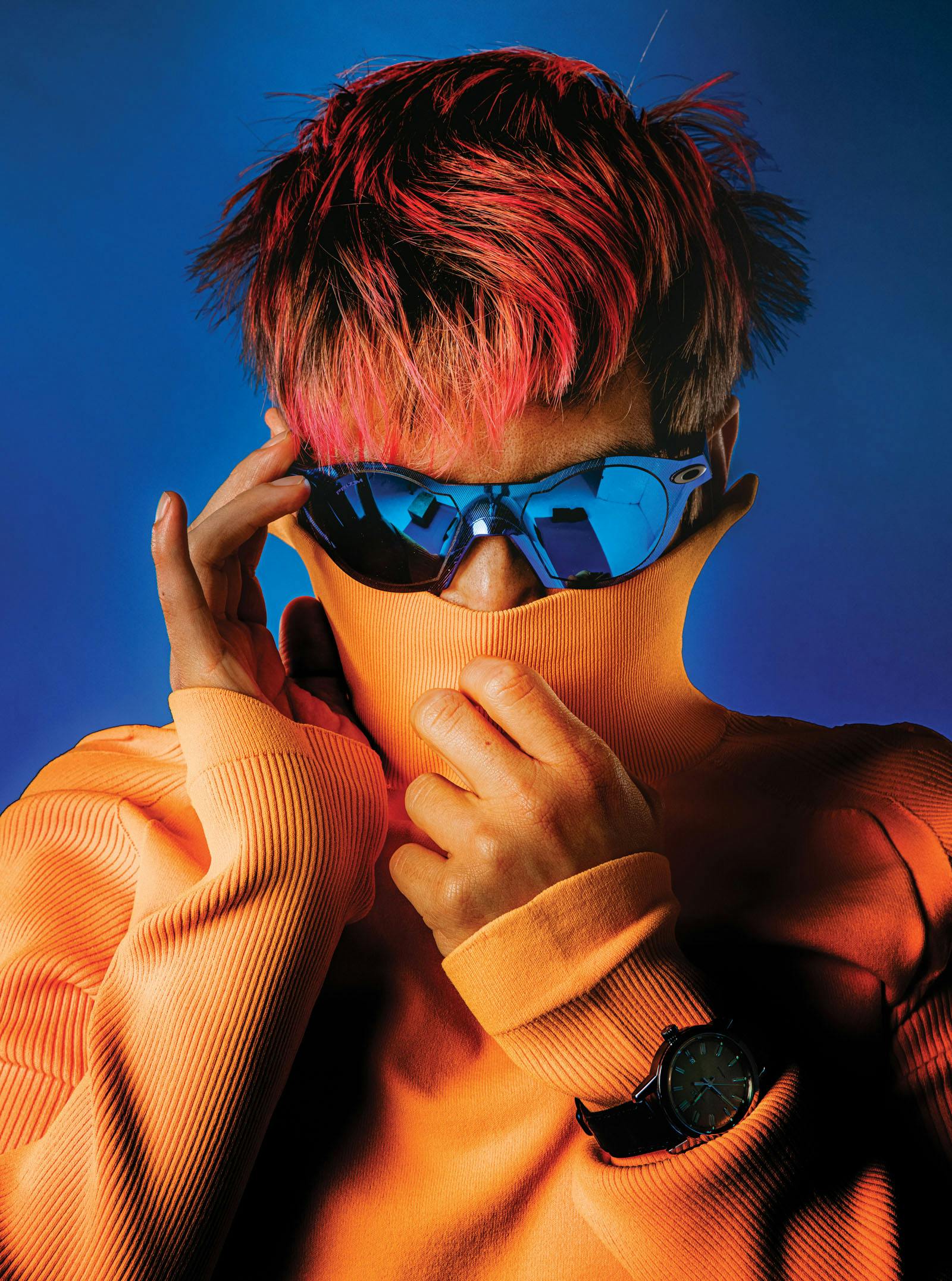 The path to becoming a creative tour de force wasn't easy, and a career in comedy almost didn't happen at all. A long time ago in a land far from the machinations of Hollywood (El Salvador), Torres was spending his youth in the city of San Salvador honing his visual instincts. With his mother in architecture and father in civil engineering, he grew up around buildings, which didn't just lead to a love for the smell of fresh concrete. "My mom would make dollhouses for me out of cardboard. We would design them together," he recalls. "I was always very drawn to the way that things looked."
For part of his adolescence, Torres aspired to follow in his mother's footsteps and pursue a career in architecture. Even now, he finds himself using aspects of that field to inform his path. "What interested me in architecture, which is what interested me in what I do now, is the world-building of it all, creating spaces with their own rules." As his interests shifted to the arts, his parents "quietly mourned me not leaning into my visual instincts. My dad, in particular, wondered if I was negating that part of me because he knew that I was very visual." It would take years to find a way to bridge his early interests with his talent for writing, but as Torres explains, "[I've] come full circle where I get to do both and be a very visual writer. I started directing now, [and] that's a very visual medium too."
One of the most impactful decisions of Torres' young life came with his move to New York City. Like so many other young, queer kids who have made the pilgrimage to the Big Apple, he was "officially" pursuing an education (literary studies at The New School), but unofficially, he was there to immerse himself in all that NYC had to offer. "I can't imagine going to some campus in the middle of nowhere, USA," he says. "That sounds absolutely brutal."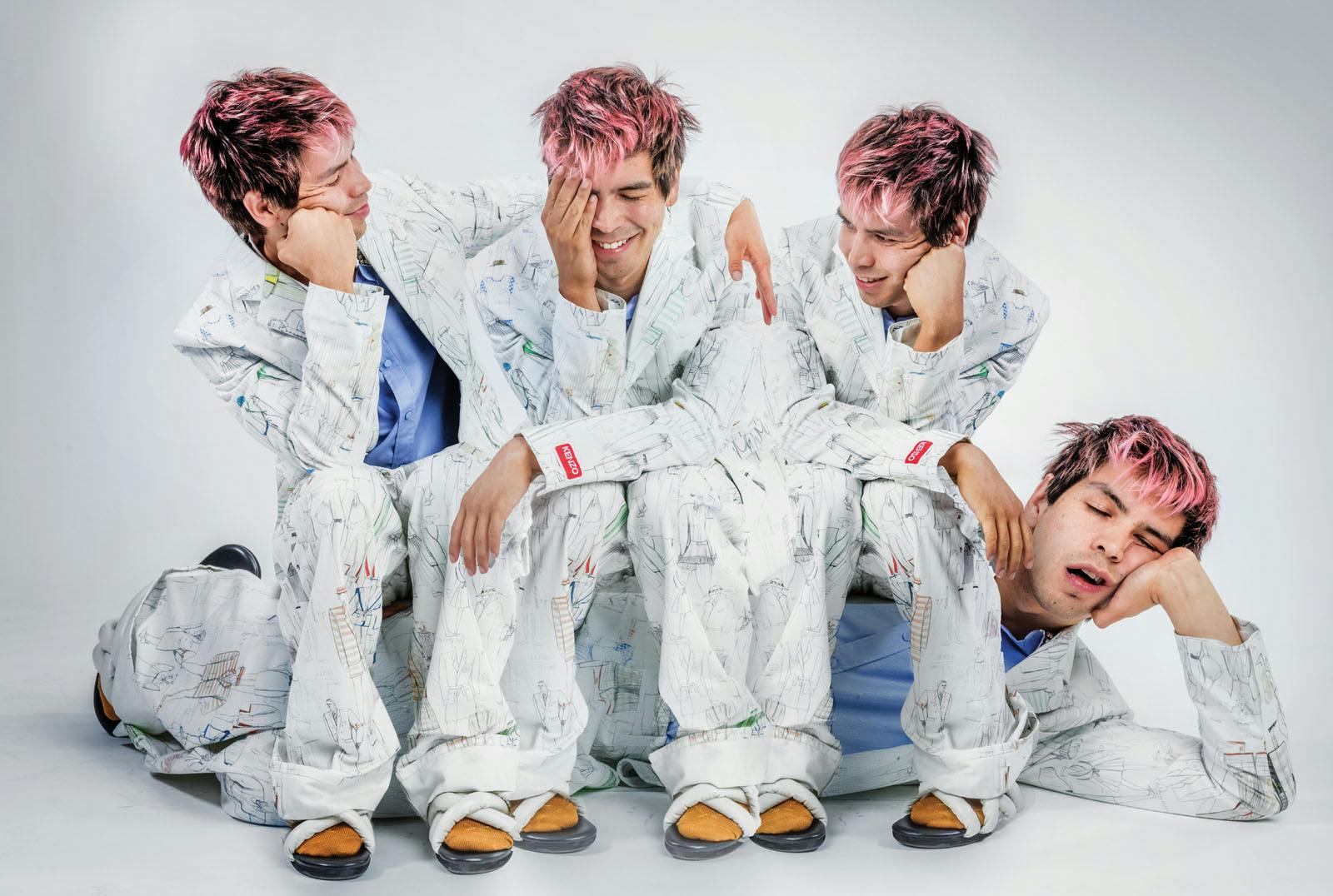 While some may classify Brooklyn's queer comedy circuit as a pain far greater, for Torres, it was a space to find his comedic footing and meet a network of like-minded weirdos. Years of toiling and tinkering at open mic nights led him to a writing gig on TruTV's The Chris Gethard Show. Besides becoming the focus of a 2016 episode aptly titled "Julio's Extremely Expensive Visions," the show also connected him with future Espookys co-stars Ana Fabrega, Spike Einbinder, and River L. Ramirez. That same year, he slid into the writers room of Saturday Night Live and almost immediately co-wrote a sketch so absurd that it landed Torres and co-writer Jeremy Beiler on a Vulture podcast. In "Wells for Boys," a brief two-minute sketch that aired in Emma Stone's December 2016 episode, Fisher-Price debuts a well for "sensitive boys to wish upon, confide in, and reflect by." Naturally, it was inspired by Torres' own childhood memory of pretending an empty plant pot was a well so that he could run his fingers along its rim and gaze longingly into the rainwater.
It was instantly iconic and only one of the many sketches Torres helped write which laid the groundwork for his own creative projects. There is a clear connection between "The Sink," which had Emily Blunt narrating the inner turmoil of a very real, oversized, and decorative sink he once saw in an Upper West Side apartment, and both his Shapes comedy special and his recent children's book. Still, Torres remained behind-the-scenes on SNL as he crafted gems like "Papyrus," a three-minute psychological horror thriller about Ryan Gosling's obsession with Avatar's use of the cursed Papyrus font as its logo. With such a strong track record, it's no wonder that Torres garnered four Emmy nominations on the writing team during his years there.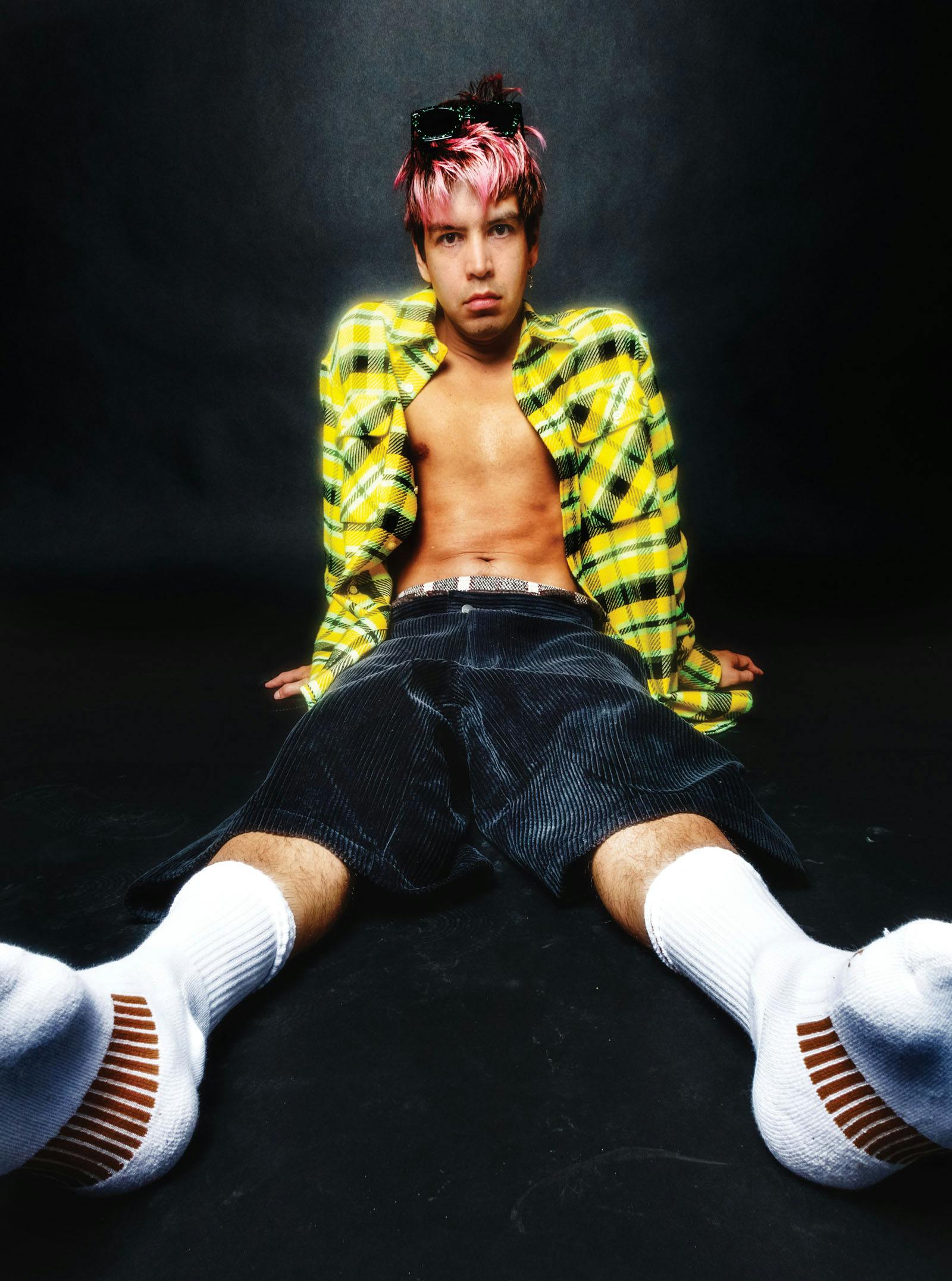 It would be another circuit that provided an opportunity for Torres to step in front of the camera. After making his stand-up debut on Late Night With Seth Meyers in April 2017, he landed a gig as one of the correspondents on Jimmy Fallon's Tonight Show. In one particularly memorable skit in 2017, he suggested everything from "The Lost City of Atlantis" to "Racoon, Foolishly Wearing All The Diamonds He Stole" as last-minute Halloween costumes.
Seeing these early clips of him now, it's striking how little his style has changed. Torres is still incredibly strange and extremely hilarious — it just took the world a bit of time to catch up. In a queer media landscape increasingly preoccupied social media reactions, Torres is refreshingly unbothered. "I always assume that I'm only doing things for myself. [The Los Espookys crew are] certainly are not sitting around wondering what Twitter is going to say," he says with a laugh. "Stories are very burdened by the weight of their importance or their cultural significance. I think it's a misguided way of making art. To be thinking about the press and reception as you're writing it is such a bizarre thing that's happening."
For a creative who has no desire to ever write scripts with the armchair experts of the internet in mind, Torres is doing pretty damn well. In addition to his boundary-pushing comedic projects, he's also finished writing, producing, directing, and starring in his first feature film. Set for release with the powerhouse production studio A24, little is known about the mystery project besides an absolutely stacked cast that includes everyone from Wu-Tang Clan's RZA and cinematic icon Isabella Rossellini to the chameleonic powerhouse that is Tilda Swinton. While others may tremble with fear at the thought of having to act alongside Swinton, let alone write and direct her, Torres was at ease. "Working with Tilda felt not dissimilar to working with Ana or working with my friend Spike [Einbinder] or my friend River [L. Ramirez] or anyone who's so collaborative and warm and excited to discover things together," he says, before turning reflective. "I still wrestle with seeing myself as an actor, and I think that's because I have such reverence for really good actors [and] she's one of them."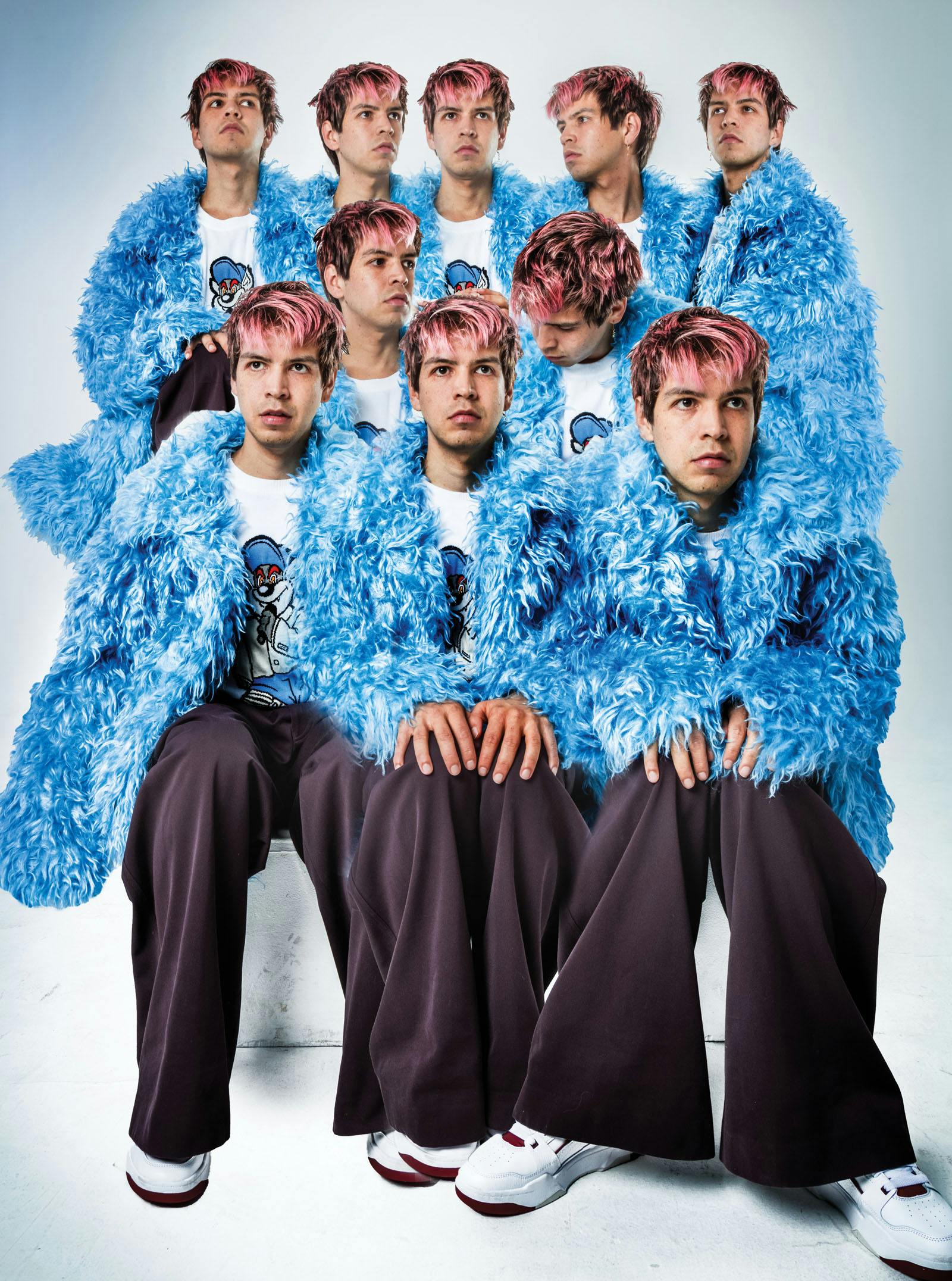 Luckily, there is likely to be no shortage of Torres on screen anytime soon. The A24 co-produced film is just one of the many projects he's working on. As part of an impressive two-year, first-look deal with HBO that he signed earlier this year, he's produced two scripts for the network. The first, with the working title of Little Films, is about the hunt for a lost golden oyster that, in real life, he actually did lose at a New Year's Eve rave in 2019. The second, Lucky, is a passion project between Torres and his Espookys co-star Spike Einbinder based on Einbinder's actual life. So far it's just a script about the adventure of a trans, non-binary, and dog-obsessed person toiling within the world of Brooklyn's gig economy. If it does get made, the synopsis alone is guaranteed to explode at least one person's brain on Fox News.
The drive to bring surreal, queer comedy to the screen is matched with a desire to bring his collaborators along for the ride. "It's hard for new, younger artists in the entertainment industry who also have a new and odd perspective to get a foot in the door," he says. "The predominant voice was not mine. I feel like that's partly because of the things that I am, but also partly because of the kind of work that I'm interested in." With his foot firmly planted in the door, Torres' rise thus far feels like the first few minutes of daybreak; his star power is only beginning to creep over the horizon.